Harley Street London
Manager
Barbara Baker
02033256500
98 Harley Street
London, W1G 7HZ
Opening times
| | |
| --- | --- |
| Monday | 09:00 - 20:00 |
| Tuesday | 09:00 - 20:00 |
| Wednesday | 09:00 - 20:00 |
| Thursday | 09:00 - 20:00 |
| Friday | 09:00 - 20:00 |
| Saturday | 09:00 - 17:00 |
| Sunday | Closed |
Established in 1983, The Private Clinic of Harley Street, London, is our flagship clinic. We pride ourselves on the expertise, experience and knowledge of our leading Doctors, Surgeons, Nurses and laser Practitioners.
We are a multi-award-winning Cosmetic Surgery provider with over 35 years of experience in Surgical and Aesthetic Cosmetic minimally invasive treatments. We catered to the individual needs of our patients. Seeing over 15,000 new patients every year we pride ourselves on being world-class specialists in Cosmetic & Plastic Surgery, Non-Surgical Body Contouring & Liposuction, Hair Transplants & Restoration, and Aesthetics/Rejuvenation & Dermatology for both Men and Women.
For information about the Coronavirus click here.
Please scroll down to see our full treatment offering at our Harley Street Clinic which includes;
and you will also be able to find our clinic details, clinic video and medical team list.
The Private Clinic is a multi-award winning provider and has been the Aesthetic award for Best UK Clinic Group 2017 and MyFaceMyBody Best Cosmetic Surgery Practice 2018. We also have one of the highest patients' satisfaction in the sector with a 9.4 score on TrustPilot and 5 star rating, our survey results have shown that 96% of patients would recommend us to their friends and family.
To find out more about us click here.
Manager
Barbara Baker
02033256500
98 Harley Street
London, W1G 7HZ
Opening times
| | |
| --- | --- |
| Monday | 09:00 - 20:00 |
| Tuesday | 09:00 - 20:00 |
| Wednesday | 09:00 - 20:00 |
| Thursday | 09:00 - 20:00 |
| Friday | 09:00 - 20:00 |
| Saturday | 09:00 - 17:00 |
| Sunday | Closed |
Where are we?
Our Harley Street Clinic is easily commutable from surrounding areas including; Bayswater, Hyde Park, Green Park, Soho, Notting hill, Kings Road, Kensington, South Kensington, Chelsea, Fulham, Battersea, Regents Park, St Johns Wood, Primrose Hill, Victoria, West End, Marylebone, Knightsbridge, Belgravia, Mayfair, Holland Park, Earls court and Fitzrovia.
You will be able to find our clinic at 98 Harley Street, W1G 7HZ in between Devonshire Street and Weymouth Street.
By Train
If you are travelling by train the nearest tube station is Regents Park on the Bakerloo line. Exit the station on left-hand staircase, Harley Street is the third turning on the left. Harley Street is also a short walk from Oxford Circus tube (Central, Bakerloo and Victoria lines) or Great Portland Street tube (Circle, Hammersmith and City, and Metropolitan lines).
By Bus
There are a variety of local bus routes that stop close to Harley Street including the number 18, 27, 30, 205 and 453. The stop is located on A501 Marylebone road.
By Car
London Harley Street is located in central London which is easily accessible from a number of major roads and motorways including M1, M4, M3, M20 and M25 which surrounds London.
If you are planning to drive please allow yourself time to search for parking and arrange payment with Westminster council before your scheduled appointment time.
Harley Street operates under a debit/credit park scheme and is within the Congestion Zone.
Comments from patients
Professional, friendly staff and no hard sell. Everything explained in detail before treatment and the literature given to me was very helpful. Lovely patient co-ordinator, thank you Fiona.
Both treatments carried out to a very high standard – thank you to Mr Kyriakides (EVLA & Phlebectomy) and to Dr Bianchi (Bunion and Hammer toe surgery). Thanks also to Stefan and the nursing team at the Fitzroy Hospital and the nursing team at Harley Street.

Lynne
I would just like to thank the entire Private Clinic teams at Harley Street and the Fitzroy Surgery for my amazing treatment and aftercare whilst going through my gynecomastia procedure. The treatment was painless and has left me with no scars. Dr Jallali explained everything very easily, my patient coordinator Emma R, was always at hand to answer any questions and all the staff were friendly and professional throughout. If like me you are a guy that has suffered with gynecomastia since puberty then bite the bullet and get it done, it has restored my confidence to wear what I like and go swimming again! thank you all so much.

Michael
I have had a full face IPL treatment with Marie Narsoomamode at the Private Clinic.

Marie is wonderful – she is patient and gentle. She has given me all the information that I needed to be fully informed about the procedure and I couldn't have been more comfortable in Marie's care. I felt that Marie's professionalism and demure made the entire treatment experience very pleasant. I can highly recommend Marie at The Private Clinic.

Lukas, London
I had removal of under eye veins using the cutera coolglide done by Dr Gupta. Having visible blue veins under my eyes as a 21-year-old girl had a significant impact emotionally and it was something I truly struggled with seeing every day. I tried to conceal them with heavy makeup which added to the upset because I would constantly worry about how it looked, and my self-esteem was at rock bottom.

I booked an appointment with Dr Gupta to discuss the cutera coolglide treatment. He explained everything clearly and was very kind and approachable. Additionally, (not to sound cliche, but) the procedure made such a life-changing difference. The laser ablation did sting a small amount (although my nerves probably didn't help with this), but the cool compress afterwards relieved the stinging sensation. After 2 months the blue veins had disappeared and I am now genuinely happy with the results.

A big thank you to Dr Gupta and the team, I am extremely grateful for your help!

M, Lonodon
I had a Snoring procedure at The Private Clinic of Harley Street, the procedure itself was fine, just 15min and no more than a visit to the dentist.

After the procedure, I was a little sore for first few days 5.6 on the pain scale but easily managed with painkillers.

I'm feeling so happy that I got it done my breathing is so much better, my snoring has gone almost completely, my energy levels are up from sleeping so well and my relationship with my wife is also so much better as she is sleeping too!

I would definitely recommend the procedure, the final results make up for the uncomfortable recovery time.

Trevor
I have had lip fillers a few times here in Harley Street. The doctors know that i'm nervous every time, and does they do their best to reassure me. They listen to what I want and always make sure i'm fully happy with the results before I leave. The ladies on the reception are really lovely also, always smiley and make you feel very welcome! Would highly recommend The Private Clinic.

Hayley
I have had fillers by Marie on a couple of occasions, both time my experience has been very good . Marie is very experienced in her field and I have total confidence in what she might recommend for me have in the future . The front of house also is very professional, yet warm and friendly, especially Elaine. I would be very happy to recommend The Private Clinic to anybody interested in dermal filler treatments.

Lesley
I had lip filler in Harley Street yesterday. I had 1 ml of Juvederm and my doctor which was Richard Brighton Knight who explained the treatment to me and how my lips will look at the end. He was very professional, and wanted me to have a natural result. I am really happy with my results, the doctor gave me exactly what I was looking for. The filler was not painful at all and I did not even bruise. I thank The Private Clinic so much and I can't wait to come back to try other treatments.

Manuela
What a delightful clinic! Cosmetic procedures require the very best experts to ensure their results are notable yet subtle, and in my personal case, I was extremely pleased with the level of attention, care and knowledge of the team, ensuring my lip filler and wrinkle treatments were perfect for me. Marie was fantastic. I'd thoroughly recommend The Private Clinic.

Amelia
This is the second time I have been to The Private Clinic to see Dr Rosa Santa Cruz. She is amazing. She welcomes you with no rush and she explains you all the treatment options and relative cost. She has a really calm attitude that makes you feel really comfortable. I have had lip filler treatment and I did not have any problems during or after the treatment. I will definitely be recommending her and The Private Clinic for filler treatments.

Anna
On arrival at The Private Clinic of Harley Street I was warmly welcomed and offered a drink whilst waiting then I had my meeting with the consultant Dr Rittoo. Who took away all worries and concerns I had and answered all questions and explained everything about the varicose vein procedures. Once I decided to go ahead I went away and returned for the procedure a few weeks later. Throughout the procedure I was well looked after by Dr Rittoo and his team and especially the nurse that stayed with me throughout talking to me and making me feel good and telling me what's happening. I recovered really well and the aftercare was very good! I can honestly say having the treatment was the best thing I have ever done. My confidence has improved and I can't wait to show my legs off this summer and on holiday. No more ugly veins and swollen legs! Amazing and Dr Rittoo was amazing! Thank you so much! Totally recommend!

Paul, Hatfield
I had a Brazilian Abdominoplasty done with The Private Clinic in Harley Street. I have to say the procedure went well, the care and the team was fantastic. Most of all the surgeon Mr William Van Niekerk was brilliant. I never had any pain after the procedure and I highly recommend The Private Clinic.

Princey, London
If you're looking to get a hair transplant and wondering where to have it done, look no further. I had a FUE hair transplant with The Private Clinic of Harley Street 3 weeks ago. The entire experience from initial consultation, to the procedure day and follow-up care has been amazing.

If you're wondering where to get your FUE/ hair transplant done, do not hesitate any longer!

Nick N, London
I visited the Harley Street branch for a consultation and skin treatment with Dr Rosa Santa Cruz. Upon arrival I was treated extremely well, all the staff were very friendly and competent.

Dr Santa Cruz was very thorough in explaining my options and made some great alternative recommendations based on my specific needs. She did a wonderful job with my treatment, I'm very happy indeed with the results!

I also have to give a special mention to Sheliza Damani and Alicia Wodja who not only enhanced my overall experience of the clinic but are simply great people and are stirling assets to this clinic.

If anyone has any hesitation with having treatment at The Private Clinic I would urge them to go as their expectations will be more than exceeded.

Congratulations to all and I will be returning soon!

KM, London
I can't express how thrilled I am with the service that was provided in the London branch. The staff were comforting, welcoming and professional though personal and made me feel at ease. From my consultation to my surgery I knew I was in safe hands. The procedure was slick and Dr Santa Cruz was brilliant. I couldn't recommend more.

Matt, London
I'm so pleased I found these guys. I'm just starting to consider some cosmetic treatments and I went purely for information. The staff are all fab, everyone from the receptionist to the advisor were great.

I have decided to wait a bit longer before going ahead with the treatment as I'm not quite ready. The great thing was they didn't try to convince me otherwise, and because of this it made me all the more certain that when I am ready I will use them. First class

Amanda, London
I have visited The Private Clinic and can say that it was a very enjoyable experience. The team on the front desk were welcoming and knowledgeable in the information that I requested. I felt I was in the best hands in town. My consultation was informative and thorough and the consultant made me feel very comfortable and at ease thus allowing me to explain all my requests and ideas. Set in a very busy part of London, I felt that the time in the clinic was adequate and did not feel rushed or hurried during my stay. I even received a lovely goodbye from reception as I made my way out. Charming and professional all in one!

Luis, London
"It has been just over five months since I had my hair transplant procedure done by yourself, and I wanted to take this opportunity to express my gratitude to your team, for the fantastic work you all did. The results have far exceeded my expectations, and I now have a fuller head of hair than I previously had.

I believe this to be one of the best decisions I have ever made and would highly recommend yourself and your team to anyone that was considering this procedure.

I would just like to say thank you for the professional service I received from yourself and your team from the first consultation to the completed procedure."

Kevin, London
"Here I am on day 4 (getting bored) after my FUE of c6000 hairs. I have no redness and cannot see any evidence of any work in the donor area at all other than it looks a tiny bit think under magnification. There is some crusting (tiny brown dots) in the recipient area but no scabs – but I can see literally thousands of tiny hairs – like a 2 day beard and it already looks cool compared to before.

The experience of the surgery was nothing like I expected. It was like I spent two days with my friends and I will actually miss the team who performed the surgery. We had a great time – The team were exceptional and incredibly attentive and just plain friendly. I am so so glad I chose Dr Reddy and his team – even though the cost was much higher than all the other surgeons I met I would never ever change my mind and have no regrets.

We had such a good laugh throughout and there were no issues whatsoever. Despite the incredible skill of the team there were so down to earth and modest – there was none of the arrogance you see from some surgeons. Just a regular bunch of people but with incredible skills.

Lisa and David were also phenomenal in giving support and responding to emails so quickly and efficiently."

S.S., London
"I'm so pleased with the results and it is really life changing for me!" *

Nicole Hopkirk, Former Managing Editor, MSN Health
"To the wonderful team @ TPC! Pain-free, relaxing, fun & amazing. No, this wasn't a vacation but the thoughts and memories will be with me much longer. I didn't expect such an incredible process. The team is so reassuring and true professionals."

Steve, London
"Despite having experienced the FUT procedure with good results, I felt reluctant to have a second procedure, as I had initially planned because the process had been fairly aggressive. Nothing I had not been fully informed of, just more arduous than I expected. The recovery was long and sometimes uncomfortable and I did not get feeling back in my rear scalp for months. When I read about FUE, I was immediately intrigued and enquired at the Private Clinic about the Unshaven U-FUE procedure. I met with the surgeon and they assessed my scalp and the potential of my donor area. I was encouraged by the honesty and frankness with regards to a further procedure and hugely encouraged by the prospect of a less invasive experience. When the time came, I arrived at the Clinic a little nervous, which was to be expected but was soon put at my ease by the amazing team. I felt very relaxed going in and was delighted to discover that the FUE method was indeed free of discomfort, and I chatted happily as the grafts were implanted. I was well fed and watered and able to visit the bathroom when necessary. The whole day passed by quickly and painlessly and I am looking forward to seeing the results as they develop. I would thoroughly recommend The Private Clinic to anyone, whether they wished their transplant to be undetectable or not." *

London
"Thank you so much for the fantastic result. The whole experience throughout the day was brilliant and I am so grateful to all the staff for making me feel so relaxed and comfortable as I was extremely nervous beforehand. Thanks a million!" *

J, London
"Today's treatment was brilliant. I was looked after really well by the nurses. They were really nice and attentive. My procedure was so much better than expected. Thanks!" *

C.B., London
" All I can say is what a treatment! I literally walked in with thread veins on my legs, felt a bit of a sting during treatment, walked out slightly red, and woke up the next day with no veins. Although I could slightly feel the burn, the results were immediate. I have thread veins on my thighs and I could literally see them being zapped away. Thank you Nikola and The Private Clinic team!" *

D.G., London
"Dr Wolf was absolutely AMAZING through the whole process! My treatment has changed my life and I can't thank The Private Clinic enough!" *

London
"I arrived feeling anxious. I was greeted by a lovely team who put me instantly at ease. I actually enjoyed the whole day – no pain. I am looking forward to seeing the result in a few months. Thanks so much." *

Matt, London
"I am so pleased that I went to the Private Clinic to ask for help with my acne. To be quite honest, I felt like it was my last chance where I could get help. I had a very bad problem with my acne – they were very severe. First, I had to use special products for my face to bring out all the acne and calm them down before starting more intense skin treatments. I was warned that I will get more acne when I first start using the products which was scaring me as I already had severe acne. When I first started using the products, I did get a lot more acne but they weren't as bad as I thought. Finally, I underwent the clinic's N-Lite acne skin treatment which I was so pleased with. It's been a long time but I am so happy that I didn't give up and carried on doing everything as I was told. I don't know how to thank Lisa Scannell for what she did to me as she completely changed my life. I've become a lot more confident and I am so happy with the results!!" *

Nika, London
"It is now a year since I had my hair transplant and I couldn't be happier. It has made such a difference to my life. On September 1st I start training for a new career. The past year has given me the confidence to go for it and I managed to get onto the course that I wanted. Something that I would have never even gone for a year ago. Thank you so much to you all. Forever grateful." *

T, London
"Being my first hair transplant I was pretty nervous on the day. but everyone was so friendly they made me feel so welcomed and explained everything so I was able to relax and felt much better. The procedure went very well and felt relatively pain-free throughout the whole procedure. I am absolutely delighted with my new hairline and is credit to the dedicated skills of the surgeon and the team. Thank you!" *

R, London
"Since the first day I came for a consultation I was put at ease and treated so well. I was quite nervous coming this weekend but leave happy and filled with great memories. Thank you all for looking after me and for all the laughs – it was the perfect experience!" *

Albert, London
"I had my first FUE procedure in the USA about 2 years ago with a local doctor. This was a traditional FUE with shaven donor area and performed using an ARTAS robot. Although the procedure itself went OK, the shaven back was very painful and uncomfortable for me for almost 2 months. After doing some research online, I found out about the innovative Unshaven FUE (U-FUE) technique.

I travelled to London to consult with The Private Clinic in July and they agreed to consider me for an U-FUE procedure. I just had my procedure done in October and I couldn't be happier with my experience. They understood my concerns and was very accommodating to my request to extract as many hairs as possible and transplant my crown and density to frontal areas. They were able to extract 5000+ hairs over a 2-day procedure without shaving the donor area. The procedure itself was surprisingly painless and I am on course for a quick recovery.

Above all, I was extremely impressed and amazed by the care and love that I received from The Private Clinic's staff. They were there every step of the way checking to make sure that I was doing well and attending to every need. I must say that I never experienced such a great deal of hospitality in a medical care facility in my life. They all went over and beyond to make sure I was comfortable throughout my stay.

I highly recommend the U-FUE method for anyone who is looking for a virtually undetectable hair transplant. I look forward to seeing great results in 9 months' time." *

R.D., London
" had vaser lipo at The Private Clinic with Dr Wolf 8 weeks ago on my flanks and inner thighs. I am thrilled with the results and just 8 weeks later there is a huge difference in my shape and my confidence. For a relatively short and pain free procedure, the results are fantastic. The most uncomfortable thing was wearing the compression garment for 2 weeks 24 hours but the results are worth the discomfort. I would commend Dr Wolf and his team to anyone looking to have this done. Professional, polite and overall a great experience." *

London
"Excellent treatment, both doctor and nurse were superb. Wonderful patient treatment and aftercare" *

London
"You all made the day very easy and I enjoyed the relaxed, friendly and unpretentious environment :)" *

London
"Very friendly – It's quite intimidating coming to a place like this for me but all staff were ace. No hard sell either which I was anticipating, lovely!" *

London
'Marie Narsoomamode was really helpful and gave me great advice regarding melasma and the option of treatment. Reception (Carly) were really friendly and helpful – I had a great visit, I'm sure I will be back' *

London
'It wasn't a decision I made lightly to have procedures to improve my appearance, however I am exceptionally pleased with my choice to use The Private Clinic. All staff members have been very helpful, they've made me feel at ease and involved me in making decisions around what was best for me. I have already recommended the clinic to friends. Happy patient!' *

London
'I very much enjoyed meeting you on Tuesday and found our appointment not only useful but reassuring (in particular that I will not wake up one morning bald!).' *

London
'Firstly the assistance over the phone pre-booking was excellent, everything about the booking was clearly articulated and she even gave me her own advice on what she recommends with procedures to reduce the acne I have on my back. I went ahead and booked the appointment and upon arrival I met with the consultant'

London
'I found Dr Grant Hamlet to be sensitive to my situation and needs in terms of advice and referral. Very impressed. Thank you'

London
The staff at reception have been great thus far. They are a pleasure and always very welcoming! Likewise, the advisor was extremely patient and helped me every step of the way.
'I just wanted to drop a short note to you regarding my visit last week. I saw Dr Rishika Sinha who, along with the nurse (Marie) working with her, dealt with a problem with my foot. Both individuals were extremely polite, and gave me confidence that I was in good hands. Dr Sinha explained what the issue was, and removed the tissue quickly and painlessly. I received a follow up call with my test results in less than 48 hours. Both individuals are a credit to your business, and I would not hesitate to recommend them.'

London
'The staff were fantastic from start to finish. The procedure was painless. Cannot praise everyone enough.'

Paul, London
"I think this is the most natural look and I'm so happy. It's almost weird that they are soft and not hard anymore. It feels great. I would like to thank you for all you've done for me. I felt like I don't have to worry at all because you took care of everything.

Mr Van Niekerk did a great job! He's amazing. I'm so lucky I met him. Fantastic surgeon and great person. The whole experience at the clinic was exactly what I expected. My lovely and professional nurse who took care of me pre and post operation.

I was quite nervous waiting for the operation but my anaesthesiologist made me feel comfortable and not to worry at all. The whole "surgery crew":) was great and all I can do is just to say a big THANK YOU!"

M.E, London
"I really liked the clinic and the advice you gave me. You could easily have sold me on an immediate transplant, so it is great to know you look out for your patients best interest." *

Lisa, London
"Thank you all again for a very professional and caring experience. The instructions are very clear and thorough." *

London
If you want great legs, there is no greater place to get them from.

Sophie Bloomfield, Beauty Director, Harper's Bazaar
"It's absolutely amazing. It amazes me now to think I nearly didn't do it. I could not be happier with it." *

Tom Peck, The Independent Magazine, London
"Subtle enough to be undetectable, significant enough to make a real difference – the holy grail of cosmetic surgery." – underwent VASER Liposuction with Dr. Dennis Wolf. *

Sasha Slater, Deputy Editor, Harper s Bazaar, Lond...
"My search led me to Dr Reddy who, from what I could discern, is what Stephen Hawking is to physics: a pioneer who has taken the techniques for the procedure – and the results – to the next level." – (Hair Transplant with Dr Raghu Reddy) *

Dan Jude, Deputy Editor, FHM, London
"I am so happy with the shape of my arms and legs. Everything has changed. My jeans feel like they did before I had children, and I can wear sleeveless dresses and tanks all the time. My only regret is not having done the procedure sooner."- VASER with Dr. Dennis Wolf *

Anonymous on An American Girl in Chelsea, London
My leg shape is a lot straighter and, more importantly, it looks entirely natural. Since deciding to go ahead with the operation, I have spoken more openly about the affliction I found so awkward for so long.

Deni Kirkova, Female Writer, MailOnline, London
"A brilliant way to zap away all of those problems areas, thanks to the best surgeons in the field." – VASER lipo with Dr Dennis Wolf *

Sonja Stephen, Editor, Hello! Middle East
"I had never been happy with my shape, as my flat chest and pear shape meant that I never really felt feminine. When I heard about fat transfer breast augmentation, I did a lot of research and found out that Dr Wolf was the best in the field, so I booked a consultation. I had fat removed from my thighs (inner and outer) and flanks, and injected into my breasts.

It's now been eight weeks since my procedure and I can honestly say that the results have far exceeded my expectations. Dr Wolf has completely transformed my body, I'm in proportion for the first time in my life and I can finally wear tight clothes because I have smooth contours underneath. But my biggest surprise was when I went to get measured for a new bra – I was an A cup before and so I couldn't quite believe it when the lady told me I was now a 30DD!

I couldn't be more pleased with the experience from consultation through to aftercare. The staff at the Private Clinic have been great and Dr Wolf is professional, kind and has put me at ease throughout.

I was nervous about the discomfort and although it was sore, it wasn't unbearable and I was able to return to work after a few days, so it didn't really disrupt my life. I'm just so happy that I had the procedure and that I found the best place to have it done." *

Sumaya, London
"I want to say thank you to The Private Clinic who have looked after me really well during my Acne skin treatment.

I contacted the clinic as a last resort. I had always had clear skin until I hit my thirties when all of a sudden I started suffering with severe acne which seemed to be getting worse and worse, and the treatments from the doctor weren't having any effect.

I was sceptical at first, but decided I had nothing to lose, so booked the treatment. I also used the Jan Marini face wash in conjunction with the monthly treatments.

After two months my skin was a little better and I was feeling a bit despondent because I had expected more, but they reassured me to stick with it. And I'm glad I did! After my third and final treatment, the results were amazing. Sometimes, it's difficult to see, because you look at yourself in the mirror every day, but the before and after photographs were quite startling.

My skin is almost completely clear now and I am happy to leave the house without the layers of primer, cover-up, foundation and powder that had become essential kit for me! My husband is very pleased as we can leave the house in a fraction of the time!

I wouldn't hesitate to recommend this treatment, and this clinic, to anyone who is unhappy with their skin – I don't think it overstates the fact to say it is life-changing. Thanks again." *

Kathryn, Bristol
"Jenna is absolutely amazing. Kind, patient and empathetic. IPL can be unpleasant at times, but Jenna has made the experience much more tolerable and relaxing. There was one time when my symptoms had flared inexplicably and unexpectedly and she took it upon herself to quickly arrange a consultation with one of your dermatologists. Jenna called me the next day to see how I was feeling. Gestures like that mean so much to patients. As I said, she has made the whole process much less bewildering and ghastly. She is a credit to her profession and the clinic." *

Toby, London
"Not only was the decision to have Hi-Def Lipo the best decision I've ever made, the team at The Private Clinic made me feel like a member of the family. Thoughtful and diligent is an understatement. I'm awfully fond of my advisor Lisha Bell – a warm intelligent character. In particular Dr Wolf is an exceptional talent whom I consider to be the finest artist in his field. In addition he is warm hearted in a degree that eased me as a new patient. I couldn't be more pleased with my overall experience." *

London
"Merely a thank you for all your kind attention these last two days, and a thank you too to all the team who made things go so winningly, and, on the whole, utterly painlessly. I am chuffed to pieces so far with the new hairline. There is no visible swelling, and the little redness there was seems to be dispersing already, and there was an easy removal of the back bandages this morning. You have made my world a better place, and you can't say finer than that." *

London
"I'd been thinking about having some hair treatment for a few months, aged 50, hanging in the netherworld of do I comb over or shave it all off? It's a big step to actually make the call and start the process. My experience has been that The Private Clinic instinctively know how weird and sensitive this whole process could be, they demystify it and with a warmth, humour and a human approach get the results. I'm now 12 months post op, have much more hair than I did, and can make some style choices. Some people over promise and under deliver, my experience here has been quite the opposite." *

John, London
"The Private clinics N-Lite Acne skin treatment is the only thing that worked for my adult acne. I am so grateful for the help it has given me." *

Emmy Lou, Bristol
"I'm very happy! Looks so much better, much more confidence, and genuinely don't think anyone has noticed… Told a couple of my best friends and they genuinely didn't believe me until I showed them the before photos of me last year!" *

London
"Thank you Lisa!

I found your professionalism and knowledge of the area second to none. I was pleasantly surprised with the outcome of the appointment and it was extremely informative." *

James, London
'Fantastic surgeon – was the first surgeon I saw when I was considering the operation and I had no doubt he would do a fantastic job' *

London
"In August 2014 I went to The Private Clinic for a hair transplant and I couldn't be happier. The results are fantastic and the team are great making me feel comfortable about the procedure from the first consultation. The procedure itself was fine too. With such a great team it was hard not to feel completely relaxed. Since having the transplant I have been in constant contact with them and cannot fault the aftercare. They are easy to contact and any questions are answered immediately. I couldn't be happier with the procedure and results and I would fully recommend them to anyone thinking about having a hair transplant." *

London
"Fantastic process from start to finish from everyone involved." *

Helen, London
"Absolutely delighted with the results. The surgery was nice and easy. I always received good advice and guidance from the doctor and nurses. I was looked after so well during my recovery period. I love my new shape and couldn't be happier. Only regret that I didn't do it earlier. Thanks a lot!" *

I.P., London
"Very positive experience. An incredibly caring and reassuring experience. Delighted with how it went and very optimistic of a great result. Many thanks to all the team for all their efforts, expertise, professionalism and dedication to my case." *

Craig, London
"Massive thanks to Dr Reddy and his team. I felt well and truly looked after at all times, and have made it back to Manchester with zero soreness or tenderness." *

London
"Dr Fallahdar was amazing, I did my research before coming to the clinic and I wouldn't of gone with another doctor except Dr Fallahdar. I would highly recommend him as he has changed my life more than you could imagine. Thanks so much!" *

London
"A very easy journey, with lots of reassurance'" *

London
"So happy with the results, everything has been excellent from 1st consultation onwards. Really glad I made the decision" *

London
"Dr Fallahdar, thank you for making me love my body!" *

London
'Going to The Private Clinic was the best thing I could have done to help with my acne! After years of being given the wrong information it was a huge relief to meet with Lisa Scannell who broke everything down for me. I left the clinic after my consultation feeling so happy I had all the answers I needed and knew what to do to treat my acne. I had N-Lite Acne skin treatments over 3 months, which were quick and pain-free. Over the course of the 3 months, along with new medication I was taking and a strict regime of Jan Marini products, my skin became smoother and the spots were disappearing. I would strongly recommend attending the clinic, as they have all the answers you could look for and the treatments produce absolutely brilliant results.' *

H K, London
Great staff. I felt safe and well looked after. Will 100% recommend The Private Clinic. I had micro lipo last week and all in all, I am delighted. These people know what they do and for liposuction, I would not hesitate to recommend them.

London
'It has now been one week after my third N-Lite treatment and I cannot explain the difference it has made to my skin. I no longer have any spots at all, and I am no longer embarrassed for my boyfriend to see me without makeup. My life has honestly changed. It has been four months since I first met with Lisa at The Private Clinic and I cannot tell you how grateful I am that I discovered their N-Lite Acne skin treatment. My skin is totally spot free and I still have about a month and a half left of my antibiotics. I have a few small scars where my spots once were, but they don't really bother me, and I have been told that they will go away with time. Honestly, I would recommend to anyone thinking of taking Roaccutane to try this treatment first. I have never felt so confident in my skin. I never thought that there would be a cure for my acne that wouldn't come with harsh side effects. I was very wrong and I couldn't be happier with the results that I have achieved from The Private Clinic.' *

Leanne, London
'I would just like to say thank you to all for looking after me during my recent visit to The Private Clinic. I was extremely impressed with Dr Reddy and all his team, everyone was so kind and caring. Ejesh was lovely, she spent a lot of time with me during the day. She was so nice, making me feel very comfortable and relaxed. We talked and laughed most of the time. Thank you again and see you soon for my review.' *

Wendy, London
'I recently had VASER Lipo on my neck, carried out by Dr Wolf. I am more than happy with my results. Sorena, the Patient Coordinator, was first class. She arranged all my appointments and was very supportive and helpful with the queries I had. The procedure was completely pain free. Dr Wolf explained the procedure and gave me reassurance at all times. In total, the procedure took one hour, after which I wore a head/neck support. All the aftercare information was supplied and the nurses at the clinic were professional and caring. I feel like a new woman and would highly recommend Dr Wolf and his team.' *

Sandra, Newcastle, April 2014
'Kerry is amazing! She's always really friendly and is so so knowledgeable and good at what she is doing. I don't really want my treatments to end and to stop coming as she's so nice, friendly and funny. I look forward to seeing the results soon and hopefully they will be as good as the treatment!' *

April 2014
'Thanks so much to everyone at the clinic and Marie in particular – the treatment really has changed my life and the way I feel about myself!' *

Harley Street
"I also wanted to take this opportunity to say a big thank you to Dr Reddy, David, Umar and Martha for all your help and making me feel so comfortable during the whole process." *

Stephen, London
'We were at our wits end with our teenage son's acne, it had gone from bad to worse and we had tried every cream possible. We visited Lisa at The Private Clinic and embarked on an Acne skin treatment course. The end results are amazing and his skin has completely cleared up, something we never dreamed possible. It took 3 treatments and a few months to get there but it was worth the wait and I highly recommend it' *

Garry, London
'Mr Fallahdar, you are branded 'boobie god' over the internet, and now I know why! You are an amazing surgeon and I couldn't be happier with my results. You have made such a difference to my life and I'm forever grateful. I hope you are still available in 10-15 years for my replacement!' *

Ciara, London
'I just wanted to say a quick thank you for everything you and your team have done; I can honestly say you have changed my life completely. I have the best feeling in the world when I wake up every morning much happier, the first thing I do is look in the mirror and sigh that sigh is a sense of relief that I have found a cure from all the years I have struggled with hair loss.

I spent endless time researching information around hair restoration; it was proving difficult in deciding which surgeon to work with. It's a scary thought to let someone perform a medical procedure on your face never mind where the technique involved is so specialized. For this reason I had to ensure I find someone capable of meeting my expectation whilst achieving a natural look. I am glad I took time to research well.

Prior to surgery I was very self-conscious and depressed my hair loss affected my life in every aspect, I literally had no confidence and I couldn't participate in normal every day activities or sports.

At the start of my initial consultation in the first few minutes I was extremely nervous and the process seemed daunting , the surgeon made me feel comfortable and at complete ease listening to my concerns and there wasn't any form of pressure throughout the whole process. They were realistic about what can be achieved and I felt in safe hands.

Every staff member I met consistently went the extra mile nothing was ever any trouble, and no question was ever too much I found each and every staff member at the private clinic is caring, polite and knowledgeable.

Even going through my consultation I had disbelief; I kept thinking can they really deliver what they have said. Choosing The Private Clinic has been the best decision I have ever made, I am extremely grateful and the procedure was completed within a few hours and has gone better than I had ever expected.

I genuinely could not of asked for anything more, not only have the offered a professorial service they have changed my life in a positive aspect. I'm pleased with the aftercare I received. It's great to know I can contact someone 24/7 post procedure. I'm actually astonished and speechless with the results, immediately after the procedure I can see the result and felt like a completely different person.

I don't think I can ever explain in words how happy I am, 5 weeks post procedure I can see the difference in my lifestyle. I wish I had discovered about the procedure sooner, it is the best thing to have happened and the results are permanent. I have started to enjoy my life and it feels amazing to have my confidence back. The result themselves look and feel natural; the process has been simple, pain free and best of all no scars. I highly recommend The Private Clinic from my experience they are fantastic at what they do.

Thank you for making me happy and feel normal again, I am gutted I had not met you previously.' *

Hassan, London
"After never suffering with acne in my life last year I noticed spots appearing all over my face. I went in January to the private clinic and everyone was very welcoming. I had a consultation which was followed by creams and N-Lite Acne skin treatments. I didn't think the spots would ever disappear but after the first treatment I could see an improvement and it just got better. I want to thank everyone at the clinic especially Lisa, who was always there when I needed her" *

Jouda, London
'I would like to personally thank Mr Kyriakides, and all the staff for taking care of me during my Varicose Veins procedure, from the day of my consultation to treatment it was very reassuring. My treatment was carried out by very caring and friendly people, who took extra time explaining everything to me, dealing with any concerns that I may have had. I look forward to meeting with Mr Kyriakides for my follow-up appointment. *

London
'I just wanted to write and let you know how impressed I was by my Consultation with Emma. She explained everything so clearly, answered all my questions and really made me feel very comfortable and confident about the N-Lite Acne skin treatment that I am embarking on next week. I was very impressed by her and just wanted to pass this on.' *

Davina, London
'I would just like to say just over 3 months and I am very impressed exceeds all my expectations' *


London
'I wanted to say thank you for your help in our consultation and in particular your help for dispelling the endless rumours I have heard regarding hair loss. It was good to finally hear from a professional after so long. I followed your advice and immediately after our meeting I went to Boots in Tottenham Court Road and they were very friendly in talking to me about the Hair Retention Programme. I plan on beginning it next month. I will be contacting you in the future to update you on how things are going with the treatment.' *

David, London
'I started losing my hair nearly 25 years ago and had some strip surgery to fill in a developing gap on my crown in my early 20's. it worked well whilst I still had a good head of hair but as I got older my hair receded further. By the time I was in my early 40's I almost had a perfect donut with hair from the strip in the centre and a big gap around it. Thanks to an article in The Times I found The Private Clinic. I have had 2 FUE procedures and am about to have a 3rd. The result has been excellent with all gaps in the donut filled in with strong healthy hair. This has given me so much more confidence. The procedure is easy and straightforward. The team take exceptional care of you and show so much pride in their work. They were able to perform the procedure working around my hair without shaving my head. Apart from them and my wife no one knew that I had even had anything done. Over time my hair simply got naturally thicker and healthier. I would thoroughly recommend FUE performed at The Private Clinic to anyone worried about hair loss.' *

Paul, London
"Throughout my life I was plagued by a potbelly and excess fat around my middle. Although I stepped up my exercising to three/four times a week and ate healthily, nothing would shift the excess weight. I lost count of the number of times I was asked if I was pregnant, clothes buying was limited and I felt heavy and unattractive.

While sitting in my dentist's waiting room, I read a vaser-lipo case study of The Private Clinic in Harper's & Queen and was very impressed. I rang and spoke to someone at The Private Clinic and was sent a brochure. I then met with Dr Dennis Wolf in July 2013. He was very kind, answered all my questions in a direct, matter-of-fact way and I found him easy to talk to. He looked at my tummy (I was embarrassed but he made me feel it was OK) and then suggested as well as having the excess fat removed from my tummy, I should have treatment to my flanks.

On the day of surgery, I had hardly slept the night before and felt quite shaky. The team of nurses and anaesthetist were friendly and upbeat, though; I was also reassured by Dr Wolf's professionalism and approachability. I was given conscious sedation but I was so tired, I actually slept through the whole procedure! When I woke up, I learned that three litres of fat had been removed from my middle. I felt calm and peaceful, knowing I had made the right decision and chosen the right people to take care of me.

The aftercare notes were excellent, as were the checks with Dr Wolf and Grace, one of the nurses. Afterwards, any questions I had were dealt with promptly by email following consultation with Dr Wolf. And the best news of all is that I now have a beautiful, feminine shape, thanks to Dr Wolf's vision. I am thrilled with my lovely flat tummy and my confidence grows daily. I'm also amazed at how quickly I healed with the reassuring backup of Dr Wolf and his team, plus the recommended regular lymphatic massage. I cannot thank you enough – you have changed my life." *

Jane, London
"It's changed my life in so many ways, i am like a different person. It just keeps getting better and i only wish i'd done it sooner,it's transformed both my figure and confidence. Finally, I've got the figure I have been trying to achieve for years". *
Read Kasia's MicroLipo & Buttock Fat Transfer full story here>>

Kasia, London, May 2014
"TPC and the process has been second to none. The initial consultation, the nurses, everything – it's been amazing. I'm so happy with my new figure now. Yeah, I'm feeling good!" *

Sally, London
"I can only recommend, excellent service, helpful staff and the most important, best doctor without any doubt Dr Kyriakides.Thank You" *

Bea, London
I absolutely love my legs. I never thought they could look this good. The nurses and the staff at The Private Clinic were kind and caring. I am now past the 5 months mark and I am over the moon.

I think my photos are shocking! I never liked my legs but the photos prove me right! I think they were completely out of proportion with the rest of my body. I am very small elsewhere (and short) and unfortunately if I lost weight it went from my breasts, my belly and my face but never from my legs.

I wrote this review because while I was recovering I read forums and reviews online almost daily. Trying to find out if the swelling was common, checking out photos, comparing experiences. I hope this feedback is helpful to other people. *

V, London
"I will keep you updated with how things are going and pop up some time in the next few months. Please pass on my thanks to Dr Reddy and his team for making my procedure a great experience." *

London
"Thank you so much for everything. It actually became almost enjoyable! Really appreciate the professionalism of everyone here. It is a great thing that you do." *

Rupert, London
'I had a FUE hair transplant in The Private Clinic in the early part of September 2014. The procedure was conducted by Dr Reddy and his team. From the time that I first inquired about the procedure over the telephone, through preliminary visits, and during and after the procedure I felt relaxed and well looked after, and felt reassured by the manner of the staff and the atmosphere in the clinic. I was given the information that I required and found that the clinic was just a call or email away should I require advice or have any concerns. I was made aware early on during my inquiries that the number of hairs that could be transplanted – and therefore the result that could be achieved – is limited by the number of hairs in the donor area. In my case the donor area could provide 6,000 hairs, which would be sufficient to cover the top but not the crown. Although disappointed that my initial hope of restoring a full head of hair via the procedure was unrealistic, I decided to proceed with it because I felt that the prospect of permanently having hair on top was enough and that I was in the best hands for the job. Although it can take up to a year before the eventual result of the procedure is evident, I am pleased with the results so far and am glad that I finally plucked up the courage.' *

Dr Reddy
"I began to hate my legs as my varicose veins became progressively worse, all knobbly and unsightly. I stopped wearing skirts. I didn't want to look at them myself, let alone have anyone else see them. Three days after the EVLA procedure with Mr. Kyriakides, the bandages came off and I was so relieved to see only some bruising and that those horrible gnarled veins had gone. I can now wear what I want and I am actually quite proud of my legs." *

Sarah, London
"I am sure that once everything has faded my legs will look much better than before and I am especially looking forward to sitting on a beach (maybe not in the UK, given the weather) without hiding my legs in the sand, as per usual. Thanks to everyone, Dr K, the nurses and yourself, for your help and patience with me." *

London
"I have often been self conscious about the worm like veins on the backs of my hands, and as my job is cabin crew my hands are constantly on display serving customers which I felt uncomfortable about. I would catch people looking at them every so often but there wasn't much I could do about it. In summertime I notice it more as they become more prominent with the heat. I've had to put up with it for many years until a friend of mine told me about a new treatment in the UK where they can laser your veins which would reduce that raised look. I instantly was interested! So I came across The Private Clinic and booked in for a consultation with Dr Kyriakides. He was lovely and explained that as I have a slim build the collagen in my hands is thinner therefore the veins are more prominent. He said that lots of people suffer with that, think of Madonna. He talked me through the EVLA treatment and I was excited! I booked myself in and the whole procedure was more comfortable than I imagined. A laser probe passed through my veins and I watched the veins literally disappear. I was amazed. My hands were swollen but a few days later that reduced and my hands a smoother, and my worm like veins are not visible anymore. Colleagues of mine have noticed that I am more theatrical with my hands now! I don't mind showing them off at all! I'm so glad I did it – I can't thank Dr Kyriakides enough!" *

Denise, , London
"I'd like to say an enormous 'THANK YOU' to Dr Dennis Wolf for my Hand Fat Transfer procedure. Working in the jewelry industry, I use my hands often, and the procedure has resulting in younger looking, plumper hands." *

R.V , London
"Quick and painless with amazing results. I gave Emma, my practitioner, a brief outline of what I wanted to achieve and she gave me lips that look fuller and more defined but very natural – nobody can tell I've had fillers and the size and shape is perfect for my face." *

Kasia, London
"Once I'd started to research facial fillers I was very confused as to what product I should use and where I should have treated. I came for a consultation with Emma and she was really good at explaining what I'd researched and what options were available. She wasn't quick to offer advice but rather listened to my concerns and recommended a couple of options, which we talked through.

In the end I went with Voluma and couldn't be happier. Friends mention I look less tired, but no one has guessed yet I've had treatment. I couldn't recommend Emma more highly." *

Susan, London
"I first started to consider VASER treatment 6 years ago and have gone back and forth on the decision every year since. My problem area has always been my thighs, the more I exercised the more fullness I lost from my breasts and my thighs never seemed to get smaller. I kept reading and hearing about fat graft as an option so I booked several consults on Harley Street. On meeting Dr Wolf and his team I knew I'd found the right Doctor. He didn't over promise and made me aware of all pro's and con's, he had before and after images to show of women with a similar body type to mine and I felt educated on what the treatment involved and what could be achieved.

On the day of the surgery I was very nervous, but the surgical team made me feel I was in very safe hands. The aftercare was excellent and I felt I had a team looking after me, even while re-cooperating at home. This is the first year in 35 years that I've allowed photo's to be taken of me in my bikini! I exercise more than I ever have in the past, no more stubborn pockets of fat to shift, it's more about maintaining my new shape. I couldn't be happier." *

Susan, London
"It's taken over a year, but full body laser hair removal – finally done! And totally worth every penny. The results are absolutely fantastic, are as the team of therapists I've seen. Thank you! *

London
"Jenna was superb, she was clear, concise and informative, wrapped in a winning personality. The service provided was exceptional in both quality and comfort. I would highly recommend Jenna to anyone requiring similar treatment." *

London
"I am a 36 year old who had chest reduction, and lipo on my love handles and stomach. I am not overweight; the fat on my body is positioned weird and I have always – since I was a child – felt uncomfortable taking off my shirt, even to shower and sleep.

After many false starts, I was recommended to Dr. Gupta at The Private Clinic. From my initial consultation I felt immediately at ease, and he is assisted by a team of personable and able nurses.

Dr. Gupta thoroughly explained the procedure and said it would be a life changing event.

I am pleased to see that within weeks of the procedures I was confident and on a trip to Florida, where I had no issue both taking off my shirt and receiving the numerous compliments on my physique from friends and family.

My only regret is not finding Dr. Gupta sooner. I feel so much more comfortable in clothing and with myself. I has positively alerted my life." *

P.L., London
3 days on and I can already see the result is going to be absolutely wonderful.

JH, London
After having my baby, I got my body back to my pre pregnancy shape apart from my abdomen which still had a little pouch and no matter how much excercise I did it would not shift.

It was for this reason I opted for surgery. I chose to make an appointment for a consulation particuarly with Dr Gupta after seeing him on 'Embarassing bodies'. It was his demeaner, sensitivity and warmth towards the patient more than anything that made me choose him as my doctor.

During the consultation I found him to be both a professional and a caring human being. He took his time explaining the different options to me and was not at any point pushy or tried to convince me to go through the procedure. He allowed me to make up my own mind.I really liked that about him.

I chose to have a microcrannulas procedure a couple of months after the consultation during the easter holidays when I was off work. On the day of the treatment I was not at all nervous which had a lot to do with Dr Gupta's professionalism and kind demeaner. I trusted him to do a good job. The procedure itself was virtually painless and through it Dr Gupta was chatty and we made jokes. I actually went home on the train by myself after the procedure completely byself.

I was a bit sore for the next couple of days but not enough to take painkillers that Dr Gupta had prescribed and was able to resume normal activity such as house work a week after the procedure.
I have seen Dr Gupta for a follow up appointment six weeks after my procedure. I am already pleased with the results on my stomach but he says that I should expect a further improvement in the next month or so which is a bonus. The outcome is better than what I expected. *

TM, Essex
"I had previously had Vaser Lipo on my outer thighs and wanted to do something about my inner thighs, but was reluctant to go through the hassle and downtime I had experienced with Vaser.

Then I came across an article about Dr Gupta and read a testimonial claiming almost no downtime; so I made an appointment to meet him. He reassured me that I would be walking around on the day of the procedure, was unlikely to need any painkillers, would only have to wear the compression garments for 4 days, and best of all, I could go back to exercising after 4 days.

I booked in for my procedure on a Wednesday morning and sure enough I was well enough to travel home on the train immediately after, I didn't need any painkillers and I was back with my personal trainer 5 days later.

I wouldn't hesitate to recommend this treatment, indeed I was so happy with the results and lack of downtime, that I had a final procedure on the front of my thighs 4 weeks later!

The results are excellent and Dr Gupta's manner and professionalism are such that you feel in safe hands at all times. I think that one of the reasons that I am so happy with the results is that Dr Gupta was very open about what he could achieve and also honest about what he couldn't; he is a caring and honest professional." *

E.H., Warwickshire
"Having been unhappy with the size and shape of my nose for years, I finally plucked up the courage to book a consultation for a Rhinoplasty with Dr. Fallahdar after being recommended to him by a friend and I can honestly say it was the best decision I ever made. From start to finish I felt extremely well looked after by the competent and friendly staff and reassured that I was in safe hands by the confident way in which Dr. Fallahdar explained the nature of the procedure to me. He was happy to answer all of my questions and he listened carefully to how I wanted to change my nose. The results are fabulous whilst still being very natural and everyone has commented on what an incredible job he has done. I am so pleased that I chose him as my surgeon and would recommend him and The Private Clinic to anyone considering cosmetic surgery. My nose looks better than I could ever have imagined and I no longer feel paranoid or anxious about the way I look. Instead I feel like a brand new woman and I have never felt more confident or beautiful." *

L.J., London
"I had my eyebrow hair implant in August and it has gone very well. The results of my eyebrow transplant are excellent and I am following instructions to ensure I get the best finish. The shape is perfect, in proportion with my face and extremely neat. During the procedure I was made to feel comfortable and was reassured throughout. I would thoroughly recommend the team at The Private Clinic." *

Sophie,London
"My snoring has reduced from a constant 10 to a 3 – Thank you!" *

London
"Throughout my life I was plagued by a potbelly and excess fat around my middle. Although I stepped up my exercising to three/four times a week and ate healthily, nothing would shift the excess weight. I lost count of the number of times I was asked if I was pregnant, clothes buying was limited and I felt heavy and unattractive.

While sitting in my dentist's waiting room, I read a vaser-lipo case study of The Private Clinic in Harper's & Queen and was very impressed. I rang and spoke to someone at The Private Clinic and was sent a brochure. I then met with Dr Dennis Wolf in July 2013. He was very kind, answered all my questions in a direct, matter-of-fact way and I found him easy to talk to. He looked at my tummy (I was embarrassed but he made me feel it was OK) and then suggested as well as having the excess fat removed from my tummy, I should have treatment to my flanks.

On the day of surgery, I had hardly slept the night before and felt quite shaky. The team of nurses and anaesthetist were friendly and upbeat, though; I was also reassured by Dr Wolf's professionalism and approachability. I was given conscious sedation but I was so tired, I actually slept through the whole procedure! When I woke up, I learned that three litres of fat had been removed from my middle. I felt calm and peaceful, knowing I had made the right decision and chosen the right people to take care of me.

The aftercare notes were excellent, as were the checks with Dr Wolf and Grace, one of the nurses. Afterwards, any questions I had were dealt with promptly by email following consultation with Dr Wolf. And the best news of all is that I now have a beautiful, feminine shape, thanks to Dr Wolf's vision. I am thrilled with my lovely flat tummy and my confidence grows daily. I'm also amazed at how quickly I healed with the reassuring backup of Dr Wolf and his team, plus the recommended regular lymphatic massage. I cannot thank you enough – you have changed my life." *

Jane, London
'Excellent job. Definitely recommending Dr Kamami to my friends and family.' *

London
'Everyone was superb, very friendly, professional and did everything to reassure me and help me to relax. Thank you!' *

London
'The whole team were incredibly helpful throughout and a joy to be around. Mr Fallahdar has done a magnificent job.' *

A.B., London
'I'm sure it will continue to get thicker.. Can't thank you enough Dr Reddy. You totally changed my life!! I am grateful to you each time I look in the mirror… Also what you did in the crown has worked, I don't worry about that anymore. Every blog I read about not seeing results for 6 months etc. – none of that was true, I maybe was lucky. I don't think I really shed any of the hairs but I have noticed the last couple of months it's got thicker! 8 months after and the results are amazing!' *

London
'I would like to thank Dr Fallahdar, Lisha and the whole of The Private Clinic team for such a lovely experience and professionalism during my breast augmentation from start to finish. I had already had a consultation with another doctor from a different practice and was not happy with his level of confidence in his own ability. Luckily I went with my instincts and further researched, finding Dr Fallahdar.

Dr Fallahdar expressed such confidence and knowledge during our consultation. This made me want to book instantly with him and Lisha's kind words mixed experience sealed the deal. I went in with zero questions and no nerves. I was treated with nothing but professionalism and honesty. My follow up nurses were lovely and very informative during my recovery.

The result is impeccable. I could not be happier and have recommended The Private Clinic to two close friends within the last two weeks. They look amazing and would not hesitate recommending to anyone who is thinking about a breast augmentation.' *

Johanna, London
'Thank you for changing my life…no more snoring!' *

Dave
"I have to say that my skin has improved noticeably since I have been to The Private Clinic.
Everyone has told me how younger I look, some lines on my forehead disappear after the IPL
It's amazing and the peels are fantastic, it really makes you feel younger after you have one done. I'm very pleased with her treatments indeed I will be a client of The Private Clinic for many years to come." *

Harley Street, London
'I am extremely happy with Dr Fallahdar's procedure and the care that I received on the day of my surgery and also the aftercare' *

Claire, London
'Staff have been amazing! Very pleased with the results. Life changing! Thank you.' *

Harley Street, London
"I LOVE my new thighs – thank you for doing such a good job on them. We are on holiday in Mallorca and it is the first time that I have worn shorts and looked nice in them." *

Harley Street, London
"After a lot of research and other consultations, I decided to have my VASER Lipo operation with Dr Wolf of the Private Clinic which proved a very good decision. Dr Wolf is exceptionally experienced and has the expertise to make what was a dream to a reality. He was able to sculpture my abdomen back to what it was last in 1989. With the combination of dieting I have now kicked started my healthy living to maintain the new me. I have found more self confidence and energy. My wife is also very pleased about the new me. The Private Clinic were able to give me peace of mind and constant support. Making a decision about Vaser Lipo is not an easy one but after speaking to Dr Wolf I was convinced I have found the right man. I am extremely happy about my result and highly recommend you give yourself the chance to have a consultation and learn more" *

Harley Street, London
"Six months ago I had never heard of lipedema. As far as I was concerned, I was an overweight woman, with fat legs, who in spite of 43 years of trying to lose weight, had never managed to do so. In addition to being fat, therefore, I carried the burden of my self-perception as being weak-willed and incapable of exercising control over my body, an attitude that spilled over and profoundly influenced almost every area of the rest of my life.

I had come to The Private Clinic because I wanted a breast reduction having heard about the miraculous Vaser technique, which seemed almost too good to be true: a short, minimally invasive procedure under local anaesthetic, which promised minimal downtime… However during the breast consultation I realized that this might also work for my fat legs and so it was, when Dr Wolf was assessing me for treatment, I first heard about lipedema.

It is not an overstatement to say that day was one of the most significant days of my life. Internet searches for lipedema yielded results that were simultaneously desperate, depressing, liberating and yet hopeful. Depressing and desperate because nine out of ten websites delivered the news that it was a chronic and incurable condition of unknown cause. Liberating because at a stroke I realized I was the victim, not the perpetrator, of my affliction (removing guilt at a stroke). And hopeful because one in ten sources mentioned Vaser, or tumescent liposuction: a new technique, which was apparently 'transforming' the lives of some lipedema sufferers.

It is hard to know where to begin to describe the experience of the last 4 months in which so many physical, psychological and emotional changes have taken place. I'll begin with the experience of surgery itself: I have had 5 procedures in 4 separate operations over 4 months. The experience of Vaser lipo itself is, as promised, short, minimally invasive, minimally uncomfortable and carried out by medical teams who are quite exceptional in terms of the quality of care, technical expertise and follow up treatment they provide. Within half an hour, a double chin I had hated since my teens, was removed. Within a further two hours, the breasts I had loathed since my early 40s, and which had ballooned since the menopause, were considerably reduced (the most marked result being that I no longer walk with a stoop, a lifelong affliction I had assumed was a spinal deformity). The tummy which had grown since the menopause was radically reduced within 2 hours, and the same for thighs and calves (in addition to lipedema, the latter were very disfigured in an RTA I had when I was 17. Selective fat removal has rendered them almost symmetrical and looking far more like normal legs. Again, all under local anesthetic and within the space of less than 2 hours).

At this juncture it is worth remarking on how, in just one patient, this extraordinary treatment has alleviated such a wide range of life-long afflictions, resulting from such various causes as the menopause, an RTA, the condition of lipedema and (in the case of my double chin) some unfortunate genes!

My recovery from each of these procedures has been very smooth. I liken the operations to rather long trips to the dentist (although unlike the dentist, you can chat!) and the recovery period is comparable with getting over a mild cold or having a period. I had to wear a compression garment for 2 weeks, take a course of antibiotics and have some (very enjoyable!) MLD. Post-operative pain was minimal and alleviated with an occasional paracetemol.

Visually, I look very different. I never wanted to be a catwalk model or an athlete – that's not what I wanted from my body – but I now look OK, and looking OK is not something I take for granted! Having spent over 4 decades feeling I was deficient and abnormal, looking OK is a HUGE thing for me, and precisely what I wanted to achieve. I used to think I didn't fit in and my physical problems were in the foreground of people's perception of me. Now I look in a mirror and am happy with what I see, which means I can get on with my life and my relationships with other. I'm OK!

Looking OK, means that the psycho-emotional jumble of self-deprecating thoughts and feelings have been defused. It is impossible to overstate just how significant this is. It is fair to say that even if I hadn't had Vaser, the guilt about my condition would have gone, at a stroke, with Dr Wolf's diagnosis. But with Vaser I find I am more psychologically outgoing. Unconsciously, as the condition took hold and became compounded, post-menopause, with larger breasts and tum, I had let friendships lapse: I have now picked up the threads of some treasured old friends and have many social events planned, which I would otherwise have avoided.

I don't quite know where the energy has come from. Yes, I have lost bulk and feel more psychologically inclined to move and be active, but the resultant energy seems above and beyond these causes. Whatever the cause, this has been a fantastic result and find I DO so much more of everything – gardening, housework and so on. With the increased activity is a further enhanced sense of wellbeing. At one point I was doing so much that my son asked if anything was the matter with me, so unaccustomed is he to having an active mum!

The Vaser results have given me a huge boost, which I am building on with changes in lifestyle. I am learning more about lipedema and eating better, plus taking regular exercise. I recognize that these choices will support my overall health now and into the future.

Speaking of which, in 2 days time I will arrive at the milestone of my 60thbirthday with all that that bespeaks. I shudder to think how I would have felt at this juncture in my life, had I not discovered Vaser. My physical condition would have been unaltered, and I would have hovered in that horrible hinterland of guilt, desperation and false hope. I now feel as though my life has just begun. I have the energy and self-confidence to face the future with enthusiasm, excitement, curiosity and a sense of physical and mental well-being. It is true to say that I feel healthier, in every sense, than I felt at any of my other milestone birthdays.

I cannot recommend Vaser too highly and while I realize that results doubtless vary with the individual, dependent on all sorts of factors, not least patient expectations, I am happy for my results to be used to help others who are in a similar position to where I found myself 6 months ago." *

CM, Shropshire
My name is Kim and I am 35 years old. After having my first child really young and gaining a lot of weight, then loosing it, then having my second and going up to 18 stone then getting down to 10 stone. Training and dieting hard, I always hated my legs – they never looked how i wanted them to look toned or defined,and always big around my knees. 12 years later I tried for my 3rd child and gained 7 stone and a year after having him just really struggled to shift my weight,no matter how hard i dieted or trained, walking 4 miles every morning before work and went the gym. I just couldn't shift my last 2 stone. Just staying the same every week in my Weight Watchers session devastated me because i was doing everything by the book.

Then one night, watching Embarrassing Bodies I saw Dr. Gupta perform an operation on a girl's leg and thought I want that done!

I researched Dr. Gupta and got in touch with him, had a consultation and he showed me some of his work. I was so nervous and embarrassed of my legs but he was lovely. I just felt so comfortable and he went through everything from start to finish and was realistic with me. He told me to go home and have a think about it and get back to him if i wanted the procedure. I knew straight away i wanted to go through with it.

I paid a small deposit, booked my date and paid my balance 20 days before my op. The day arrived, sorted the kids and got my train. When i arrived at the clinic the staff was amazing and Dr Gupta sat with me and talked me through everything once again. He gave me something to relax me and sat and talked to me like i was a friend he was lovely.

I can honestly say I didn't feel a thing. It was fine, even slept, the girls were lovley also chatting away during the procedure. I felt a bit sore as the night went on and the next few days, but the results were amazing.

I felt like had won the lottery, and still had to go back for a second procedure in 6 weeks. Each day just got better. I did need 2 weeks of work due to me standing all day on my legs.

6 weeks later I went back and had my second procedure. Same as last time – just felt it a bit more than last time, but also needed 2 weeks off and just took a bit longer to recover than the first time, but worth every bit of pain. My legs seemed to swell up worse before they went down but now each day my legs are slimmer. I am back training and loosing weight every week sticking to my diet. I feel great – everybody commenting on how good I look and how good I felt in my clothes. I've droped 2 dress sizes but funny enough not lost much weight – just inches.

I would recommend this to anybody and Dr gupta is a perfectionist. I went back and saw my before and after pics and i was shocked at the difference and its only 6 weeks after my second procedure. Once again Dr Gupta was lovely and happy to see how confident I was in my skinny jeans. I am delighted with my legs! Thank you Dr Gupta – you've changed my life and cant wait for my summer holiday and my wedding and honeymoon next year. *

Kim, London
"I recently made a decision to opt for liposuction on my abdomen having spent almost five years trying to shed my post-baby body fat. Having achieved good overall results with a personal trainer, a lot of jogging, low fat diet etc I could not shift some stubborn fat from this area. I researched various techniques for eliminating small pockets of body fat and having read about micro-cannular using the 'wet' technique – (pioneered in America by Dr Klein), went ahead with the procedure in the UK.

I had a consultation with Dr Gupta at The Private Clinic of Harley Street who talked me through the entire procedure, including various alternative options, my expectations, post-surgery care and pain control. I was told to expect that it could take several months to see the final results and that I absolutely must wear post-surgical garments including an abdominal binder to really enhance the final look.

I received a pamphlet of pre-surgery advice along with a prescription for anti-biotics which I commenced the the day before my procedure. On the day I nervously arrived at the clinic to be welcomed by Dr Gupta who has the most wonderful inter-personal skills of any doctor I have ever met (and I have worked in the NHS for over 20 years now). He was genuinely interested in my areas of concern – at that point they were mainly pain control, my nerves and how long it would be before I could play polo again.

I was carefully prepared for surgery and then had photographs taken of the area to be improved. Dr Gupta drew on my abdomen with a blue marker pen to ensure that he addressed the areas that I was concerned about. I was then injected with local anesthetic which I can honestly say I did not feel at all, before the area was then saturated with liquid containing local anesthetic (the 'wet' bit) and tunnels were made into the layers of fat. Dr Gupta chatted away with me throughout the entire procedure whilst we listened to music. We also discussed his recent appearance on 'Embarrassing Bodies'. I felt as though I was amongst friends as the theatre staff talked with me about their
cosmetic surgery experiences whilst waiting for the saturated area to become fully numb. I appreciated how much care and attention was paid to ensuring that I was fully anaesthetized and pain free in preparation for the actual suction of the body fat.

The second and final part of the procedure involved the suction of the fat which was much more gentle than the suction I have seen on TV. I had expected it to be arduous for the surgeon with sweat on his brow, but in actual fact it was more like a gentle wrist action on his part as he pushed the cannulae in and out of the fatty area. I could hear a sucking sound and watched as the blood stained yellow fat was sucked up into a measuring jug on the stand next to me – almost 500ml in total. The area was then wiped dry and the tiny holes (just five in total) were dressed before I had help getting into my very tight post-surgery garment.

Dr Gupta was an absolute perfectionist throughout, always ensuring that I was his focus and comfortable. He has a rapport with his patients that leads to a feeling of complete trust and confidence in his abilities and that his priorities are patient safety, great aesthetic results and an overall positive experience. I would recommend him to anybody who is considering liposuction but can't take time off work or bear pain.

I was told to avoid exercise for 7 days but I was easily well enough to go for a vigorous walk the following morning, do the school run, cook and do desk based work. I was back on my horse and getting ready for pre-season training within two days of my procedure I felt so well. My results have been super – I thoroughly enjoyed being able to wear a bikini with confidence again during our family holiday and look forward to many more as I have been assured that the fat cells sucked away that day will never reappear." *

NB, London
"It was my great pleasure to meet Dr Gupta in April this year with regard to MicroLipo. I found Dr Gupta immensely professional in his explanation of the procedure and he made me feel very comfortable and reassured about having the procedure done.

On the day of the procedure he was a very reassuring face to see and was concerned for my welfare throughout. The level of professionalism continued through after care and I have been thrilled with the results.

It was abundantly clear that Dr Gupta is a stickler for detail and I could not enthuse enough about his qualities as both an excellent surgeon and caring human being.

Should I consider further procedures in future I would not hesitate to use the services of Dr Gupta again." *

London
"I've had a nose job. I had been conscious for some time that I was not breathing properly through my nose – it felt as though I had a permanently blocked nose.

And so, last Thursday, when you were reading my cosy column on whatever it was, I was sitting in Harley Street, London, with a large Frenchman poking about my nose. He sticks acupuncture pins all over your ears and a nice lady gives you a couple of pills to chew. You cease to feel your nose and the back of your throat. This is just as well, because M le Medecin then sets about the inside of your nose with a laser gun. I have to tell you that I never felt a thing. The whole thing took about 20 minutes. For a few days after, you have a runny nose, but apart from that and a certain rawness at the back of the nose (I don't feel like smoking just yet) there have been no ill effects on my person." *

Willie Pool, London
"The procedure went very well. I was extremely nervous about having the surgery and managed to arrive at the clinic forty five minuets early. Never the less I was welcomed warmly and invited to help myself to coffee in the lounge. I found the staff to be extremely kind and helpful. Every effort was made to reduce my anxiety and promote my comfort. I found Dr.Kyriakides to be very pleasant with a kind friendly manner. He exulted a degree of competence that was efficacious. I have not experienced any problems post surgery and am very glad that I chose The Private Clinic for my procedure."*

JR, London
''As I have a deep-scared antipathy to ticking boxes, may I offer you my feedback in the form of a letter. I confess that I first approached you with some apprehension following many years of indecision as to embarking on some treatment for the varicose veins in my legs. From the moment I entered your doors all my reservations were laid to rest. I was met with the most courteous and considerate welcome as potential patient, and every step in the investigative procedure was a reassuring experience. I cannot speak too highly of the professional skill of Mr Vohra and his team in the operation, and the care taken to make my experience as pleasant as possible. All of the staff, from the receptionists to the nurses attendant upon the procedure, maintained the highest professional standards and all went out of their way to make time in your care as relaxing as possible. My only regret has been that I did not come to you years ago and save myself much discomfort and anguish. Thank you for all that you have done to make my life a very great deal pleasanter." *

SP, London
"As a make-up artist, I love perfect skin. On my quest for complexion perfection, I discovered Photorejuvenation, a high-density Intense Pulse light (IPL) treatment that gets rid of blemishes, sun spots, uneven pigmentation, birthmarks and broken veins. Three days after the treatment, I have flawless skin." *

Jemma Kid, London
"To everyone at The Private Clinic, just a note to say thank you, the procedure has worked! I have not snored at all since last Saturday.

Althought my throat is still a bit sore, it really will make a big difference to our lives. I really would say it is money well spent. Thank you once again" *

Alan & Carol, London
"The best thing in many years. The procedure has helped my snoring and the day time tiredness is completely gone, that is what I feel the best about." *

London
"I've had a nose job. I had been conscious for some time that I was not breathing properly through my nose – it felt as though I had a permanently blocked nose.

And so, last Thursday, when you were reading my cosy column on whatever it was, I was sitting in Harley Street, London, having an LAUP procedure to stop snoring. The doctor started with an acupuncture treatment on your ears and a lovely nurse gave me a couple of pills to chew. You then cease to feel your nose and the back of your throat before they start the laser part of the treatment. I have to tell you that I never felt a thing. The whole thing took about 20 minutes. For a few days after, you have a runny nose, but apart from that and a certain rawness at the back of the nose there have been no other side effects." *

WP, London
"Just want to pass on my thanks to u all at The Private Clinic particularly to Dr Raghu Reddy, Shiva and the nurses who assisted during my procedure. I am happy to date with the results and thank the team for their expertise and helpfulness." *

London
"I have been wanting to have Wrinkle injections and lip fillers for sometime but was quite nervous and wanted to be sure to choose the right clinic and an experienced practitioner.

A friend of mine recently had lip fillers at The Private Clinic and as it was a superb result I decided to go there too. My consultation with the Doctor soon put me at ease as he explained everything to me and assured me that I would be fine.

I went ahead and found the whole experience great. I am so pleased with the results and the service I received, I got exactly what I asked for and look good. I have been back four more times for other treatments and will continue to go to the clinic.

I recommended this clinic to friends who are also delighted with their treatment. Cosmetic procedures can be daunting at first but I would recommend anyone to visit The Private Clinic, you will be as pleased as I am." *

Jayne, London
"It is now nearly 6 weeks since my LAUP (plus Turbs) and I thought I would let you know how happy I am with the result.

My snoring is now almost completely stopped, and I can breathe through my nose at night. The apneoia is liewise a thing of the past.

This is transforming. I sleep properly, not walking during the night at the slightest prompting of the bladder. I wake refreshed. I no longer feel drowsy at work and have a renewed appetite for life.

The 2-week sore throat also prompted me to capitalise on the opportunity to lose weight – 1.5st so far. Thank you!" *

P.N, London
"I would like to say an enormous "Thank You" to Dr Dennis Wolf at The Private Clinic for the brilliant work they did and the terrific results achieved with the Fat Grafting (Organic Facelift) they performed on me for facial rejuvenation! They are highly professional and highly skilled in their area of expertise with the added advantage of an eye for fine detail and proportion, which is vital in this field in order to achieve 100% success and client satisfaction. From my first visit with Dr Wolf, and then subsequent visits with him I felt very comfortable in the knowledge that I was with a highly skilled professional team. The great detail that everything is discussed in and the actual explaining of where the grafting will be done to regain areas where fat has been lost without exaggerating any aspect left me feeling very confidant that I had selected the very best possible team in this field. What is absolutely wonderful about this procedure too is the fact that unlike fillers the grafting is soft and allows the muscles and the face to move naturally so that you don't have the typical mask appearance that one so often sees with fillers! It takes years off without leaving you with a "plastic unnatural look"! Dr Wolf is very quick to inform you and guide you should they feel that anything you request would not leave you with the best possible outcome! Thank you also to the nursing staff for the excellent care in theatre and post procedure, an excellent team!! Sincere thanks and best wishes." *

Rosetta, London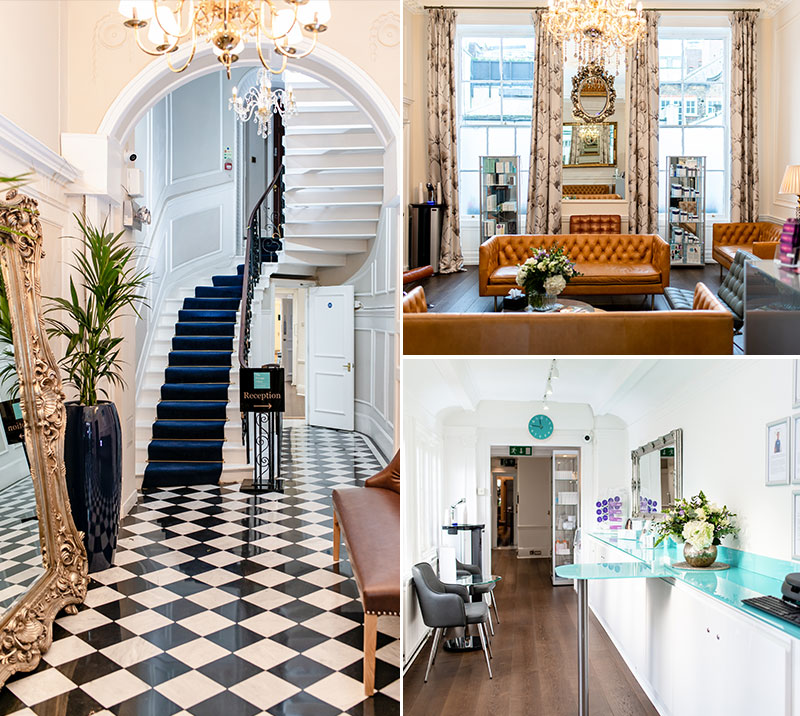 Location
Harley Street London
98 Harley Street
London
,
Marylebone London
W1G 7HZ
United Kingdom (UK)
Phone:

02033256500
Directions