Female Hair Transplants and Hair Loss
1 in 4 women will experience hair thinning in their lifetime. Treatment needs to be targeted and completely individual to your specific diagnosis and scalp issues.
Medically reviewed by
Lorcan Sheppard BSc MBBS FRCA, Chief Medical Officer and the Medical Advisory Committee
for The Private Clinic.
Last Reviewed July 16th 2020
There are many ways to treat female hair loss. This can include use of topical creams and shampoos such a minoxidil, hormonal treatment, light therapy, vitamins and mineral replacement, changing diet and possibly a hair transplant. But finding the underlying issue is crucial.
There can be a number of reasons behind female hair loss;
lack of adequate nutrition and vitamins
stress
traction alopecia
hormonal imbalances (menstrual, peri menopause and menopause)
overuse of hair dryers and hot irons
illness
It is important to meet with the correct experts of hair restoration for women before you decide to go ahead with treatment.
Our expert team of trichologists, hair transplant surgeons and hair loss experts are there to help you understand your own individual case and find the best way forward for you.
A woman's hair can feel like her crowning glory. If hair begins to fall out, it isn't just the individual strands we lose. Some people can find it devastating causing low self-esteem.
1 in 4 women will experience hair thinning in their lifetime. Treatment needs to be targeted and completely individual to your specific diagnosis and scalp issues. Over-the-counter shampoos and products can promise to restore hair or add volume they do not know the underlying reasons for the hair loss.
Start your journey to regained hair
The best recommendation is to book a consultation with our expert trichologists to find out how we can help restore your hair.
Consultations are available in Harley street with Trichologist Jane Mayhead and in Leeds with Trichologist Denise Knight.
The Procedure

Aftercare
The Procedure
Aftercare
FAQs
What does the treatment involve?
In order to explain the benefits of our treatment and what it involves, it helps to give you an idea of what is involved in the more invasive Strip technique. The Strip technique involves removing a long band of skin from the back of the head with a scalpel, then dissecting the follicles under a microscope before placing them onto the bald or thinning area. This technique always leaves a scar, no matter how skilled the surgeon is, and can cause nerve damage and numbness of the scalp. With FUE, a special punch less than 1 mm in diameter is used to remove the hair follicles directly from the scalp. There is no need for a scalpel, hence no stitching or scarring. We can safely extract up to 7000 hairs in one day whereas with previous generations of FUE it was only possible to safely extract 2500 hairs a day. Another advantage of FUE is that none of the follicular units are damaged during the extraction, whereas with the Strip method up to 30% of the donor follicles may be damaged by the use of a scalpel.
Will I feel any pain during the procedure?
The treatment is simple and painless and the graft heals within 2-4 days. Compare this to the Strip technique where healing time takes up to 30 days and requires very strict post-operative care, and you can see why so many people are choosing FUE over the Strip method.
How long does the procedure take?
The length of the treatment depends on the number of hairs needed. Usually between 6 and 8 hours.
How much does Female Hair Transplants and Hair Loss cost?
As there can be various reasons and factors affecting hair loss for females, we recommend a consultation and in depth lifestyle analysis with one of our highly experienced Trichologists. The cost for a trichologist consultation with Jane Mayhead in London Harley Street is £147. The cost for a trichologist consulation with Denise Knight in Leeds is £127. A consultation with one of our renowned Hair Transplant Surgeons starts from £100.
How soon will I see the results?
You will notice a difference immediately. The newly implanted hairs will start to grow, and shed. Hair growth usually starts around 4 weeks, with the final results settling in at about 8-9 months.
Our advice on what to consider when deciding to have a hair transplant procedure:
1. When choosing a clinic, you should always do your research, and only go to an established, reputable clinic.
The Private Clinic has been in the cosmetic surgery industry for over 35 years. We are here to answer all of your questions and give you peace of mind.
2. When choosing a surgeon, make sure you know who you'll be seeing. Their expertise, qualifications and patient satisfaction rate are important factors to take into consideration.
At The Private Clinic, we only source the most experienced and specialised surgeons. Find out more about our plastic surgeons here.
3. Price should never be the deciding factor when choosing where to have your treatment. Safety should be your number one priority and feeling confident that they will look after you – not only before, but also after your procedure
4. When it sounds too good to be true, it often is. Always find out what your clinic's reputation is.
Our excellent reputation for patient safety and satisfaction, honest advice and outstanding care means your journey with The Private Clinic will be an exciting experience to a newfound shape.
Outstanding care, patient satisfaction and results mean everything to The Private Clinic Team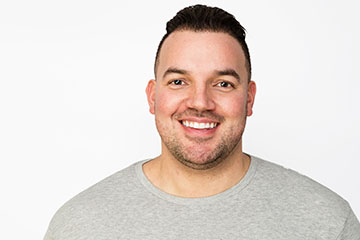 Douglas is a boxing MC from Glasgow and travelled down to our Birmingham clinic from Glasgow to have a FUE Hair Transplant with Dr Michail Mouzakis. Doug originally started to notice his hairline receding in his late twenties and working as a boxing MC found himself in the spotlight quite...
Excellent treatment guided by Dr.Nicholas Kalavrezos and the Anaesthesia Team led by Dr Martinez. It was mg first time under General A and I wasn't too excited. From start to finish all the nurses were superb, the room was clean and my food was also yummy. Sometimes it pays to sort your Private Medical Insurance our. The surgery was booked in less than a week after my 2nd consultation. MRSA and Covid Test also were done prior. I can not recommend The Harley Street Clinic enough. Thank you everyone. Regards Monica
I had an eye vein removed by laser , I'm very happy with the results ,I still need a check up Marie is very kind and said on my next visit she will laser the vein if it's not gone , but so far so good the big part of the vein has gone. but unfortunately iv not been able to get to London because of the COVID, so hopefully I can go for my check up next year.
Great experience. Had two operations with these guys and great service, really put you at ease on the day, great post op support and amazing results! Cannot recommend highly enough
Very friendly and helpful, very happy with the service.
Michael Neslund
2020-12-17
Had a FUE hair transplant on 16 December with Dr Furqan Raja. He and the two nurses he worked with were fantastic! They made me feel very comfortable throughout the procedure and constantly checked in with me. I had 1700 grafts taken from the back of my head and put into the front where I had gone bald either side of my windows peak. It took a bit longer than I thought (about 8.5 hours) but this was due to the high quality, attention to detail and best result they wanted to achieve for me. I had the procedure done at the Leeds clinic but could have chosen Manchester too. I travelled two hours there and back in one day. I am now following the after care information they gave me and also the full kit of products they provided (all included in the price) to help me make sure I look after the new grafts properly. I have follow up appointments with the nurse and access to an emergency on call nurse 24/7 if required. But so far, I have no pain and everything is exactly as described to me in advance of the procedure. I did a LOT of research online and found many of the other national FUE/FUT hair transplant clinics too sales driven and very pushy. Dr Furqan Raja and the team at the private clinic gave me time and space to decide on what was right for me, and importantly they never sold to me but just answered all my questions in a professional, caring and trustworthy manor. This is why I chose them and looking at the early results I am pleased I did! If you speak to other clinics and do your research, make sure you also book a consultation with The Private Clinic. Alex Clair in Manchester was my Patient Coordinator and he went out of his way to help me and gave me lots of free, practical and helpful information up front. Their straightforward, honest and friendly approach was great throughout. Highly recommended Dr Furqan Raja, Alex Clair and the whole team.
Sophie Veerasawmy
2020-12-17
All of a sudden I noticed these veins under my eyes, it was soooo upsetting to see everyday! I didn't think I could do anything about them. Until I googled and it came up with Harley street and they did removal of under eye veins. I rang the them up and they was so helpful! And from there I was booked in and was so happy to know I can get something done! Everytime I called up nothing was a problem and was always happy to talk to me and answer any questions I had. When it came to the day of the procedure, Marie was so calming and made me feel as relaxed as possible. It was a little uncomfortable but soooo worth it as the results are amazing! Very happy I chose Harley street for the this treatment! Thankyou so much!
Amazing, Brilliant service!!
I had a laser treatment with Maria at The private clinic. She's very professional and very experience. the result is amazing!! Thank you Maria
Miss Kelly Phillips
2020-12-15
I had treatment with Nurse Marie. She was so kind. The first treatment was rather painful and when I came in for my second round I was very nervous. Marie was so caring, she totally understood and took her time treating. Would definitely recommend.
Anti – aging treatments with Dr Santa Cruz are a must for me. I have been seeing her for about 3 years now at the Private Clinic of Harley Street. Very knowledgeable and takes before and after photos which have been incredibly helpful when we want to see how much of a difference the treatment has made. I would highly recommend her as her treatments are 100% effective and painless. Also I feel safe with the covid -safe measures they have in place.
Why Choose The Private Clinic
Our team of fully-qualified trichologists who can help diagnose underlying hair problems includes:
Jane Mayhead in Harley Street
Denise Knight in Leeds
Our UK-wide hair Transplant surgeons include: 
Dr. Raghu Reddy is one of the most sought after hair transplant specialists in the UK. He has spent years perfecting the advanced method of FUE hair transplant to ensure better results and minimal downtime. He is the leading authority on FUE hair transplant procedures in the UK and has successfully helped many get the results they hoped for. He can also correct the problems and scarring caused by previous hair transplant treatments. Dr. Reddy's meticulous attention to detail comes from his personal experience in dealing with hair loss and his desire to achieve the best possible results for each and every patient.He has also perfected the unshaven method of transplanting without the need to shave the donor area, making it easier for a patient's treatment to go undetected.
Dr. Michael Mouzakis is an extremely knowledgeable surgeon with a wealth of experience in a range of FUE treatments. His background in plastic surgery prior to hair restoration means he is committed to the most meticulous details for the very best results. He is available to perform standard FUE, UFUE and FUE for the face, eyebrows and beard.

HAIR RESTORATION SURGEON
MBBS, MRCGP, DPD
GMC Number: 6041095

PLASTIC RECONSTRUCTIVE AND AESTHETIC SURGEON
MD, MSc, Bachelor of Medicine
GMC Number: 7237640

CONSULTANT NEUROSURGEON AND HAIR TRANSPLANT SURGEON
MB ChB – University of Manchester, 2004
GMC Number: 6103427

HAIR TRANSPLANT SURGEON
MB ChB – University of Leicester, 2013
GMC Number: 7419667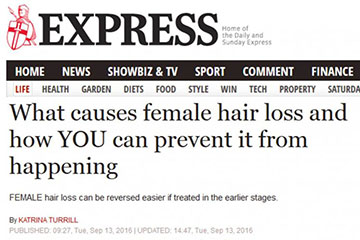 What causes female hair loss and how YOU can prevent it from happening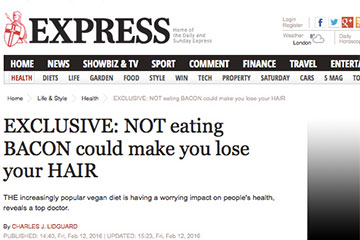 Exclusive: Not eating bacon could make you lose your hair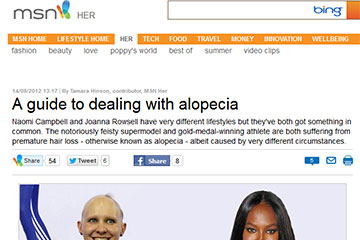 A Guide to Dealing with Alopecia