FUE Hair Transplant Aftercare
The initial days and weeks following your hair transplant procedure are important times for your scalp to begin healing and recovering and so following aftercare advice provided by your surgeon and medical team is vital to ensure you achieve the best possible results.
Your hair transplant procedure will be carried out in one of our in-clinic specialist hair transplant theatres. Usually hair transplants are performed over the course of a day lasting 6-8 hours but in some cases your procedure will be split over 2 days.
Once your hair transplant is complete you will have dressing and bandages applied to the donor area on the back of the scalp and also on the areas treated. The surgeon will go through the recovery process with you and provide you with post-operative instructions for you to follow at home.
At The Private Clinic we provide all patients with an aftercare pack which includes all your aftercare instructions and supplies, and our 24 hours helpline is there to ensure you get the best care throughout this time.
Recovery Time
How long is the recovery time after a FUE Hair Transplant?
We estimate around 6 weeks to initially recover from an FUE Hair Transplant although you will not be required to rest and will be fully mobile and able to return to the majority of your day-to-day activities such as work and gentle exercise within 1-2 weeks.
Side Effects
Will I experience any side effects from an FUE Hair Transplant?
Swelling, redness, and tightness following an FUE Hair Transplant is common in the immediate post-operative recovery period and it can take a few days to subside, but you will be provided with medication to help you feel comfortable.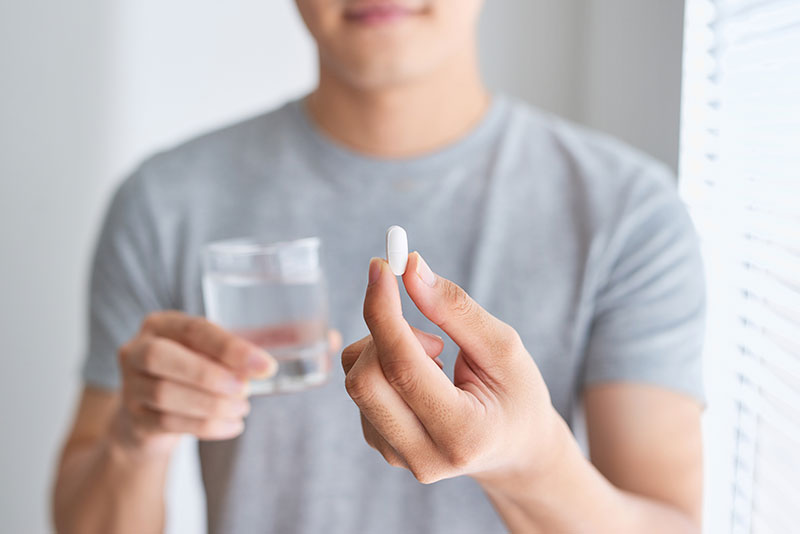 Medication
What medication will I need to take following an FUE Hair Transplant?
You will be supplied with painkillers for any discomfort, antibiotics to prevent infection and anti-swelling medications to try and reduce or prevent any swelling or inflammation that may occur after a hair transplant.
You may also be advised to start Finasteride and/or Minoxidil to help you achieve the best results from your hair transplant procedure. Minoxidil is a topical medication that helps to stimulate new hair growth. Finasteride is available as oral medication or topical medication and helps to manage the production of Dihydrotestosterone (DHT) which is one if the most common causes of hair loss and thinning in men.
Sleeping
How do I sleep following a hair transplant procedure?
We recommend sleeping on a towel or we can provide you with protective padding sheets to lay on for at least the first night following your hair transplant procedure.
For the first 7 days following your hair transplant procedure it is best to keep your head elevated using several pillows, a neck pillow or even sleeping in a reclined chair to prevent the build-up of swelling.
After these 7 days you will be able to return to sleeping normally as any swelling should be resolved.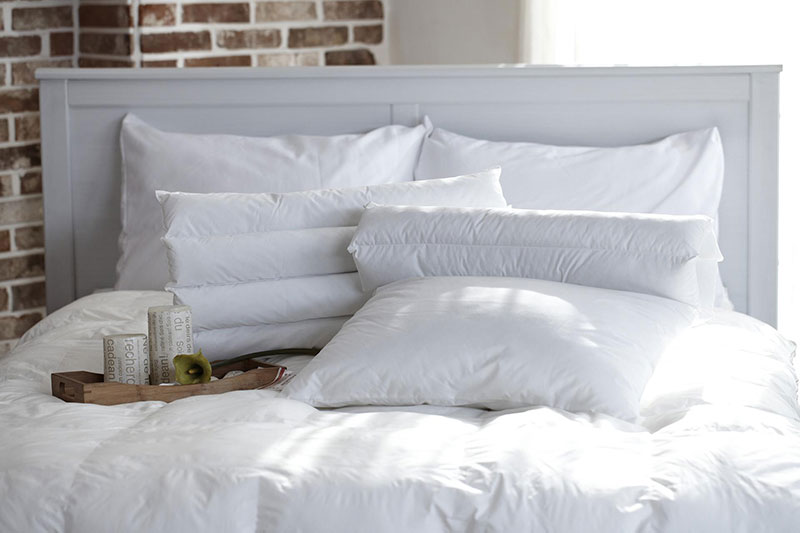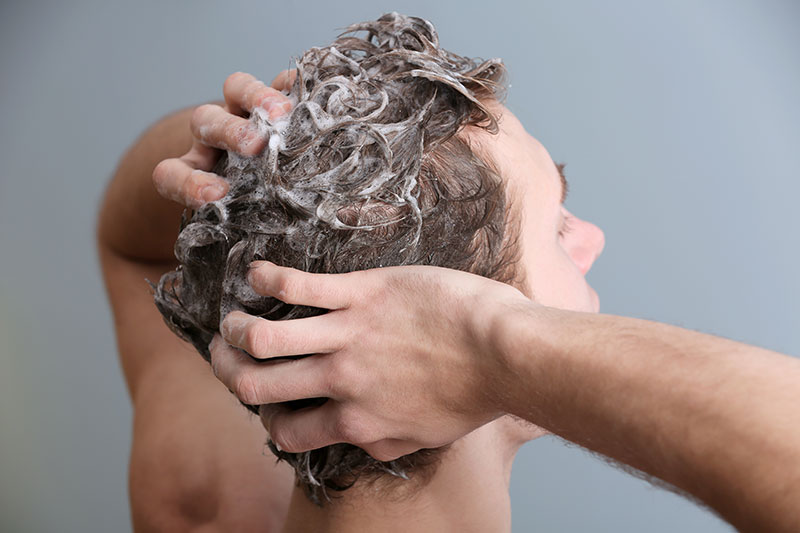 Cleaning
How do I clean my hair after a hair transplant procedure?
Your hair transplant surgeon will clean your scalp before you leave however there may still be bleeding for the first 24 hours. You will be supplied with gauze which should be used to apply light pressure onto the areas for 10 minutes. The back of the head can be cleaned with baby shampoo and lukewarm water after 2 days. You should avoid touching the newly implanted hair for the first 4 days after treatment. After 5 days you will be able to start washing your entire scalp/head with warm water and a mild shampoo. After 15 days you can start to gently comb the hair.
You will also be provided with a spray bottle filled with a sterile Saline solution which should be sprayed onto the head every 30 minutes whilst you are awake for the first 4 days. If you are experiencing extreme itchiness, then you can take an antihistamine.
| | |
| --- | --- |
| Time After Procedure | Action |
| Day 1 | Spray head every 30 minutes (whilst awake). |
| Day 2 – 4 | Continue with spraying, wash the back of your head (donor site) only with baby shampoo using cool to warm water. |
| Day 5 | Using warm water pour it over the whole of the scalp and lather shampoo in your hands. Gently pat it onto the graft areas, while lightly rubbing it into the other parts of the scalp, including the sides and back of the scalp. Gently rinse off the shampoo, and then pat dry. |
| Day 6 – 14 | Continue to wash the hair using the same technique as day five |
| Day 15 – 2 months | Continue to wash the scalp with a mild shampoo once a day. Combing, as long as it is performed gently, is permitted from day 15. |
Hair Shedding
It is normal to experience hair shedding around 5-7 days after your hair transplant procedure. These are only the hair shafts, and the hair follicles will still be in place in the scalp. After 2-3 months the new hair shafts will begin to grow, the normal rate of hair growth is around ½ an inch to 1 inch a month. It will take 6-12 months for all the new hairs to grow in.
Shock Loss
Shock loss is when you experience a sudden loss of natural hair in the days following a hair transplant procedure. It usually occurs when there has been trauma or damage to the scalp during a hair transplant procedure.
Shock loss is rare and is different to the normal shedding process that the majority of all hair transplant patients will experience post-procedure. Our expert surgeons have years of experience and have specific regulations in place to avoid the risk of shock loss.
If you do feel like you are experiencing shock loss, it is usually temporary, and the hair will return as normal within 3 months.
Hair Care
When can I have a haircut following a hair transplant?
We advise waiting 4 weeks post procedure before having a haircut, and only once any redness, swelling or scabbing has gone. You may wish to seek guidance from your hair transplant surgeon or medical team before having a haircut or let your hairdresser or barber know so that they can make provisions to ensure that no damage comes to your new hair follicles.
You will be able to colour your hair with dye eventually, but your new follicles are likely to be more sensitive to chemicals and styling products especially in the initial growth stages and so we recommend waiting at least 1 month. It is also best that you perform a patch test as the new hair follicles may react differently to the dye.
Newly implanted hair follicles will remain vulnerable for a while following a hair transplant procedure and so it is important that you allow them to heal correctly. Hair styling products and heated hair tools such as hair dryers and straighteners can cause damage leading to less than perfect end results. Once the hair is mature after 6-12 months then you can look at returning to these styling tools however more natural alternatives may be preferred to help preserve the health of your hair.
Results
When will I see the results of my hair transplant?
Your hair will begin to grow naturally around 2-3 months after your hair transplant procedure. The growth rate of your new hair follicles will vary between individuals but on average you should notice anywhere from ½ an inch to 1 inch of hair growth each month.
It is important to be patient during the hair transplant recovery process, it does take time for the hair follicles to grow with many not seeing full hair growth results until 6-12 months post procedure.
As your hair follicles begin to emerge from the scalp you may notice some pimples, if this happens, we recommend soaking the pimples with warm water and antibiotic ointment several times a day for up to 3 days and to contact your hair transplant surgeon or clinic if this does not resolve the issue.
Who can I contact if I have any concerns?
If you have any questions or concerns about your hair transplant aftercare please contact your hair transplant surgeon, patient coordinator or clinic who will be happy to help.
Get in touch
If you have any questions about the treatment process, drop us a message using our online enquiry form.
Request a callback
You can also contact our friendly team of hair transplant and hair loss experts using our helpline to request a call back.