Renowned UK Hair Transplant Surgeons
Optimal hair density with Micro FUE
Natural Looking Results
0% Finance Available
What's on this page
Medically reviewed by Mr Michael Mouzakis, M.D, MSc, Consultant Plastic Reconstructive and Aesthetic Surgeon for The Private Clinic of Harley Street, London.
Last Reviewed November 24th 2023
Related Treatments
Hair Transplant for Men
At The Private Clinic, we understand hair loss and the impact it can have on your life. Experience should be your main consideration when choosing where to go for a hair transplant and you want to get it right the first time.
Our Hair Transplant and hair restoration surgeons have over 15 years of experience in perfecting the FUE Hair Transplant Surgery Technique. We were one of the first clinics to introduce follicular unit extraction (FUE) transplants back in 2009 when FUT was previously the only option.
We have treated thousands of patients since 2009 and have extensive experience in providing long-term results with our minimally invasive, no linear scar, no stitches techniques.
Our commitment to our patients, their care and their results are why we continue to attract patients. We know there are no shortcuts to long-term success so you can expect an honest and thorough approach. In fact, 96% of our patients would recommend us to their friends and family.
Nowadays, over 30% of patients who come to see us are seeking a hair transplant revision procedure following a badly performed hair transplant from elsewhere. Unfortunately, it is not always possible to fix a poor result, particularly when the donor area has been compromised. That's why it is important to do your research.
Find out more about Hair Transplant Repair / Revision.
Get it right the first time.
Established clinics you can trust
At The Private Clinic, FUE Hair Transplants are performed by some of the UK's top hair restoration surgeons who have decades of experience. Our full range of dedicated CQC registered hair clinics are located in London Harley Street, Birmingham, Manchester, Leeds and Northampton.
"I had a procedure with the Private Clinic and during my whole journey with them, their professionalism and communication has been superb. Everything has gone smoothly, and I am extremely happy with the end result. I feel much more confident as a person. It's also comforting knowing they are available in future should I need further support." – Rob, Hair Transplant Patient – 5* Review
The perfect technique
Our Hair Transplant surgeons have been perfecting their FUE techniques since 2008 and are known worldwide for their expert results and reputation.
Natural Results
Our surgeons take the time to carefully assess the natural growth direction of your hair. This allows them to create a detailed plan to ensure that new hair grafts are only placed in the direction that your hair naturally grows.
When treating the hairline, our surgeons will work with you to plan out the most natural-looking shape for your new hairline, often using the anatomical landmarks of the face to provide long-lasting results.
Optimal Density
Our hair transplant surgeon will always aim to achieve the highest density possible. Unlike other clinics, however, we prioritise long-term results. That means we won't over-promise a huge number of grafts in one area only for the results to be short-lived. Our hair transplant surgeons will use their expertise and years of experience to assess your individual situation and determine the best approach to achieve long-lasting maximum hair density.
Virtually Undetectable FUE Procedure
Our expert hair transplant surgeons focus on making small entry points into the scalp. This ensures that the donor area looks intact after the hair transplant procedure. Wearing your hair short is not a problem because with our technique there is no obvious scarring.
Do your homework. If any clinic suggests a robot FUE, think twice. We believe that this is too rough and does not yield the best hair transplant results.
We pride ourselves on our results, service and aftercare, see our 5-star Trust Pilot rating, we have the highest rating in the industry.
Hair Transplant for Men London Clinic at a glance
Procedure Time
6 – 8 hours / 1 – 2 days
Anaesthetic Type
Local
Hospital Stay
Daycase
Support Garment
None
Driving
1 day
Sexual Activity
2 weeks
Back to work
1 week
Reasonably Mobile
Immediately
Travel
1 – 2 weeks
Recovery Time
6 weeks
Exercise
2 week
Final Results
12 months
Washing
Sterile spray for 4 days, then wash with mild/baby shampoo for 2 months
Sleeping
Sleep on back with head elevated (45° angle) for 10 days
Hair Transplant Before & After Photos
"He set his expectations with me on what could be achieved clearly and delivered. On the day, things went exactly as he laid out and 15 months later, the results are phenomenal. Look no further – this is an exceptional, professional and world-class team" – Sid, Hair Transplant Patient – 5* Review
See our hair transplant results highlighting the number of grafts and areas treated including the hairline, frontal area, temples, midscalp anterior, midscalp vertex and crown.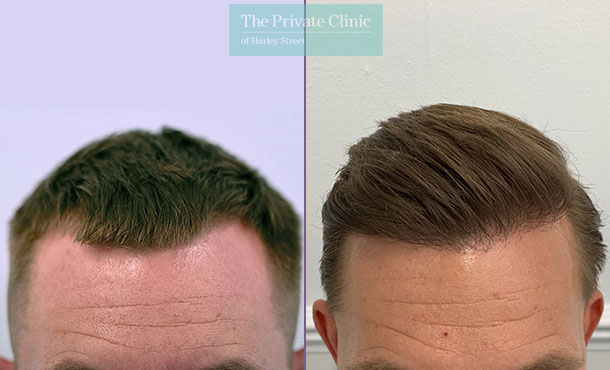 FUE Hair Transplant
Hairs: 1999
Grafts: 1044
Area: Hairline & Temples
Time of After Photo: 12 Months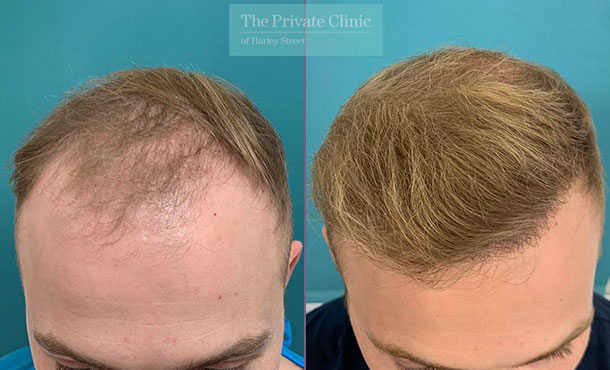 FUE Hair Transplant & Non-Surgical Hair Loss Treatment
Hairs: 3272
Grafts: 2097
Area: Frontal & Hairline
Time of After Photo: 8 Months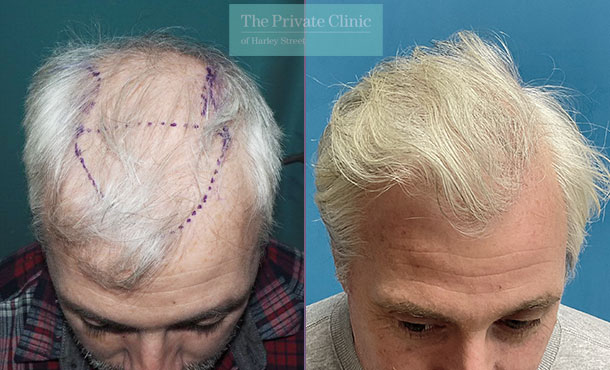 FUE Hair Transplant (2 Day Procedure)
Hairs: 6966
Grafts: 2347
Area: Crown, Midscalp & Frontal
Time of After Photo: 9 Months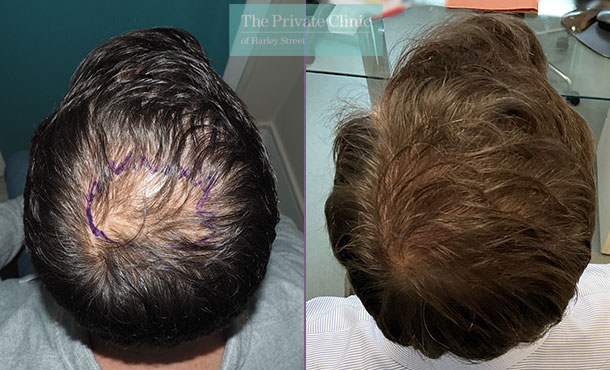 FUE Hair Transplant
Hairs: 2482
Grafts: 979
Area: Crown
Time of After Photo: 18 Months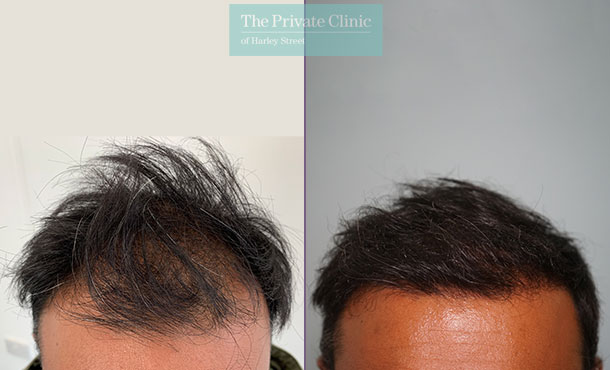 FUE Hair Transplant
Hairs: 1800
Area: Hairline & Temples
Time of After Photo: 6 Months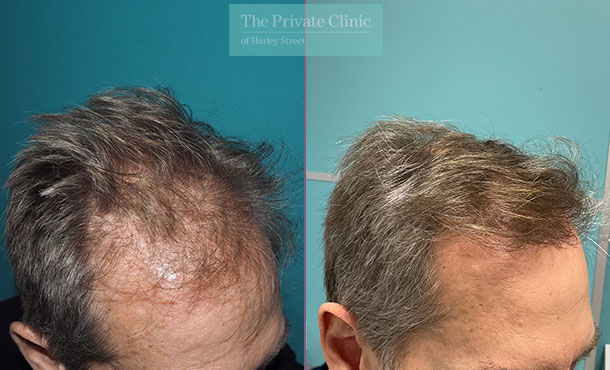 FUE Hair Transplant
Hairs: 2913
Grafts: 1075
Area: Midscalp & Frontal
Time of After Photo: 12 Months
What to Expect from Your FUE Hair Transplant Journey
Hair Transplant Consultation
Your first step on your hair transplant journey is to book a consultation to see if you are suitable.
Pre-Consultation Screening
Before you see one of our hair transplant surgeons, all patients will have a pre-consultation screening with one of our patient coordinators, this usually takes place over the phone.
The purpose of this conversation is to:
Find out which hair loss treatment you are interested in and determine your suitability.
Answer questions about your visit to the clinic.
Answer questions about the steps involved in your hair transplant or hair loss journey.
Consultation with a Surgeon
Your second consultation will then take place with one of our expert Hair Transplantation Surgeons. Your surgeon will listen to your concerns regarding your hair loss, carefully assess your hair loss pattern, scalp condition and overall suitability for the procedure.
They will perform a hair analysis to diagnose your hair loss according to the Norwood Scale (Hamilton-Norwood Scale). This is the most recognised method of diagnosing the severity of male pattern baldness. Find out more about The Norwood Scale here.
A typical consultation takes around 45 minutes, during which the following aspects will be covered:
Medical History Discussion
Hair Loss Evaluation
Hair Transplant Options
Customised treatment plan including recovery and aftercare
Risks and Complications
Our hair transplant consultations are a confidential and judgement-free space. You will be able to openly discuss your hair loss concerns and share your goals from hair restoration surgery. Our surgeons are committed to providing patients with honest and realistic expectations helping you to make an informed decision about your hair transplant journey.
We provide patients with an honest analysis that not everyone wants to hear, but it could save you thousands of pounds later on.
In some cases, we may advise that having a Hair Transplant is not the right option for you right now. Reasons for this include:
Too young – Having a hair transplant too soon can mean that your hair loss pattern is not yet understood, and your results are not going to be long-lasting.
Unrealistic hair lines – Everyone's hairline changes and evolves over time, getting a hair transplant for a hairline that looks good in your 20s is not going to look realistic when you reach your 40s. We see many men who want their hair transplant removed because it is too low.
Depletion of the donor area – Starting a hair restoration procedure too young often means that your rate of hair loss is not yet established. You are more likely to require multiple procedures throughout your lifetime putting you at risk of your donor area running out of viable hair follicles to transplant. Find out more.
Being honest about the right time to have a procedure is crucial if you want to have success and achieve a natural result.
After your consultation
If your hair transplant surgeon feels you are a good candidate for surgery, you will be invited to consider progressing to treatment. You will be provided with information about the procedure and a more accurate hair transplant cost.
You will then have a 2 week cooling off period where you can decide if to proceed or not.
Following your hair transplantation consultation, you will be allocated a dedicated patient coordinator. They will be your point of contact should you wish to go ahead with hair transplant surgery.
Find out more about what to expect at your Hair Transplant Consultation here.
Hair Transplant Procedure
FUE Hair Transplant surgery will take place in one of our state-of-the-art hair transplant theatres. Our surgeons only perform one hair transplant procedure a day and are present for the entire procedure meaning you will always receive their utmost attention.
Our hair transplant theatres are well-equipped to help ensure you are comfortable throughout your procedure. We offer complimentary Wi-Fi should you wish to use your own devices, or we have TV access to Netflix and other streaming platforms and a speaker to listen to radio or podcasts within the room. Many find this time a real break from their busy schedules and are grateful to be able to watch a film or simply relax without being interrupted.
All patients are provided with a lunch and refreshments throughout.
Our surgeons each work with a team of very experienced hair technicians many of which have over 10 years of experience. They will be always on hand during your hair transplant procedure to ensure your comfort at every stage of your hair transplant treatment.
What happens during a Hair Transplant Procedure
You will be prepped for your hair transplantation surgery which usually involves shaving the head and washing the hair. This is usually carried out by our hair technicians and can take up to 30 minutes.
You will be positioned lying face down on the couch and local anaesthetic and tumescent solutions will be injected into the scalp. This is often cited as the worst part of the procedure, whilst some pain may be felt initially, this is usually bearable by our patients and the anaesthetic will take affect within 15 minutes.
The extraction will then start with the surgeon using a specialised punch device, ranging in diameter from 0.6mm – 0.9mm, to extract follicular units from the back of your head complete with necessary glands. This separates surrounding tissue from the unit, meaning minimum trauma and better results.
The grafts from the donor area (back of your head) will be transferred to trays, and classified as a single hair, two hairs and three or more hair grafts and recorded.
Once the extraction is complete, there will be a break. During this time you will be provided with lunch and time to stretch your legs before starting the second part of the procedure.
You will return to the couch this time facing upright so the surgeon can access the recipient site that is being treated.
Additional local anaesthetic and tumescent solution will need to be injected into the recipient site. Depending on the technique being used by your surgeon either an implanter tool will be used to implant the new hair follicles or small slits will be made to hold the newly transplanted hair.
The implanter tool is a sophisticated instrument used for FUE Hair Transplantation which has minimal downtime, maximum growth and offers the most natural-looking result. We are one of few clinics to offer this technique known as Micro FUE.
The implantation of the hair follicles is performed under a high-powered microscope using specially designed instruments, allowing the Hair Transplant doctor to work with the utmost precision for natural-looking, virtually undetectable results. Transplantation of all the vital elements of each hair follicle means a better survival rate and better growth.
Once the procedure is complete, you will be shown the results of your procedure before bandages are applied to the treated areas.
When the clinic team are happy that you are feeling well and safe to return home, we will discharge you from the clinic to recover.
You will then be provided with a post-operative care package including detailed instructions to follow at home.
When the clinic team are happy that you are feeling well and safe to return home, you will be discharged from the clinic. We do not recommend driving following a hair transplant procedure due to the local anaesthetic.
How long does a Hair Transplant take?
In most cases, an FUE Hair Transplantation procedure is performed over the course of a day taking 6-8 hours. However, if a large number of hairs are being transplanted, then the surgeon may recommend performing the procedure over two days. In this case, you would need to return to the clinic the following day to complete the procedure.
Find out more about your hair transplant surgery in our step-by-step hair restoration guide.
Hair Transplant Aftercare
After your hair transplantation procedure is complete, you will be provided with an aftercare pack. This contains;
Instructions (post-op, letter for GP, chart and emergency contact information)
Spray
Saline
Medication (antibiotic, corticosteroid and painkillers)
Inconvenience pads
Swabs
Your surgeon will go through the aftercare instructions with you to ensure you understand how best to care for your newly implanted follicles.
A member of our nursing team will call you usually the day following your hair transplantation surgery to ensure you are feeling comfortable and recovering well. You will also have been given details of our dedicated on-call nursing team who can be contacted 24 hours a day, 7 days a week should you have any worries or concerns during your recovery time.
Side effects
You are likely to experience swelling, redness, and tightness following treatment in the immediate post-operative recovery period which can take a few days to subside, but you will be provided with medication to help you feel comfortable.
Recovery Time
It's usually recommended to take a couple of days off work, depending upon the nature of your employment. Most patients are able to return to work with no obvious signs of a hair transplant procedure after 10-14 days.
You will be required to follow strict aftercare instructions in your care plan as advised by your surgeon which involves spraying the scalp with a saline solution on a regular basis for the first couple of days following your procedure.
The full recovery time of a FUE Hair Transplant procedure is around 6 weeks but your final results can take up to 12 months to fully be seen.
Follow-Up Appointments
Post-operative appointments usually take place at 6 weeks and 12 months following hair restoration surgery. Your surgeon will then be able to advise further on how to look after your newly implanted follicles.
Looking for a more discreet procedure?
The Private Clinic is a specialist FUE Hair Transplant Clinic that regularly provides hair transplants for patients who require a higher level of privacy and discretion.
We provide a range of hair loss treatments including FUE Hair Transplantation and non-surgical hair loss treatments. We can provide a procedure in our out-of-hours service.
This service is for patients who are looking to undergo hair restoration surgery away from the public eye, and this service is regularly used by CEOs, high level executives, politicians, high profile athletes, actors, and television personalities.
If you are seeking a hair transplant away from the public eye, please contact us for more information.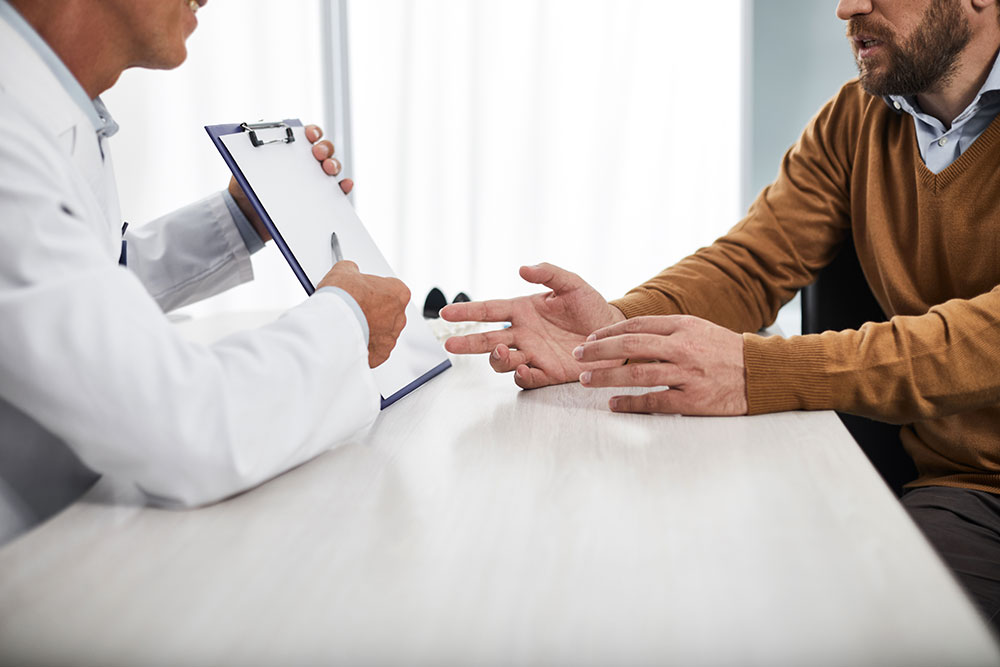 Hair Transplant Videos
The Private Clinic have collaborated with Chrysalis Finance to offer 0% finance for our patients.*
*Acceptance is subject to status. Terms and conditions apply.
hair transplant Procedures are available in these clinics
Hair Transplant Patient Stories
Honest Advice, Outstanding care, patient satisfaction and results mean everything to The Private Clinic Hair Transplant Team
See what some of our patients have had to say about our hair transplant procedures.
Helping you to make an informed decision
Expertise of our surgeons
Our hair transplant surgeons are UK based surgeons registered with the GMC. They will be supporting you throughout your entire hair restoration journey and beyond.
Our Hair Transplant Surgeons have many years of experience in FUE (Follicular Unit Extraction) and treat hundreds of patients every year.
Best techniques to achieve natural and long-lasting hair
We offer the advanced Micro FUE with Implanters technique. We use the finest instruments, resulting in minimal trauma to your scalp.
We focus on achieving undetectable scars.
We ensure hair is implanted in the direction that matches your hair growth achieving natural results with denser packing.
High Quality Care
Expert aftercare advice 24/7 and regular post-operative appointments with your hair transplant surgeon.
Comprehensive hair restoration patient information.
Our prices reflect our offering of the best hair transplant clinics and surgeons in the UK, we do not cut any corners.
Over 30% of our patients come to see us for revision hair transplant procedures from low quality clinics. Find out more here.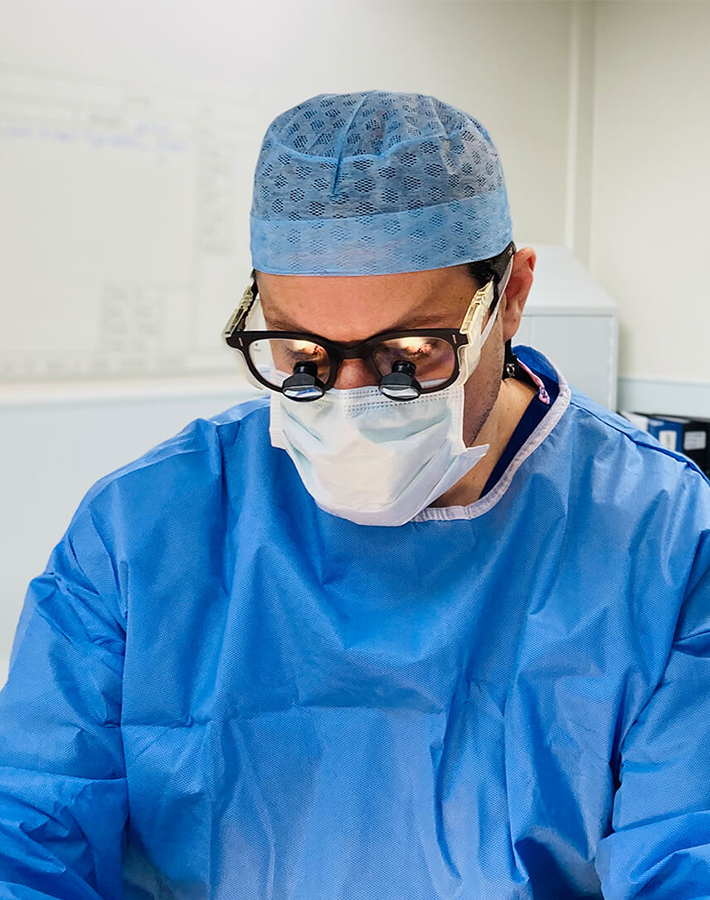 Meet our Hair Transplant Surgeons
Our expert hair transplant surgeons have been treating hair transplant patients for decades. We pride ourselves on our excellent reputation for quality hair transplant results. For further information or to book to see one of our Hair Transplant experts please click here.
At The Private Clinic, we also perform hair restoration on the face, including on the beard, moustache, and eyebrows, and are able to perform FUE Hair Transplants for Scar Repair, Hair Transplant Revision. For those who are not suitable for a hair transplant, consultations and hair loss treatments are available with our Expert Trichologists.

Mr Michael Mouzakis
PLASTIC SURGEON, HAIR TRANSPLANT SURGEON & VASER LIPO TOTAL DEFINER SURGEON
MD, MSc
GMC Number: 7237640
London Harley Street, Leeds, Northampton & Birmingham

Dr Luca de Fazio
HAIR RESTORATION SURGEON & PLASTIC SURGEON
MD, BSc, Msc
GMC Number: 7095123
London Harley Street

Dr Ismail Ughratdar
CONSULTANT NEUROSURGEON AND HAIR TRANSPLANT SURGEON
MB ChB
GMC Number: 6103427
Birmingham