Hair transplant repair helps to fix a hair transplant gone wrong
Expert surgeons with years of experience who specialise in hair transplant revision
Personalised treatment plans to help you achieve the best results
What's on this page
Medically reviewed by Lorcan Sheppard BSc MBBS FRCA, Chief Medical Officer for The Private Clinic of Harley Street, London.
Last Reviewed June 16th 2023
Hair Transplant
Hair Transplant Repair / Revision
Despite big advancements in hair restoration procedures, there is still an increasing number of patients seeking revision surgery to fix their unsatisfactory hair transplant results.
In our clinics, over 30% of patients are revision hair transplant patients that have had a hair transplant previously at another clinic and they are now unhappy with the results.
Bad hair transplant results can cause not only physical scarring but mental scarring too where patients often feel emotional distress over the time and money spent.
Our hair transplant surgeons are very experienced in performing hair transplant repair procedures also known as hair transplant revision or hair transplant reverse procedures to help these patients achieve better results. Click here to see our before and after photos.
Hair Transplant Revision surgery is usually performed within 6-24 months of your previous hair transplant procedure being performed.
Do I need hair transplant revision surgery?
There are many reasons why a hair transplant may go wrong and why patients may choose revision hair transplant surgery. These include:
Unnatural hairline
Not enough density
Poor hair follicle quality
Scarring
Overharvesting
What is an Unnatural Hairline?
The planning process behind performing hairline hair transplants in particular is very important. Consideration should be taken to decide on the texture, size, colour, and angle of each hair graft when they are transplanted into the area.
As one of the most noticeable areas on your face, it is important that your surgeon gets it right, as when they get it wrong – it is very difficult to hide.
An unnatural hairline is a hairline that has often been designed to sit as a straight line across the head with no irregularities. Although this might sound like the perfect hairline, it looks very unnatural as no one has a hairline that runs straight.
Hairlines that are placed too high can also cause the forehead to look large and is unlikely to show any results. Hairlines that are too low may make the patient look younger, but it runs the risk of looking unnatural and will need further hair transplant. surgery after a few years to address future hair loss.
How to treat an unnatural hairline?
An unnatural hairline is usually repaired using an FUE Hair Transplant procedure. The surgeon will plan a new hairline shape that is reflective of the patients age and state of hair loss. New follicles are taken from the donor area and transplanted to the hairline to reshape the hairline. Incorrectly placed follicular units can also be removed from the hairline during this procedure.
What is lack of density?
Lack of density is when there have not been enough hairs implanted during a hair transplant procedure to cover the area of balding and the scalp may still be visible.
How to fix lack of density?
In most cases, lack of density can be repaired with an FUE Hair Transplant procedure where additional hairs are implanted into the areas required. This is actually a highly skilled procedure as great care must be taken so as not to damage the existing hair follicles in the area.
What is poor hair follicle quality?
Poor hair follicle quality occurs when the hair follicles have not been handled appropriately after they have been extracted from the scalp. When hair follicles or grafts are taken from the donor area, expert care must be taken to ensure that they do not dry out. They should be placed in a physiologic solution within 10-20 seconds of them being removed from the scalp. Care should also be taken whenever the grafts are moved from one place to another, when they grafts are trimmed to their required sizes and when the grafts are implanted.
The act of implanting grafts also carried a number of risks including grafts becoming crushed and grafts being placed too close together so there is not enough blood supply to feed them all. When grafts are placed, and blood supply is not sufficient they will not grow.
How to fix poor hair follicle quality?
The failed hair follicles will be removed from the area and a FUE Hair Transplant procedure will be performed to take new hair grafts from the donor area and place them to cover any areas of balding due to poor hair follicle quality.
Great care must be taken to ensure the grafts are stored correctly and not implanted too close together or too deep which runs in the risk of an infection or folliculitis
What is scarring?
Visible scarring after a hair transplant procedure is usually a result of Follicular Unit Transplant (FUT) surgery, also known as strip surgery. This is when a strip of hair is cut from the scalp and then stitched closed.
How to treat scarring?
An FUE Hair Transplant procedure can be performed to help camouflage and hide scarring left by an FUT Hair Transplant or poorly performed hair transplant procedure. Find out more here.
What is Overharvesting?
Overharvesting is when too many hair follicles are removed from the donor area during a FUE Hair Transplant procedure. Overharvesting can cause hair thinning or loss on the donor area and visible scarring.
How to treat Overharvesting?
Overharvesting can be difficult to treat, and patients are not usually suitable for further FUE Hair Transplant procedures. We offer Scalp Micropigmentation which can help to blend the thinning or bald areas of the scalp with the rest of your hair.
What causes a poor hair transplant result?
There are a lot of factors that contribute to a poor hair transplant result. This is usually down to the hair transplant being carried out by an inexperienced surgeon or clinic that the patient selected due to attractive offers.
Inexperienced Surgeon
Hair Transplant procedures performed by inexperienced surgeons or technicians are much more likely to have a failed or poor result. There are so many things that could go wrong from not handling or storing the hair grafts properly to placing hair grafts too deep which can increase the risk of complications and infection.
An inexperienced surgeon is also less likely to be well knowledgeable in predicting future hair loss and how that affects the plan for the current hair transplant procedure to ensure longer lasting results.
Find out more about choosing the best hair transplant surgeon here.
False Guarantee Claims
Unfortunately, hair transplant procedures are not always guaranteed to work and clinics that offer a 100% guarantee of results should be approached with caution. The success of a hair transplant procedure will vary from patient to patient and a 100% guarantee is a false claim.
Limited Time Offers
Likewise, limited time offers of discounted hair transplant procedures should also be disregarded. No reputable clinic should put pressure on you to book a procedure, patients should be allowed to have a no obligation consultation where they are presented with all the information, they require to make an informed decision in their own time.
How do you fix a failed hair transplant?
Revisional hair transplant procedures are personalised to address the issues that the patient has with their previous hair transplant results. In most cases, our surgeons will use the FUE Hair Transplant procedure to fix poorly planned hair lines, lack of coverage and cover visible scarring.
To find out more about Hair Transplant Revision Procedures we recommend visiting us for a consultation.
What are the benefits of a hair transplant revision surgery?
Personalised treatment plan
Visually improved results
Poor density and graft placement can be repaired
Scars can be camouflaged
Natural looking results
Dedicated aftercare and follow-up appointments with your surgeon
Hair Transplant Revision Results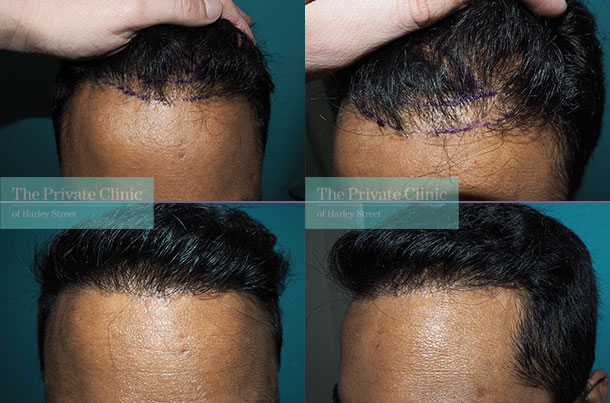 This patient had a Hair Transplant procedure abroad where he wanted to restore hair to his hairline.
The patient was told that he had 10,000 hair follicles implanted which our experts do believe however not all of these hair follicles were able to grow because they were so densely packed that blood supply was limited.
The patient came to visit The Private Clinic and a FUE Hair Transplant was performed by Mr Michael Mouzakis using the Micro FUE with Implanters technique. 2,000 hair follicles were implanted to reshape the hairline to make it look smoother and more natural matching the density at the sides of his head.

This patient had a previous hair transplant but after 18 months he was still unhappy with it looking patchy and raised scarring known as cobblestoning.
Mr Michael Mouzakis performed a Hair Transplant Repair procedure using a Micro FUE with Implanters technique. 1670 hairs were implanted into the hairline to help both soften the cobblestoning appearance and increase the density of his hairline.

This patient had a hair transplant to his hairline 2/3 years ago but was very unhappy with the results.
Mr Mouzakis had to remove some of the transplanted hair from the temples in order to reshape the hairline. Around 800 grafts / 2500 hairs were implanted to also improve the patchy appearance and increase density.
The Private Clinic have collaborated with Chrysalis Finance to offer 0% finance for our patients.*
*Acceptance is subject to status. Terms and conditions apply.
Hair Transplant Revision at The Private Clinic
The Private Clinic are highly experienced in repairing the results of poor hair transplant procedures.
The breach of trust between the patient and their previous surgeon can cause patients to feel vulnerable when it comes to firstly picking a new surgeon but to even walk through the doors again of another hair transplant clinic.
Our expert surgeons are known for being welcoming, friendly but also sensitive to those that have had a poor hair transplant experience in the past. They know they will need to earn patients trust again and they can only do this by being open and honest about what they can realistically achieve from revision hair transplant surgery.
A consultation will involve our knowledgeable hair transplant surgeons being able to assess what may have caused the failed results. They will also examine the donor area to see if further FUE Hair Transplant Surgery can be carried out safely. In some cases, repair surgery may not be suitable, and they will instead offer their expert advice on alternative treatment options.
Hair transplant REvision is Available in these Clinics
Things to Consider
Our advice on what to consider when deciding to have a hair transplant procedure:
1. When choosing a clinic, you should always do your research, and only go to an established, reputable clinic.
The Private Clinic has been in the cosmetic surgery industry for over 40 years. We are here to answer all of your questions and give you peace of mind.
2. When choosing a surgeon, make sure you know who you'll be seeing. Their expertise, qualifications and patient satisfaction rate are important factors to take into consideration.
At The Private Clinic, we only source the most experienced and specialised surgeons.
3. Price should never be the deciding factor when choosing where to have your treatment. Safety should be your number one priority and feeling confident that they will look after you – not only before, but also after your procedure
4. When it sounds too good to be true, it often is. Always find out what your clinic's reputation is.
Our excellent reputation for patient safety and satisfaction, honest advice and outstanding care means your journey with The Private Clinic will be an exciting experience.
Meet our Hair Transplant Repair Surgeons
. We work with some of the UK's most respected hair transplant surgeons to ensure the highest safety standards and the very best results.

Dr Luca de Fazio
HAIR RESTORATION SURGEON & PLASTIC SURGEON
MD, BSc, Msc
GMC Number: 7095123
London Harley Street

Mr Michael Mouzakis
PLASTIC SURGEON, HAIR TRANSPLANT SURGEON & VASER LIPO TOTAL DEFINER SURGEON
MD, MSc
GMC Number: 7237640
London Harley Street, Leeds, Northampton & Birmingham

Dr Ismail Ughratdar
CONSULTANT NEUROSURGEON AND HAIR TRANSPLANT SURGEON
MB ChB
GMC Number: 6103427
Birmingham