Is it possible to reverse a hair transplant?
HAIR LOSS & HAIR TRANSPLANTS
Home » Is it possible to reverse a hair transplant?
Many patients have looked into the possibility of getting a hair transplant abroad instead of choosing the UK. One of the popular destinations to get cheap hair transplants is Turkey; Turkey has definitely become one of the top destinations for hair transplant among Britons.
However, many are unaware of the danger of some of the clinics located abroad. It has been reported that some of these clinics operate illegally and many of the nurses and practitioners do not have the required medical qualifications or training to perform Hair Transplant procedures. The dangers of having a hair transplant performed by inexperienced surgeons can lead to several problems including un-natural looking hairline, damage to the donor area and wrongly implanted hair follicles which might grow in the wrong direction and result in an overall unsatisfactory result.
Unfortunately this is a reality for many, however, there are a few options. You may decide to go back to the clinic or surgeon that originally performed the procedure for a second hair transplant which will be at an additional cost as well as more money on travel and accommodation. Or, another option is to visit somewhere in the UK with a better reputation and following proper regulations.
Find out more about travelling abroad for a hair transplant in our previous blogs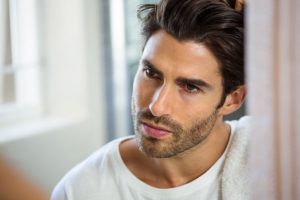 Can I correct a previous hair transplant?
Around 30% of patients who visit our clinic for a consultation ask if we're able to reverse their hair transplant because they're not happy with the results. Unfortunately it is possible to 'reverse' a hair transplant but we are able to work with patients to fix and repair their poor results.
If you are suffering from a poorly executed hair transplant you can undergo a revisional hair transplant to help build on the density of your hair or correct a poor hairline. In some cases it may be possible to for your previously transplanted hair grafts to be removed and placed in a different area, to correct or rectify the mistakes. We do not often recommend this option however as it can lead to a less natural-looking hairline and further scaring.
Poor scarring following a hair transplant procedure can also result in an unsatisfactory result, even once the hair is grown out. Our expert hair restoration surgeons are also able to seamlessly cover the scars left by a previous FUT hair transplant which typically results in a linear scar across the back of the head.
If you are unhappy with the results from a previous hair transplant, we recommend booking a consultation with our surgeons who will be able to determine your suitability for a revision hair transplant and work out the best treatment plan whilst also detailing the risks involved.
Find out more about what happens at a hair transplant consultation here.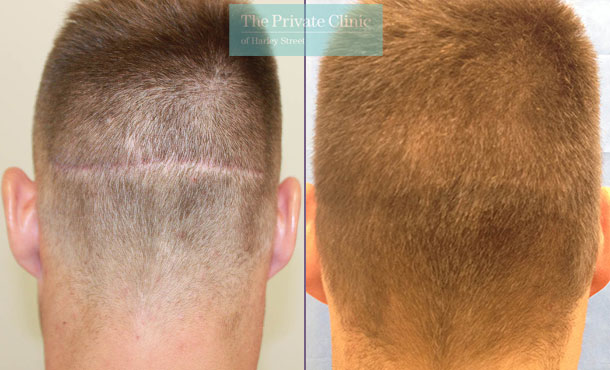 Scalp Micropigmentation
Another non-surgical option is scalp micropigmentation. Scalp micropigmentation can help disguise the scars of your previous hair transplant whilst also giving the illusion of a denser and fully packed hairline if a previous hair transplant has left you looking thin in certain areas.
This is a great alternative for patients who do not want to undergo a surgical hair transplant again.

Can I have laser hair removal on a bad hair transplant?
Laser Hair Removal treatment works by destroying the hair follicles in the treated areas using light energy. Whilst this is a great option for patients looking to reduce hair growth in areas of the body, we would not recommend using it as a treatment on the scalp. Whilst the treatment would work to remove the hair follicles to stop hair growth, it will not grow back at all and may hinder your suitability for a hair transplant again in the future. When the hair is unable to grow back, it could mean that bad hair transplant scars and overall hair loss will become more visible. We do not offer laser hair removal on the scalp as a method for treating a bad hair transplant.
How can I avoid a bad hair transplant?
Doing your research is imperative when it comes down to any cosmetic and surgical procedure in order to ensure your safety and be able to achieve the best results.
Ask to see before and after images to find out about the type of results that can be expected for the surgeon.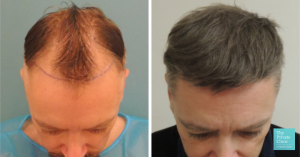 Our Top Hair Transplant Surgeons at The Private Clinic
Why you should choose The Private Clinic?
At The Private Clinic, we work with highly skilled hair restoration surgeon's experts in FUE and U-FUE hair restoration techniques.
We have been established for over 35 years meaning you can be sure we will still be here – to help and advice – long after your surgery.
Consultations with UK based hair transplant surgeons registered with the GMC who will be supporting you throughout your entire hair transplant journey and beyond.
The FUE hair restoration technique we offer requires minimal downtime, doesn't leave a linear scar and they are always performed by our world-class surgeons who achieve outstanding results.
We offer a range of hair loss treatment options to suit all patients.
We offer the advanced Micro FUE with Implanters technique.
We also offer the U-FUE (Unshaven Hair Transplant), a type of FUE hair transplant that doesn't require the hair to be shaved. This is a great option for patients who are looking for maximum discretion regarding their hair transplant procedure.
We choose the best follicular unit (a group of hairs); this ensures that only the strongest, healthiest grafts are used for your hair transplant procedure.
Your results will look natural, with denser packing – the hair is implanted in the direction that matches your hair growth, and because we select healthy follicular units, the treated area will look densely filled.
We use the finest instruments, resulting in as minimal trauma to your scalp as possible.
We offer a 24-hour helpline for our patients ensuring attentive patient care and aftercare, through the entire process.
We provide as many follow-up consultations as needed with our expert hair transplant surgeons.
We give comprehensive patient information, every step of the way.
We have outstanding clinic facilities.
Our excellent reputation for patient safety and satisfaction, honest advice and outstanding care means your journey with The Private Clinic will be an exciting experience to a newfound head of hair.
View our before and after results gallery
Find out more information in our blogs
Read our extensive FAQs
Hear from previous Hair Transplant patients in our patient stories and videos
The Private Clinic has clinics across the UK and offers hair restoration consultation at their clinics in London Harley Street, Manchester, Birmingham, Leeds and Northampton.
To book a hair transplant consultation with one of our world-class surgeons or patient advisors please get in touch by calling 0333 920 2471 or use our online hair transplant contact form.