Many patients have looked into the possibility of getting a hair transplant abroad instead of choosing the UK. One of the popular destinations to get cheap hair transplants is Turkey; Turkey has definitely become one of the top destinations for hair transplant among Britons.
However, many are unaware of the danger of some of these clinics. It has been reported that some of these clinics operate illegally and many of the nurses and practitioners do not have the required medical qualifications or training to perform the procedure. The dangers of having a hair transplant performed by inexperienced surgeons can lead to several problems including un-natural looking hairline, wrongly implanted hair follicles which might grow in the wrong direction or overall unsatisfactory results.
Unfortunately this is a reality for many, however, there are a few treatments you can undergo to reverse a hair transplant.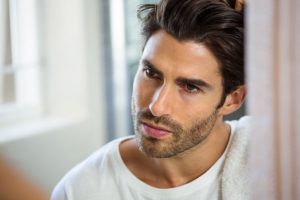 Can I correct a previous hair transplant?
If you are suffering from a poorly executed hair transplant you can certainly undergo a reverse hair transplant. The surgeon will be able to remove the implanted follicles and replace them into other treatment areas. Nonetheless, there are some risks involved such as a less natural-looking hairline. Scars resulting from injuries or previous surgeries can also be corrected.
At The Private Clinic around 30% of patients who come to see us have had a previous hair transplant with disappointing results or required further work. Our expert hair restoration surgeons are able to seamlessly cover the scars left by a previous FUT hair transplant which typically results in a linear scar across the back of the head.
Scalp Micropigmentation
Another non-surgical option for patients who have decided to shave their hair is scalp micropigmentation. Scalp micropigmentation can help disguise the scars of your previous hair transplant and give the illusion of a denser and fully packed hairline. This is a great alternative for patients who do not want to undergo a surgical hair transplant.
How can I avoid a bad hair transplant?
Doing your research is imperative when it comes down to any cosmetic and surgical procedure in order to ensure your safety and be able to achieve the best results.
Research if the clinic counts with registered medical facilities or CQC (Care Quality Commission) registered medical facilities.
Are face to face consultations offered? It is very important that you book a consultation with your hair restoration surgeon in order to assess your suitability for the treatment and ensure you will be getting the results you want.
Check if the clinic offers FUE hair transplants as well as U-FUE hair transplants (unshaven FUE hair transplants).
Read online reviews from trustworthy websites such as Trustpilot, Google reviews and Facebook review in order to find out about past patient experiences.
Check the doctor's certifications. For example, at The Private Clinic, our surgeons are part of the International Society of Hair Restoration Surgery (ISHRS) and the Italian Society of Hair Restoration (ISHR).
Ask to see before and after images to find out about the type of results that can be expected for the surgeon.
Why you should choose The Private Clinic?
At The Private Clinic, we work with highly skilled hair restoration surgeon's experts in FUE and U-FUE hair restoration techniques.
Expert Hair Transplant Surgeons at The Private Clinic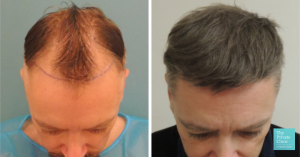 The FUE hair restoration technique we offer requires minimal downtime doesn't leave a linear scar and they are always performed by our world-class surgeons who achieve outstanding results.
We also offer the U-FUE (Unshaven Hair Transplant), a type of FUE hair transplant that doesn't require the hair to be shaved. This is a great option for patients who are looking for maximum discretion regarding their hair transplant procedure.
We offer a 24-hour helpline for our patients ensuring attentive patient care and aftercare, through the entire process.
We provide as many follow-up consultations as needed with our expert hair transplant surgeons.
We give comprehensive patient information, every step of the way.
We have outstanding clinic facilities.
Our excellent reputation for patient safety and satisfaction, honest advice and outstanding care means your journey with The Private Clinic will be an exciting experience to a newfound head of hair.
View our before and after results gallery
Find out more information in our blogs
Read our extensive FAQs
Hear from previous Hair Transplant patients in our patient stories and videos
The Private Clinic has clinics across the UK and offers hair restoration consultation at their clinics in London Harley Street, Manchester, Birmingham, Leeds and Northampton.
To book a hair transplant consultation with one of our world-class surgeons or patient advisors please get in touch by calling 0333 920 2471 or use our online hair transplant contact form.