Minimally invasive tailor's bunionette deformity correction surgery with no metal fixtures is exclusive to The Private Clinic.
What is a tailor's bunion?
A tailor's bunion is a bunion that forms on the side of little toe. Also referred to as a bunionette – they occur when the bone at the bottom of the little toe, the fifth metatarsal, enlarges or moves outwards. 
What causes a tailor's bunion?
Tailor's bunions get their name from the link to how tailors use to sit in th 1950's while working, in a cross legged position causing pressure. Although this may be a valid cause, you would have to sit crossed leg for quite some time to have a tailor's bunion form this way. 
Uncomfortable or tight, ill-fitting shoes have also been noted as a cause for tailor's bunions, but many patients find that their tailor's bunion is caused by an inherited structural defect within their foot.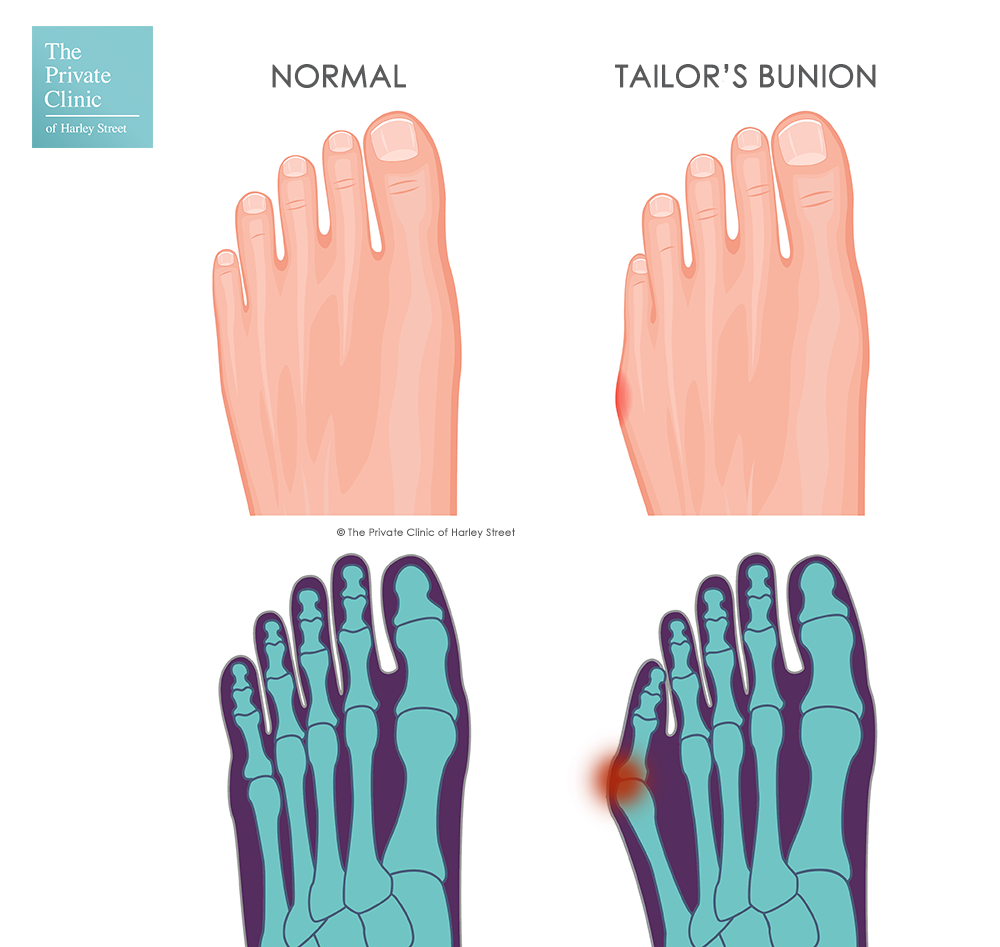 Tailor's Bunion Symptoms
Tailor's bunions are very similar to regular bunions, but they are just in a different location on the foot, both being caused by a defect in the small bones in the toes.  
If you have a tailor's bunion you will most likely to be able to diagnose it upon viewing a visible lump on the side of the little toe. Other symptoms include: 
Shoes rubbing.

 

Swelling of the little toe.

 

Redness in the affected area.

 

Pain in the affected area.

 
What are the advantages of the tailor's bunion surgery technique?
Our bunion removal procedure is exclusive to The Private Clinic.

 

We perform over 1,200 procedures each year with a success rate of 98%

 

No screws, plates, wires, or metal fixtures are used in surgery.

 

Keyhole surgery is used which means no big scars.

 

Minimal downtime with no need for crutches. 

 

No overnight stay required.

 

Premium aftercare support.

 

Our bunion treatment has been featured in Tatler's, 

Harper's Bazaar

, 

Marie Claire

, 

Net Doctor

 and 

The Daily Telegraph

.

 
The 

Tailor's Bunion

Procedure

 
Our Tailor's bunion procedure is a minimally invasive keyhole surgery procedure performed at our hospital in central London. 
You will have local anaesthetic injected into the area being treated so that you will remain pain-free throughout the procedure. 
The keyhole procedure is performed under precision using continuous X-ray imaging known as a fluoroscopy. Dr Bianchi makes a very small 2-3mm incision to enable him to modify the bones in the little toe and correct the deformity using surgical dental burrs.  
When the bones have been realigned, the geometric fractures are left free to heal without the use of any screws, pins or other fixative devices. This allows the foot to heal in natural position in alignment with the patient's load-bearing needs and not to a pre-set standard. This method of healing reduces discomfort and increases foot functionality post procedure. 
You will be required to wear a specialised orthopaedic shoe for the first 20 days and the foot will be bandaged and taped using a specialised bandaging technique which promotes a physiological healing process to restructure the foot and reduce additional stress which is usually caused by arbitrary immobilisation. Before you leave the hospital, you will be encouraged to walk on the foot without the use of crutches.  
Tailor's Bunion Surgery Downtime
The downtime following tailor's bunion procedure is minimal in comparison to other more extensive procedures that require a long period of rest and time off work.  
Patients will be able to walk without the use of crutches almost immediately post-surgery and many return to work and their everyday activities after 1-2 days. We do suggest that you rest the foot where possible and avoid standing for long periods but equally too long spent sitting can also cause swelling so best to keep mobile.   
An orthopaedic boot must be worn until you return for your follow-up appointment 15-20 days post treatment and during this time your bandage must not get wet. 
Tailor's Bunion Surgery Recovery
Your post-op appointment will happen around 15-20 days following your procedure. During this appointment, your bandages will be reduced, and you will most likely be able to go back to wearing comfortable wide sole shoes and a surgical sock for 10-15 days to continue the rest of your recovery in.  
45 days post procedure a follow-up x-ray will be arranged for your surgeon to assess the results of your procedure.  
After 60 days, you will be able to return to physical activity such as sports and exercise.  
Book a consultation
Begin your own treatment pathway by booking a consultation with one of our expert vascular surgeons now.
Get in touch
If you have any questions about the treatment process, drop us a message using our online enquiry form.
Request a callback
You can also contact our friendly team of varicose vein experts using our helpline to request a callback.