Varicose Vein procedures carried out by Consultant Vascular Surgeons
First class support & aftercare in our varicose vein clinics
Ultrasound scan included in all varicose vein consultations
0% Finance Available
What's on this page
Medically reviewed by Mr Tahir Hussain MBBS, FRCS, MS, Consultant Vascular Surgeon for The Private Clinic of Harley Street, London.
Last Reviewed November 21st 2023
Related Treatments
Varicose Veins Removal
At The Private Clinic, we understand how varicose veins can affect your life whether it be the pain and discomfort it causes or the unsightly look of leg veins. Experience should be your main consideration when choosing where to go for varicose vein removal.
The Private Clinic specialises in Varicose Vein Removal and has performed over 7,000 vein treatments with our experienced Vascular surgeons.
Varicose Vein Symptoms
If you suffer from any of the following varicose vein symptoms, then you should consider getting in touch to find out more.
Veins could be enlarged, swollen, lumpy, bumpy or twisted in appearance.
Most commonly found on the legs or feet.
Can appear as blue veins or dark purple in colour.
Swollen feet or ankles.
Uncomfortable, heavy or aching feeling in the legs.
Dry skin in the area of the affected vein.
Brown skin patches
Muscle cramps in the leg.
Burning or throbbing sensation in the legs.
There is little you can do to prevent varicose veins and whilst many non-surgical options can help to relieve symptoms, such as compression stockings and leg elevation, only definitive varicose vein treatments can fix the problem.
Advanced Leg Vein Clinics
Our advanced veins clinics are located in Harley Street, London, Birmingham, Manchester, Leeds, Northampton, and Bournemouth. They are all walk-in, walk-out specialised vein treatment centres.
Your first step: A consultation with our specialised vascular surgeon
Your journey starts with a consultation with a Vascular surgeon at one of our UK advanced CQC-registered Vascular clinics. In your vein consultation, your vascular surgeon will discuss your areas of concern, your lifestyle, medical history and reasons for having the procedure.
A duplex ultrasound scan of your legs will be performed to check the source of your veins. The duplex scan does not cause any pain and takes around 30-40 minutes to perform. Your Consultant Vascular surgeon will then explain the range of treatment options and advise on the best treatment for the removal of your veins.
Step 2: Your primary varicose vein treatment – Fixing the root cause
We ensure only the most effective minimally invasive vein removal treatments approved by NICE Guidelines are available at our veins clinics. Your vascular surgeon takes this into account when deciding on the most appropriate option for you.
These include:
Our treatments offer the following advantages over traditional surgery:
No need for a general anaesthetic
Tailored treatment plans
No scars
No Time off work
Low Recurrence Rates
Industry-leading aftercare with successful outcomes
Step 3: Follow-Up Appointment
Six weeks after treatment, all patients return to clinic. At this appointment the surgeon will assess your treated veins and perform another duplex ultrasound scan to ensure that the source of the venous problem has been fixed. In some cases, additional treatment may be required to reduce the appearance of left-over visible veins. You will be given the go ahead to enjoy your results. Post operative information will be provided on how best to care for your veins to ensure long lasting results.
You can find out more about our Vein treatment pathway here.
Watch Consultant Vascular Surgeon Mr Tahir Hussain discuss what happens in a Varicose Vein consultation.
Consultant Vascular Surgeon, Mr Tahir Hussain answers common questions about varicose veins including the causes, effects of being left untreated, and what happens during a varicose vein consultation.
If you have these symptoms, find out more by booking a personal consultation with an expert Vascular surgeon.
Varicose Veins Treatment Clinic at a glance
Procedure Time
30 – 60 mins
Anaesthetic Type
Local anaesthetic
Hospital Stay
None, day case
Driving
24 – 48 hours
Washing
3 days
Sleeping
no restrictions
Back to work
1 – 3 days
Up & Mobile
1 day
Sexual Activity
4 – 6 weeks
Exercise
1 – 2 weeks
Travel
3 weeks
Recovery Time
6 weeks
Support Garments
Compression stockings 2 weeks
Final Results
6 weeks
"My varicose veins have now completely disappeared and I'm free from the condition which haunted me since my teenage years. I've got my confidence back and I can't wait to go on my next summer holiday!" – Martin, Varicose Vein Patient
Varicose Veins Before & After Photos
We are one of the UK's centres of excellence for minimally invasive treatments for leg veins. Take a look at our before and after Varicose Vein photos.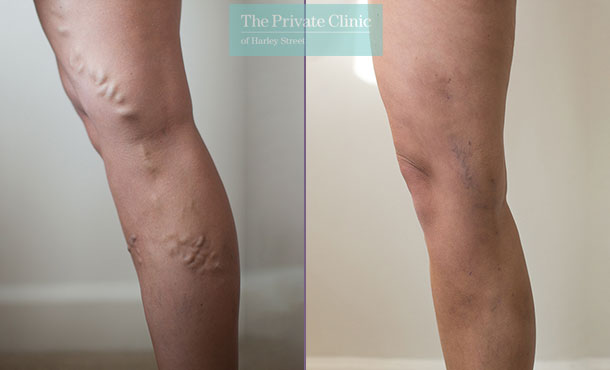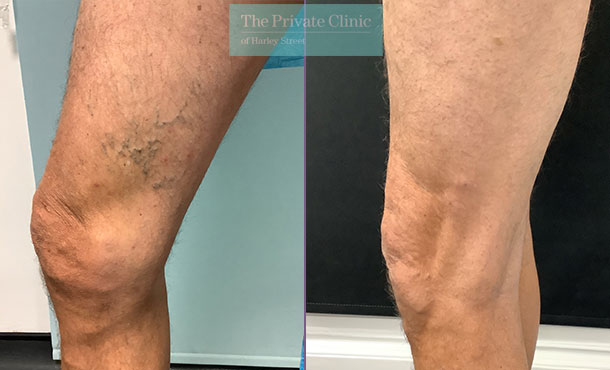 Foam Sclerotherapy & Phlebectomy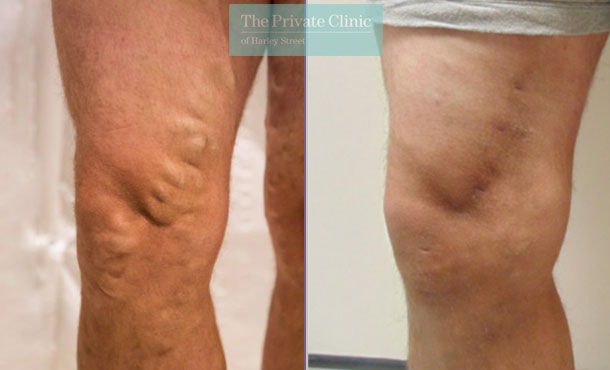 EVLA & Foam Sclerotherapy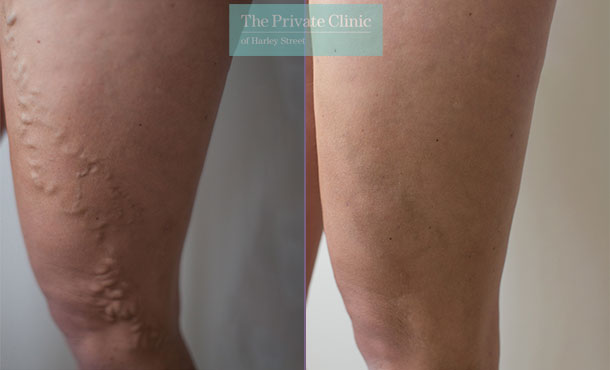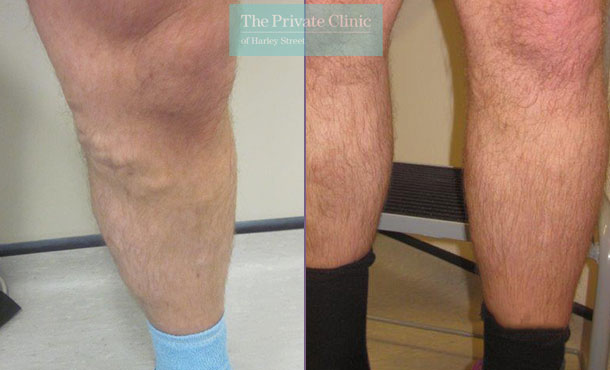 EVLA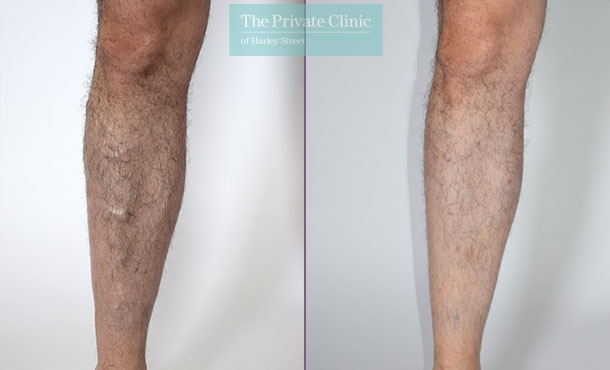 Venaseal
What to Expect
The Private Clinic has been treating patients for over 40 years with thousands of people placing their trust in us each year.
Our Vascular Surgeons follow NICE Guidelines to offer the most minimally invasive, effective and safe treatments to treat varicose veins. We offer free follow up to address any post-operative concerns.
We pride ourselves on being able to offer a personalised service and have a team of friendly nurses and expert surgeons who understand the importance of this decision who will support you throughout your journey with us.
The Consultation
A consultation will take place with one of our vascular surgeons who are experts in treating varicose veins. Your surgeon will:
Listen to your concerns regarding your veins
Review your medical history
Perform a free ultrasound scan
Discuss the best treatment for varicose veins suited to you
Detail the risks and complications
Review your expectations from Varicose vein removal surgery
Detail what will happen on the day of the procedure
Go through the recovery and aftercare required
You will then meet with your dedicated patient coordinator who will provide you with a detailed treatment plan with full cost and pricing details so you can leave feeling well informed and able to make a decision if to go ahead with treatment or not.
For more information about what to expect from your Varicose Vein consultation please click here.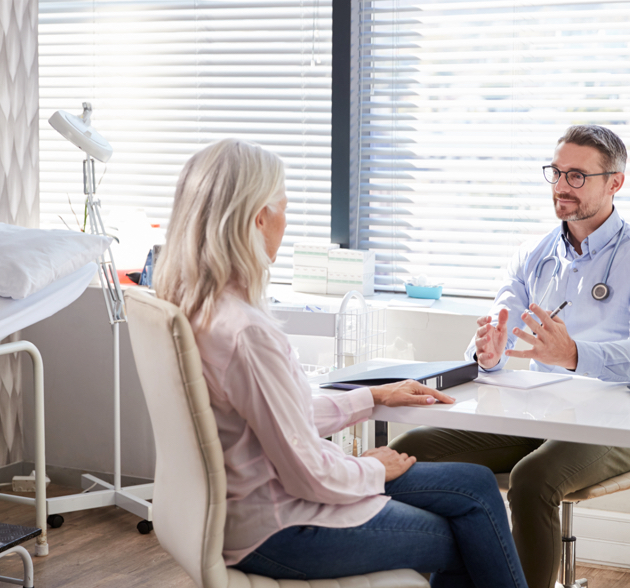 Pre-Operative Advice
In the interests of patient safety, all our patients are assessed against our patient selection criteria. Following your varicose vein consultation and review of your past medical history, the physician or pre-operative nurse will choose the pre-operative tests considered to be appropriate, most of which are routine blood tests.
You will be provided with a pre-operative instruction sheet ahead of your procedure which will help you to prepare for your varicose vein treatment.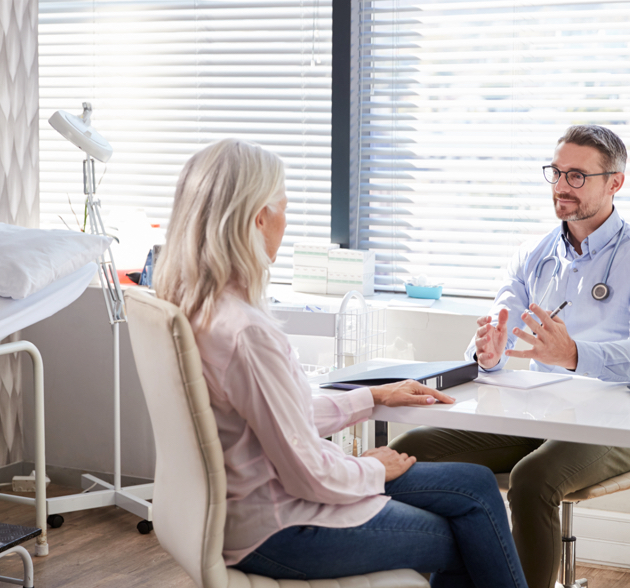 Varicose Vein Removal Surgery
At The Private Clinic, we offer 5 types of varicose vein removal procedures.
All of our procedures are:
Performed in-clinic
Require no overnight stay
Carried out under local anaesthetic
Take 30-60 minutes to perform
Minimal downtime
EVLA (Endovenous Laser Ablation) or Endovenous laser treatment
EVLA is a minimally invasive method of destroying dysfunctional varicose veins. The treatment locates the damaged vein with ultrasound, before using laser heat to collapse the wall of the vein and destroy the cause of the problem.
RFA (Radiofrequency Ablation)
RFA uses radiofrequency thermal heat energy to shrink and close off the affected varicose veins. The NICE guidelines recommended the treatment as an effective low-risk method to treat varicose veins.
Sclerotherapy (Foam & Liquid)
Foam sclerotherapy involves a solution being mixed with air which creates the foam. This foam is then injected into the varicose veins and it then coats the vein wall. This then causes an inflammation inside the vein which pushes the blood out of the area. The vein walls will then be very sticky which will eventually close off the vein and within a couple of weeks the varicose vein will start to shrink and disappear.
VenaSeal
VenaSeal is a closure system that uses medical adhesive to close varicose veins. A small catheter will be inserted into your leg once the area has been numbed with local anaesthetic. Your surgeon will use an ultrasound to guide the small catheter through the affected veins. The VenaSeal tool then dispenses small amounts of medical-grade Sapheon Glue that works to close the vein. Once the varicose vein is closed, the blood is re-routed through other healthy veins located deeper within the leg and the original varicose vein is gradually absorbed by the body. VenaSeal is a great option for patients who have a needle phobia as VenaSeal only requires a single injection per vein. Recovery time after VenaSeal is often shorter and you may not be required to wear compression stockings after treatment.
Phlebectomy
A phlebectomy procedure involves making small incisions to allow the varicose veins to be removed. More commonly performed on large bulging varicose veins that are close to the surface of the leg. A phlebectomy procedure involves a hook being inserted into the tiny incisions which then hooks onto a section of the varicose vein. The vein is then removed but as the incisions are very small no stitches are required.
You will be able to leave our veins clinic shortly after the treatment has taken place.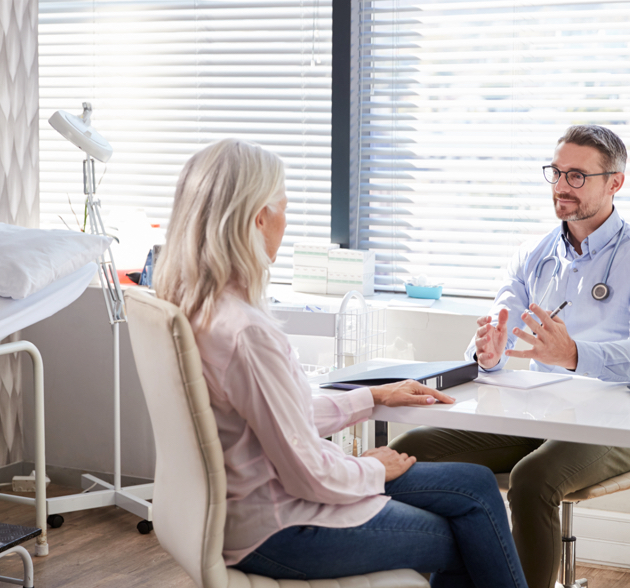 After your varicose vein removal procedure
All varicose vein patients will receive a comprehensive post-operative care service provided as part of your aftercare package. Immediately following your varicose vein removal procedure, bandages will be applied to the treated areas and in most cases compression stockings will need to be worn in the days following your procedure. You will also be provided with any medication that is prescribed by your surgeon or doctor to take during the following week. You will also be provided with a post-operative instruction sheet explaining what to do and what to avoid following your procedure.
Most patients return to work within 1-2 days, but we do advise that strenuous exercise is avoided for at least 5 days and it should be returned to at a gradual pace. This is to avoid unnecessary injury, but it is recommended that you keep active by taking regular walks.
Post-operative appointments usually take place at 6 weeks where your surgeon will then be able to assess your recovery, advise if any further treatment is required and discuss how to avoid the potential recurrence of varicose veins in the future.
Some patients may have remaining spider veins following varicose vein removal. Treatment options for these can also be discussed in your follow-up appointments.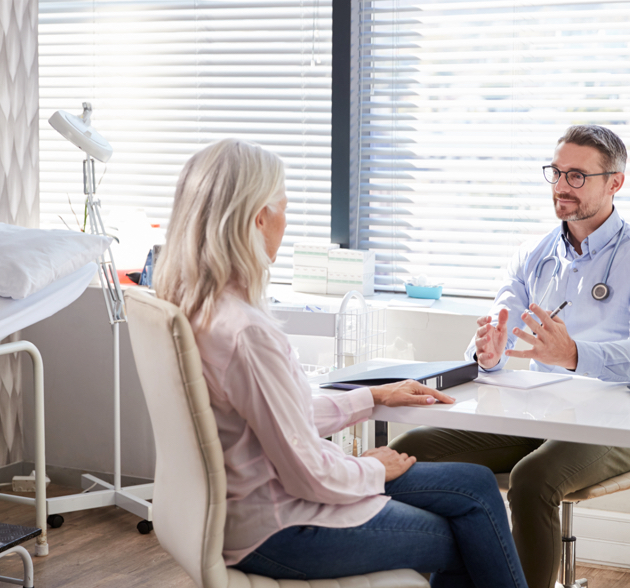 Watch Our Varicose Veins Videos
The Private Clinic have collaborated with Chrysalis Finance to offer 0% finance for our patients.*
*Acceptance is subject to status. Terms and conditions apply.
Varicose vein treatment is Available in these Clinics
Varicose Veins Patient Stories
Outstanding care, patient satisfaction and results mean everything to The Private Clinic Team
"I'm so pleased with the results and it is really life changing for me!" *
-Nicole Hopkirk, Former Managing Editor, MSN Health
We are here to help at The Private Varicose Vein Clinic
Expertise of our vascular surgeons
Our Consultant vascular surgeons are pioneers in EVLA/RFA and have treated thousands of patients. Throughout your journey, you will only see and be treated by a Consultant Vascular surgeon for varicose veins, not a radiologist or nurse.
We only treat with local anaesthetic in our CQC (Care Quality Commission) registered Vein clinics in London Harley Street, Birmingham, Manchester, Leeds, and Bournemouth
Best techniques to achieve vein free legs
We have carried out over 7,000 leg vein treatments. Our aim is to always advise on the least invasive method for varicose veins and thread / spider veins removal treatments for your legs, body and face. The NICE (National Institute for Clinical Excellence) Gold Standard for treatment of Varicose Veins find the success rate after five years for EVLA and RFA is 95.4%.
High Quality Care
We focus on treating the underlying cause of your veins as well as the visible symptoms. We will hear your concerns & provide you with honest advice. Our uncompromising aftercare includes regular follow-up appointments at no extra cost.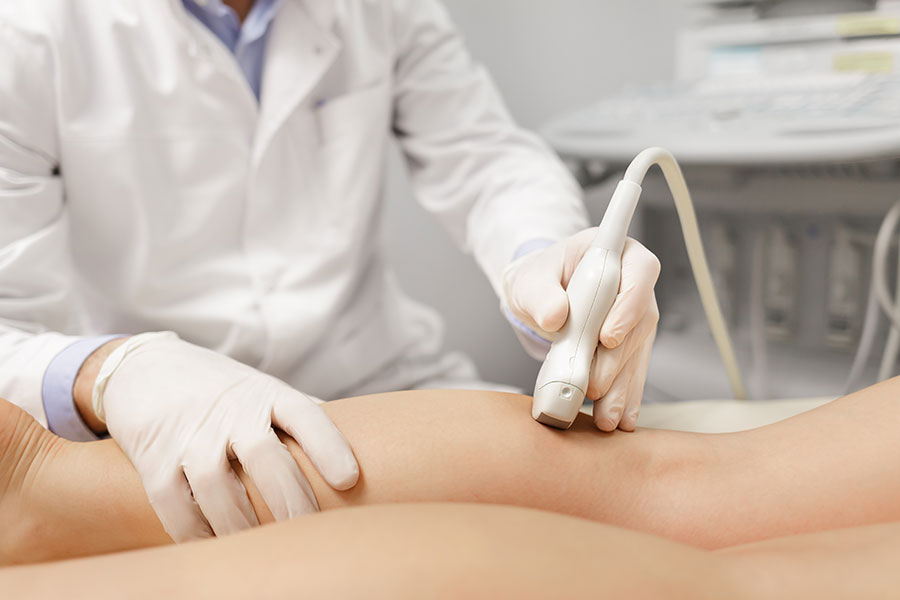 Meet our Vascular Surgeons
All Varicose Vein treatments performed within ur clinics are carried out by experienced Vascular Surgeons.
A consultation with one of our Consultant Vascular Surgeons costs £200, with a free ultrasound scan of your legs (usually priced at £350 to £450 at most clinics and private hospitals).
Related Blogs
Related News