Endovenous Laser Ablation (EVLA) Varicose Vein Treatment
Varicose veins often appear as large or bulging veins on the surface of the leg. In some cases, varicose veins can cause patients to experience an itching sensation on the site of the legs, aching or muscle cramping.
Endovenous Laser Ablation is our most popular and frequently used varicose vein removal treatment. It was developed in the USA in 2000 to treat bulging varicose veins and has since gone on to revolutionise the varicose vein removal process by giving patients a walk-in, walk-out procedure that is clinically verified for its excellent efficacy results.
It has a proven success rate of 95%, as proven in 5 major clinical studies. The National Institute of Health and Care Excellence (NICE) recommends it as the modern-day Gold Standard treatment for varicose veins removal. As one of the best methods for treating the underlying causes of varicose veins, it has multiple advantages over traditional invasive techniques like vein stripping.
What is Endovenous Laser Ablation (EVLA)?
EVLA, also known as Endovenous Laser Ablation therapy, or just laser therapy, is a method to treat varicose veins using an ultrasound-guided laser fibre. It involves locating damaged veins and faulty vein valves using ultrasound imagery before using laser heat energy to collapse and destroy the problem vein. Short pulses of laser energy collapse the vein walls and close them off. Blood then redirects itself through healthier veins with no valve damage.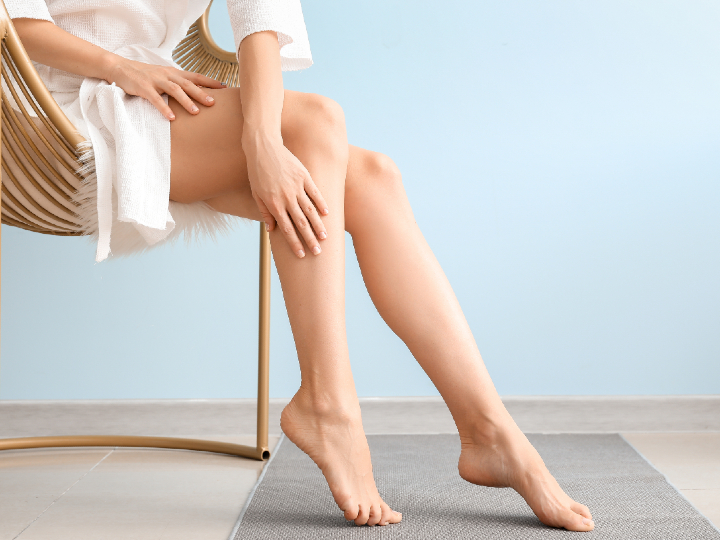 What does Endovenous Laser Ablation (EVLA) mean?
EVLA is a laser varicose vein treatment that destroys damaged veins from the inside. Its name gives this away, as the term 'endovenous' means 'inside the vein' while 'ablation' means to destroy. Its laser light energy delivers intense heat that collapses the damaged walls of the veins.
What veins can an Endovenous Laser treatment treat?
EVLA is a fantastic treatment to remedy the underlying causes of the bulging and swollen varicose veins and not just the symptoms. It is frequently used to treat varicose veins in the legs and is ideal for treating deeper veins as well as primary and secondary veins (the largest veins of the human body that run through the legs). However, EVLA is not designed to treat bulging superficial veins that are close to the surface of the skin. Other treatments like phlebectomy are more suited to this.
Why use EVLA to treat varicose veins?
EVLA works to address venous reflux, the underlying cause of bulging varicose veins. When veins look swollen, bumpy and purple, it is because the valves that regulate blood flow through them have stopped working properly. The valves force blood to flow in the right direction towards the heart, but if they stop working properly, blood pools and collects inside the vein, flowing backwards and collecting in bulbous bulges. In order to stop the blood from flowing in the wrong direction and pooling inside the damaged vein, we need to seal it off completely, as there is no viable way to fix the tiny valves themselves. EVLA does this by using heat to directly destroy the faulty vein channels. They then shrivel away, which fixes the incorrect blood flow issue.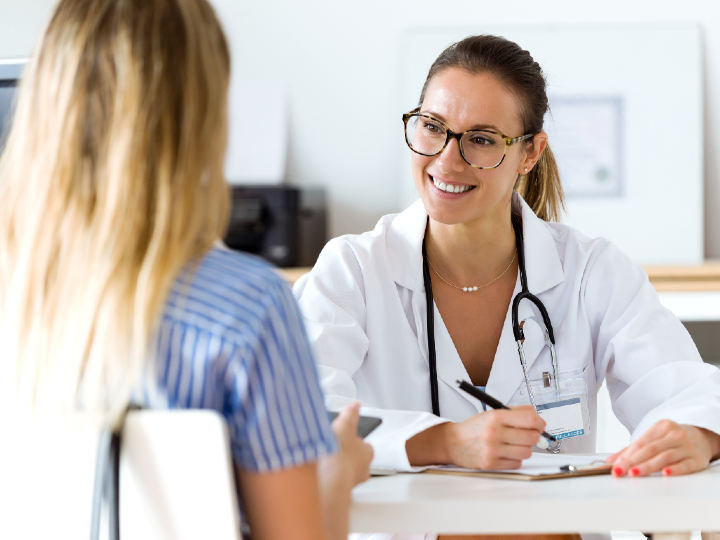 Benefits of EVLA Vein Treatment
Thanks to its minimally invasive approach and quick treatment time, EVLA has a range of key benefits:
Walk-in, walk-out procedure
Carried out as a day-case operation in outpatients
Uses local rather than a general anaesthetic
Requires one small incision at the site of the vein
Less inflammation and discomfort
Fast healing and treatment time
Patients can resume normal activities immediately after treatment
Effective results after 4-6 weeks of recovery
Low infection risk
High rate of success (95%)
Excellent long-term effectiveness
No visible scar
The EVLA Consultation
The first step on your journey to removing your varicose veins with EVLA is taking a consultation with one of our professional consultant vascular surgeons. During this appointment, we will assess the current condition of your varicose veins using our advanced colour duplex ultrasound scan. This machine gives your vascular surgeon a deep visual analysis of your veins so that they can identify the exact faulty and damaged areas that they need to treat. It will showcase how your blood is flowing through the varicose vein, while guiding the surgeon to the exact location where they need to make a small incision to deliver the laser vein treatment.
You will also receive a detailed explanation of the procedure at this stage so that you fully understand what to expect during the treatment, as well as the expected success rate and treatment results. It also gives you a chance to ask your surgeon any pertinent questions about the treatment. Once this has been performed and both parties are happy to proceed, then the EVLA procedure can take place.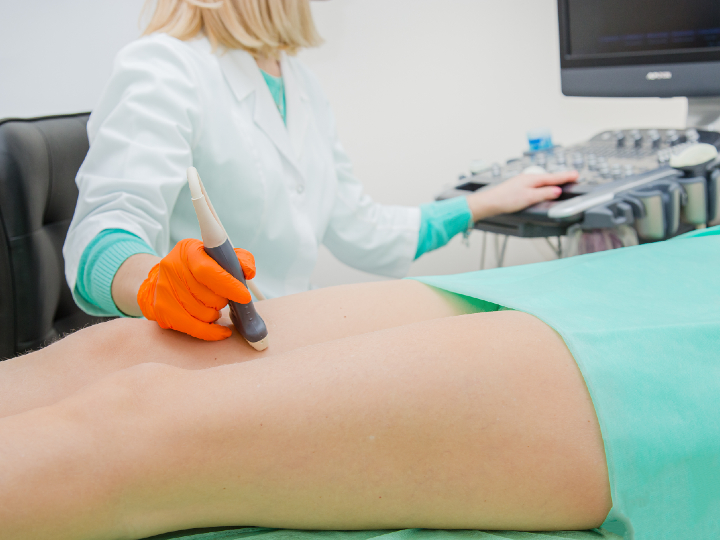 The EVLA Treatment Procedure
A local anaesthetic will be applied to the targeted treatment area once this has been determined from the duplex ultrasound scan. This will ease pain or discomfort during the treatment.
After a small incision is made at the treatment location, ultrasound is used to guide a thin plastic tube or catheter into your affected varicose vein using a small needle and wire. The tiny EVLA laser fibre will then be fed through the catheter and into the damaged vein. Once the fibre is in position, another round of local anaesthetic will be administered along the entire length of the affected vein to completely numb the leg and the areas that surround the vein. This ensures a safe and painless process while the treatment takes place.
The light energy from the laser is intense and heats up the vein walls to such a degree that it destroys them. After this process has happened, blood will no longer be able to flow through the faulty channel, and the body will naturally redirect blood flow through a much healthier route, without the presence of faulty vein valves.
Your body will naturally absorb the treated dead vein tissue left behind, before dispelling it through natural processes a few weeks after the treatment.
As a fast procedure, EVLA typically takes less than 45 minutes to complete. But some patients may require up to 2 hours of treatment depending on the severity of their varicose vein case. Once the procedure has taken place, we will schedule a review appointment with you to check your progress and see if any further vein treatments are necessary.
How long does it take EVLA to work?
EVLA's laser treatment will work instantly at destroying the damaged varicose vein walls. Most patients will witness a good result as soon as their treatment takes place. But it will take a few weeks for your body to break down the treated varicose vein and remove it completely. Patients usually notice the best results 6 weeks after the procedure.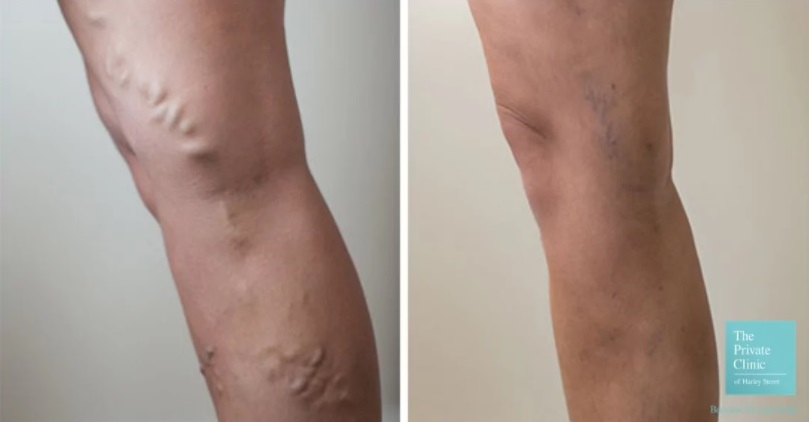 What to expect after EVLA?
When it comes to EVLA results, independent studies have revealed that the procedure has an outstanding success rate of 95%. Results vary from patient to patient, but in cases where the first treatment does not completely eradicate the affected vein, we can apply follow-ups to maximise final results. However, Endovenous Laser Ablation therapy has shown itself to be successful for 95% of patients who receive the treatment the first time around. It is therefore very rare that patients would need follow-up treatment after having EVLA.
As a multi-award-winning clinic with a 5-star Trustpilot rating, the vast majority of our EVLA patients have exceptional results. See a sample of our work in our EVLA before and after photos below:
EVLA Aftercare
In-Clinic Aftercare
Immediately after your procedure, the treated leg will be bandaged to reduce the likelihood of swelling and bruising. A tight compression stocking will then be applied to secure the bandages. This should be worn for at least 1 week to allow your legs to recover and heal properly. Once the stocking has been fitted, you will be free to return to your normal activities. Your treated legs may feel numb after the treatment due to the after-effects of the local anaesthetic. We therefore advise you to walk or use arranged transportation to get home from your treatment clinic. Treated patients must have at least 24 hours of rest before they can drive again.
At-Home Aftercare
1 week after treatment, the bandages will be removed. Patients can then wear surgical stockings for another 2-4 weeks to aid the healing process. It is common to feel some initial discomfort in the treatment area around 1-2 days after treatment. Bruising and swelling can also last for 1-2 weeks. But these skin pigmentation changes should usually settle down in 1 to 2 months post-treatment.
The vast majority of EVLA patients experience little to no pain during their recovery period. You can also get back to normal activities straight away after having the procedure.
What are the potential side effects of EVLA?
A small minority of patients may experience severe pain and may have to take a few days off work with rest and pain relief to reduce this unlikely side effect. This situation happens in rare cases and is likely to occur a week following the procedure rather than straight away.
Most people find the laser firing process a little strange, although not painful. At The Private Clinic, thousands of our patients have EVLA each year and many liken the experience to a less tense or unpleasant version of visiting the dentist.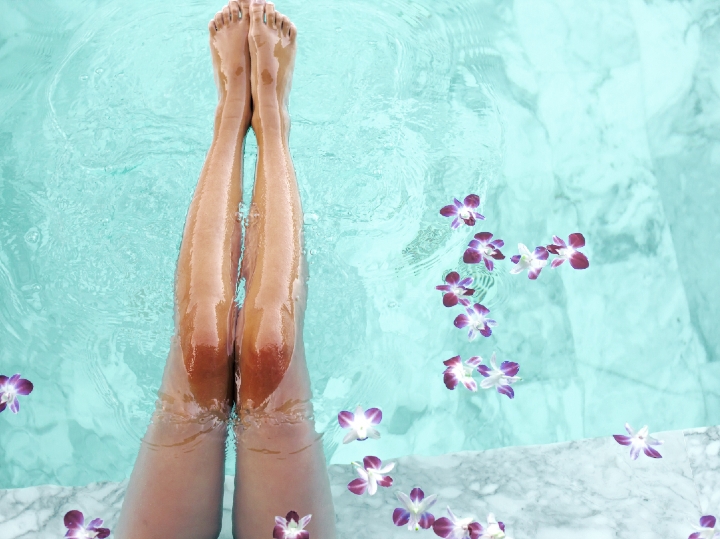 What is the difference between EVLA and EVLT™?
EVLA is sometimes referred to as EVLT by some clinics. EVLT stands for Endovenous Laser Treatment or Endovenous Laser Therapy and is a registered trademark for one specific type of laser treatment that was the first to be invented back in 2000 to treat varicose veins. EVLA on the other hand is an umbrella term that describes any varicose vein laser treatment to rectify and treat varicose veins. Many other companies have now developed their own brand of laser treatment, hence the generalised umbrella term of EVLA that is now used today. For more information about the difference, explore our EVLA vs. EVLT blog post.
Will surface veins disappear after having an EVLA treatment?
While EVLA treats the underlying venous reflux that leads to the formation of visible bulging varicose veins, it does not treat surface veins directly. EVLA fixes venous reflux in the saphenous and/or perforator veins that lead to visible varicose veins. In some cases, we may therefore recommend combining an EVLA treatment with one of our other varicose vein removal methods such as foam sclerotherapy or phlebectomy. Phlebectomy is a simple procedure that is ideal for removing bulging veins at the surface of the skin. It results in the vein's immediate removal and disappearance, leaving you with varicose vein free legs and a dramatic visible and physical improvement in your symptoms.
EVLA at The Private Clinic
Seeking out a personalised consultation with our consultant vascular surgeons is the best way to gain reliable advice about EVLA. As a multi-award-winning clinic, we have been performing varicose vein treatments for over 40 years and have an outstanding reputation for patient satisfaction and results.
To find out more about our EVLA treatment, or any of our varicose vein procedures, fill out our varicose vein online enquiry form. Alternatively, you can call us directly on 0333 920 2471. We are conveniently located across the country at our nationwide clinic locations in London Harley Street, Birmingham, Buckinghamshire, Leeds, Manchester and Northampton.