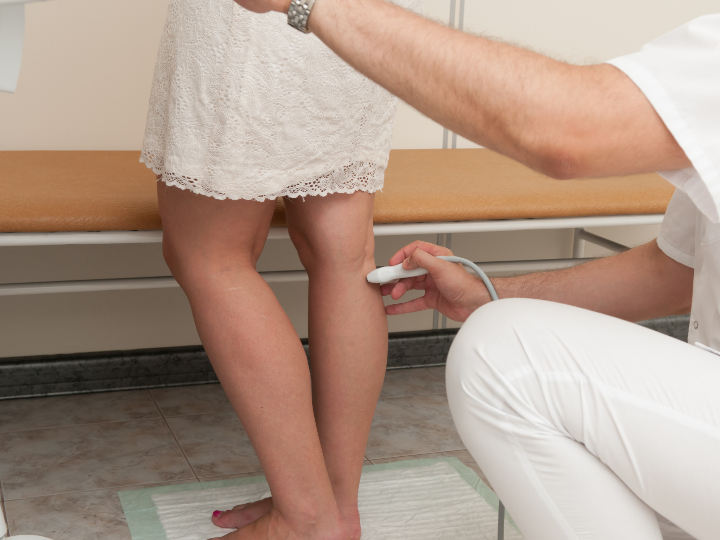 Ultrasound for Varicose Veins
VARICOSE VEINS
Home » Ultrasound for Varicose Veins
One in three adults in the UK will suffer from varicose veins in their lifetime. But thanks to a range of modern medical advances, there's a multitude of minimally invasive methods to remove them.
The first step in deciding a suitable treatment is for patients to undergo an ultrasound process. Ultrasound gives clinicians the revolutionary ability to diagnose vein abnormalities in detail.
Duplex Ultrasound for Varicose Veins
The ultrasound procedure for varicose veins is different from those used to diagnose gallstones or analyse pregnancies for example. Varicose veins require a special ultrasound treatment called Duplex, which gives vascular surgeons a comprehensive overview of how blood is flowing throughout the affected varicose veins.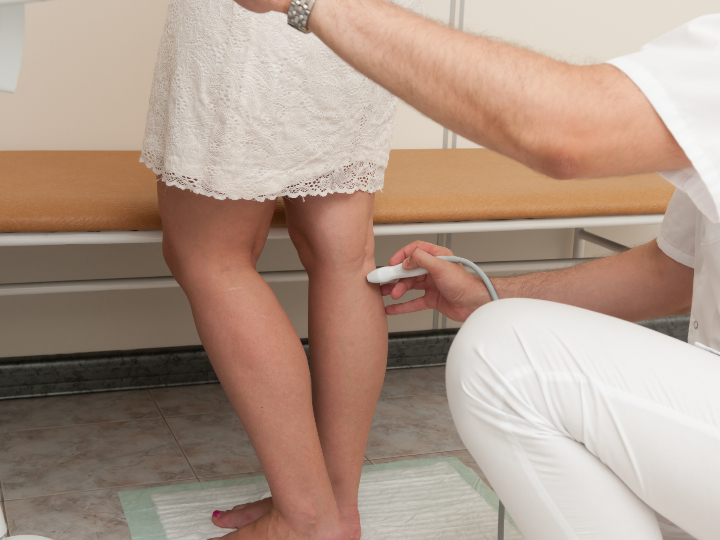 How the Duplex Ultrasound Scan works
The venous duplex scan for varicose veins produces on-screen images that show how blood is flowing within your veins and arteries. It does this using a portable deep vein scanning system that looks like a laptop. This ground-breaking machine supplies everything a surgeon needs to thoroughly assess your veins through a 3-stage process:
Greyscale Ultrasound
The scan firstly builds up a 2-D greyscale picture that showcases the real-time structure of our veins. This looks like the typical scan you would see when undergoing a pregnancy ultrasound for example. The venous duplex device then superimposes colours and sound waves over this image to reveal exactly how blood is flowing through the veins.
Doppler Ultrasound
The device's 'Doppler wave' technology helps the surgeon to identify blood flow problems through sound waves. 'Doppler ultrasound' waves emit a sweeping sound that alerts the clinician to exactly where blood is flowing abnormally.
Colour-flow Duplex scanning
The device's processor then overlays a series of colours to visually display exactly where blood flow issues are occurring. When areas flash up as blue on the screen, blood is flowing as expected. But when areas show up in red, it demonstrates the presence of blood flow abnormalities.
Together, these combined signals provide a super detailed picture of blood flow blockages, faulty valves and incorrect blood flow – also known as "reflux." By being able to identify the exact nature of these issues, the surgeon can recommend ideal treatments to treat the symptoms and causes of bulging varicose veins.
The Venous Duplex Scan Procedure

At The Private Clinic, your consultant vascular surgeon will perform the scan, so they get a first-hand view of the issues. It's a pain-free and non-invasive process that usually lasts between 30 to 45 minutes. During this time, the consultant will apply a water-based gel on the affected area before scanning it with a probe.
The consultant will then assess blood flow by gently squeeze your muscles at various intervals to make blood flow into the veins. At this stage, the consultant will be able to see where the blood is failing to flow normally.
Upon release, the consultant can also see whether any blood falls back down the leg due to valves not closing properly. This venous "reflux" process accounts for the vast majority of varicose vein cases.
What happens after the scan?
Once the scan is complete, the varicose vein surgeon will have an accurate picture of abnormal valves and blood flow blockages. This allows the surgeon to accurately plan the varicose vein treatment using the detailed information obtained from the scan.
Your consultant will then advise on the optimal varicose vein treatment method to use in light of the scan's results.
The benefits of Venous Duplex Ultrasound Scanning
Duplex ultrasound scanning is widely regarded as a "gold-standard" procedure as it gives surgeons the best available insight into the problems at hand. The duplex venous ultrasound scan can also be used across many parts of the body; from the lower limbs and lower extremities like the pelvis as well as the upper body and arms.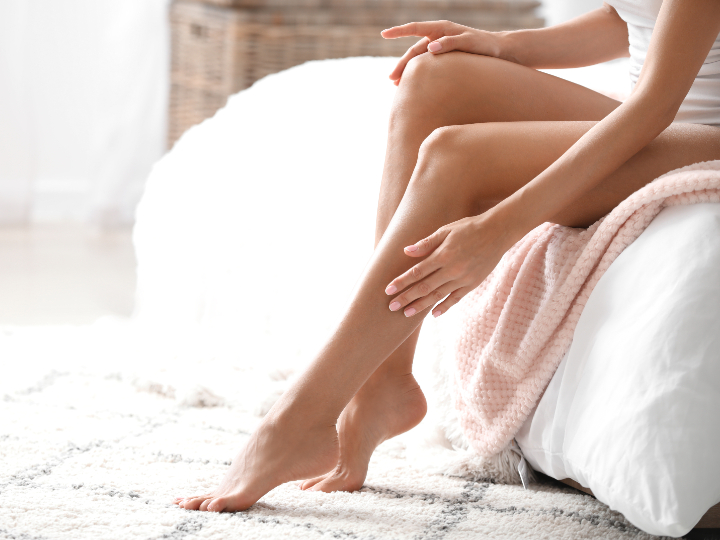 Venous Duplex Scan Cost
At The Private Clinic, a consultation with one of our Consultant Vascular Surgeons costs £200, with a free duplex ultrasound scan included. This scan is usually priced at £350 to £450 in other practices, meaning that you benefit from a competitive price by choosing our services.
You will also benefit from our unrivalled reputation as one of the UK's leading varicose vein clinics. With over 35 years' experience conducting over 7,000 vein treatments, you will be in the very best hands.
To find out more about our venous duplex scan, or to arrange a varicose vein consultation with us, please call 0333 920 2471 or use our Varicose Vein online contact form. Our treatments are available nationwide across our clinic locations in London Harley Street, Birmingham, Buckinghamshire, Leeds, Manchester and Northampton.