Walk in, walk out procedure with minimal aftercare required
We have performed over 7,000 vein treatments
See an improvement after the first treatment

We have performed over 7,000 vein treatments
See an improvement after the first treatment
Medically reviewed by
Lorcan Sheppard BSc MBBS FRCA, Chief Medical Officer and the Medical Advisory Committee
for The Private Clinic.
Last Reviewed July 16th 2020
Facial veins are very common as there are many different causes from genetics to sun exposure. Although thread veins are not usually dangerous they can be an unsightly concern for those affected.
Facial veins are usually thread veins which can also be referred to as spider veins, broken blood vessels, broken capillaries, facial telangiectasia and rosacea veins. They are usually no cause for medical concern but can leave patients feeling self-conscious and less confident about their appearance. Facial thread veins are red, blue or purple in colour and can appear all over the face but most commonly on the cheeks, chin, around the nose and under the eyes.
Thread veins on the face are typically broken blood vessels that have become more noticeable.
What causes veins on the face?
Genetics – Some patients unfortunately are just predisposed to developing facial thread veins, especially if they notice other members of their family having them.
Age – As patients age, their skin becomes thinner and starts to loose elasticity which can cause veins to become more noticeable under the surface of the skin.
Rosacea – Patients who have rosacea may find themselves more susceptible to developing facial thread veins as their skin is often red and flushed due to enlarged veins.
Illness – Sudden changes in pressure such as sneezing, blowing your nose or vomiting can also cause small broken blood vessels to appear so if you have been unwell recently this may indirectly be the cause.
Sun Exposure – Excessive exposure to the sun can cause free radical damage resulting in the blood vessels in your face to becoming enlarged which makes them more noticeable from the surface of your skin.
Environment – Exposing your skin to certain chemicals or environmental pollutants may damage the skin's surface which can make thread veins more visible.
Temperature Changes – A sudden change in temperature may have an impact on your circulation. Some patients may notice their face being flushed which can result in blood vessels bursting causing a spider vein to appear.
Trauma – Bruising after an injury can cause broken blood vessels however these often heal and disappear along with the bruised skin.
Lifestyle – Lifestyle changes can include not exercising enough or exercising too much and suffering from too much stress. Eyestrain and insomnia can also result in spider vein formation on the face.
Pregnancy – Hormonal changes in the body may cause broken blood vessels to appear close to the surface of the skin. In most instances, these thread veins will disappear after giving birth.
Alcohol – Excessive or frequent alcohol consumption can lead to long-lasting blood vessel damage which can cause spider veins and redness to appear on the face.
The Private Clinic is a UK centre of excellence for the minimally invasive treatment of veins. Whether you suffer from varicose veins, facial veins, spider veins or thread veins on legs, we provide the highest standard of clinical care and the latest technologies available in the industry. The Private Clinic has carried out over 7,000 procedures in treating Veins.
We are one of the UK's centers of excellence for minimally invasive treatments for vein problems. We pride ourselves on delivering excellent results and aftercare in Vein procedures. See our before and after facial thread vein photos from our specialist vascular surgeons below. The best option is to book a consultation to discuss the best procedure for you and to see more before and after photos for vein removal.
The Private Clinic has been treating patients for over 35 years with thousands of people placing their trust in us each year. We pride ourselves on being able to offer a personalised service. We have a team of friendly nurses and expert surgeons who understand the importance of this decision and will support you throughout your journey with us.
The Procedure

Aftercare
The Procedure
Aftercare
FAQs
What causes spider veins on the face?
Spider veins or thread veins on the face are broken blood vessels that have become dilated and more noticeable. There are a number of different causes as to why facial spider / thread veins have developed which include; injury, sun damage, hormonal changes, pregnancy, topical irritants, genetics, ageing, pregnancy and excessive alcohol consumption.
How can I get rid of facial spider veins?
Laser treatments are a great way to treat facial spider veins. The lasers target the blood vessels causing them to become smaller and gradually fade of the course of a week or two. The laser does not damage the surface of the skin meaning patients do not experience downtime or require time off work.  To find out more about facial spider vein treatment book a consultation to speak to one of our experts.
How do I prevent spider veins on my face?
here are presentations you can take to try and avoid developing facial thread veins. These include;Regular Exercise – This helps to improve your circulation and vein strength. Avoid extreme heat – Washing your face with hot water, saunas and hot weather can increase your risk of broken blood vessels. Try to turn down the heat in your shower and limit your time in spas/saunas.Sun Protection – Protecting your skin from the sun is one of the best ways to avoid facial veins. Excess sun or heat exposure can cause broken blood vessels, be sure to use SPF protection and using a simple cold compress after heat exposure can reduce the appearance of burst blood vessels.Avoid Vasodilators – Vasodilaters encourage vessels to fill with blood which can make spider veins more noticeable. Common examples of vasodilaters are caffeine, spicy food and alcohol
How much does facial thread vein treatment cost?
Facial thread vein treatment with IPL IPL Full Face – £200 IPL Course of 5 – £800Facial thread vein treatment Cutera CoolGlide / ND YAG Small area – £200 Small area course of 3 – £500 Large area – £400 Large area course of 3 – £1,000 Prices for Facial thread vein treatment will vary if a longer or shorter session is needed. For a more accurate quote, visit us for a free consultation with one of our facial thread vein experts. Are there any risks or side effects to facial vein treatment? Facial Thread Vein treatment may leave skin looking red after the procedure, this is very normal and will not last long often resolving in 24 hours. Other rare side effects from facial vein treatment include swelling, bruising, temporary lightening or darkening of the skin and superficial blisters. These will all be temporary and tend to disappear after a few days.A full list of side effects and risk from treatments will be discussed at your initial consultation. Can sclerotherapy be used to treat large facial veins? At The Private Clinic, we do not recommend using sclerotherapy to treat facial thread veins. We instead use surface laser treatments such as IPL or the Cutera CoolGlide. We recommend seeking an expert who has experience in treating facial veins.Sclerotherapy can be used to treat thread veins on the legs and foam sclerotherapy is commonly used to treat Varicose veins. At The Private Clinic we have performed over 7,000 vein procedures.We have a team of facial thread vein experts who will be able to discuss treatment options with you in a free consultation.
Where can I have facial thread vein removal treatment?
Facial thread vein removal treatment is available at our clinics located in;
London – 98 Harley street, W1G7HZ
Manchester – 25 St John Street, M3 4DT
Birmingham – 88 Hagley Road, B16 8LU – West Midlands
Leeds – 45 Park Square North, LS1 2NP – Yorkshire
Bristol – 92c Whiteladies Road, BS8 2QN – Clifton
To find out more about booking a consultation at a clinic near you,
contact us here.
Outstanding care, patient satisfaction and results mean everything to The Private Clinic Team
Read about our patients' experiences to see what you can expect from our award-winning procedures.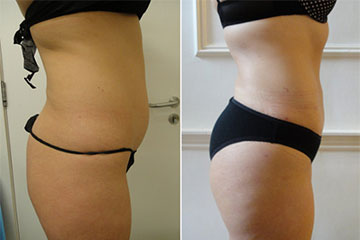 Fat Transfer to the Buttocks "It's changed my life in so many ways, i'm like a different person. It just keeps getting better and i only wish i'd done it sooner"  Watch a video of Kasia's procedure > For as long as she can remember, Kasia was unhappy with her...
Excellent treatment guided by Dr.Nicholas Kalavrezos and the Anaesthesia Team led by Dr Martinez. It was mg first time under General A and I wasn't too excited. From start to finish all the nurses were superb, the room was clean and my food was also yummy. Sometimes it pays to sort your Private Medical Insurance our. The surgery was booked in less than a week after my 2nd consultation. MRSA and Covid Test also were done prior. I can not recommend The Harley Street Clinic enough.Thank you everyone. Regards Monica
I had an eye vein removed by laser , I'm very happy with the results ,I still need a check up Marie is very kind and said on my next visit she will laser the vein if it's not gone , but so far so good the big part of the vein has gone. but unfortunately iv not been able to get to London because of the COVID, so hopefully I can go for my check up next year.
Great experience. Had two operations with these guys and great service, really put you at ease on the day, great post op support and amazing results! Cannot recommend highly enough
Very friendly and helpful, very happy with the service.
Michael Neslund
2020-12-17
Had a FUE hair transplant on 16 December with Dr Furqan Raja.He and the two nurses he worked with were fantastic!They made me feel very comfortable throughout the procedure and constantly checked in with me. I had 1700 grafts taken from the back of my head and put into the front where I had gone bald either side of my windows peak.It took a bit longer than I thought (about 8.5 hours) but this was due to the high quality, attention to detail and best result they wanted to achieve for me.I had the procedure done at the Leeds clinic but could have chosen Manchester too. I travelled two hours there and back in one day.I am now following the after care information they gave me and also the full kit of products they provided (all included in the price) to help me make sure I look after the new grafts properly.I have follow up appointments with the nurse and access to an emergency on call nurse 24/7 if required. But so far, I have no pain and everything is exactly as described to me in advance of the procedure.I did a LOT of research online and found many of the other national FUE/FUT hair transplant clinics too sales driven and very pushy. Dr Furqan Raja and the team at the private clinic gave me time and space to decide on what was right for me, and importantly they never sold to me but just answered all my questions in a professional, caring and trustworthy manor.This is why I chose them and looking at the early results I am pleased I did!If you speak to other clinics and do your research, make sure you also book a consultation with The Private Clinic. Alex Clair in Manchester was my Patient Coordinator and he went out of his way to help me and gave me lots of free, practical and helpful information up front.Their straightforward, honest and friendly approach was great throughout. Highly recommended Dr Furqan Raja, Alex Clair and the whole team.
Sophie Veerasawmy
2020-12-17
All of a sudden I noticed these veins under my eyes, it was soooo upsetting to see everyday! I didn't think I could do anything about them. Until I googled and it came up with Harley street and they did removal of under eye veins. I rang the them up and they was so helpful! And from there I was booked in and was so happy to know I can get something done! Everytime I called up nothing was a problem and was always happy to talk to me and answer any questions I had. When it came to the day of the procedure, Marie was so calming and made me feel as relaxed as possible. It was a little uncomfortable but soooo worth it as the results are amazing! Very happy I chose Harley street for the this treatment! Thankyou so much!
Amazing, Brilliant service!!
I had a laser treatment with Maria at The private clinic. She's very professional and very experience. the result is amazing!! Thank you Maria
Miss Kelly Phillips
2020-12-15
I had treatment with Nurse Marie. She was so kind. The first treatment was rather painful and when I came in for my second round I was very nervous. Marie was so caring, she totally understood and took her time treating. Would definitely recommend.
Anti – aging treatments with Dr Santa Cruz are a must for me. I have been seeing her for about 3 years now at the Private Clinic of Harley Street. Very knowledgeable and takes before and after photos which have been incredibly helpful when we want to see how much of a difference the treatment has made. I would highly recommend her as her treatments are 100% effective and painless. Also I feel safe with the covid -safe measures they have in place.
Why Choose The Private Clinic
We have a dedicated medical team who will be with you throughout your journey.
At The Private Clinic liposuction is performed by some of the UK's top medical experts who have decades of experience.

CONSULTANT PLASTIC & RECONSTRUCTIVE SURGEON
BSc, MB ChB (Hons), MD FRCS (Plast), MicroSurg. (Hons), ORL H&NSurg
GMC Number: 4686602

CONSULTANT PLASTIC & COSMETIC SURGEON
FRCS (Plast.)
GMC Number : 4764599

CONSULTANT PLASTIC & RECONSTRUCTIVE SURGEON
BS, MD
GMC Number : 6130664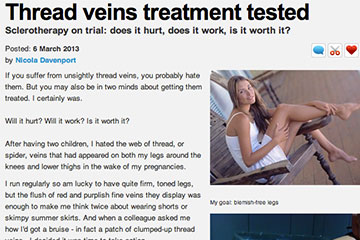 Thread Veins Treatment Tested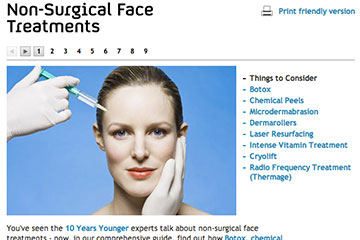 Non-surgical face treatments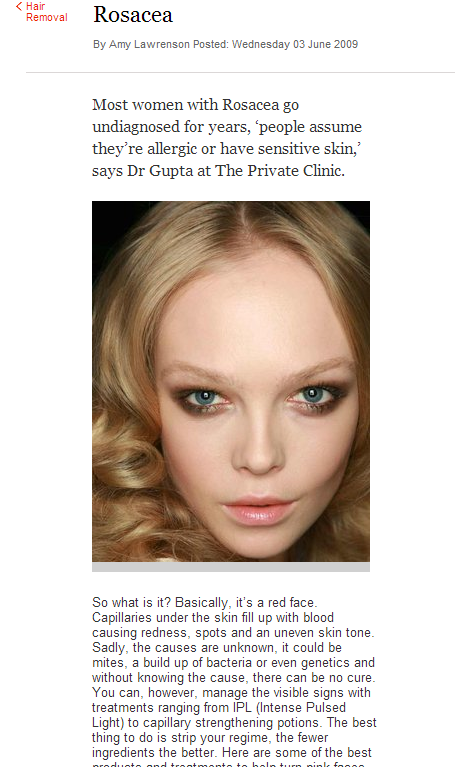 Rosacea-The Treatment: IPL (Intense Pulsed Light)