Over 7,000 vein procedures performed by consultant vascular surgeons. First class support & aftercare in our varicose vein clinics.
Over7,000 vein procedures performed
Free ultrasound scan at consultation
All procedures carried out by consultant vascular surgeons
Best Clinic Group UK and Trustpilot 5 star rating
Over7,000 vein procedures performed
Free ultrasound scan at consultation
All procedures carried out by consultant vascular surgeons
Best Clinic Group UK and Trustpilot 5 star rating
Medically reviewed by
Lorcan Sheppard BSc MBBS FRCA, Chief Medical Officer and the Medical Advisory Committee
for The Private Clinic.
Last Reviewed July 16th 2020
No matter how well you look after the skin on your face, the backs of the hands will carry the tell-tale signs of ageing.
No matter how well you look after the skin on your face, the backs of the hands will carry the tell-tale signs of ageing. The skin here gets thinner and we lose fat from this area as we age, which means the veins will get bigger and be more prominent with time. So, although they don't usually cause any physical problems, veins on the hands can add years to your appearance, particularly if you are very slim. The good news is veins on the surface of the hands can safely be removed leaving you with younger looking hands.
We are one of the UK's centers of excellence for minimally invasive treatments for vein problems. We pride ourselves on delivering excellent results and aftercare in Hand Vein procedures. See our before and after Hand Vein photos from our specialist vascular surgeons below. The best option is to book a consultation to discuss the best procedure for you and to see more before and after photos for hand vein removal.
The Private Clinic has been treating patients for over 35 years with thousands of people placing their trust in us each year. We pride ourselves on being able to offer a personalised service. We have a team of friendly nurses and expert surgeons who understand the importance of this decision and will support you throughout your journey with us.
The Procedure

Aftercare
Here at the Private Clinic we have pioneered a new laser treatment for removing veins on the hands known as Endovenous Laser Ablation (EVLA). We were the very first clinic in Europe to offer this exciting new treatment and our success rate with EVLA is exceptionally high. We also offer foam sclerotherapy and a procedure known as microphlebectomies.
Laser treatment – EVLA
This innovative new procedure is a minimally invasive way of removing veins from the hands that produces excellent results. The advantages of this procedure include:
It's a 30 minutes walk-in walk-out procedure
It's performed under local anaesthetic so no need for a hospital stay
Discomfort is minimal
You can get back to your normal activities almost straight away 
Foam Sclerotherapy
This involves injecting a chemical in foam form called Fibrovein into the veins you want removed. This blocks them off causing them to reduce in appearance. The advantage of this treatment is that there's no need for a general anaesthetic, however, the success rate is not as good as with EVLA. This is why it is sometimes used in combination with EVLA.
Microphlebectomy
This technique involves physically removing the veins through tiny incisions in the skin. In some cases it is performed in combination with EVLA.
Prominent veins are successfully removed leaving you with smoother, younger looking hands.
There is no downtime, you can get back to normal activities straight away.
FAQs
Am I suitable for a Breast Augmentation?
The size and shape of a woman's bust can cause a great feeling of unhappiness and insecurity. In cases like these, a breast augmentation is a great way to provide both a safe and convenient solution to help restore confidence.
There are many reasons why our patients decide to go ahead with breast augmentation but here at The Private Clinic we have a team of expert breast surgeons using the best techniques to help provide you with the results that you wish to achieve. All patients are handled with sensitivity and discretion.
If you are over 18 years old, in good health and generally feeling fit and well then you will be suitable for a breast augmentation. However, in some cases, a breast augmentation may not be suitable for the results that you are expecting and in such cases an alternative or combined surgery method may be advised.
The best way to ascertain your suitability for any type of surgery is to book a consultation to speak with your chosen surgeon. To book a consultation with our highly experienced surgeons click here.
What are the most natural looking breast implants?
The right implant for you will be decided on by one of our expert breast surgeons. Your chosen breast implant will take into consideration your natural breast size and your body shape and frame.
It is not possible to give an idea of one type of breast implant as different implant sizes, shapes and profiles will not all look the same on every patient. For each implant there are usually up to 4 different profiles which range from low to extra high and these decide on how much of the implant projects away from the chest wall.  A low profile will usually deliver more of a subtle or natural result but in certain cases the surgeon may advise that you go for a higher profile implant so that your breasts will be more in proportion to your body, therefore achieving a more natural result.
Your surgeon will then discuss implant placement, usually for patients wanting a more natural implant result the implant will be placed below the muscle as this allows for more natural breast tissue to sit on top of the implant but in some cases it may be more appropriate to go an over the muscle option as that it what will suit your body the best.
Taking care of your new breasts post-surgery will also have a big impact on the final result so it is very important to follow your surgeon's aftercare advice to help you achieve the most natural result.
We have an expert team of surgeons and nurses who will ensure that you receive the best advice both pre and post procedure to give you the best results.  To book a consultation click here or to find out more about the different types of breast implants take a look at our blog post here or view our breast augmentation video series here.
What is the difference between having your breast implants placed over the muscle or behind the muscle?
Deciding where your breast implants are placed during breast augmentation surgery is decided by your surgeon and will be discussed in your consultation.
Over the muscle may also be referred to as above the muscle or subglandular and it is when the breast implant is placed in front of the pectoralis minor and pectoralis major muscles that sit in your chest.  If you have a good amount of breast tissue then this option would be suitable for you as it will be able to help conceal the shape of the implant giving a more natural result.
Under the muscle is also referred to as behind the muscle or Dual Plane. Although called under the muscle, usually the implant is never placed completely under the muscle as this is a relatively old fashioned breast augmentation technique. Instead the implant is placed under the pectoralis major muscle in the upper breast but above the serratus anterior muscle in the lower breast. Under the muscle is more commonly referred to as being dual plane and is normally the most favoured of techniques.  This option is best for patients who have little natural breast tissue as this method reduces the likelihood of your breast implants showing and gives a more natural looking result.
Our expert breast surgeons are experienced in recommending the best breast augmentation technique to help suit you and your desired results.
To book a consultation click here.
How Much Does Breast Augmentation Cost UK?
The Private Clinic guides thousands of woman every year through their breast enlargement journey. We are committed to Medical Expertise, Patient Care and Satisfaction, Honest advice and most importantly the best breast enlargement results.
The Private Clinic ensures you have the best cover and quality which includes;
A consultation with your specialist surgeon.
24 hour patient helpline to ensure you are always in the best of hands.
Three years cover for all surgical, hospital and nursing care, in case of any medical issue giving you peace of mind.
The Private Clinic offers a unique warranty of £1000 towards surgical costs in case of rupture for 10 years from the date of your operation.
Comprehensive Breast Enlargement Patient Guide.
Highly experienced Cosmetic Breast Surgeons who have decades of experience.
Outstanding hospital facilities.
As many post-operative care and appointments with your surgeon and nursing team as required.
Our experience and medical expertise makes your journey a reassuring one click here
Breast enlargement cost can be part of your decision to undergo a procedure but it should never be the deciding factor. Breast augmentation costs start from £5,800, it is an all inclusive procedure cost, with no hidden extras. Plus we have the best cover. See our comprehensive before and after photos and start your journey today.
Book a consultation or request information.
Consultations with our breast surgeons are £100 at our London Harley Street Clinic.
Consultations with our breast surgeons are £50 at our Bristol, Buckinghamshire, Birmingham, Leeds, Manchester and Northampton clinics.
We offer consultations with our highly experienced Patient Coordinators which require a £25 refundable deposit to secure your place.
Patient coordinators are able to offer you all the information you require prior to meeting a surgeon.
Will I be able to see before and after photos of a breast augmentation procedure?
Our surgeons at The Private Clinic will be more than happy to show you a selection of before and after photos of the procedure you are considering at your consultation. We do also have a breast augmentation before and after photo gallery for you to view on our website by clicking here.
hand vein treatment is Available in these Clinics
Outstanding care, patient satisfaction and results mean everything to The Private Clinic Team
Dr Fallhadar did an exceptional job, he made me feel comfortable from start to finish. Fiona his assistant was also incredibly helpful and supportive throughout. They are so natural and I would highly recommend him to anyone, particularly if you want a natural and problem free result
The derma pen training was very intensive in terms of the theory and both practical i learnt so many different techniques Dr Farah was amazing in her teaching skill and was able to Answer all my concerns
I work with Mr Riaz Agha, a Harley Street Plastic Consultant Surgeon at one of his private clinics. I am impressed with not only his standard and quality of work but also the care and kindness that he shows to all of his patients and team. I have worked with a huge variety of different consultants over the years but Mr Argha really stands out and I would highly recommend him to friends and family, and of course if ever I consider to have any procedures in the future. Marie
I had laser treatment on face by Emma, the results are amazing I can actually go foundation free. All the team were friendly and approachable.
I had a breast reduction performed by Mr Navid Jallali. I am absolutely thrilled with the results. I have less backache and less neck ache. The size and shape are absolutely fabulous.The clinic was amazing. The nursing staff in the hospital were superb. I would not hesitate to recommend this clinic and Mr Jalalli to anyone wanting a breast reduction.
A really positive experience. Alex is a fantastic patient co-ordinator, so friendly and reassuring. After a few changes of plan due to Covid lockdown, I feel so grateful to have had the opportunity to have Dr Fattah performing my procedure. Extremely thorough and precise from the first consultation, I really trusted him. My main aim was to restore my figure after children/breastfeeding, with a really natural look that would work with my lifestyle, gym etc. Dr Fattah really "got" this and I trusted his judgement on size of implant and placement completely. I'm absolutely delighted with the result and the aftercare support has been great – surgery follow up and then annual check ups for reassurance. Thank you team, wouldn't hesitate to recommend ?
From the start to finish of my T-Lift procedure, I felt in good hands. The entire team at The Private Clinic were very caring and professional. Mr Falladah is an excellent surgeon, he explained everything clearly -before and during the procedure – and has a calm and reassuring manner. Because I was well-informed regarding what to expect after surgery, I was able to manage with minimal pain medication, but I'm glad I took a couple of days off work to recover. I'm really pleased with the results – a five star recommendation!
I had preservation rhinoplasty with Dr Rochira in December 2019. I couldn't be happier with my results. The results are very natural-looking and I feel so much more confident with my side profile. Dr Rochira is an amazing surgeon and I instantly felt comfortable. He knew exactly what I wanted and was very realistic with the results in my consultation. Thank you!
Dr. Rochira performed a preservation rhinoplasty on me in December 2019. I trusted his suggestions for my nose and now, 9 months later, I couldn't be happier with the results I'm seeing. I did not experience any bruising at all, only swelling around my eyes for the first couple of weeks — my nose itself took a few months to settle and I feel like it has really grown into the rest of my features. I entirely recommend this surgeon if you are looking for a natural result and an extremely pleasant experience.
Why Choose The Private Clinic
We are the UK's leading cosmetic group and have some of the most experienced EVLA vascular surgeons in the country working with us. Our own consultant vascular surgeon, Mr. Constantinos Kyriakides, has pioneered its use as a treatment for the hands and he is one of very few surgeons in Europe trained in this revolutionary technique. We have carried out more hand vein removal procedures than at any other UK clinic. Our success rate is unsurpassed and we have earned a reputation as leaders in our field for this type of treatment.

Mr Constantinos Kyriakides
CONSULTANT VASCULAR SURGEON
MD, FRCS (Gen), FRCS (Gen Surg)
GMC Number: 3275436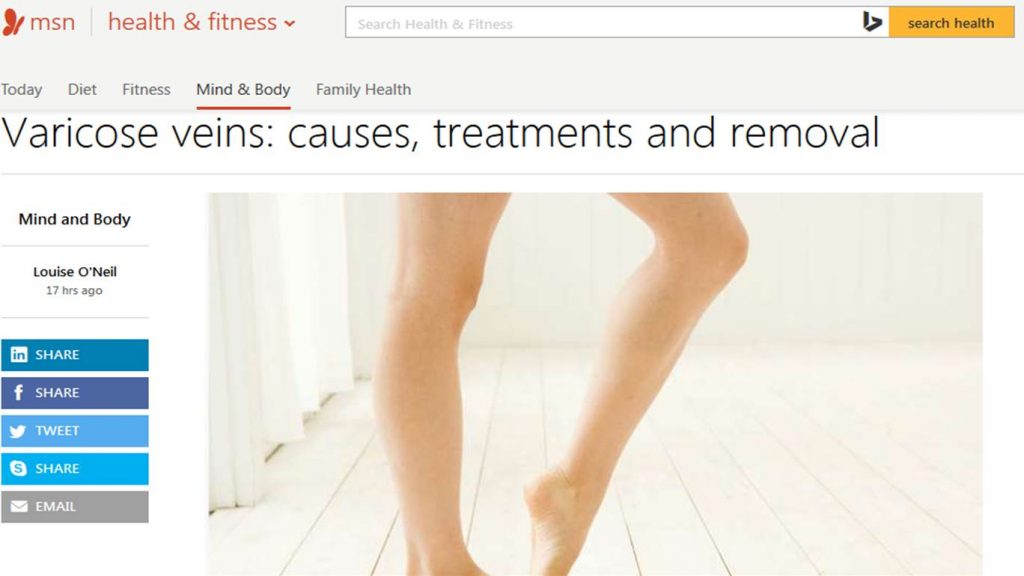 Varicose veins: causes, treatments and removal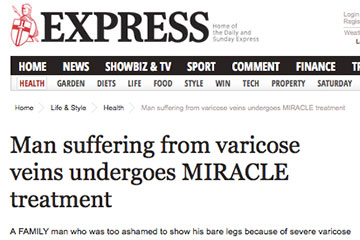 Man suffering from varicose veins undergoes miracle treatment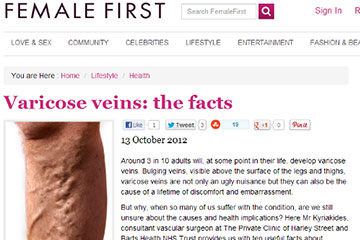 Varicose Veins – The Facts