Sclerotherapy Vein Treatment
Foam sclerotherapy is a minimally invasive treatment to help eliminate unsightly varicose veins.
Sclerotherapy is an ideal procedure to treat mild varicose veins and those that are a recurrent problem. Remove unsightly blue veins quickly and easily with this minimally-invasive procedure that takes less than 30 minutes to complete under a local anaesthetic. By using an injection of specialised medical foam, it quickly seals off and dispels your affected varicose veins with minimal pain and recovery time. Here, we explore everything you need to know about the procedure, from the consultation to aftercare and results.
What is Foam Sclerotherapy?
Foam Sclerotherapy is a leading treatment to remove smaller varicose veins, particularly in the legs, where varicose veins frequently occur. The UK's National Institute of Healthcare and Care Excellence (NICE) has recommended this foam treatment for varicose veins as a gold-standard option if patients are unable to remove their veins with popular procedures like EVLA (Endovenous Laser Ablation).
Thanks to its injectable format, there is little recovery time, and you can resume your normal activities straight after having it.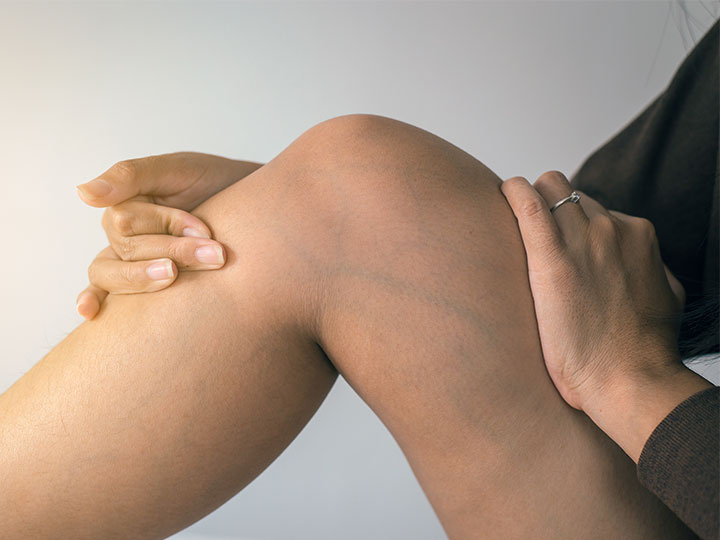 What veins can Foam Sclerotherapy treat?
Vein foam sclerotherapy is a perfect treatment for patients who want to target thread veins and smaller varicose veins. Thread veins (or spider veins) are thin, shallow veins that tend to sit just below the skin's surface. They can easily be treated with foam injection sclerotherapy using a series of microinjections that are usually pain-free.
As with all varicose veins, they form when small valves inside them stop working properly. This causes irregular blood flows, and blood starts to build in the veins, causing them to bulge and swell. But by injecting foam into these veins, we can cause them to quickly collapse and dissolve. After just a few sessions, spaced a few weeks apart, the body should naturally dispel the veins for good.
This procedure is also commonly used as a secondary treatment for recurring veins or as a follow-up to target residual veins left over after an EVLA procedure.
Benefits of Foam Sclerotherapy
As foam sclerotherapy is a quick and minimally-invasive procedure, it has several key benefits when compared to other vein treatments:
Walk-in, walk-out procedure
Carried out as a day-case operation in outpatients
Uses local rather than a general anaesthetic
Less injections required than laser and radiofrequency procedures
Less inflammation and discomfort
Fast healing and treatment
Patients can return to normal activities the very same day
Effective results after 4-6 weeks of recovery
The Consultation
The first step to a foam sclerotherapy treatment is a consultation with one of our consultant vascular surgeons. During this appointment, we will assess the state of your varicose veins using our advanced duplex ultrasound scan. This gives our surgeons a live visual analysis of the inner structure of your veins. They can detect how blood is flowing and where the foam needs to be injected in order to collapse your faulty veins. If you have larger veins that need treatment, then our surgeons will sometimes use the ultrasound scanner to direct their injections.
This is called "ultrasound-guided foam sclerotherapy" and enables the affected vein to be visualised clearly so that the foam is accurately injected. When treating small veins close to the skin's surface, ultrasound guidance is often not needed. Either way, the duplex ultrasound scan will guide your surgeon to treat your veins in the most appropriate way. A detailed explanation of your treatment option will also be given at this stage. This enables you to fully understand the procedure and its expected results.
The Foam Sclerotherapy Procedure
Once your veins have been analysed at consultation, your vascular surgeon will be fully equipped with the knowledge they need to treat you. A local anaesthetic will be carefully applied to the affected area to ensure that your treatment is as pain-free and comfortable as possible.
After this happens, your surgeon will mix a special chemical with air to produce the medical foam needed to carry out the procedure. These foams are known as sclerosants and have been used for many years to break down the cells that line a damaged vein's walls. They immediately coat vein walls with a sticky substance, which pushes out blood from the channel while inflaming the vein walls. Over time, this causes the vein channel to close up completely before the vein itself shrivels away and dies.
Once this has happened, your blood flow will naturally reroute itself through healthier veins to improve your overall circulation. Your body will then remove the dead vein naturally as soon as it has shrunk and dissolved.
As a fast procedure, it typically takes less than 30 minutes to complete. After the procedure has taken place, we will schedule a review appointment with you to check progress and see if any further treatments are necessary. On occasion, we may need to treat the vein more than once with foam sclerotherapy to achieve optimum results.
How long does Foam Sclerotherapy take to work?
The foam starts to break veins down immediately. But it takes a while before the vein completely shrinks. Most patients experience definitive results from 3-6 weeks after treatment. But larger veins may take up to 3-4 months to fully disappear.
What to expect after Foam Sclerotherapy?
When it comes to foam sclerotherapy results, independent studies have revealed that the procedure has a success rate of between 60 to 80%. Results vary from patient to patient, but in cases where the first treatment does not completely eradicate the affected vein, we can apply follow-ups to maximise final results. As a multi-award-winning clinic with a 5-star Trustpilot rating, the vast majority of our patients leave with exceptional results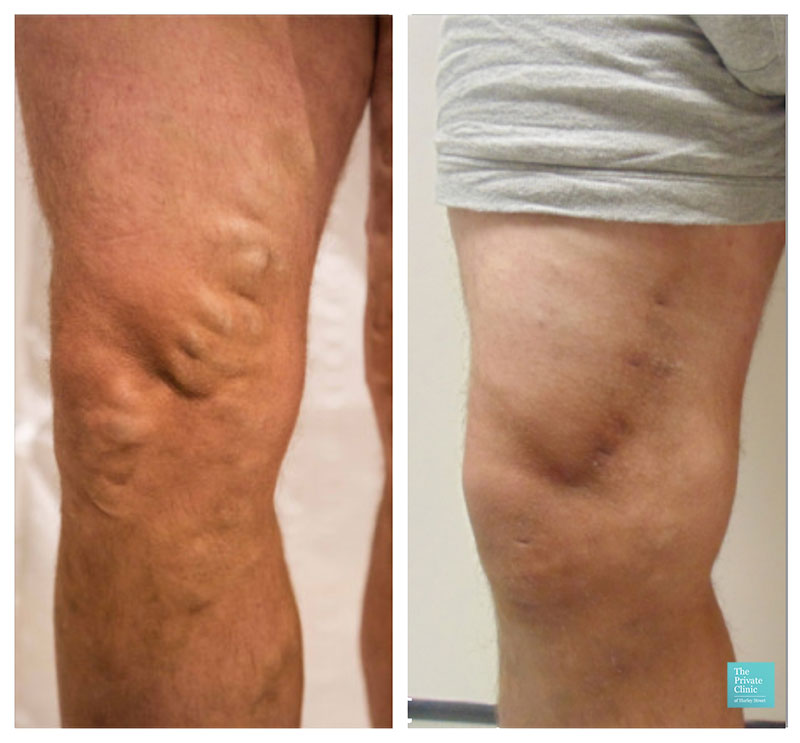 Foam Sclerotherapy Aftercare
In-Clinic Aftercare
After the procedure, we will apply a pressure bandage to compress the vein walls and minimise blood leakage. After the injections take place, this must be worn for 12-24 hours. You should avoid showering and bathing at this time.
At-Home Aftercare
You must wear compression stockings for 3-4 weeks to encourage optimal healing and recovery. You may feel a bit sore around the treatment area for a few days after. However, this pain usually fades after just a few days.
Patients should try to remain mobile in the recovery phase by undergoing gentle activities like walks. This helps to promote good circulation. However, please avoid anything strenuous like gym exercise, prolonged standing, kneeling and bending for 4-6 weeks. You should also elevate your leg when sitting for any length of time. By following these simple steps, your varicose veins will break down and dissolve without any side effects, leaving you free to enjoy a newly improved you.
Foam Sclerotherapy Side Effects
All medical procedures will have a risk of side effects and potential complications. At The Private Clinic we only offer treatments and procedures that we know are sage and able to deliver patients the best results.
Side effects from Foam Sclerotherapy treatment include bruising to the skin which is temporary and will fade over the following weeks, skin pigmentation and lumpiness under the skin which usually fades after 6-12 months.
Our expert team of vascular surgeons will go through all the risk and complications of foam sclerotherapy in detail during your consultation so that patients feel well informed before deciding to go ahead with treatment.
The majority of patients we see have very little side effects and are able to enjoy the results of Foam Sclerotherapy after their course of treatment.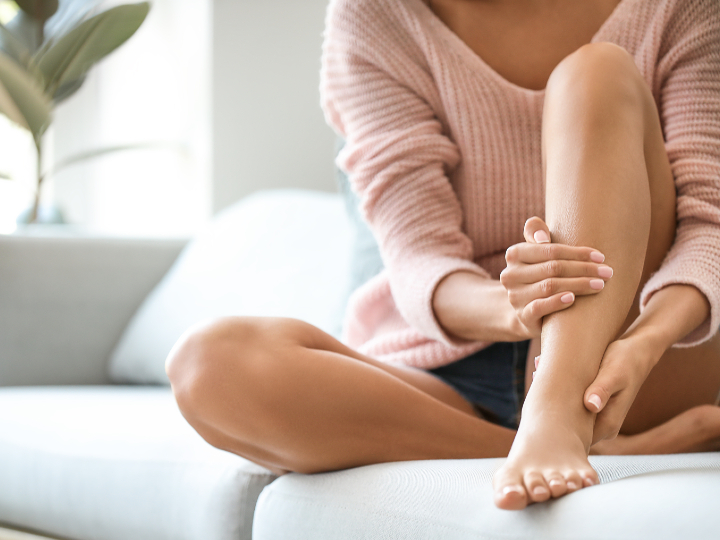 Foam Sclerotherapy at The Private Clinic
As one of the UK's leading thread vein treatment providers, we have an outstanding reputation for high-quality standards and excellent patient results. At The Private Clinic, we carry out over 7,000 varicose vein removal treatments each year, including foam sclerotherapy procedures. Our consultant vascular surgeons are some of the most experienced and knowledgeable professionals in the business, having pioneered the UK's leading treatments for over 40 years. So when you have a foam sclerotherapy treatment performed by us, you will be in the best of hands. Our patients have also verified this in our 5-Star Trustpilot ratings, while giving us a 96% patient satisfaction score.
To find out more about our Foam Sclerotherapy treatments, or any of our additional varicose vein treatment procedures, complete our online varicose vein enquiry form and we will get in touch. Alternatively, you can call us directly on 0333 920 2471. We have state-of-the-art medical facilities that are easily accessible across the country, with clinic locations in London Harley Street, Birmingham, Buckinghamshire, Leeds, Manchester and Northampton.