Scalp Micropigmentation
The Private Clinic are proud to have partnered with esteemed pigmentation specialists, Scalp Confidential, to offer the highest quality and experience in scalp micropigmentation.
What's on this page
Medically reviewed by Lorcan Sheppard BSc MBBS FRCA, Chief Medical Officer and the Medical Advisory Committee for The Private Clinic.
Last Reviewed May 17th 2022
Hair Loss
Up to 50% of men will have experienced some degree of hair loss by the time they reach 50. And for many, hair loss will occur far earlier whilst they are in their 20s, 30s or even late teens.
Although hair transplants are the only permanent solutions for hair restoration, many men and women can't afford, or simply don't have enough hair to transplant to balding areas.
Scalp Micropigmentation also known as SMP is a highly advanced technique of cosmetic pigmentation. Specialised needles are used to implant small dots of coloured pigment into the scalp to replicate a hair follicle, creating densification or to camouflage hair loss.
Scalp Micropigmentation can help clients rebuild lost confidence and self-esteem due to hair loss/thinning. These specialised pigments are expected to last 3-5 years depending on the client's lifestyle and skin type.
The treatment is suitable for men and women experiencing:
Hair loss but don't have enough donor hair to be transplanted
Receding hairlines
Crown hair loss
Scarring on the scalp
Weakening and thinning hair
Micropigmentation is a great option to help with;
Male and Female Pattern Hair Loss
Receding Hairlines
Crown Hair Loss
Repairing Failed Hair Transplant Treatments
Covering scars
Adding density to the hair
Alopecia conditions
Scalp Micropigmentation can be the most suitable solution for you if you prefer to opt for a non-surgical solution, or if you want to keep your hair at 'buzz cut' length but just need that enhanced appearance.
"Exceptional service, 100% recommend, certainly the best decision I've made yet. Kelly is at the height of professionalism; friendly, caring and patient. Following the treatment I felt highly confident about myself, no more obsessing over hair loss, what a relief!" – Ewan, Scalp Micropigmentation Patient

Scar Camouflage Scalp Micropigmentation
Scar Camouflage Scalp Micropigmentation is ideal for patients who have undergone a hair transplant and are looking to reduce the visibility of surgical scars. Our technicians delicately deposit pigment into the scar tissue and surrounding area to help blend out and diminish the visibility of the scarring. By accurately matching the hair colour and creating the look of follicles inside the scar, many patients can expect up to an 85% improvement in the appearance of scarring.
A large percentage of scalp micropigmentation clients seek the treatment to help camouflage FUT strip scars. Hair transplant scars can be very visible and limit hairstyle options for the individual, SMP works to try and blend the scars into the hair so styles can be more varied.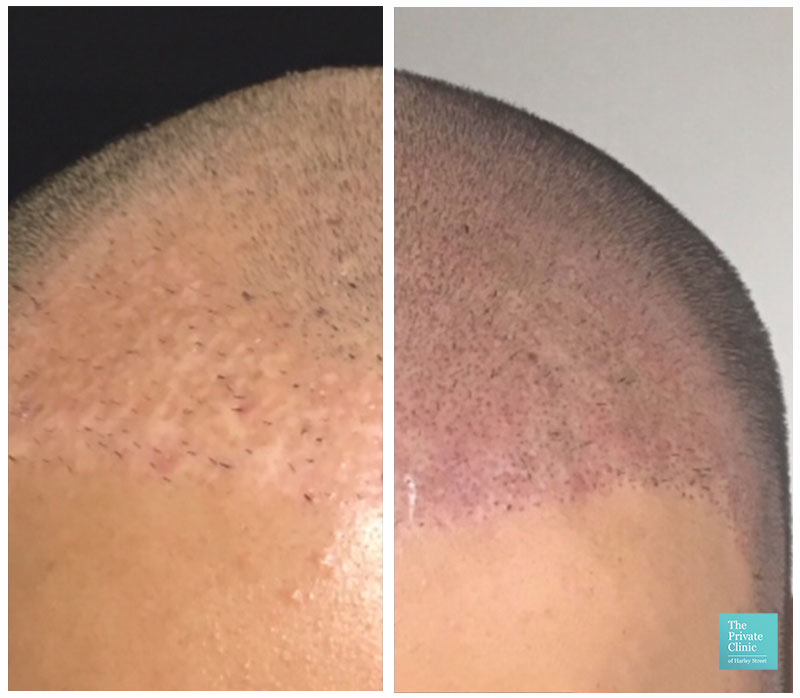 Male Scalp Micropigmentation
Male Scalp Micropigmentation is ideal for patients who are looking for that buzz cut, no fuss, shaved head look. If you have thinning hair or wish to cover scars, we can offer you a viable realistic solution. Our technicians work from the Norwood Scale, which is the male hair loss density scale used by most hair loss specialists to create the most natural looking result.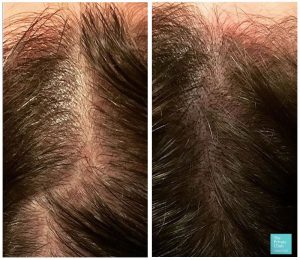 Female Scalp Micropigmentation
Female Scalp Micropigmentation is a long-lasting solution for women's hair loss. SMP will stop the need to disguise seeing your scalp and worrying about how your hair looks. Densification is the ideal answer for ladies with thinning hair. Our technicians work from the Ludwig Scale, which is the female hair loss density scale used by most hair loss specialists to achieve the best results.
as seen in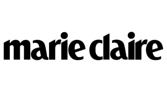 What to Expect
The Private Clinic has been treating patients for over 35 years with thousands of people placing their trust in us each year. We pride ourselves on being able to offer a personalised service. We have a team of friendly nurses and expert surgeons who understand the importance of this decision and will support you throughout your journey with us.
Scalp Micropigmentation Treatment
Your treatment journey will begin with a consultation to help our micropigmentation experts understand what results you are hoping to achieve from treatment.
Your suitability for treatment will be assessed and a personalised treatment plan created. You will also have a patch test to ensure that you have no allergies relating to the ink used in treatment.
Your first treatment will be about creating the foundation of your new appearance.
Around 1 week later you will return for your second treatment where the technician will fill in the area being treated with darker ink to add more density.
5 – 6 weeks later, you will have your third treatment which is where detail will be added and the final results completed.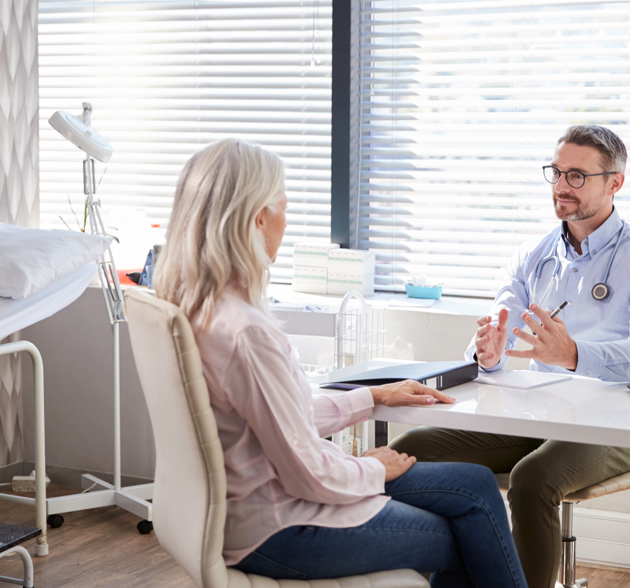 After Scalp Micro-pigmentation Treatment
You will be able to see the outline of your new hair line immediately after treatment, best results are seen after the final treatment has taken place.
There is no excessive downtime with this treatment. You may experience some redness immediately after the procedure but this will subside after a few hours. Some patients experience swelling and in rare cases bruising but again, this will gradually subside over the next couple of days.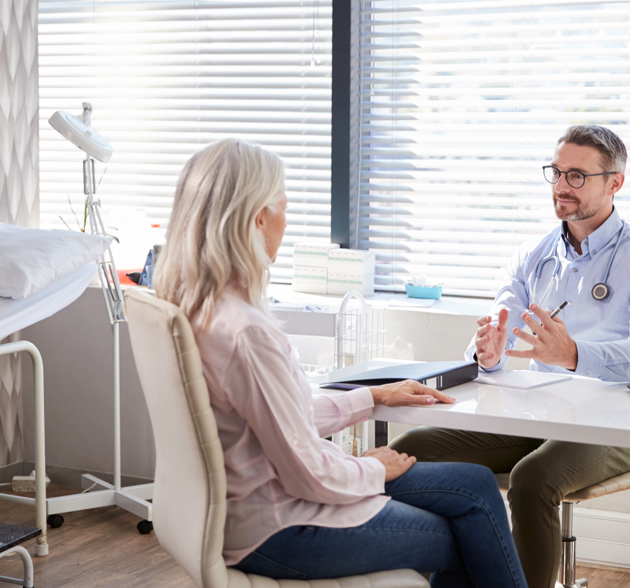 FAQs
Am I suitable for scalp micropigmentation?
You will need to have an initial consultation before deciding to go ahead with scalp micropigmentation which is where your suitability will be determined. Whether you are a good candidate or not will depend on your specific circumstances, type of hair loss and desired results.
You will also be required to carry out a patch test which will make sure you have no unwanted side effects to the treatment.
To find out if you are suitable for scalp micropigmentation, make a consultation with one of our experts.
Is scalp micropigmentation suitable for women?
Scalp micropigmentation is a very effective treatment for reducing the appearance of hair loss in both men and women. Scalp Micropigmentation General procedure, Most Popular
Scalp micropigmentation for men is usually focused on replicating the appearance of shaven hair follicles but for women we instead need to decrease the contrast between scalp and hair. Women are not usually required to shave before treatment and we instead work with you to apply pigmentation section by section which helps give the appearance of thicker hair.
To see if you are suitable for scalp micropigmentation, come and see our experts for a consultation.
How many scalp micropigmentation treatments will I need?
Scalp Micropigmentation is usually performed over the course of 3 treatments. The first session uses lighter pigments to help build the foundation. The second session takes place around 1 week after your first session, during this session we will start to add more density by using darker pigments. 3 – 5 weeks later you will return for your third session which will be focused on building up detail and completing the overall look.
Is Scalp Micropigmentation treatment permanent?
No, scalp micropigmentation treatment is not considered permanent as the ink changes/fades over time. There are two options in terms of the pigment/ink; one which needs a touch-up or colour boost every 12 months on average and one which is more long-lasting and requires a top up every 3-5 years. Lifestyle, sun exposure and skin type can all impact on the longevity of the treatment.
How much does Scalp Micropigmentation cost?
Every individual's needs are different, meaning we treat all our patients on a case-by-case basis. Because of this we can only give an accurate quote following your consultation and scalp assessment.
Scalp micro-pigmentation can cost between £400 and £2,500, depending on the size of the area treated.
Consultations with our Scalp Micro-pigmentation technician & Aesthetic practitioner are £50 which is non-refundable but is redeemable against any treatment booked,
Patch tests are at a cost of £150 and can be done on the same day.
Meet our Specialists
We have been treating patients with hair loss for decades and we pride ourselves on our excellent reputation for our expertise and wide range of hair loss treatments.