FUE Hair Transplant Surgery for Scar Repair
How do I cover or fix a scar on my head?
Scars on the scalp can be caused by a number of reasons such as:
injury, sporting accident
birth marks
burns
inflammatory diseases and skin conditions and
from previous hair transplant surgeries.
Scars on the scalp can reduce hair growth or stop hair growth completely.
Covering a scar can be difficult if you don't have enough hair. It can affect your confidence. See our before and after photos of hair transplant for scar repair.
How do I know if I am suitable for a Hair Transplant if I have a scar?
Here at The Private Clinic we offer a FUE Hair Transplant Surgery for scar repairs. This is a highly advanced procedure and there are a range of factors that can determine if you are suitable to have one.
Hair Transplant surgery for scar repair is designed to add hair to cover the scar, it is not designed to remove the scar. This procedure is best suited to those who are suffering with baldness or reduced hair growth in areas with scarring.
Can I have a hair transplant following a poor hair transplant or a FUT strip procedure?
30% of Hair Transplant patients that we see require scar repair for scars left after having a poor hair transplant treatment elsewhere or from a previous FUT strip procedure.
FUE hair transplants are a great way to help disguise previous hair restoration scars but it is a highly skilled technique which will require an in-depth examination of the scalp.
What are the contradictions that could affect the overall result?  
A FUE hair transplant for scar repair can be affected by:
the thickness of the scar
any inflammatory conditions and
the blood supply to the scar.
Scar type, size, thickness and survival rate have an impact:
Hypertrophic scars for example are very thick compared to Atrophic scars which are much thinner.
Thin scars however are often unable to hold the follicles that are transplanted during a FUE procedure.
It is also worth noting that the survival rate of hair follicles in scar tissue is lower than if they were transplanted to healthy skin.
Making sure that the area of scaring is suitable to hold these follicles is one of the first things that your FUE Hair Transplant surgeon will assess.
Although thick hypertrophic scars essentially would seem like the preferred option, they also have their own faults as thick scar tissue can limit the access to vessels.
For a hair follicle to grow and survive they will need a good blood supply, if not it can cause the transplanted hair follicle to die resulting in an unsuccessful hair transplant.
Can hair transplants be implanted into a scar?
It is possible to transplant hair follicles into scar tissue however there are risks associated with this such as a reduced blood supply. Hair follicles need a good blood supply to survive. If the blood supply is limited the hair follicles will not survive.
A consultation with your expert Hair Transplant FUE surgeon is vital.He will ask about your medical history. For example if you have an inflammatory disease then we would recommend that you do not have further hair restoration surgery until the disease has been inactive for at least 2 years. A flare up could result in the results of your surgery being compromised so keeping your condition under control is vital.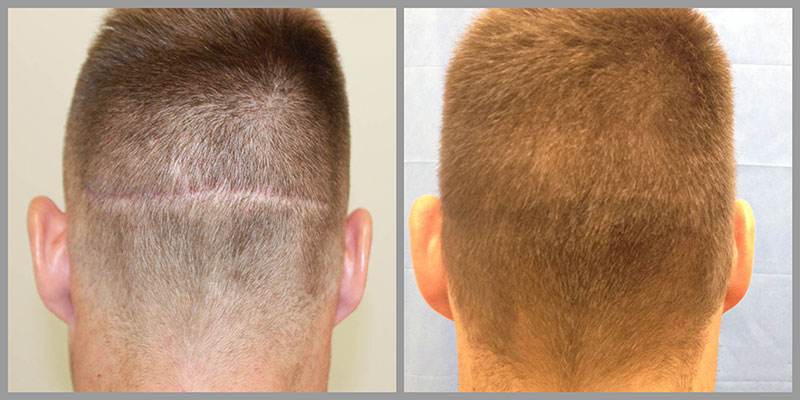 Hair Transplant Scar Repair
If you are considering a FUE Hair Transplant procedure for scalp scar repair then we recommend that you come in for a consultation with one of our fully qualified hair transplant surgeons. Due to bespoke nature of repair surgery, in person consultations are highly advisable. Our hair transplant surgeons have treated thousands of patients and have decades of experience in treating scar repairs from a vast majority of causes as well as scar revisions of past hair transplants.
The Private Clinic prides itself on ensuring you have the best quality and most comprehensive care:
24 hour patient helpline to ensure you are always in the best of hands.
As many post-operative care and appointments with your Hair Transplant surgeon and nursing team as required.
Highly trained Hair Transplant Surgeons who have decades of experience.
Comprehensive patient information, every step of the way.
Outstanding hospital facilities and clinics across the UK.
We offer a range of FUE procedures including the unshaven FUE Hair Transplant procedure which is a popular option if deemed suitable.
For further information on our expert hair transplant surgeons click here.
To book a consultation to discuss the best options for you click here.