Hair Transplant for Men
The Private Clinic's Hair Transplant and Hair Restoration surgeons have extensive experience in treating Male Pattern Baldness with the minimally-invasive, virtually undetectable scarring, no stitch technique known as FUE (Follicular Unit Extraction) Hair Transplantation.
Our Hair Transplant surgeons have a world class reputation and have perfected their hair implant techniques to offer you natural looking, densely packed hair by selecting only the healthiest follicular unit (group of hairs) and implanting them in the direction your hair grows. This technique is quite different to what others offer.
The Private Clinic has been treating patients for over 35 years, we pride ourselves on our results, service and aftercare, see our Trust Pilot rating, we have the highest rating in the industry.
We offer FREE consultations with our highly experienced Patient Advisors who are able to offer you all the information you require prior to meeting our Hair Restoration specialist surgeons.
Hair transplant treatments are available at The Private Clinic London Harley Street, Birmingham, Leeds, Manchester and Bristol . However, we offer hair transplant consultations across the UK.
At The Private Clinic our experienced doctors perform a modified FUE method; making very small entry points into the scalp. Our team ensure that the donor area looks intact after the hair transplant procedure and you can keep your hair really short if you prefer without any obvious scarring. See our extensive hair transplant before and after photos and videos
FUE Hair Transplant Procedure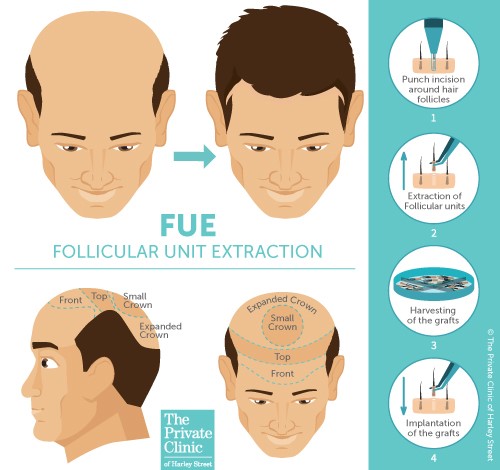 "My hairdresser is a director at a famous London salon and has told me that it's the best hair transplant procedure he's ever seen. Highly recommended" *

Hair Transplant FUE (Follicular unit extraction) with Dr Raghu Reddy.
The Hair Loss Problem
Up to 50% of men will have experienced some degree of hair loss by the time they reach 50. And for many, hair loss will occur far earlier whilst they are in their 20s, 30s or even late teens.
The main cause for 95% men experiencing a thinning scalp is something called Androgenetic Alopecia – more commonly referred to as Male Pattern Baldness. The hereditary condition occurs when a male hormone causes certain hair follicles to shrink and produce abnormal hair with a shorter life.
In Male Pattern Baldness, patients typically see hair loss starting in the crown, followed by thinning around the hairline and temples, before the mid-anterior scalp is affected. This can be different depending to each individual. Other causes of hair loss in men could include stress, disease, and physical reactions to medication. Hair loss can impact on your confidence, and we believe that's the most important thing to address.
You can seek advice from a Trichologist if you are losing hair in its early stages, however for balding areas, a hair transplant is the best solution. The Private Clinic have many years of experience in our specialised FUE technique. All our clinics have CQC registered medical facilities to give you the hair and look you are after. Read about The Private Clinic here. Our reputation is such that we do not take short cuts, we will only give you honest advice with the results you are looking for.
The FUE Hair Transplant Procedure
FUE or Follicular Unit Extraction, involves removing healthy hair follicles directly from a donor area on the scalp (usually at the back of the head where the hair is plentiful) and grafting them onto the bald or thinning areas.
The treatment is carried out under local rather than general anaesthetic, eliminating risks and downtime associated with other hair transplant procedures. And because the treatment is minimally invasive (there is no cutting of strips) making very small entry points into the scalp (sometimes known as Micro FUE) our team ensure that the donar looks intact after the hair transplant procedure and you can keep your hair really short if you prefer without any obvious scarring. In most cases, patients are able to return to work the next day with their results.
The method uses a specialised punch device, ranging in diameter from 0.6mm – 0.9mm, to extract follicular units complete with necessary glands. This separates surrounding tissue from the unit, meaning minimum trauma and better results. We do not use a machine, this is too rough, our specialised surgeons manually implant each hair. Transplantation of all the vital elements of each hair follicle means a better survival rate and better growth. The treatment is performed under a high powered microscope using specially designed instruments, allowing the surgeon to work with the upmost precision for natural-looking, undetectable results.
We have been perfecting our FUE technique over the past 10 years and we are able to achieve natural results. Many patients are put off by the risk of being left with a long linear scar at the back of the hair following a FUT transplant and for this reason more and more patients come to us for FUE. See our extensive before and afters here.
You will be treated by highly experienced Doctors. Our Hair Transplant surgeons are specialised in FUE (Follicular Unit Extraction) and treat hundreds of patients every year.
FUE is a minimally invasive treatment (meaning there is no cutting of a strip), and carried out under local anaesthetic – many patients either watch TV, or even fall asleep during the procedure.
You won't require any stitches after your treatment. This means that the recovery time is also reduced when compared to the Strip surgery (FUT).
We use the finest instruments, resulting in as minimal trauma to your scalp as possible.
Thanks to our advanced skills and techniques, our team ensure that the donar looks intact after the hair transplant procedure and you can keep your hair really short if you prefer without any obvious scarring.
Following treatment, there will be no linear scarring across the back of your head as seen with the strip method (FUT) – you'll be free to wear your hair long or short.
We choose the best follicular unit (a group of hairs), this ensures that only the strongest, healthiest grafts are used for your hair transplant procedure. See our Hair Transplant videos here.
Your results will look natural, with denser packing – the hair is implanted in the direction that matches your hair growth, and because we select healthy follicular units, the treated area will look densely filled.
Our surgeons are the only surgeons in the UK offering the Unshaven Hair Transplant (U-FUE) (the long-hair hair transplant), to those who prefer not to shave beforehand. At your consultation, we will be able to advise you on whether an unshaven procedure is suitable for you.
Scars resulting from injuries or previous surgeries can also be corrected. In fact 30% of all patients that come to us have been somewhere before and need further work to improve on a disappointing result. This could be a previous bad hair transplant or we can cover linear scars caused from FUT hair transplants.
For more information or to book a consultation with our expert Hair Transplant surgeons click here.
Our specialist hair transplant surgeons – Dr. Raghu Reddy and Dr. Kouremada Zioga in London Harley Street, Dr. Mark Tam in Leeds and Bristol, Dr. Michail Mouzakis in Birmingham and Northampton, Mr Doraisami Mohan in Manchester and Leeds and Dr Nestor Demosthenous in Glasgow offer the most advanced, minimally invasive Hair Transplant techniques available today.
We are one of the very few clinics able to offer Unshaven procedures (the long-hair hair transplant), and treat Afro-Caribbean hair loss, as well as eyebrows, beard and facial hair. In addition, due to the knowledge and precision of our team, we can utilise body hair in hair transplants if you have a lack of suitable donor hairs on your scalp.
Hair Transplant Results
You will be able to see the outline of your new hair line immediately after treatment. The transplanted hair will have re-grown fully approximately 12 months later.* See our before and after gallery here.
Recovery / Downtime
You can leave the clinic immediately after treatment. Healing takes approximately 5-7 days, after which point any redness or slight swelling in the treatment area will have subsided. See Doug's Hair Transplant story here.
When it comes to researching hair transplants there are a lot of words and abbreviations that may seem confusing. We have created a glossary of the most popular Hair transplant words which you can view here.
Reviews on TrustPilot
Comments from patients
Nothing but the very best service at The Private Clinic. Extremely professional and very informative. They care more about you than making a sale, Steve is great at picking out a suitable treatment for you with just you in mind, they wouldn't suggest or try to sell anything without putting you and your health first. Steve can provide you with realistic expectations and is a massive credit to the clinic offering any assistance you may need. The clinic encourages plenty of time to be taken to decide on weather treatment is for you. Dr D'Souza and his technicians were top class. Very professional and experienced which puts you at ease. Surgery went extremely smooth and was made very comfortable. If you are in the UK and want surgery or treatment going to The Private Clinic is a no-brainer. You know you will be getting the best quality experience. The staff are great and are so friendly.

Josh, Birmingham
After looking at plenty of clinics for a hair transplant I settled on The Private Clinic in Leeds after reading the great reviews. From the initial consultation with Dr Mouzakis , Sorena and Nabeel to the day of my transplant the team have been superb. The surgery was practically painless and I am very happy with my new hairline, all the team were constantly ensuring I was ok and were very professional. The aftercare I have received has been great and I've had phone call already to check how I am. I like also like knowing that I can phone at any time if I need any advice.

I would recommend Dr Mouzakis and the Leeds team to use for a hair transplant.

Sean, Leeds
I attended the Bristol Private Clinic in February to undergo a fue hair transplant. I had previously met my surgeon Mark Tam for a consultation which was arranged by the clinic co-ordinator Chantelle. I have spoken to Chantelle several times by phone and in person, she has always been very professional, friendly and reassuring.

Mark Tam was approachable, friendly and the ultimate professional, choosing to do the procedure in two parts due to an unavoidable staff sickness issue rather than rush it. I have waited until now to write this review as I wanted to see the results develop. I am delighted with my new hair growth and I am much more confident. I was avoiding many social situations before as I was constantly worried by my hair loss. The procedure has now given me my confidence back. I cannot thank Chantelle, Mark Tam and the team enough.
If you're looking to get a hair transplant and wondering where to have it done, look no further. I had a FUE hair transplant with Dr Zioga at the Private Clinic of Harley Street 3 weeks ago. The entire experience from initial consultation, to the procedure day and follow-up care has been amazing.

At the initial consolation with Dr Zioga and Becki the patient advisor everything was explained in detail and I immediately felt confident that I was in the right place. Surgery day was nothing to worry about at all. I was honestly surprised by how comfortable I was during the procedure, almost dozing off at certain points. Dr Zioga and the rest of her team were continually asking me if I was doing well, and whether I needed anything. At the end of the day Katerina the technician was very helpful in explaining the after care.

In the days and weeks following, patient advisor Becki has been in touch every day to ask how I have been getting on. This level of care and professionalism is simply astounding. I'm glad I found Dr Zioga and her team and I can't thank them enough. If you're wondering where to get your FUE/ hair transplant done, do not hesitate any longer!

Nick N, London
"I would like to express my thanks to all the staff of Leeds Private Clinic of Harley Street who recently looked after me during my hair follicle graft transplant. My hair loss had been slow and over a gradual period of time until one day I decided to speak to the Private Clinic to see what I could do. At my consultation I was encouraged by Dr Tam who explained what was needed and how easy the procedure was.

On arrival for my appointment on the day of the procedure, everything was set up waiting for my arrival and after the introduction and information greeting, the full process of the day was explained to me. I would like to extend my appreciation to Sorena Ali the patient coordinator for all her advice and assistance and to Dr Tam and his team of hair technicians Stan & Anne Ereev, Martin Niedzwiedz and Nabeel Farooq who were so professional, patient and gave dedicated attention to every detail, continuously explaining the process throughout the transplant and giving full consideration to patient care.

And for those who are wondering. No it doesn't hurt it's just a little uncomfortable in the beginning. I even found myself falling asleep on a couple of occasions"

David, Leeds
Hair Transplant Before and After Photos

For more information or to book a Hair Transplant consultation with one of our expert surgeons click here.
When it comes to researching hair transplants there are a lot of words and abbreviations that may seem confusing. We have created a glossary of the most popular Hair transplant words which you can view here.
All images, videos and testimonials are based on the personal experiences of our patients and represent individual body shapes and results. Please bear in mind that results may vary from person to person. All testimonies are provided voluntarily by our patients and clients. Their comments have not been altered in any way, and their experiences are their own.
FAQs
What are the causes of Hair Loss in men?
What are the stages of balding?
Am I suitable for a FUE Hair Transplant?
What is the Norwood Scale?
I have a medical condition; will I still be able to have a hair transplant?
I have a needle phobia; will I still be able to have a hair transplant procedure?
How is my donor area chosen?
Can the donor hair be taken from someone else?
Where will the procedure be performed?
Will I need to shave my hair before a procedure?
What does the treatment involve?
How many grafts/follicles will be transplanted?
How does follicular unit extraction (FUE) work?
Does the procedure hurt?
How many procedures will I need?
What should I wear for my hair transplant procedure?
Can I bring my own entertainment?
Will I be able to eat during the procedure?
How long does the procedure take?
Will there be an overnight stay?
How soon will I see the results?
Will my results look natural?
How long will my head look red for after the procedure?
How do I look after my newly transplanted hair?
Are there any complications associated with the procedure?
What scarring are you left with after a FUE Hair Transplant compared to an FUT Hair Transplant? (Contains graphic content)
What is shock loss?
How long will the results last?
How long do I need to book off work?
Will I be able to go on holiday after my procedure?
How long before I can sunbathe?
Can I swim after my procedure?
When can I wear a hat or helmet?
How long do I need to avoid alcohol for after my procedure?
Should I be dubious about a hair transplant clinic claiming 100% guarantee on a hair transplant procedure?
Can I see results from previous patients?
How much does a FUE Procedure Cost?
Do you offer finance?
We have been treating Hair transplant patients for decades and we pride ourselves on our excellent reputation for quality hair transplants. For further information or to book to see one of our Hair Transplant expert please click here.
Dr. Raghu Reddy is one of the most sought after hair transplant specialists in the UK. He has spent years perfecting the advanced method of Follicular Unit Extraction or FUE hair transplant to ensure better results and minimal downtime. He is the leading authority on FUE hair transplant procedures in the UK and has successfully helped many men get the results they hoped for. He can also correct the problems and scarring caused by previous hair transplant treatments. Dr. Reddy's meticulous attention to detail comes from his personal experience in dealing with hair loss and his desire to achieve the best possible results for each and every patient.
Dr. Kouremada Zioga is one of the most experienced FUE hair transplant surgeons in Europe, having carried out over 2,000 procedures to date. She has worked extensively throughout Europe and has treated many high profile patients from across Asia and the Middle East. Dr. Kouremada Zioga has also perfected the unshaven (U-FUE) method of transplanting without the need to shave the donor area, offering that option when suitable, and making it easier for a patient's treatment to go undetected. Her experience in reparative treatments to scarred areas, particularly resulting from the Strip Hair Transplant procedure, is extensive, with highly successful results.
Dr. Michael Mouzakis is a highly experienced hair transplant surgeon based at our Northampton and Birmingham clinics. With extensive knowledge of helping patients get the very best results, he treats every patient as an individual to get the very best results.
Dr. Mark Tam is a highly recognised member of the International Society of Hair Restoration and has won multiple awards for his skill and ability. Dr. Tam is based at our Leeds, Bristol and London Harley Street clinics.
Mr Doraisami Mohan is a highly regarded hair restoration surgeon who has extensive experience in the FUE Hair Transplantation technique. Mr Mohan is available at both our Manchester and Leeds clinics.
At The Private Clinic, we also perform hair restoration on the face, including on the beard, moustache and eyebrows, and are able to perform some hair transplants using body hair. For those who are not suitable for transplantation, we offer consultations and treatment with our Trichologists based at each of our clinics, nationwide.
Hair Transplant cost
The Private Clinic sees over 15,000 new patients every year and perform over 10,000 procedures, with one of the highest patients' satisfaction in the sector, Trustpilot 9.4, 5 star rating, 93% would recommend us to their friends and family. We are a multi award winning provider and have been voted the Aesthetic award for Best UK Clinic Group 2017.
How much does Hair Transplants cost? Every individual's needs are different, meaning we treat all our patients on a case-by-case basis. Because of this we can only give an accurate Hair Transplant cost quote following your consultation and scalp assessment. We only transplant the strongest and healthiest hair grafts to ensure you the best results possible. See our before and after photos here.
In fact 30% of all patients that come to us have been somewhere before and need further work to improve on a disappointing result. This could be a bad FUE or a FUT linear scar needing coverage. Any company who gives you guarantees and is offering massive discounts is not giving you honest advice.
On average, we price by the number of hairs you require and charge approximately £2.50 per hair for standard FUE(follicular unit extraction) procedures in London. The Pricing structure for FUE hair transplant at our Leeds, Bristol, Glasgow, Manchester and Birmingham clinics is slightly different – please contact us for more information.
We offer FREE consultations with our highly experienced Patient Advisors who are able to offer you all the information you require prior to meeting a surgeon. A consultation with one of our renowned Hair Transplant Surgeons is £100. For comprehensive videos click here.
The Private Clinic prides itself on ensuring you have the best quality and most comprehensive care:
Outstanding results, don't take our word for it, see our Trust Pilot reviews click here
24 hour patient helpline to ensure you are always in the best of hands.
As many post-operative care and appointments with your Hair Transplant surgeon and nursing team as required.
Highly experienced Hair Transplant Surgeons.
Comprehensive patient information, every step of the way.
Outstanding hospital facilities.
Our excellent reputation for patient safety and satisfaction, honest advice and outstanding care means your journey with The Private Clinic will be an exciting experience to a newfound head of hair.
Extensive videos of past patients click here
Extensive Hair Transplant FAQs click here
The Private Clinic sees over 15,000 new patients every year and perform over 10,000 procedures, with one of the highest patients' satisfaction in the sector, Trustpilot 9.4, 5 star rating, 93% would recommend us to their friends and family. We are a multi award winning provider and have been voted the Aesthetic award for Best UK Clinic Group 2017.
Read our reviews and more on Trust Pilot:
Hi,
I recently underwent an FUE procedure with The Private Clinic. I first contacted The Private Clinic in early 2017 and had an initial consultation with Becki (patient advisor) who was so welcoming and we had an open discussion about my wants from FUE. It was a great initial meet, very professional, yet friendly. I was able to go away and just ask more questions when needed (always replied to too!). I then had a full consultation with Dr. Dr Thomai Kouremada-Zioga, who from the offset was very approachable, professional and above all honest about expectations. I was made to feel so comfortable by Dr. Zioga and at no point had I felt rushed nor sold to, just completely at ease and comfortable asking any questions and got a very clear overview of the procedure and walked away feeling positive.
I must also say, that being over 40 I was advised to have some blood checks and an ecg (that is very professional) and The Private Clinic were happy to arrange these for me, so it made things so simple for me, which was hugely appreciated (thanks Becki).
Prior to procedure day, I had constant contact and reminders, ensuring I was pre-procedure ready and having to provide photos (of dyed hair) showed a real pro approach to ensuring I was committed (which was a condition of Dr Zioga that I fully commit ).
Then came procedure day. well, I have honestly been blown away how comfortable I have been made to feel. I met with the rest of Dr Ziogas team (Katerina, Andriani and George) who were again, so professional yet very friendly . I was constantly looked after and at no point felt unsure, uncomfortable or that I couldn't ask questions (even repeat the same questions). Everything was clearly shown to me, how the day would play out and that at no point were we under any time constraint and that the procedure going well was all that mattered. Such a relief to feel relaxed.
The actual procedure, was bizarrely quite relaxing! I fell asleep during the initial donor extraction and for a good part of the implant I think I may have snoozed again. I was so looked after and was provided with biscuits, lunch (2x sandwiches and chocolate bar), water and was constantly monitored.
Post the procedure, I was given a thorough overview of all the post-procedure stuff I had to do (I was given instructions + a goody bag with absolutely everything I needed). Katerina was so patient with me, as I'm fairly sure I had to go over things many times.
Once back home, I have continued to feel fully supported, by having to provide regular picture updates (with responses back) including week-end. This continues too, as I am still early in the process and am able to send updates, get feedback and more importantly ask any questions i feel i may have.
In summary, I don't think I can do enough justice in a review, to detail how comfortable I have been made to feel, how professional The Private Clinic as a whole have been and continue to be and that my experience has gone way beyond what I could've imagined. I remain truly committed to the instructions given by Dr Zioga and team and can only send my hugest thanks for their great, caring professional work and should I require a second FUE (possible in 12 months for some minimal crown work) there is only one place/team I will be heading.
I must also say, that I have not experienced any discomfort post procedure, which of course I'm very pleased with and have not had any obvious issues. The constant 20 min sprays every day for about 4-5 days is tiresome but it must be done -)
TPC, Dr Zioga, Becki, Katerina, Andriani and George – please accept my hugest thanks, I have had a really pleasant experience right from the start. 10 out of 10!
* Trust Pilot 5 Stars
---
I had fue treatment at the clinic and from start to finish everything was great. I first met the patient co-ordinator Steven and he was really welcoming, reassuring and answered any questions I had and put my mind to rest. I then had a consultation with the surgeon Michael and we looked further into the detail of my specific case. He was a really nice guy and was honest and open about what I needed and the pros and cons and realistic about worst and best case scenarios. I decided to go ahead as I felt this was the right place for me. On the day of the surgery I met nabil and Monica the specialist nurses part of Michaels team. Again they were really genuinely nice people, making sure I was ok every step of the way and also along with Michael again answering any questions or concerns I had. The procedure went great and I couldn't ask for more. From the receptionists to the surgeons everyone I found was professional yet approachable.
* Trust Pilot 5 Stars
---
Hair Trans – Zioga – Outstanding!!!
I had a hair transplant in November with Dr Zioga. From start to finish TPC were outstanding.
On the day I was a little nervous and was made to feel comfortable so quickly due to the lovely nurses Katerina and Adriana. They made me feel very at ease in their hands. Throughout spending the day with them I got to know them better and better and they are just amazing, I was sad to have to leave them at the end of the day!
Dr Zioga is very warm, lovely and caring. She makes sure you are comfortable throughout the procedure and continually checks that you are. She did an outstanding job on the procedure and words cannot decide how pleased I am with it. Her skill and expertise is 1st class. Just brilliant!
After the surgery I kept in contact with Katerina everyday for a week or 2 just so she could give me advice and help with any questions. I ran out of Saline spray during this period and she rapidly got some for me and delivered the next day. Such a lovely touch.
I really cannot thank or recommend TPC so much for hair transplant surgery with Dr Zioga. I was very apprehensive before having a consultation after years of deliberating and I am very happy I did it
* Trust Pilot 5 Stars
---
I battled with the justification of this procedure for some years – both from a vanity & financial point of view, not to mention that I'm a devout coward where injections are concerned!!
In the end I took the plunge & I haven't looked back. The whole team at Bristol were amazing & I must make mention of Dr Mark Tam who was nothing short of superb. The attention to detail is second to none & absolutely painless. In the days following, the only 'slight' discomfort was actually from the donor sites particularly when trying to sleep, but no medication required at all.
The one aspect that I did't take into consideration during the planning was how difficult it would be to 'hide' the transplant area following the procedure & that did prove to be a little tricky for some time…
Early days yet, but the results are already pleasing & significant.
Would I have the procedure done again – absolutely, in a heartbeat!!
* Trust Pilot 5 Stars
---
I am so happy with my results
It's getting thicker each month and makes me look loads younger .
Best decision I have made )
* Trust Pilot 5 Stars
Available in these clinics