Male Pattern Baldness is responsible for 95% of all hair loss in men. The condition, which is hereditary, occurs when a hormone called DHT (dihydrotestosterone) causes healthy hair follicles to shrink and the hairs attached to them to consequently fall out.
The Norwood Scale (see image below) was designed to help understand the different stages of male pattern baldness and how advanced an individual's thinning is. Of course, everyone is different and not every case can fit snugly into just one number, but it can help you understand how far along your hair loss is and what, if anything, can be done to restore it.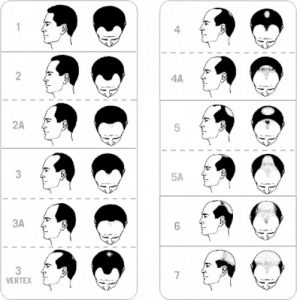 So how does it work?
As you can see the scale runs from 1-7, with lower numbers representing the earliest stages of hair thinning and higher numbers best representing more advanced hair loss. The numbers have no correlation to age and someone in their twenties can easily find themselves nearing a 6 in the same way someone in their fifties may only just be experiencing type 2 or 3.
Hair loss typically begins on the front and top of the scalp, where the most genetically susceptible hair follicles reside, and continues until there is a 'horseshoe' shape of hair left around the sides and back of the head. Unfortunately the key factor in your likelihood of experiencing androgenic alopecia is genetics, meaning there's very little you can do to prevent the condition occurring. Key to keeping as much of your hair as possible is speaking to a qualified expert when you first notice signs so you can take a look at your options.
Treatment options
Every single person's experience of hair loss is different and that means treatment can never be a one-size-fits-all job either. It's important to take note of your hair's rate of change as much as the amount you've lost so you can understand what, if anything, can be done.
For those men in the earliest stages of hair thinning or those under the age of 25 (when hair loss is not yet completely stable), we'd normally advise meeting with a trichologist in the first instance. They will be able to look at your pattern of hair loss and see if there is any way to prevent it developing through medication. They are also able to refer you, when necessary, to specialists for further consultation and diagnosis.
If you're looking to restore hair where it has already been permanently lost, the only possible treatment is a hair transplant. This is normally only recommended for men over the age of 25, though there is no upper age limit for the treatment – providing your donor hair follicles and healthy and usable. At The Private Clinic we work exclusively with the FUE method which involves the extraction and transplantation of individual follicles, one-by-one. Hairs are usually taken from the back and sides of the head, which are not affected by the hair reducing hormone, meaning that once transplanted they should not be lost.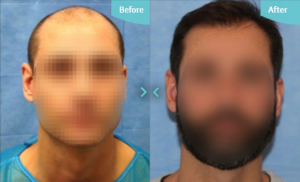 The treatment is much less invasive than the traditional 'strip' method, and results in no linear scarring at the back of the head. Meeting with a surgeon is the only real way to ascertain your suitability and we will never perform a treatment on anyone that we don't think will have success – you'll only be facing the same problem further down the line, even if we did.
Summary
There are no health defects from Male Pattern Baldness. It isn't an illness and it won't affect your body in any way apart from a loss in hair. The only time it needs to be a problem is if your confidence drops alongside your hair, in which case there are channels that may be able to help. Speaking to hair loss experts and doctors can help you understand your individual experience of hair loss and what, if any, is the best method to get you feeling yourself again. For information on a range of hair restoration treatments, visit us here.