Hair Transplant: Treating the Temples
HAIR LOSS & HAIR TRANSPLANTS
Home » Hair Transplant: Treating the Temples
According to the Norwood Scale, hair loss at the temples is one of the first signs of male pattern baldness. Often confused as being part of the hairline, temple hair loss can be tricky to hide, and many seek treatments to help restore hair loss in this area.
Where are the temples?
The temple areas on the scalp are located between the ear, cheekbone, eye, and forehead. There are temples on both sides of your head, and it is actually where the 4 bones within your skull meet.
When you lose hair from your temples, it can affect the shape of your hairline, in more severe cases causing a V shape hairline, also known as a widow's peak.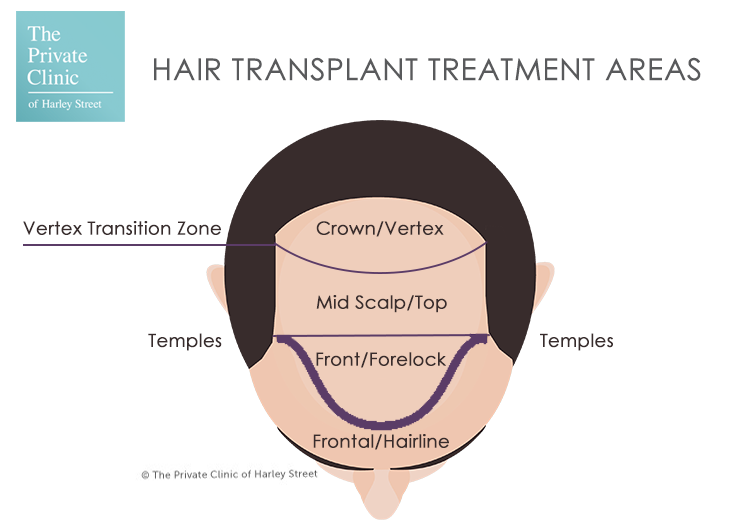 What causes temple hair loss?
Hair loss in the temples is most likely caused by male pattern hair baldness or androgenetic alopecia. It occurs when dihydrotestosterone (DHT) starts to attack hair follicles restricting their growth and eventually results in them not growing.
Find out more about how DHT affects hair loss here.
Men and Women suffering with temple hair loss may also need to investigate other factors that could be causing temporal hair loss such as:
Stress
Traction Alopecia (wearing hair too tight)
Medication side effects
Smoking
Vitamin Deficiency
Hormonal changes
Can you get a temple hair transplant?
Hair Transplants to the temple are common, however often confused with hairline procedures as they are often performed in combination to restore the natural shape of the hairline. Our surgeons are skilled in restoring hair loss from the temples and will ensure that the natural pattern of the hair is recreated to create a more natural result.
Are temple hair transplants different?
Temple hair restoration procedures are performed using the same process as any FUE Hair Transplant procedure. When transplanting new hair to the temple region it can help to restore density in the temple area that should then blend naturally with the hairline.
Am I suitable for a temple hair transplant?
If you have lost hair from the temporal area of the scalp or are noticing thinning in the area then you will most likely be suitable for a hair transplant procedure.
When you attend a consultation with a hair transplant surgeon at one of our hair clinics, they will determine your suitability for a hair transplant by assessing your donor area, looking at your medical history and hearing what you are hoping to achieve from a hair transplant procedure.
In some cases, you may be advised to try other treatments such as hair loss medication or non surgical hair loss treatment. The donor area of the scalp is limited and performing a FUE Hair Transplant procedure too soon can impact your supply of hair. Our expert hair transplant surgeons will always take care to ensure the best method of treatment is offered and that your hair loss is established before a hair transplant procedure to reduce the need for multiple procedures in the future.
Find out more about hair transplant suitability here.
Temple Hair Transplant Procedure Results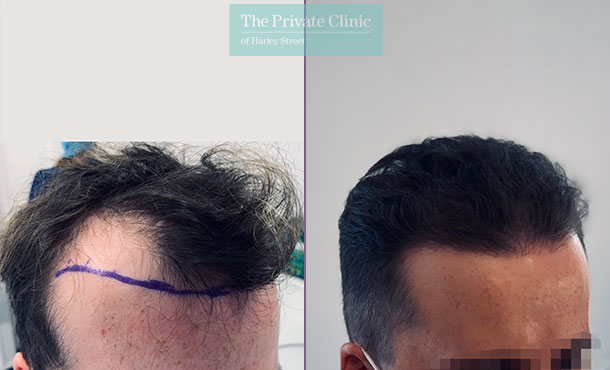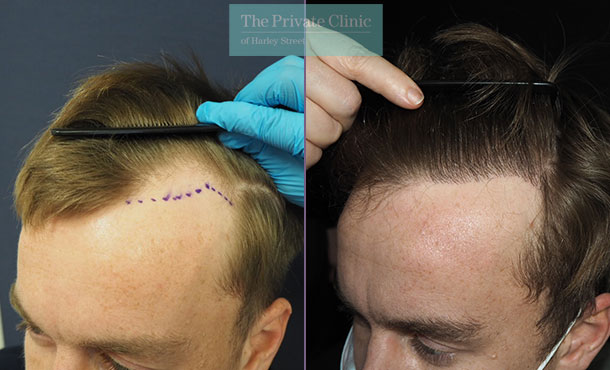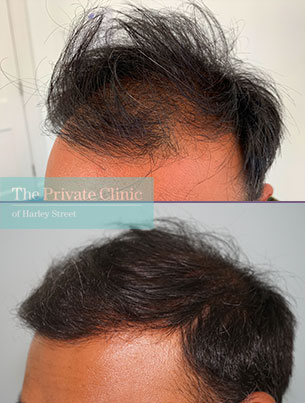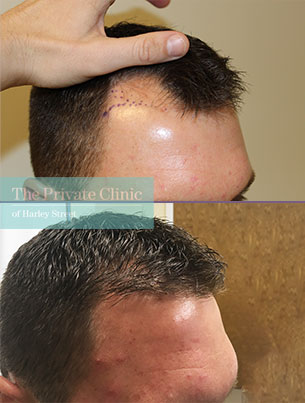 Temple Hair Transplant Procedure Patient Story
Doug had started to notice his temples and hairline receding in his late twenties and as it progressed over the years, he started to feel more self-conscious and aware of how apparent his hair loss was becoming.
He started to research hair transplants, in particular the FUE method and had even attended some consultations at other clinics first before he visited The Private Clinic.
Doug was really impressed with the level and knowledge, expertise and care that was presented to him at The Private Clinic and decided to go ahead with a hair transplant at our Birmingham clinic.
We took great care to ensure that Doug would achieve a natural hairline that was suitable for his age by restoring adding density back into his temporal areas whilst also restoring his hairline.
Doug documented his FUE Hair Transplant journey is a series of videos which you can watch here.
Read Doug's full patient story here.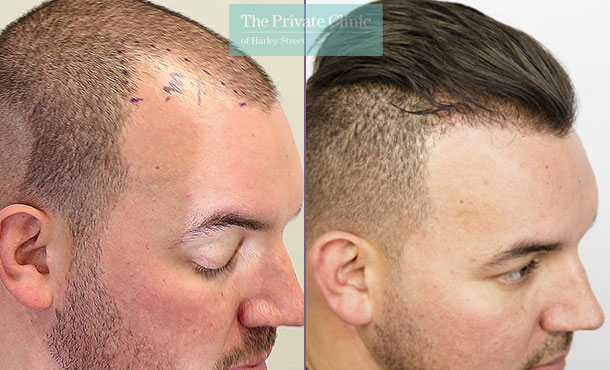 Temple Hair Transplant at The Private Clinic
Highly experienced Hair Transplant Surgeons who have decades of experience and who have carried out thousands of hair transplants.
The Private Clinic prides itself on ensuring you have the best quality and most comprehensive care.
24-hour patient helpline to ensure you are always in the best of hands.
As many post-operative care and appointments with your Hair Transplant surgeon and nursing team as required.
Comprehensive patient information, every step of the way.
Outstanding clinic facilities.
Our excellent reputation for patient safety and satisfaction, honest advice and outstanding care means your journey with The Private Clinic will be an exciting experience to a new hairline.
Consultations available in London Harley Street, Birmingham, Leeds, Manchester and Northampton.
We are able to offer finance solutions with manageable payments to suit a variety of budgets.
Hair Transplant Surgeons at The Private Clinic
If you would like to discuss your hair transplant options, please call 03339209135 or use our online hair transplant contact form.