Hair Transplants: Treating the Crown
HAIR LOSS & HAIR TRANSPLANTS
Home » Hair Transplants: Treating the Crown
Male hair loss can affect all areas of the head, but in most cases it tends to follow a typical pattern known as the male baldness pattern. The pattern of male hair loss is recorded on the Norwood Scale. The Norwood scale allows our surgeons to accurately pin point what scale of hair loss you have and in some cases predict where further hair loss is going to occur and when the best time to have a hair transplant is.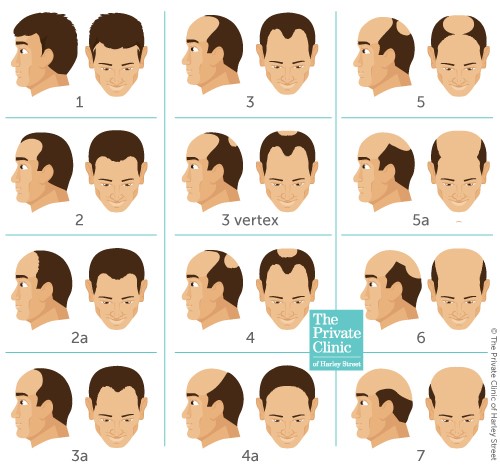 What is the crown of the head?
Also known as the vertex, the crown is the highest point of your scalp. Hair that grows in this area often follows a circular pattern which is called a hair whorl.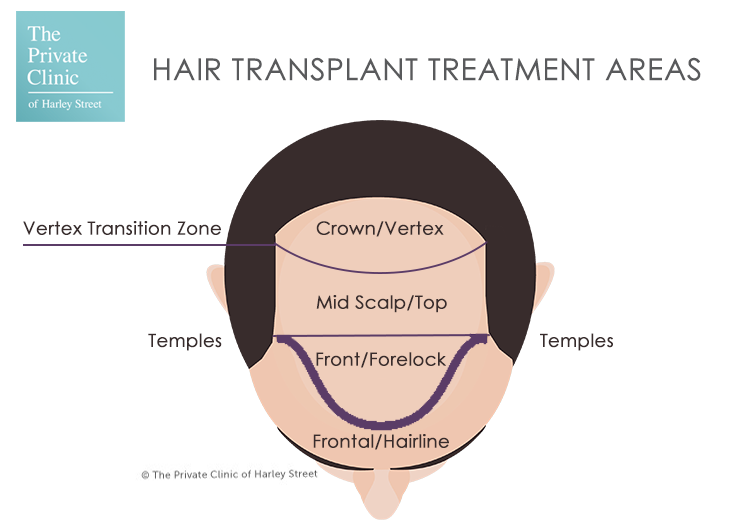 What causes balding at the crown?
Balding at the crown is very common and is most likely caused by androgenetic alopecia, also known as male pattern baldness which is a genetic condition.
Males with androgenetic alopecia often begin to notice hair thinning in their 20s, the main cause of this is dihydrotestosterone (DHT). DHT reduces hair growth by causing hair follicles to shrink which over time, causes them to stop growing.
The hair follicles that are most sensitive too and affected by DHT are located on the hairline and crown which is why these areas in particular are often the first places you may notice hair loss or thinning.
Find out more about how DHT affects hair loss here.
Can you get a crown hair transplant?
FUE Hair Transplants are commonly performed on the crown of the scalp. The procedure involves taking hair follicles from the donor area located at the back of the head and transplanting them into the affected areas of the crown. Our surgeons are skilled in being able to create the most natural looking affect by following the hairs natural growth pattern.
Are crown hair transplants different?
Crown hair transplants are performed in the same manner as hair transplants to the hairline or mid-scalp for example however different considerations may need to be taken into count to achieve the most natural looking result.
Many wish to fill the crown with as much density as possible but filling the crown with hair when the mid-scalp or forelock is thinning is not going to give a natural result.
Crown hair transplants often require a larger number of grafts and will need to be performed as a 2-day procedure.
Hair on the crown grows in a circular pattern known as a hair whorl. Hair Transplant surgeons will need to transplant hairs to mimic the natural hair growth to achieve the most natural result.
Hair transplant to the crown grows at the same rate as any other hair transplant to other areas of the scalp/ Due to the location of the crown, it can be difficult to see and inspect up close like you may do after a hairline transplant.
Am I suitable for a crown hair transplant?
Firstly, crown hair transplants often require a lot more hair grafts so ensuring you have a decent quality donor area of hair is important.
Secondly, we do tend to advise patients in their 20s and 30s to avoid crown hair transplants as a hair transplant is not able to stop hair loss, so whereas the newly transplanted hair will stay put, you may continue to lose surrounding hair if your hair loss continues. We advise patients to wait until their hair loss pattern is established before they start to repair areas of hair loss.
Our expert hair transplant surgeons can advise on which hair loss treatment methods are going to be best for you, for you to then achieve the best results. We can advise on medication and alternative treatments such as mesotherapy and non-surgical hair loss treatment.
Find out more about hair transplant suitability here.
Crown Hair Transplant Results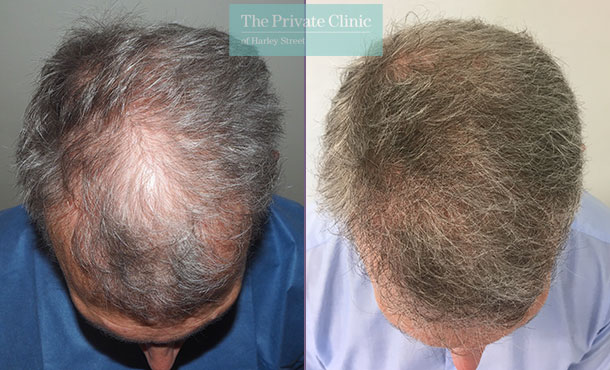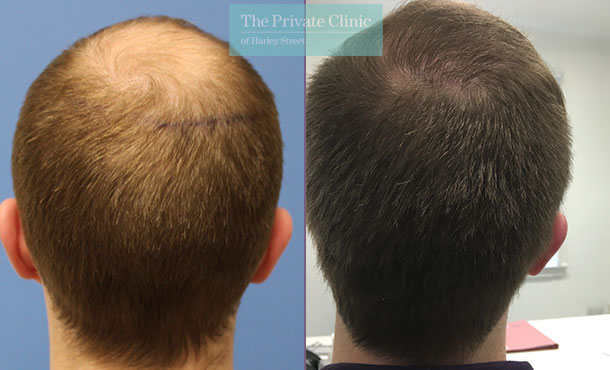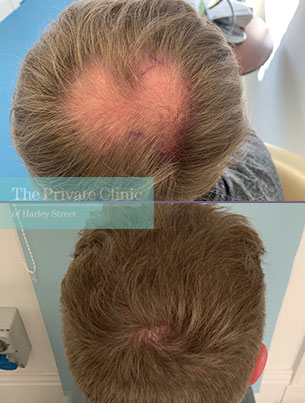 Crown Hair Transplant Patient Stories
Steve first noticed the signs of hair loss when he was 18/19 years old. He felt his confidence levels drop and would try and avoid anyone seeing the worst affected area, his crown.
After years of struggling with his hair loss and becoming increasingly self-conscious of the top of his head, Steve decided to have a Hair Transplant procedure focussing on his crown.
Steve documented his Hair Transplant journey which you can view here.
Read Steve's patient story here.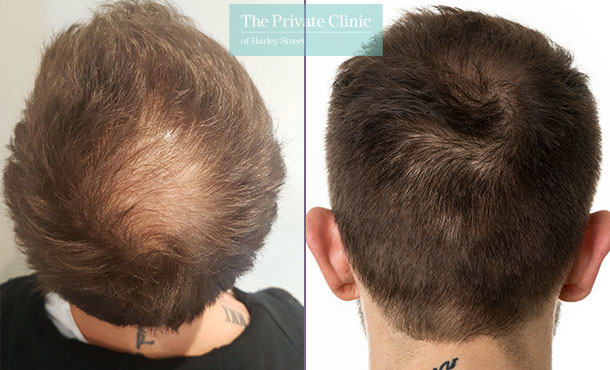 Crown Hair Transplant at The Private Clinic
When it comes to choosing a clinic or surgeon to perform your crown hair transplant procedure, be sure to choose someone who is experienced in treating this area and always ask to see examples of their work. Our team of expert hair transplant surgeons are very experienced in treating the crown and can help you to achieve the results that you desire.
Highly experienced Hair Transplant Surgeons who have decades of experience and who have carried out thousands of hair transplants.
The Private Clinic prides itself on ensuring you have the best quality and most comprehensive care.
24-hour patient helpline to ensure you are always in the best of hands.
As many post-operative care and appointments with your Hair Transplant surgeon and nursing team as required.
Comprehensive patient information, every step of the way.
Outstanding clinic facilities.
Our excellent reputation for patient safety and satisfaction, honest advice and outstanding care means your journey with The Private Clinic will be an exciting experience to a new hairline.
Consultations available in London Harley Street, Birmingham, Leeds, Manchester and Northampton.
We are able to offer finance solutions with manageable payments to suit a variety of budgets.
Hair Transplant Surgeons at The Private Clinic
If you would like to discuss your hair transplant options, please call 03339209135 or use our online hair transplant contact form.