With up to 50% of men experiencing some degree of hair loss hair transplant procedures are becoming increasingly popular. A lot of people know the before and after results of a hair transplant but  many patients come us wanting to know more about what is actually involved in the process. Here at The Private Clinic we have a team of industry leading expert surgeons offering a modified FUE method; making very small entry points into the scalp. To help you make a more informed decision we have put together a step by step guide of a FUE Hair Transplant journey.
Step 1 – Your Consultation
Your first step to getting an FUE Hair Transplant is your consultation. Your consultation may initially take place with one of our patient advisors who are very experienced in the procedure and can answer many of your questions. You will need to have a consultation with one of our hair transplant surgeons before being able to book your procedure. This gives you the chance to firstly meet with the surgeon, discuss your hair loss and go through your medical history before they are able to analyse your hair and assess your suitability for a hair transplant. It is important that your hair follicles are the strongest they can be to ensure a successful hair transplant so your surgeon may suggest a course of medication ahead of your surgery.
Step 2 – Preparing the scalp
As your procedure day approaches you will be required to shave your hair. Some patients choose to this gradually in the months leading up to their procedure date but others may wait until the day and have this done in clinic. Having a shaved head allows your hair transplant surgeon to mimic the natural angle and direction of native hairs and minimize transaction rates. However; in some cases it is possible to perform a partially shaven or unshaven hair transplant and this can be discussed and decided in your consultation.
Step 3 – Pre Checks
Arriving at the clinic for your hair transplant you will be required to fill in some paperwork consenting to the procedure and this will all be explained to you by the nurses assisting the procedure at the clinic. You will also have your pre-operative photographs taken which will be held by the clinic. Your surgeon will then run through the procedure steps again with you and answer any questions that you have.
Step 4 – Anaesthetic
Before your procedure starts you will have local anaesthetic injected into the scalp in order to make the extraction and grafting of the hair painless and comfortable for the patient. This part may sting initially but many patients are surprised about how quick it takes and it will take affect almost instantly. You will be conscious during the entire procedure so if at any time you are feeling uncomfortable or want to take a break you will be able to communicate this.
Step 5 – Extraction of Follicular Units
An FUE Hair Transplant procedure starts with the extraction which involves using a specialised punch device, ranging in diameter from 0.6mm – 0.9mm to puncture the skin around the follicle 1-2 millimetres from the surface and the hair follicle bulb is then removed using fine forceps with the aid of a powerful magnifying glass to ensure precision.  Once the hair follicle bulb has been removed it is then placed into a glass tray and kept in a solution to keep them at a perfect range of hydration, temperature and humidity until the extraction process is complete.
Step 6 – Harvesting the Grafts
Once the extraction process in complete then you are usually given a break for lunch where you will be given the chance to stretch your legs and have something to eat. The Private Clinic will provide patients with lunch, snacks and drinks throughout the procedure so do let the team know of any dietary preferences ahead of the procedure.
During this time your surgeon will be starting to examine the extracted grafts and make a selection into which ones are suitable for use and which are not. They are then separated into groups by thickness, size of the bulb and number of hairs to make sure that there is enough variation to provide the patient the most natural looking result.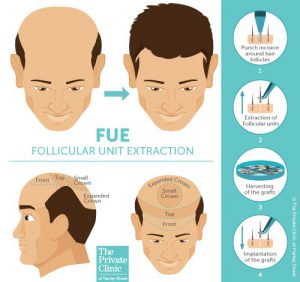 Step 7 – Implantation of the grafts
Once your surgeon and their team have selected all the grafts you will then be ready for the implantation stage of the FUE Hair Transplant procedure. You may need to have your local anaesthetic topped up at this stage to ensure that the procedure is still pain-free and comfortable. Each follicle is then manually implanted into the recipient area of the scalp by your hair transplant surgeon. The implanter tool will firstly penetrate the skin before the hair follicle bulb is then placed 1mm below the surface into the in the intradermal layer of the scalp. The number of hair grafts being inserted will vary between each patient and in large cases this stage of the procedure may take place over 2 days.
Step 8 – Aftercare
The next step of the FUE Hair Transplant procedure is all down to you as the patient. Once the process is complete, your surgeon will bandage your head up and go through a full aftercare routine which you will need to follow. You will be advised to avoid touching your new hair grafts for the first 3 days which includes wearing a hat. You will need to spray the new follicles every half hour which will prevent the formation of scabs and keep your new hair follicles well hydrated. You will also then be given medication that you will need to take as prescribed by your surgeon. The initial healing of the donor area will take 5-7 days and at this point any redness or swelling should have subsided. Your surgeon may request to see you at this stage to check that everything is healing correctly.  Taking proper care of your newly transplanted hair for the next 12 months is a really important part of your FUE Hair Transplant procedure to ensure that you achieve the best results. You will be given a series of post-op appointments throughout this time where your surgeon will be able to check your results and provide any additional information on how to care your new hair follicles.
Step 9 – Final Results
After 12 months your FUE Hair Transplant journey should be near enough complete. You will have noticed a difference to your hairline or hair density in the areas treated. A hair transplant is designed to last for decades as the hair taken from your donor area is known to be resistant to male pattern baldness. However, it is important to remember that other untreated areas of your scalp may still be prone to male pattern baldness so over time thinning and baldness may occur in these areas which could result in an additional hair transplant procedure being needed. Our surgeons at The Private Clinic are highly experienced and will take care to foresee any potential future hair loss patterns to ensure that your results are long-lasting.
Why choose The Private Clinic for a FUE Hair Transplant?
We've been treating our patients for over 35 years and have an excellent reputation for patient satisfaction, safety and outstanding care offering all of our patients transparent and honest advice.
We're proud to have the highest TrustPilot rating in the industry.
We have a team of highly experienced Hair Restoration specialists with years of experience, who have undertaken thousands of hair transplants.
You will be provided as many post-treatment appointments as you require, and will be provided comprehensive patient information at every stage.
We are able to offer finance solutions with manageable payments to suit a variety of budgets.
We have Hair Transplant clinics nationwide in London Harley Street, Leeds, Manchester, Birmingham and Northampton.
We offer hair transplant consultations with our patient advisers across the UK, and FUE Hair Transplant consultations with our industry leading hair transplant surgeons in several locations.
If you would like to arrange a hair transplant consultation please call 0333 920 2471 or use our online hair transplant contact form.