The Norwood scale is mentioned a lot when it comes to diagnosing the extent of hair loss. It has been used since the 1970s and is quite simply a series of images that depict the different stages of male pattern hair loss.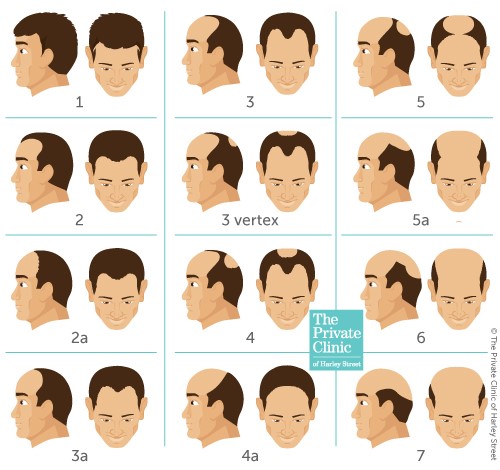 The Norwood scale is a topic that comes up often in hair loss consultations and we admit it can be a little confusing on first glance which is why we have come up with a way to help you understand the Norwood types featuring some familiar faces;
Norwood Type 0

This is often left off the majority of scales used in consultations; it is quite rare for someone to have a Type 0 hairline, especially grown men and it is debateable if it even exists or not. Norwood 0 hairlines indicate that there is no recession at all and they can sometimes descend slightly at the corners. Even a young boy often has a slight recession along the edges of their hairlines so if your hairline is referred to as Type 0 then you should consider yourself very lucky.
A good example to visually show a type 0 hairline is to look at David Shwimmer especially during his time playing Ross from Friends.  Another good example is Simon Cowell.
Norwood Type 1

A type 1 hair loss refers to minimal hair loss and is often reminiscent of a juvenile hair line so you most likely have not had any noticeable changes since your youth. Type 1 hairlines often indicate a very slight recession along the corners of the hairline and they usually have a rounded appearance. Some good visual examples of a type 1 hairline would be Jay Z, Eminem, Matthew Fox and even Brad Pitt although the latter two are gradually becoming a Type 2.
Norwood Type 2

A type 2 hair loss is known as the mature hairline and it is the natural recession that the vast majority of men will experience and unfortunately that is just the natural progression of ageing. You may notice that your hairline has receded 1 to 1.7cm cm and your hairline corners may also recede resulting in a v shape pattern. At this stage, it is not considered to be male pattern baldness and it is unlikely that you would be considered for treatment. Some visual examples include Bradley Cooper and Leonardo DiCaprio but most men between the ages of 17 and 30 will be sporting a similar hairline too.
Norwood Type 3
A type 3 hair loss is the first stage when we would consider treating you for a hair transplant. It is known as the first stage of balding and is actually the most common pattern of balding which can take on a variety of appearances depending on the severity including the M and U-shaped varieties which are both usually easily treatable. At this stage it is also quite easy at this stage to change your style and your hairline to make the balding less noticeable.  Some visual examples for a type 3 hairline are Bryan Cranston, Sting and Tom Hanks.
Norwood Type 4

If you have a type 4 hair loss your hairline will have most likely receded quite far back towards the top of your head. You may have also noticed balding areas elsewhere like on the back/crown of your head. A good visual example of this stage of hair loss is actor, Jude Law who has more recently been sporting a fuller head of hair but rumours of a potential hair transplant are still unconfirmed.
Norwood Type 5

A type 5 hair loss is often defined as having no hair at the front of your head and the balding area on the crowd of your head will be of a larger scale. You will still have hair around the sides of your head however. A good visual example of this stage of hair loss is actor Michael Kelly, most notably known for his time playing Doug Stamper from Netflix show House of Cards.
Norwood Type 6

A type 6 hair loss generally means that your hairline essentially has disappeared and there is only sparse hair remaining on the top of the head. Hair loss around the sides may have extended further. A good visual example of this stage of hair loss is former UK Prime Minister, Winston Churchill.
Norwood Type 7

A type 7 hair loss is the most severe stage of hair loss; any remaining hair will take on a typical horseshoe shape around the sides and back of the head.  The remaining hair will most likely be fine and sparse.  A good visual example of this stage of hair loss is Curb Your Enthusiasm Star, Larry David.
We hope these guides have helped to give you an idea to better understand the Norwood Scale. Your surgeon will be able to explain the scale in more detail at your consultation.
FUE Hair Transplants at The Private Clinic
The Private Clinic's Hair Transplant and Hair Restoration surgeons have the most extensive experience in treating Male Pattern Baldness with the minimally-invasive, no visible scarring, no stitch technique known as FUE (Follicular Unit Extraction) Hair Transplantation and have treated hundreds of patients each year. FUE is a minimally invasive treatment carried out under local anaesthetic and unlike the strip (FUT) procedure, you won't require any stitches. Thanks to our advanced skills and techniques results can be undetectable and the recovery time is minimal compared to previous strip surgery.
After surgery you will be free to wear your hair long or short as there will be no linear scaring across the back of your head and you will instead have natural results with denser packing as the hair is implanted to match your natural hair growth and only select the healthiest follicles to use.
Our surgeons are also the only surgeons in the UK to be able to offer the Unshaven Hair Transplant for those who prefer not to shave their head beforehand.
The Private Clinic prides itself on ensuring you have the best quality and most comprehensive care:
24 hour patient helpline to ensure you are always in the best of hands.
As many post-operative care and appointments with your Hair Transplant surgeon and nursing team as required.
Highly experienced Hair Transplant Surgeons who have many years of experience.
Comprehensive patient information, every step of the way.
Outstanding clinic facilities.
Our excellent reputation for patient safety and satisfaction, honest advice and outstanding care means your journey with The Private Clinic will be an exciting experience to a newfound head of hair.
View our before and after results gallery
Find out more information in our blogs
Read our extensive FAQs
Hear from previous Hair Transplant patients in our patient stories and videos
We have clinics nationwide in London Harley Street, Birmingham, Leeds, Manchester and Northampton.
Expert Hair Transplant Surgeons at The Private Clinic
To find out more about FUE Hair Transplants please call, 0333 920 2471 or use our hair transplant online contact form