Choosing which type of hair transplant technique is right for you can be difficult. There is a lot of terminology out there which can cause many patients to feel confused.
One of the biggest confusions out there currently regarding Hair Transplant procedures and techniques is DHI. What is it, how does it work and what is the difference?
Firstly, we must start with saying that overall, there are only two methods when it comes to extracting hair from the donor area and those are FUT (Follicular unit transplant) and FUE (Follicular unit extraction. FUT involves removing a strip of hair from the donor area whereas FUE involves extracting singular follicles using a punch device.
There are pros and cons for all methods. Consultations with experienced and knowledgeable hair transplant surgeons are the best way to find out which technique is going to give you the best results.
FUE Hair transplant procedures is often the most commonly performed hair transplant technique in the UK, however a new technique known as a DHI hair transplant is starting to feature in some hair clinics price lists and within hair transplant forums. So what is it?
In this blog, we are going to take a look at what a DHI Hair Transplant is to help you feel more informed when it comes to choosing the best treatment for you.
What is a DHI Hair Transplant?
DHI stands for direct hair implantation and rather than being its own technique, we see DHI as more of a variation on the FUE technique. There are some differences from a traditional FUE procedure, but overall the process is very similar.
What does a DHI Hair Transplant involve?
Hair follicles are extracted from the donor area in the same way as they would be in a standard FUE procedure. A punch device is often used to extract follicular units with all the necessary fibres and glands. Punch devices can range in sizes from 0.6mm to 0.9mm which makes scarring minimal in comparison to the scarring as a result of a FUT Hair Transplant procedure.
Where the DHI technique differs slightly to a standard FUE technique is that once all the grafts have been extracted from the donor area, they are then prepared and placed into a hair transplant implanter pen. There are lots of different types of these pens available with the most commonly used being the choi implanter pen and lion implanter pen.
The implanter pen works by creating the incision in the area of the scalp being treated and placing the hair transplant into the incision at the same time.
What are hair implanter pens, and should they be used?
Hair Implanter pens are not new, they were originally invented back in the 1980s in Japan. They were first used with FUT procedures with the idea of reducing the number of technicians required. As the skills of hair transplant surgeons and their technicians grew, the requirements for assistant devices reduced. In the mid 2000's, implanter pens began to make a come-back, this time being combined with FUE procedures with surgeons in Europe experimenting with graft placing using an implanter pen rather than forceps. It was believed that extra handling of the grafts during placement were leading to poor results, so the 'no-touch' technique of handling hair follicles was put to the test. The results were inclusive with no technique coming out on top either way, instead it was merely just a separate way to carry out a FUE Hair Transplant procedure should the method be suitable for the patient.
Whether a hair transplant implanter pen should be used or not is down to the surgeon using the pen. A huge issue that has become apparent is that a large number of poor results from hair transplant procedures using an implanter pen is a result of inexperienced staff and clinics.
A hair transplant procedure, no matter what method, should only be carried out by a trained and knowledgeable hair transplant surgeon and their experienced team of technicians.
What are the Differences Between DHI Hair Transplant Method and FUE Method?
The differences in method are just down to the tools used however at The Private Clinic, we do not offer separate 'DHI' and FUE Hair Transplant methods. We offer a FUE Hair Transplant procedure, and the method in which our expert hair transplant surgeons perform the FUE Procedure is down to their own personal preference and which they feel is going to be most suitable for the patient to give them the best result.
So in some instances, a FUE Hair Transplant with implanters may be used in procedures that do not require a large number of grafts. Implanters are best used on procedures that are around 2500 grafts and under.
Some of our hair transplant surgeons do use hair transplant hair implanter pens to implant the hair follicles and others will use forceps and incisions to transplant the extracted hair – many use both methods and you will be able to discuss their decision on which one they choose for your hair transplant procedure at your consultation.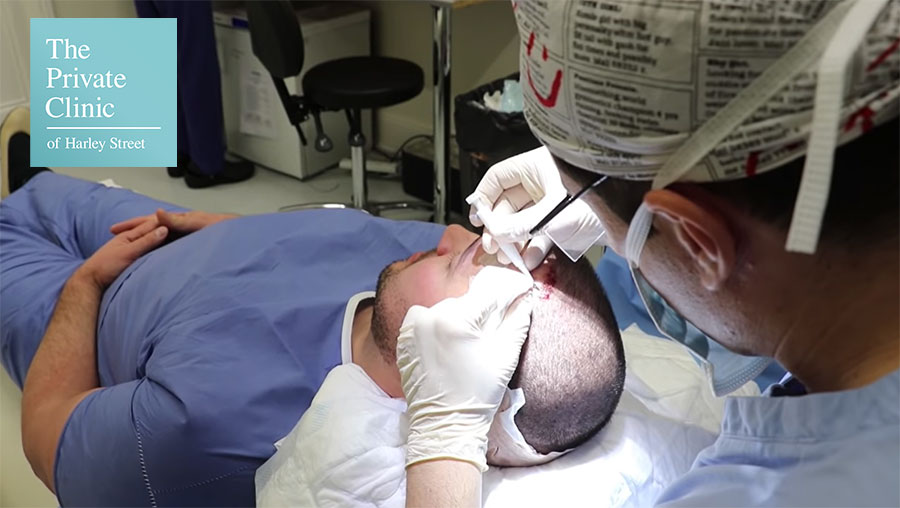 At The Private Clinic we do not believe in charging separate amounts for different methods of implantation and you will notice that we don't tend to refer to DHI as a hair transplant method. Our Hair Transplant prices are determined by the number of hair grafts required. Find out more about the costs of Hair Transplant procedures here.
Hair Transplant Procedures at The Private Clinic
Highly experienced Hair Transplant Surgeons who have decades of experience and who have carried out thousands of hair transplants.
The Private Clinic prides itself on ensuring you have the best quality and most comprehensive care.
24-hour patient helpline to ensure you are always in the best of hands.
As many post-operative care and appointments with your Hair Transplant surgeon and nursing team as required.
Comprehensive patient information, every step of the way.
Outstanding clinic facilities.
Our excellent reputation for patient safety and satisfaction, honest advice and outstanding care means your journey with The Private Clinic will be an exciting experience to a new hairline.
View our Hair Transplant Glossary 
Consultations available in London Harley Street, Birmingham, Leeds, Manchester and Northampton.
Hair Transplant Surgeons at The Private Clinic
If you would like to discuss your hair transplant options, please call 03339209135 or use our online hair transplant contact form.