There are three important factors to achieving a good result from a hair transplant procedure. A natural looking result, good coverage and efficient use of the donor area. Of course these factors will always be dependent on the skill and precision of your surgeon but it should always be their priority to reduce any trauma to the donor area and avoiding depletion.
What is a donor area?
The donor area for hair transplants is located at the back and sometimes the sides of the scalp. The hair that grows in his area is known to be genetically resistant to male pattern baldness the effects of male hormones such as DHT. The stable hair growth that occurs in the donor area makes the hair ideal for transplantation as it is permanently growing and will remain unaffected.
Your hair transplant surgeon will seek to extract the strongest follicles of hair as this will determine the final results from the procedure. Hair follicles that have good strength, volume and are robust will help to ensure that the patient achieves the best results.
How is the donor hair removed?
It is important when extracting the donor hair that it is done in a precise manner which takes a high level of skill. This ensures that the donor area and hair is not damaged during the procedure.
During a follicular unit extraction (FUE) hair transplant procedure the surgeon will use a specialised punch device, ranging in diameter from 0.6mm – 0.9mm. This device will make very small entry points into the scalp to extract follicular units complete with necessary glands. This technique also separates surrounding tissue from the unit which results in minimal trauma to the donor area and better results.
A follicular unit transplantation (FUT) hair transplant procedure involves cutting a strip of skin from the donor area before then extracting individual follicular units. This is why FUT Hair Transplants are also known as strip harvesting. The donor area will require stitches and often results in a linear scar in the donor area.
What is donor area depletion?
Donor area depletion is when the donor area of the scalp is overharvested. When the donor site is overharvested it can cause damage to the area resulting in the hair follicles becoming low quality meaning they will not be able to be used again in any other further hair transplant procedures. Overharvesting can also cause baldness in the donor area which can then be very difficult to restore. Overharvesting can occur in large hair graft procedures that are carried out too quickly.
How can I avoid overharvesting?
The best way to avoid overharvesting is communication with your surgeon. Don't be afraid to ask them about overharvesting and listen to what they have to say on the topic. A skilled surgeon should be able to reassure you and is likely to schedule multiple hair transplant sessions should they feel it to be necessary in order to maintain the quality of your donor area.
How to take care of my donor area?
Following a hair transplant procedure, patients will be provided with a list of aftercare advice. It is really important that this is followed to ensure the best healing. Medications should be taken on time and alcohol should be avoided for at least a week following your procedure – smoking too!
Your entire head should not be exposed to excessive direct sunlight for 3-4 weeks after transplant and we recommend wearing a loose hat to ensure protection from other elements such as rain.
Will there be scarring in my donor area?
All hair transplant procedures carry the risk of scarring in the donor area. FUT Hair Transplants will often result in a visible linear scar running across the donor area.  Scarring following a FUE Hair Transplant is a lot more minimal and can appear as very small circular white dots that may be noticeable when the head is shaved.
Our highly experienced hair transplant surgeons will work very hard to ensure that all scarring is kept to a minimum allowing patients to wear their hair as they wish following a hair transplant procedure at The Private Clinic.
Our surgeons also offer hair transplant scar repair where hair transplant procedures are carried out with the aim of reducing the appearance of scarring on the scalp that may have occurred from a former hair transplant procedure, injury, birthmark, burn or other skin condition.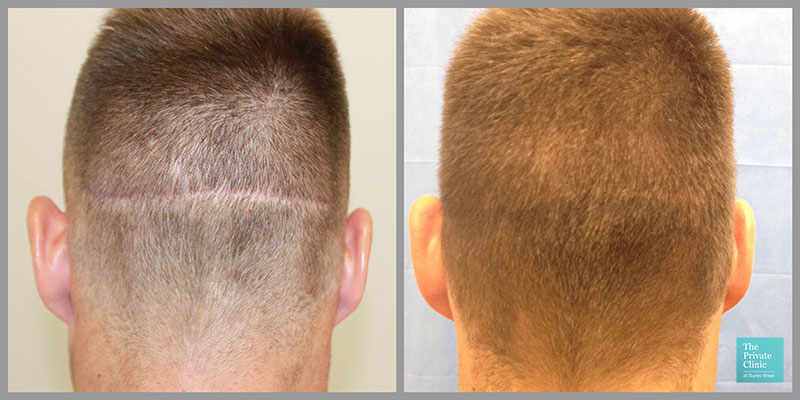 FUE Hair Transplant Procedures at The Private Clinic
We've been treating our patients for over 35 years and have an excellent reputation for patient satisfaction, safety and outstanding care offering all of our patient's transparent and honest advice.
We're proud to have the highest TrustPilot rating in the industry.
We have a team of highly experienced Hair Restoration specialist doctors and surgeons with years of experience, who have undertaken thousands of hair transplants.
You will be provided as many post-treatment appointments as you require, and will be provided comprehensive patient information at every stage.
24 hour patient helpline to ensure you are always in the best of hands.
Comprehensive patient information, every step of the way.
Outstanding clinic facilities.
Consultations available in London Harley Street, Birmingham, Leeds, Manchester and Northampton.
Our excellent reputation for patient safety and satisfaction, honest advice and outstanding care means your journey with The Private Clinic will be an exciting experience to a newfound head of hair.
We are able to offer finance solutions with manageable payments to suit a variety of budgets.
We offer free hair transplant consultations with our patient advisers across the UK and FUE Hair Transplant consultations with our industry leading hair transplant surgeons in several locations.
If you would like to arrange a hair transplant consultation please call 0333 920 2471 or click here to arrange Hair restoration consultation.