When it comes to researching an FUE Hair Transplant there is a variety of information that you want to know including the type of procedure required, the surgeon and most importantly in some cases the cost.
When it comes to giving you a cost for an FUE Hair Transplant you may struggle. A lot of surgeons and advisors will refuse to give you a cost before you come in for a consultation. This is not a sales technique and they are not being difficult – it is important to understand that costing of a hair transplant is very individual and will depend on a number of factors which can only be assessed during a hair transplant consultation.
It is helpful to have an idea of how much you need to start saving so we have answered some of the most common cost-related questions for FUE Hair Transplants in London;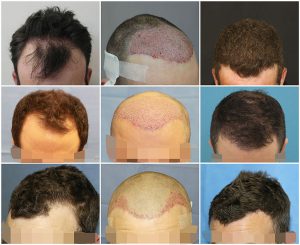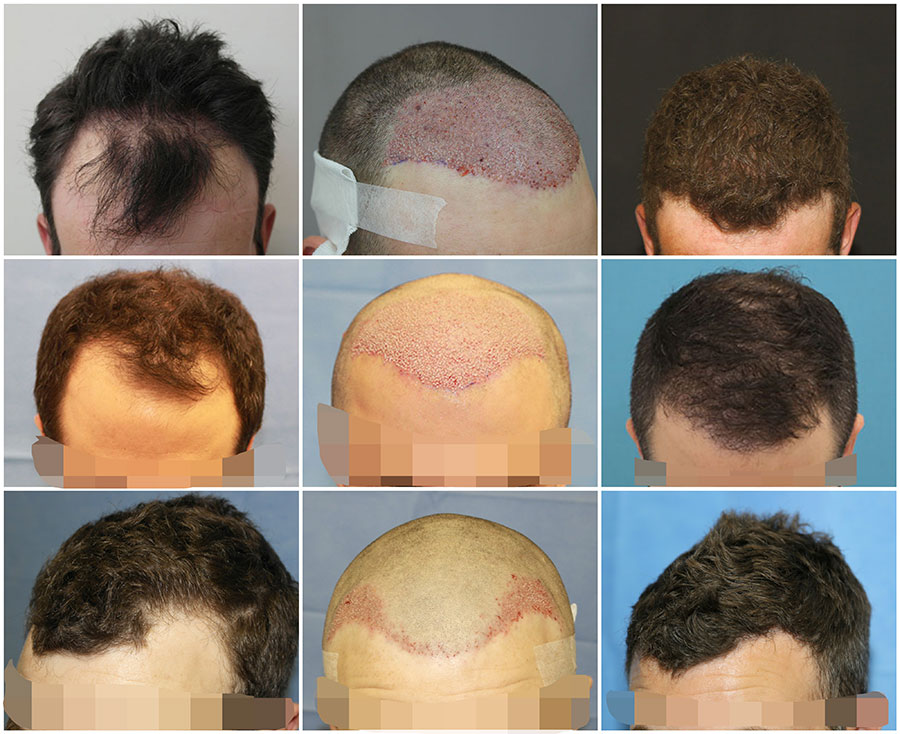 What is the average cost of an FUE hair transplant at The Private Clinic in London?
At The Private Clinic, the cost of an FUE Hair Transplant is £2.50 per hair.
There is an average of 1 – 5 hairs per graft and most commonly an average of 3000-4000 hair follicles are required meaning the average cost is likely to range between £7,500 and £10,000. *
Our price structure is very transparent.
| | | |
| --- | --- | --- |
| Area | Average number of Hairs | Average Cost |
| A-Zone (Frontal core/hairline/temples) | From 1500 Hairs | From £3750* |
| B-Zone (Mid core) | From 3000-3500 Hairs | From £6000-£7000* |
| C-Zone (Crown) | From 4000-4500 Hairs | From £8000-£9000* |
*These average costs are based on a fully shaven hair transplant procedure. A partially or unshaven FUE Hair Transplant procedure will incur additional costs which will be discussed during a consultation.
The cost of a hair transplant in London and most of the UK will vary enormously. It is not only the size of the hair transplant that will impact prices but also the experience of the surgeon.
An experienced surgeon anticipates your hair loss: They don't just assess what hair loss the patient is currently experiencing, they will also try to anticipate what is likely to happen in 3, 5 even 10 years' time. This is crucial.
Diagnosis is key: They will also have a lot more knowledge in being able to make the right diagnosis and treatment plan as they will have seen many more cases of hair loss and dealt with most scenarios.
They can reduce stress and trauma to the head: They will also be more advanced in ensuring that the hair transplant is performed with the least amount of stress and trauma to the donor area and that is all worth paying more for.
Pay later with revision surgery: We see many patients who may have gone for the cheapest option originally but now require revisional hair transplant surgery to fix their results. We carry our 30% of revision surgery on men who were unhappy with results from other clinics. The combined cost of additional surgery is now a lot more than if they were to have paid more to have their hair transplant procedure with the best, to begin with.
Advanced Techniques – Our expert FUE Hair Transplant surgeons are able to offer the most advanced techniques including Partially-Shaven Hair Transplant, Unshaven FUE Hair transplant and Micro FUE with Implanters. These specialist techniques can incur a premium cost
We are not the cheapest nor the most expensive, but we believe to be among some of the best hair transplant clinics and surgeons in the UK.
We are also regulated by the Care Quality Commission (CQC) and have been established for 40 years meaning you can be sure we will still be here – to help and advise – long after your surgery.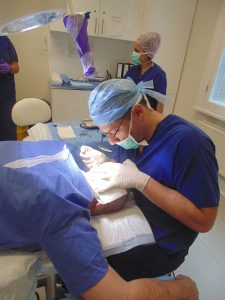 Hair Transplant Finance
At The Private Clinic, we work with our partnered finance provider 'Chrysalis Finance' to offer 0% finance* to our patients. Get in touch to find out more.
*Acceptance is subject to status. Terms and conditions apply.
The Private Clinic ensures the best results for an FUE Hair Transplant. Have a read why:
We have been established for 40 years meaning you can be sure we will still be here – to help and advice – long after your surgery.
Our hair transplant surgeons are UK based surgeons registered with the GMC who will be supporting you throughout your entire hair transplant journey and beyond.
We offer a range of hair loss treatment options to suit all patients.
FUE is a minimally invasive treatment, carried out under local anaesthetic.
We use the finest instruments, resulting in as minimal trauma to your scalp as possible.
Highly experienced Hair Transplant Surgeons who have many years of experience in FUE (Follicular Unit Extraction) and treat hundreds of patients every year.
Our surgeons ensure least amount of stress and trauma to the donor area as possible
You won't require any stitches after your treatment which means that the recovery time is reduced when compared to the Strip (FUT) surgery.
Thanks to our advanced skills and techniques, results can be long-lasting, natural looking and undetectable.
You'll be free to wear your hair long or short post-treatment with minimal scarring.
We work by hair, not per graft – this ensures that only the strongest, healthiest follicles are selected for your transplant procedure.
Hair is implanted in the direction that matches your hair growth meaning your results will look natural, with denser packing.
24-hour patient helpline to ensure you are always in the best of hands.
Expert aftercare advice and regular post-operative appointments with your hair transplant surgeon.
Comprehensive patient information, every step of the way.
Over 96% of patients would recommend us to friends and family.
Our prices reflect our offering of the best hair transplant clinics and surgeons in the UK.
All our clinics are CQC rated.
Our surgeons are the only surgeons in the UK offering the Unshaven Hair Transplant (U-FUE) to those who prefer not to shave beforehand. At your consultation, we will be able to advise you on whether an unshaven procedure is suitable for you.
Over 30% of our patients come to see us for revision hair transplant procedures from low quality clinics. Find out more here.
We have clinics in London, Manchester, Birmingham, Leeds and Northampton.
How does the cost of an FUE Hair transplant vary depending on the area chosen?
The cost of a Follicular Unit Extraction(FUE) Hair Transplant depends on the area or areas of the head that the patient would like to treat.
There are most commonly three sections;
A-Zone – Frontal core, hairline and temples
B-Zone – Mid-core
C-Zone – Crown
The area of your scalp being transplanted can alter the cost of your FUE Hair Transplant.
For example; if you are having your hairline or temples treated, this area is smaller compared to if you were having your crown treated which means the number of hairs will differ.
Hair loss can also vary from patient to patient which is why we prefer our patients to come in for an individual assessment where we can give you an accurate cost for your FUE Hair Transplant.
Related: Find out more about what to expect from a Hair Transplant Consultation here.
Hair Transplant Reviews
FUE Hair Transplant Results


FUE Hair Transplant Procedure
Does the cost of FUE hair transplants differ from the cost of FUT hair transplants?
An FUE Hair Transplant is the most minimally invasive method of carrying out a hair transplant due to the advanced technique and experience of the surgeons required the cost of an FUE Hair Transplant will on average be more than a FUT Hair Transplant. But the benefits of an FUE Hair transplant more than cover the additional expense.
Related: Find out the differences between FUE and FUT here.
What are the dangers of the cost of low-priced hair transplants?
There were only a handful of good surgeons a few years ago, now the hair transplant market is a lot larger with many providers in both the UK and abroad attracting patients with cheap procedures and discounts.
The experience level of the surgeon and the results that they achieve is going to reflect that cheap cost and they may not be comparable to the results from a premium-priced procedure.
The quality of the work carried out, the experience and the ethical approach of the surgeon and medical team could be far less reputable from a low-priced hair transplant, which could potentially reflect in the final result of the hair transplant.
If the treatment is not a success, there is a danger that further treatment in the future may not be possible, this is because of the damage caused to the donor area.
To book an FUE Hair Transplant consultation please call 0330 311 4474 or use our online hair transplant contact form
Medical References
Helpful links
The Private Clinic Expert Hair Transplant Surgeons
Hair transplant consultations are available in our clinics:
To book an FUE Hair Transplant consultation please call 0333 920 2471 or use our FUE Hair Transplant online contact form.
Please note that any references to cost in this blog are average costings only. To get a more accurate quote for your FUE Hair Transplant you must book a consultation as everyone is different. It is always quite tricky to give quotes on areas as it depends on the severity of the hair loss.
Consultations with our renowned FUE Hair Transplant surgeons are £100. We also offer consultations with our experienced patient advisors. They will be able to offer you all the information you require before meeting with a surgeon.