Eyebrow Transplants
FUE Hair Transplantation is a revolutionary way to address eyebrow hair loss using the most advanced and innovative methods.
What's on this page
Medically reviewed by Lorcan Sheppard BSc MBBS FRCA, Chief Medical Officer for The Private Clinic of Harley Street, London.
Last Reviewed June 16th 2023
Hair Transplant
Once-in-vogue, overplucking, genetics, ageing and illness are just some of the reasons why an increasing number of us are finding ourselves dissatisfied with our eyebrow area and looking to have eyebrow hair restoration.
Eyebrow transplants are not a new treatment but the interest in them has recently grown after model, Chrissy Teigen shared her eyebrow hair transplant procedure on her social media channels.
Eyebrows shape the face and can make a huge difference to how we feel about ourselves. There can be several contributing factors to losing your eyebrows, such as overplucking, illness, trauma, scarring and genetics. In order to address the problem effectively and efficiently, the actual cause of you hair loss must be clarified.
FUE Hair Transplantation is a revolutionary way to address the eyebrow hair loss using the most advanced and innovative methods.
Benefits of an Eyebrow Hair Transplant
Fuller looking eyebrows and improved brow density.
Permanent solution to sparse, patchy brows.
Results can be customised, ability to choose the preferred size and shape of the eyebrows.
Freedom to change eyebrow style post-treatment.
Natural looking results.
Pre-existing scars can be covered.
Boost your confidence.
No touch-ups required.
While eyebrow tattooing, microblading and make up can help cover up the area, the process can be frustrating and doesn't always produce the results people want – particularly with bigger, natural brows becoming more of a norm.
Eyebrow Transplant Before & After Results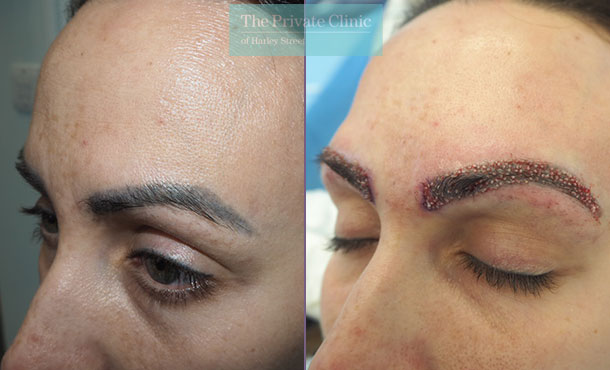 Before and immediately after photos showing the results of an eyebrow hair transplant
What are the reasons for having an Eyebrow Hair Transplant?
An eyebrow hair transplant is popular with women who may have over plucked their eyebrow hairs in the past, leaving them with thin and patchy brows. The 90s and early 00s saw bushy brows tamed to near-extinction, leaving many with damaged hair follicles that are no longer able to grow.
Transplanting new hair follicles into the area creates a more natural looking fuller and bushier looking brow.
Other reasons for wanting an eyebrow transplant may include those who have natural thinning or are affected by hereditary hair loss meaning their shape and size is affected. In these cases it may be advised that you seek advice from a trichologist to firstly confirm the cause of hair loss as often it is environmental or nutritional factors that could be causing eyebrow hair loss which having a hair transplant is unlikely to fix.
Physical trauma or surgery to the eyebrow area can also cause hair loss or areas of uneven growth which an eyebrow hair transplant can help with.
"Eyebrow hair transplants are a walk-in walk out procedure performed under local anaesthetic. It takes roughly 3 hours, and the patient gets minimal swelling, and the downtime is 5 to 6 days. The results are incredible, very natural looking. The only drawback is that the patient has to trim the eyebrows often as the hair continues to grow. It is very popular and a reliable procedure." – Mr Michael Mouzakis, Plastic Surgeon and Hair Transplant Surgeon
What to Expect
The Private Clinic has been treating patients for over 40 years with thousands of people placing their trust in us each year. We pride ourselves on being able to offer a personalised service. We have a team of friendly nurses and expert surgeons who understand the importance of this decision and will support you throughout your journey with us.
The Eyebrow Transplant Procedure
An eyebrow hair transplant procedure will begin with local anaesthetic being injected into the donor area (back of the head, behind the ears).
The donor area will be shaved in the most subtle way so it is not noticeable. Hair will then be extracted from the donor area hair-by-hair.
The extracted hair is stored in a chilled saline solution whilst this part of the procedure takes place. The hairs are then grouped together ready for implantation.
Your surgeon will then discreetly transplant each individual hair (complete with follicle and necessary elements) into your eyebrows in your chosen shape.
When finished, the area is left open and the healing process will begin.
Eyebrow hair transplants are performed under local anaesthetic, the treatment is minimally-invasive and carries minimal risk of any form of scarring or marks.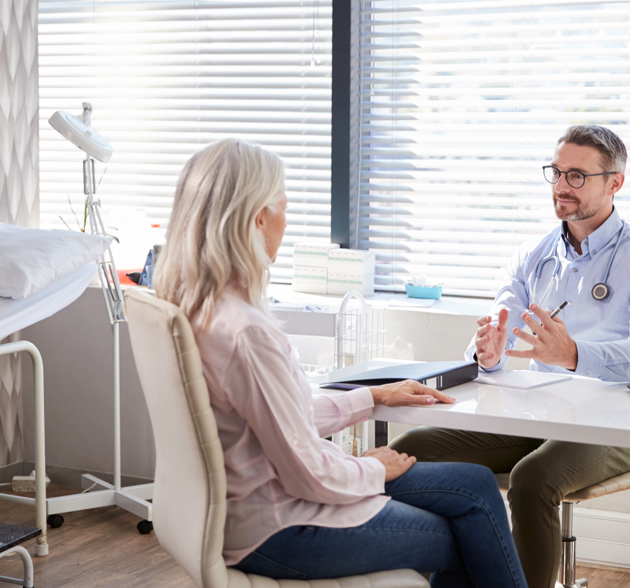 After the Eyebrow Transplant Procedure
You will most likely leave the clinic with little to no bandaging over the eyebrow area. You may experience slight bruising and/or swelling in the area for up to 5 days. You will be provided with an aftercare plan by your surgeon and a course of medication to take.
You will be required to spray your eyebrows regularly with the saline spray provided for the first four days.
Eyebrow transplant results will be seen in your new eyebrow shape and outline. Full results will be visible over the course of the next year (normally after a couple of months).
You should avoid getting your eyebrows wet until advised it is okay to do so in your aftercare plan. You should then try and avoid any direct pressure from the shower and not to rub the eyebrows with a towel – pat dry instead.
Crusts are likely to appear on the eyebrows after the first few days post-procedure. This is part of the healing process and they should fall off after a few days.
Hair grows in 3 stages so don't be alarmed if you see some shedding after the hair transplant – it is normal.
Hair growth varies from person-to-person and, as the transplanted hair continues to grow, you will need to trim the hairs in order to achieve and maintain the desired look. This is very rarely an issue for patients as most are used to plucking or shaping regularly.
There is hardly any downtime. The FUE method of hair transplantation offers minimal aftercare and downtime, and significantly less risk of any scarring. You will need to avoid exercise (in particular sweating) for a few weeks post-procedure to reduce risk of infection, but we will give you full aftercare instructions and support during your recovery.
If you are unsure of any of the words used please see our Hair Transplant glossary here.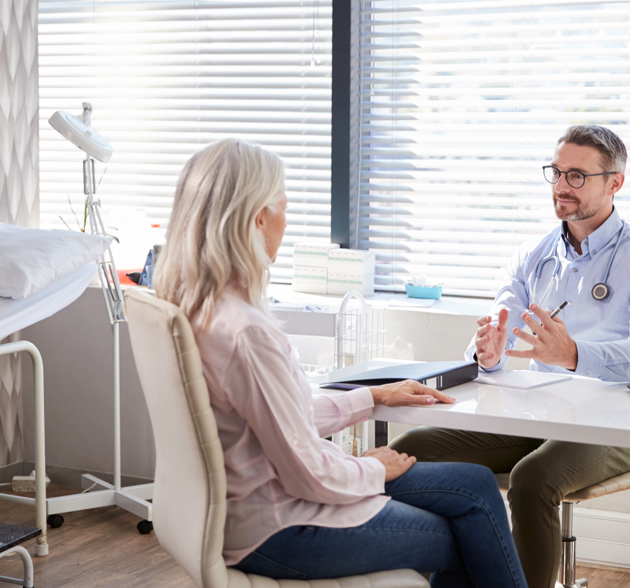 The Private Clinic have collaborated with Chrysalis Finance to offer 0% finance for our patients.*
*Acceptance is subject to status. Terms and conditions apply.
FAQs
Is there any scarring?
The tool used to extract hair follicles from the donor area is only a few millimetres wide and the number of hair transplanted will mean for most patients there will be no visible scarring. Our doctors are well trained and experienced, establishing methods to avoid visible scarring. There will be no scarring on the eyebrows.
What are the risks and possible complications?
There are always some risks with any cosmetic procedure but our team will ensure risks are kept to a minimum. You may experience a degree of redness in the transplant area but this will subside within a few days. There is a possible risk of infection but our aftercare procedure will help to keep the risk as low as possible. Our team will be available to guide you through the aftercare procedure should you have any further questions at any point, as part of our aftercare commitment.
Where can I get more information?
For more information about eyebrow hair transplants, please see our main hair transplant pages for general information about the FUE procedure and what you can expect from it. For even more information we advise coming in for a no-obligation consultation with our hair transplant surgeons who will be able to fully explain the procedure and answer any questions.
How much does Eyebrow Transplants cost?
The cost of an eyebrow transplant is aproximately £5,000, depending on the number of hairs required. We will be able to give you an accurate quote after your assessment and consultation. We treat all our patients on a case-by-case basis and every individual is different.
We offer FREE consultations with our highly experienced Patient Advisors who are able to offer you all the information your require prior to meeting a surgeon. Consultations with one of our Hair Transplant Surgeons are £100.
What is an eyebrow transplant?
An eyebrow hair transplant involves taking hair follicles from a donor area, usually the back of the head or behind the ear and transplanting them into the eyebrow. This is a technique known as Follicular Unit Extraction (FUE).
The procedure usually takes around 3-4 hours and is performed under local anaesthetic as a day case procedure.
It is important that you choose someone who is experienced in performing eyebrow hair transplants as the hair needs to be implanted at particular angles in order to replicate the natural growth of your existing eyebrow hairs. Done wrong, this could result in awful results that may leave you seeking further revision treatment.
Do eyebrow hair transplants work?
Eyebrow hair transplant surgery is a very safe procedure and provide great results. It does take time for the new eyebrow hairs to grow, and we usually advise patients that the best results are seen 1 year following the procedure.
Once grown, you will need to trim the eyebrow hairs on a regular basis as they will have a continuous growth cycle like the hairs on your head. This does allow you to groom and shape your brows to your own preference that best suits your facial shape and features.
How long do Eyebrow Hair Transplants last?
Eyebrow transplants are a permanent hair restoration procedure.
The procedure uses the FUE (Follicular Unit Extraction) technique where individual hair follicles are taken from the donor area at the back of the head and implanted into the area being treated. As hair loss to the eyebrows is usually down to a form of trauma or overplucking then it is unlikely that you will continue to progressively loose hair from the eyebrow area.
Do eyebrow transplants keep growing?
The donor hair that is used for eyebrow hair transplants is taken from the scalp which means that the hair growth cycle for these hair follicles will remain and overtime, the implanted hair follicles in your eyebrows will grow to the full length of your head hair.
When you have an eyebrow hair transplant you will need to regulary trim the eyebrow hair to match the length of your existing eyebrow hairs. This is usually once a month.
Overtime, the transplanted hair may no longer need trimming as regularly.
Things to Consider
Our advice on what to consider when deciding to have a eyebrow hair transplant procedure:
1. When choosing a clinic, you should always do your research, and only go to an established, reputable clinic.
The Private Clinic has been in the cosmetic surgery industry for over 40 years. We are here to answer all of your questions and give you peace of mind.
2. When choosing a surgeon, make sure you know who you'll be seeing. Their expertise, qualifications and patient satisfaction rate are important factors to take into consideration.
At The Private Clinic, we only source the most experienced and specialised surgeons. Find out more about our plastic surgeons here.
3. Price should never be the deciding factor when choosing where to have your treatment. Safety should be your number one priority and feeling confident that they will look after you – not only before, but also after your procedure
4. When it sounds too good to be true, it often is. Always find out what your clinic's reputation is.
Our excellent reputation for patient safety and satisfaction, honest advice and outstanding care means your journey with The Private Clinic will be an exciting experience to a newfound shape.
Why Choose The Private Clinic
We have been established for over 40 years meaning you can be sure we will still be here – to help and advice – long after your surgery.
Our hair transplant surgeons are UK based surgeons registered with the GMC who will be supporting you throughout your entire eyebrow hair transplant journey and beyond.
We offer the advanced Micro FUE with Implanters technique.
FUE Eyebrow Hair Transplant is a minimally invasive treatment, carried out under local anaesthetic.
We use the finest instruments, resulting in as minimal trauma to your scalp and brows as possible.
Our surgeons ensure least amount of stress and trauma to the donor area as possible and keep any shaving required subtle.
Thanks to our advanced skills and techniques, results can be long-lasting, natural looking and undetectable.
Hair is implanted in the direction that matches your eyebrow hair growth meaning your results will look natural, with denser packing.
Expert aftercare advice and regular post-operative appointments with your hair transplant surgeon.
Comprehensive patient information, every step of the way.
Over 96% of patients would recommend us to friends and family.
Our prices reflect our offering of the best eyebrow hair transplant clinics and surgeons in the UK.
All our clinics are CQC rated.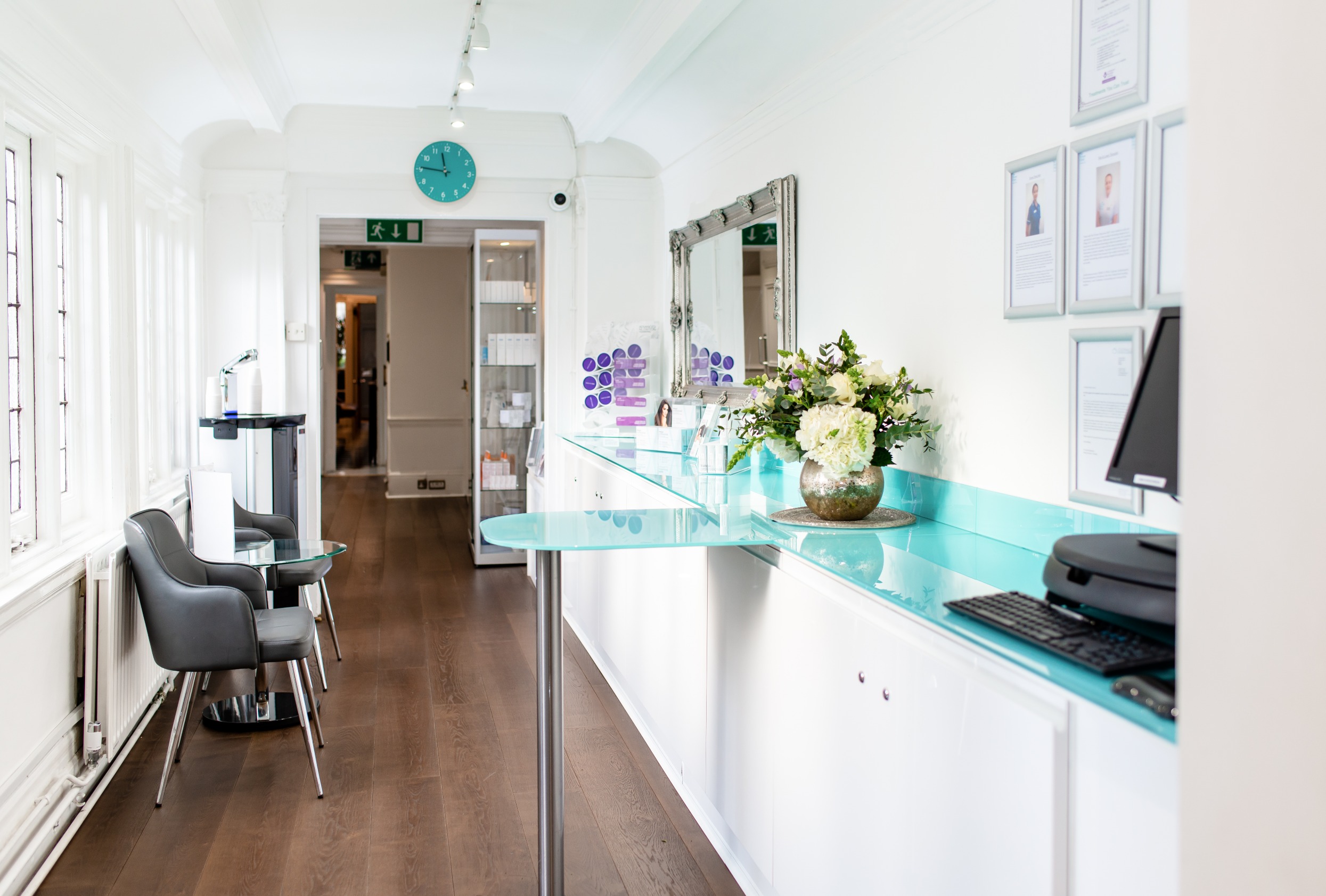 Meet our Surgeons
As eyebrow transplantation is one of the most meticulous treatments of its kind, it is important to base your decision to undergo the procedure on the doctor or surgeon performing it. We work with some of the UK's most respected hair transplant surgeons to ensure the highest safety standards and very best results.

Mr Michael Mouzakis
PLASTIC SURGEON, HAIR TRANSPLANT SURGEON & VASER LIPO TOTAL DEFINER SURGEON
MD, MSc
GMC Number: 7237640
London Harley Street, Leeds, Northampton & Birmingham