Carpal Tunnel Syndrome
Carpal Tunnel Syndrome treatment with an experienced orthopaedic surgeon specialising in the hand and wrists.
Carpal tunnel decompression surgery is aimed at relieving the pressure around the nerve
Minimally invasive, day case surgery
What's on this page
Medically reviewed by Lorcan Sheppard BSc MBBS FRCA, Chief Medical Officer for The Private Clinic.
Last Reviewed January 17th 2023
Related Treatments
Carpal tunnel syndrome also known as decompression surgery is a common condition that affects either one or both hands, wrists, and arms. It can occur when nerves are compressed or pinched at the carpal tunnel which is a narrow passageway on the inner side of the wrist. You may experience pain, weakness or numbness in your wrist or hand which can then progress up the arm.
What causes Carpal Tunnel Syndrome?
Carpal Tunnel Syndrome is caused when there is pressure on the median nerve. The median nerve runs down your arm to your wrist and through a narrow passageway which is known as the carpal tunnel to you hand.
The median nerve provides sensory and motor actions to your forearm, hand and wrist and is responsible for controlling the movements and feelings in your thumb and fingers aside from the pinkie finger.
Carpal tunnel syndrome occurs when the carpal tunnel narrows further due to being squeezed or pinched. This could be as a result of:
Injury or Trauma
Inflammatory Diseases
Repetitive Hand Motions
You are also more at risk of developing carpal tunnel if you are overweight, pregnant, have a close relative with carpal tunnel or have a condition like diabetes, rheumatoid arthritis, and hypothyroidism.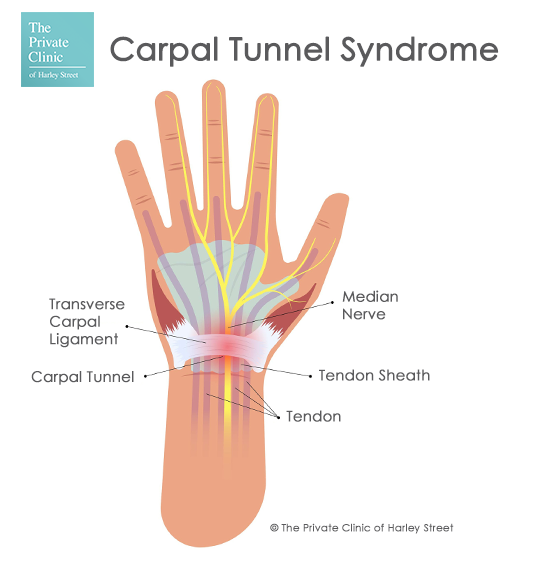 What are the symptoms of Carpal Tunnel?
The symptoms of carpal tunnel tend to start gradually and can often be present for months or years without the condition worsening. Some patients may find that symptoms vary depending on time of day, activity levels and position of the wrist. Typical carpal tunnel symptoms include:
Burning sensation
Tingling
Numbness
Swollen feeling but not physically showing signs of swelling
Pins and Needles
Aches and Pain
Carpal tunnel can be tricky to diagnose sometimes as it does share symptoms with many other conditions such as repetitive strain injury, wrist tendonitis, arthritis and thoracic outlet syndrome. A consultation with our expert consultant hand surgeon will be the best place to firstly diagnose carpal tunnel and advise on the best treatment.
If you are not experiencing carpal tunnel, our consultant hand surgeon, Dr Ravi Mallina is highly experienced in diagnosing and treating many different hand conditions such as trigger finger, dupuytren's contracture, base of thumb arthritis, cubital tunnel syndrome and de quervain's tenosynovitis. Find out more here.
Does Carpal Tunnel need to be treated?
Carpal tunnel can improve and resolve itself in a few months without treatment however this is usually when it is caused by lifestyle factors such as pregnancy and obesity.
When left untreated, there is a risk that carpal tunnel symptoms can become more severe with loss of sensation to the fingertips and strength of the hand becoming reduced. Taking action in the early stages of carpal tunnel often means your treatment is going to more successful as nerve damage can be difficult to reverse.
How to treat Carpal Tunnel?
There are lots of methods of treating carpal tunnel or reducing the symptoms of carpal tunnel which include a range of non-surgical and surgical methods.
Carpal tunnel treatments include:
Wrist Splint – Helps to relieve pressure on the affected nerve. Needs to be worn for at least 4 weeks before improvement is likely to be noticed.
Hand Exercises – These can help to reduce the symptoms caused by carpal tunnel and are often recommended alongside additional treatment.
Steroid Injections – Injection into the affected area to reduce swelling around the nerve. This treatment may need to be repeated every few months.
Endoscopic Carpal tunnel decompression – Surgery performed under local anaesthetic which releases the pressure within the carpal tunnel which should ease symptoms.
To find out more about the range of carpal tunnel treatments available and advice on which one is going to be best for you, please book a consultation to see Dr Ravi Mallina, Consultant Hand & Wrist Surgeon at our London Harley Street clinic.
What to Expect
The Consultation
Consultations for carpal tunnel syndrome take place at our London Harley Street clinic with our private hand specialist, Consultant Hand and Wrist surgeon, Dr Ravi Mallina.
The purpose of a consultation is to:
Discuss what symptoms you are experiencing.
Diagnose the cause of your symptoms.
You may be asked to perform a some assessments to establish how much carpal tunnel syndrome is impacting your life.
Offer advice on treatments to help treat or relieve the symptoms.
Answer any questions you may have about Endoscopic Carpal tunnel decompression.
Discuss any alternative treatments.
Assess your suitability for treatment or surgery.
Discuss recovery and aftercare.
Following your consultation, you will be allocated a patient coordinator who will be your point of contact should you wish to go ahead with any of the carpal tunnel treatment options.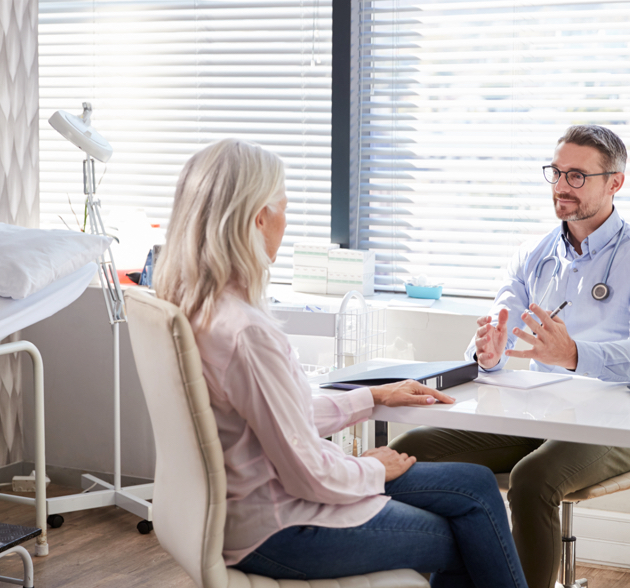 Your pre-operative appointment
All our cosmetic surgery procedures require a pre-op appointment with one of our experienced nurses. They will advise you of any precautions you need to take in the days or weeks leading to your Endoscopic Carpal tunnel decompression procedure. They will also perform any required tests and advise on any medication that you should stop taking ahead of your procedure.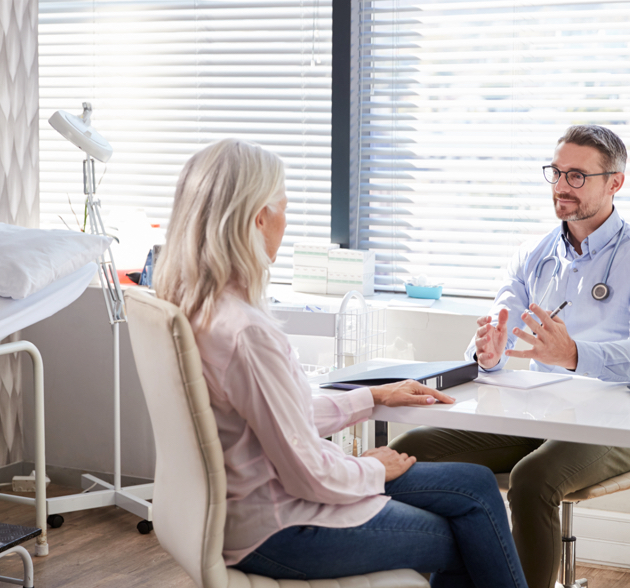 The Procedure
There are two types of carpal tunnel surgery: Endoscopic Carpal tunnel decompression and Open carpal tunnel release. Both procedures are similar as they both involve dividing the transverse carpal ligament which is the roof of the carpal tunnel. Doing this increases the size of the tunnel and will reduce pressure on the median nerve.
The difference between the two procedures is that open carpal tunnel release requires larger incisions, but some open release procedures are being performed as mini-open release surgery which can be performed using smaller incisions.
Dr Ravi Mallina specialises in endoscopic carpal tunnel decompression surgery.
Endoscopic Carpal tunnel decompression
Carpal tunnel surgery will take place at our London Fitzroy hospital. The procedure is performed under local anaesthetic.
Local anaesthetic injections will be administered to the area of surgery.
A small incision will be made on the wrist.
A tiny camera or endoscope is inserted into the incision to see inside the hand and wrist.
A surgical knife is used to divide the transverse carpal ligament.
The incisions are then closed and dressed.
Following the procedure, you will remain at the Fitzroy hospital until discharged by your surgeon which is usually after 1-2 hours.
Although this procedure is carried out under local anaesthetic, we would recommend that you do not drive immediately following the procedure and you should leave with a chaperone who will be able to accompany you home.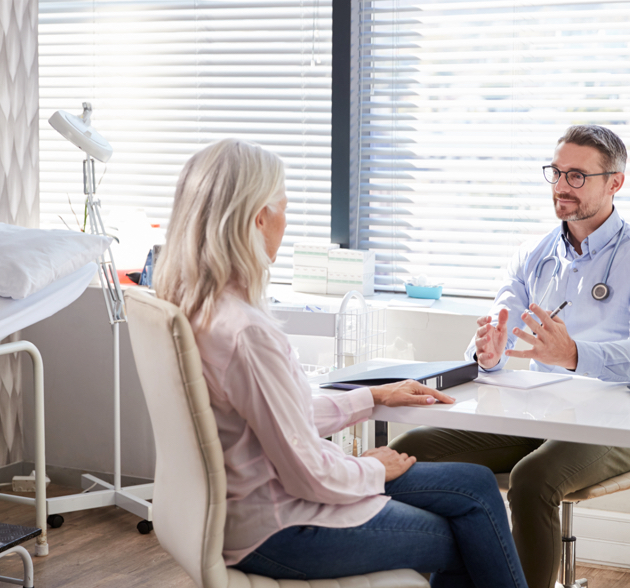 Carpal Tunnel Surgery Recovery
The local anaesthetic that was administered during surgery will wear off after 6-8 hours following the procedure. You may start to experience discomfort and we recommend taking over the counter painkillers such as paracetamol or anti-inflammatories should you feel the need too.
A series of exercises will be recommended which should be performed three times a day for 5-10 minutes for the first 2 weeks following surgery. You should start these as soon as you can.
The hand should be kept elevated above the level of your heart for 48 – 72 hours when resting.
The incision and dressings on the hand should be kept dry for 10-14 days. Once the wound dressing is removed, we advise that you massage the scar to try and avoid scar sensitivity. More information about this will be provided by your surgeon.
Load bearing through the wrist should be avoided for 2-3 weeks.
You will have a post-op appointment with your surgeon around 2-3 weeks following your procedure. They will assess how you are healing an ensure that there is no stiffness or any other concerns. In some cases, you may be recommended hand therapy which is specialist physiotherapy that targets the hand and wrist.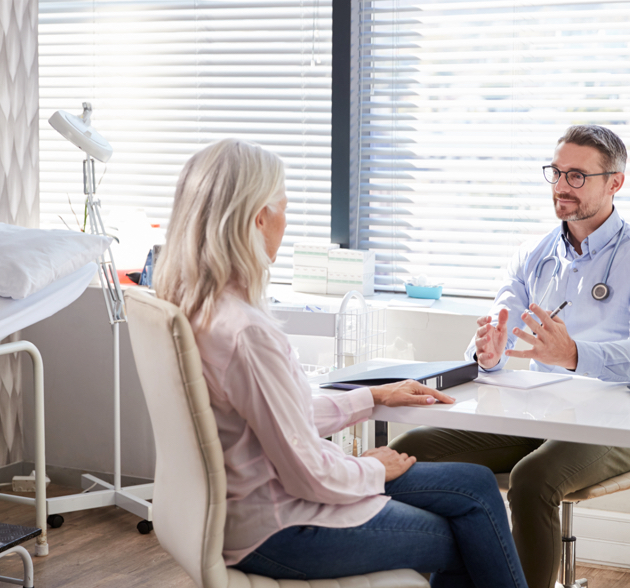 The Private Clinic have collaborated with Chrysalis Finance to offer 0% finance for our patients.*
*Acceptance is subject to status. Terms and conditions apply.
FAQs
Do I need carpal tunnel surgery?
When left untreated, carpal tunnel can progress and cause more severe symptoms such as weakness in the hand and fingers. Endoscopic Carpal tunnel decompression surgery can help to prevent your symptoms from worsening by relieving pressure on the nerve ends.
If you have tried non-surgical methods for treating carpal tunnel and not had much relief, Endoscopic Carpal tunnel decompression surgery may be the right option for you.
We recommend booking a consultation with our Consultant Hand and Wrist surgeon who can advise on which treatment method is going to best suit you.
Can I use my hand straight after carpal tunnel surgery?
Local anaesthesia is used during Endoscopic Carpal tunnel decompression surgery which starts to wear off after 6 to 8 hours following surgery. We recommend that patients take over the counter medications such as paracetamol and anti-inflammatories should you need them to help ease any discomfort.
Your hand will not be placed in a sling and once any initial discomfort has settled you should be able to carry out most activities such as holding a knife and fork, using electronic devices, and reaching out to grab items as required. We recommend using your hand as soon as possible following surgery to help with swelling and stiffness.
For the first 3-5 days following carpal tunnel surgery, we do advise that you keep the hand elevated, so it is above the level of your heart for the majority of the day – especially when resting.
We recommend that you start hand exercises as soon after surgery as possible, for example making a fist and then straightening the fingers. Your surgeon will provide exercise instructions in your aftercare plan, and they should be carried out for 3-5 minutes every 3-4 hours for the first 2 weeks following surgery. Overdoing exercises can also delay your recovery so always follow your surgeons' instructions and don't try and do too much.
How do I care for my wound following carpal tunnel surgery?
The wound and dressings should be kept dry until it is healed which can take 10 – 14 days.
Our clinic nurses are available for wound care appointments and dressing changes where required.
Once the dressings have been removed, you will be recommended to massage the scar 3-4 times a day to help prevent scar sensitivity.
Will I need physiotherapy after carpal tunnel surgery?
Most patients do not require physiotherapy following Endoscopic Carpal tunnel decompression surgery.
Patients who experience stiffness of the hand or swelling of the fingers may be referred to a hand therapist for hand therapy. Hand therapy is a specialist form of physiotherapy for the hand and wrist.
You may also be advised to try hand therapy if you have scar sensitivity around the area of the wound for longer than 6 to 8 weeks after surgery. Hand therapists can work on specialist scar desensitization techniques to assist with this.
When can I drive after carpal tunnel surgery?
Patients will not be able to drive after Endoscopic Carpal tunnel decompression surgery. We recommend that patients refrain from driving until the wound is healed and they are not experiencing any pain or discomfort which can take 10-14 days.
Ideally you should feel in control of the vehicle, be able to grip and control the steering wheel and perform an emergency stop. We recommend starting slow with shorter journeys before committing to a long drive.
If you drive too soon following surgery, your insurance company are likely to not cover you so please check with your insurance company before you start driving again to ensure you are covered.
When can I return to work after carpal tunnel surgery?
You are going to require some time off work after Endoscopic Carpal tunnel decompression surgery. The length of time that you will need to take off will depend on the type of job that you do, and how you recover from surgery.
Most patients take 2 weeks off work, but you could return sooner if you feel able too, but it is worth noting that typing for extended periods, using a phone, or lifting heavy items can put excess strain on your hands whilst they are trying to recover. Heavy manual work should be avoided until you receive sign off from your surgeon.
What are the risks and complications of carpal tunnel surgery?
All types of surgical procedures carry risks and complications.
Typical risks of Endoscopic Carpal tunnel decompression surgery include;
Infection of wound
Scar Sensitivity
Bleeding under the skin (Haematoma)
Nerve Damage
Ongoing problems with pain, numbness and loss of strength are rare and we advise you contact your hand surgeon or nursing team if you are worried or concerned at any stage during your recovery.
You may be referred to physiotherapy following surgery to held aid your recovery.
What is the success rate of carpal tunnel surgery?
Carpal tunnel decompression surgery is a common procedure with a success rate of 90 to 95% in terms of resolution of symptoms.
Why Choose The Private Clinic
Consultant Orthopaedic Hand Surgeon, Mr Ravi Mallina is an expert in his field providing a one-stop clinic service to patients with trauma or injury to the hands and wrists.
Treatment carried out in our state-of-the-art London Fitzroy hospital.
24-hour patient helpline direct to your nursing team and surgeon, which means should you have any concern we are here to help.
Our excellent reputation for patient safety and satisfaction, honest advice and outstanding care means your journey with The Private Clinic will be an exciting experience to a newfound confidence.
Our innovative treatment choice means you will be offered the most advanced minimally invasive treatment options.
Dedicated care with your expert surgeon and nursing team before, during and long after every procedure.
5 Star Trustpilot Rating.
Our aftercare promise – you can call, email, and visit us to discuss how we tailor-make each procedure and offer ethical and professional aftercare for every patient.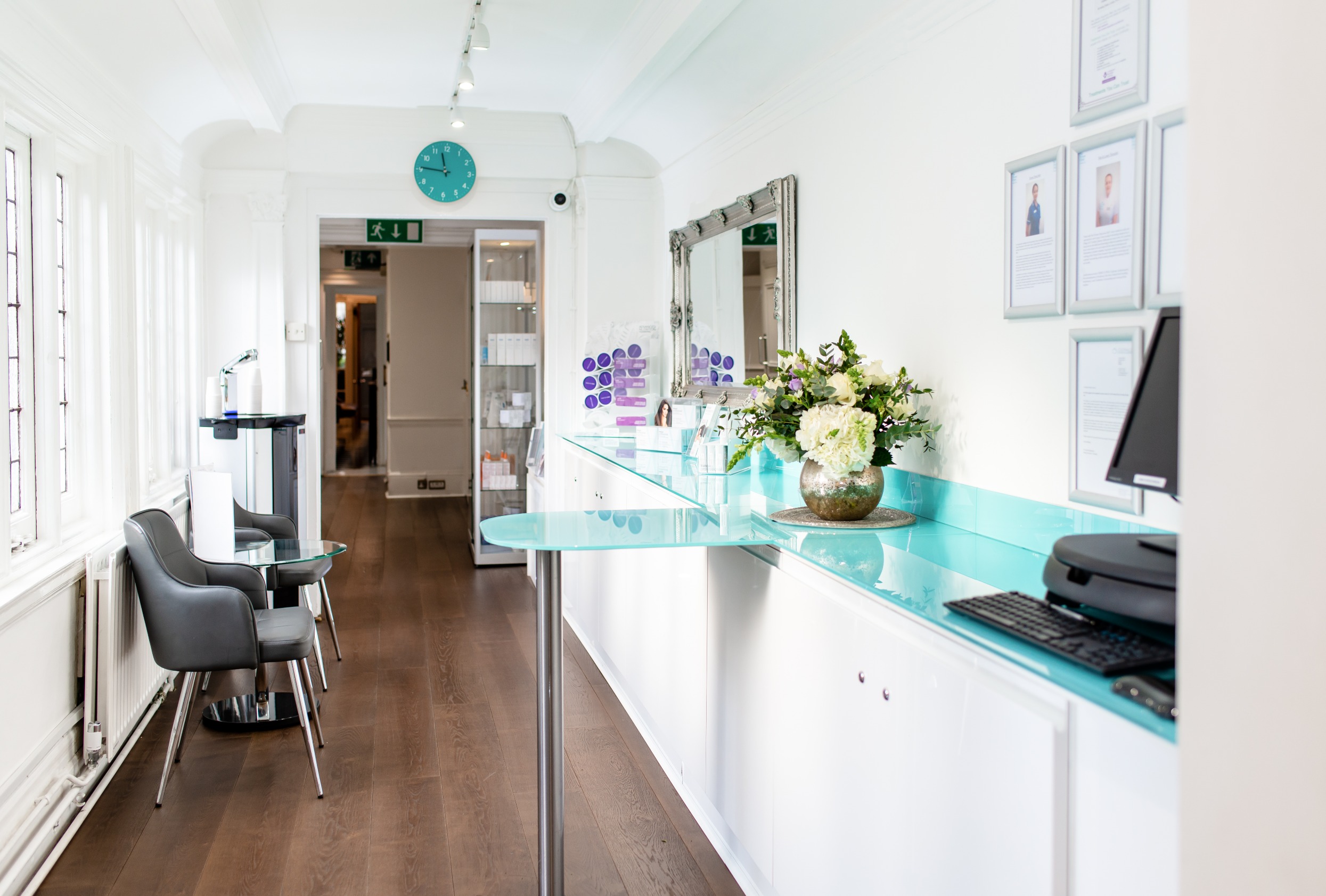 Meet our Surgeons
We are the UK's leading cosmetic group and have some of the best hand surgeons in the country working with us.
Mr Ravi Mallina is an experienced orthopaedic hand surgeon specialising in the hand and wrists who tailors all his treatments to the individual patients' needs.

Mr Ravi Mallina
CONSULTANT ORTHOPAEDIC HAND SURGEON
FRCS, Dip Hand Surg (Br)
GMC Number : 6091572
London Harley Street