8 Point Lift improves facial contours with natural looking results
Instant results improving over time with little to no downtime
Performed by expert doctors and experienced nurse injectors
What's on this page
Medically reviewed by Lorcan Sheppard BSc MBBS FRCA, Chief Medical Officer for The Private Clinic of Harley Street, London.
Last Reviewed June 15th 2023
Related Treatments
8 Point Lift
As we age, our skin can take on a loose, wrinkled and crepey looking appearance and our efforts to cover up and improve its appearance can often end up making it more noticeable.
At The Private Clinic our fully qualified and experienced nurses, doctors and surgeons will help you achieve a natural refreshed look. You will wonder why you did not come and see us sooner. The liquid facelift or MD codes is a quick treatment with little downtime.
What is an 8 point facelift?
The 8 point facelift is a non-surgical facelift using dermal filler. It is a specialised volumising and lifting facial treatment, also referred to as a fluid or liquid facelift. Dermal fillers are used in 8 key areas to enhance and lift the face for a total rejuvenating effect.
8 Point Facelift areas of the face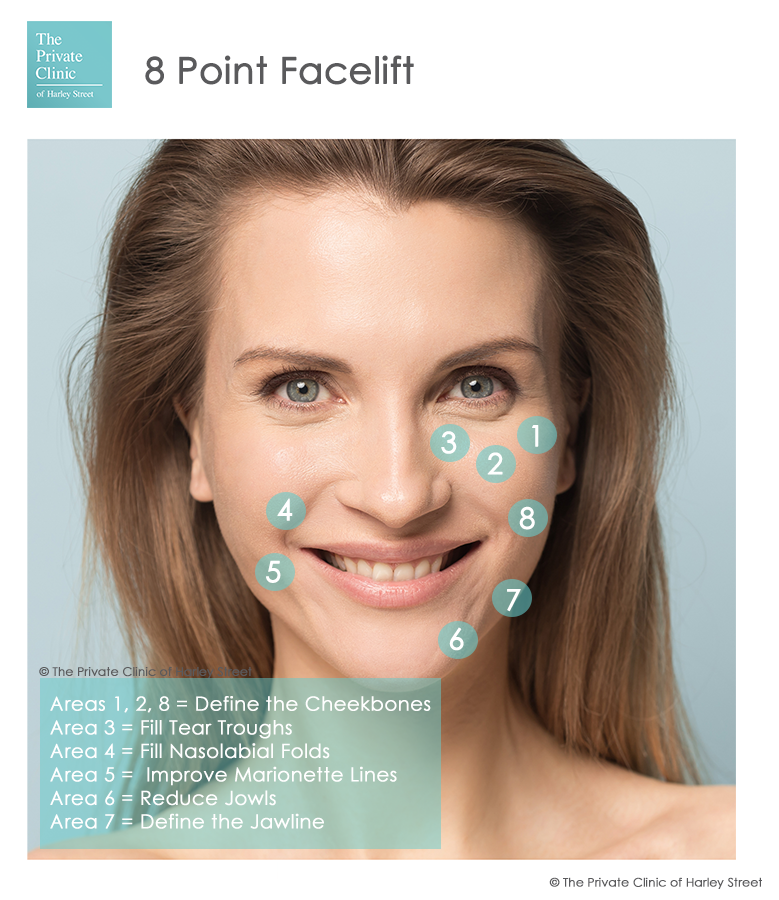 Areas 1, 2 and 8 define the cheek bones.
Area 3 works to fill hollow tear troughs (under the eyes).
Area 4 fills and softens nasolabial folds (nose to mouth lines)
Area 5 lifts the mouth corners to improve marionette lines.
Area 6 reduces sagging jowls.
Area 7 defines the jawline for improved facial structure.
The 8 point lift treatment is available at our skin clinics in London Harley Street, Birmingham, Manchester, Buckinghamshire, Leeds and Northampton.
The Private Clinic of Harley Street has over 40 years of experience providing the latest and most effective treatments. We specialise in non-invasive and minimally invasive treatments for facial rejuvenation. We offer a wide range of antiaging and rejuvenating treatments. Our expert medical team can discuss the options best suited for you.
At The Private Clinic, we only use the highest quality dermal filler brands including Allergan and Teoxane.
8-Point Lift at a glance
Procedure Time
30 mins
Downtime
24 – 48 hours
Final Results
2 weeks
No. of Treatments
1 Treatment
Results Last
Up to 18 months
What are the benefits of an 8 Point Facelift?
The 8 Point Lift targets the mid-face to lift.
It contours and revitalises the whole mid and lower face.
It helps to restore lost volume and sagging skin.
It helps to lift sagging jowls.
Reduces lines and wrinkles.
Softens nasolabial folds (nose to mouth lines) to make them less prominent.
Rejuvenates tired eye area.
Our experienced aesthetic doctors and nurses offering the 8 point face lift have many years of experience. They are able to assess the face in its entirety to deliver assured results that match your face. We have helped many patients achieve long-lasting natural-looking results, confidently and safely.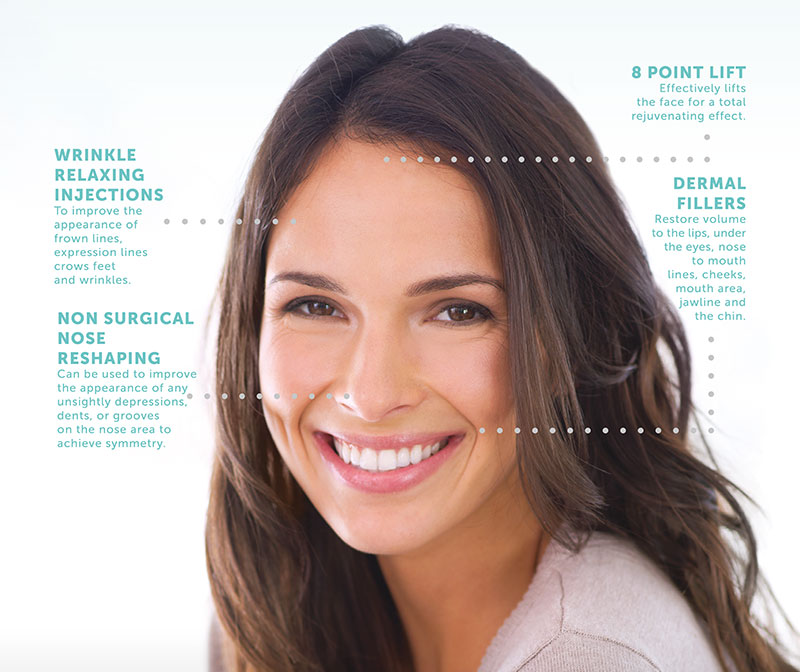 8 Point Lift Before & After Photos
Take a look at our 8 point lift before and after photos
What to Expect
The Private Clinic has been treating patients for over 40 years with thousands of people placing their trust in us each year. We pride ourselves on being able to offer a personalised service. We have a team of friendly nurses and expert surgeons who understand the importance of this decision and will support you throughout your journey with us.
8-Point Face Lift Treatment
Consultation
You will have a consultation with our 8-point lift specialists who will listen to your facial concerns and assess if the treatment is best suited to you, based on your desired goals.
Treatment
When you arrive for your 8-point lift treatment. Your expert aesthetic doctor or nurse will first go over the treatment again and cover any side effects and what downtime/recovery time to expect.
Your face will then be cleansed ready for the treatment to start.
Dermal filler will then be injected into 8 specific points on each side of the face:
Tear Troughs (Under eye area)
Cheek Bones (3 points for overall facial definition and structure)
Nasolabial folds
Mouth Corners
Jowls
Jawline
Restoring volume in the specific eight points, on each side of the face, at the same time, ensures that a balanced lift is achieved.
It is an advanced and precise technique for total rejuvenation. It combats soft tissue loss associated with the ageing process and offers a more complete solution for all areas of the face compared to individual dermal filler treatments.
Benefits of an 8 Point Facelift vs Surgical Face Lift:
| | 8 Point Lift | Surgical Facelift |
| --- | --- | --- |
| Anaesthesia | None | General Anaesthetic |
| Risk of bleeding | None | Yes |
| Stitches | None | Yes |
| Scarring | None | Hidden scars |
| Downtime | None | At least 1 week |
| Natural results | Yes | To some extent |
| Affordable | Yes | Not for everyone |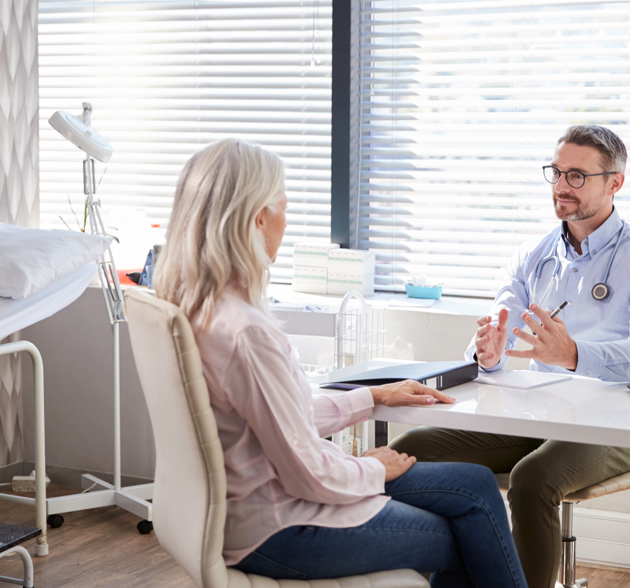 After your 8-Point Lift Treatment
The results of an 8 point facelift are visible immediately.
Mild swelling, bruising or redness may occur but this is temporary and should resolve within a few days.
Overall there is barely any downtime associated with the procedure, many patients return to work straight away – making it a very popular lunch-break treatment.
8 Point Lift Results
The results of an 8 point facelift are best seen after 2 weeks. The results are expected to last up to 18 months. The duration of your results may vary depending on your facial structure and the rate at which hyaluronic acid is broken down within your body.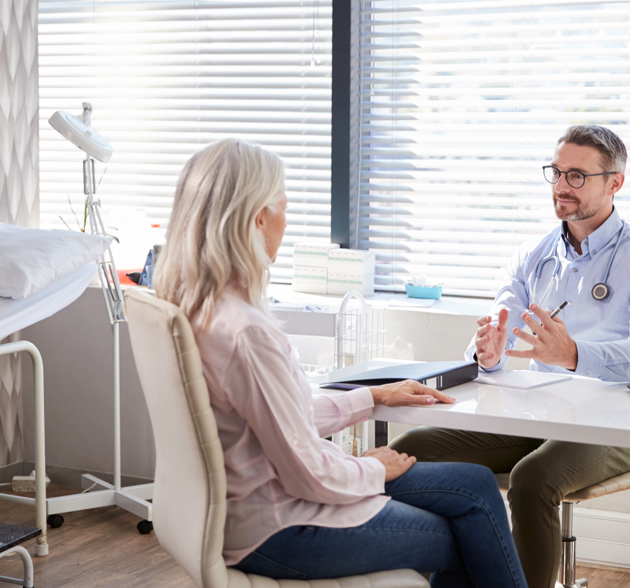 FAQs
What is the 8 Point Lift?
The 8 Point Lift, also known as a Fluid Face Lift can treat a range of different concerns, revealing a younger looking you.
The treatment usually involves three sessions:
Appointment one will be a 30 minute consultation with one of our cosmetic doctors. We will examine your face and talk to you in depth about what you would like to achieve before beginning your treatment as appropriate.
Appointment two will usually take place two weeks later. Dermal fillers will be used around the eyes and cheek bones to give your face a more defined look and to restore volume. We may also use fillers to restore fullness and shape to your lips, chin and nose. Different injection techniques will be used to make sure we get a result that is just right for you.
Appointment three will take place about six weeks later and the treatment will depend on the results achieved at your previous sessions. The doctor will assess your progress and add the final finishing touches as necessary. This way we can ensure you get natural looking, subtle results that don't look 'overdone'.
Does the treatment hurt?
Our Doctors are highly experienced in injectable treatments and their intricacy and light-handed skills make such treatments virtually pain-less.
How long will the results last?
For your safety, we only use temporary Dermal Fillers here at The Private Clinic. As such, the results are temporary meaning you will need to touch up periodically (probably every 6-9 months) to maintain the look. However, over time most people need less product, less frequently to achieve the results they want.
How much does 8 Point Lift cost?
The 8 Point Lift is carried out using a mixture of the highest quality fillers and costs around £1,200.
The cost of 8 Point Lift treatment will vary from patient to patient as it will depend on:
The type of dermal filler used.
The areas treated.
The amount of dermal filler used.
The best way to get an idea of how much 8 point lift treatment is going to cost is to book a consultation with one of our expert aesthetic doctors or nurses who will be able to provide you with an individual treatment plan to help you get the results you wish to achieve.
Consultations with our expert doctors or nurses are £50 however this cost can be redeemable against the price of treatment should you wish to book following your consultation.
Our prices are competitive and we only use experienced and qualified medical professionals at The Private Clinic to administer our dermal fillers. We believe our patients deserve the utmost safety in our care and we are committed to offering reliable, effective results.
8-point lift is Available in these Clinics
Patient Stories
Outstanding care, patient satisfaction and results mean everything to The Private Clinic Team
Read about our patients' experiences to see what you can expect from our award-winning procedures.
Why Choose The Private Clinic
Expert medical practitioners with years of experience.
State of the art medical facilities, all registered by the CQC (Care Quality Commission).
Our innovative treatment choice means you will be offered the most advanced minimally invasive treatment options.
When it comes to non-surgical treatments we always strive to give you little to no downtime, so you can get back to enjoying life.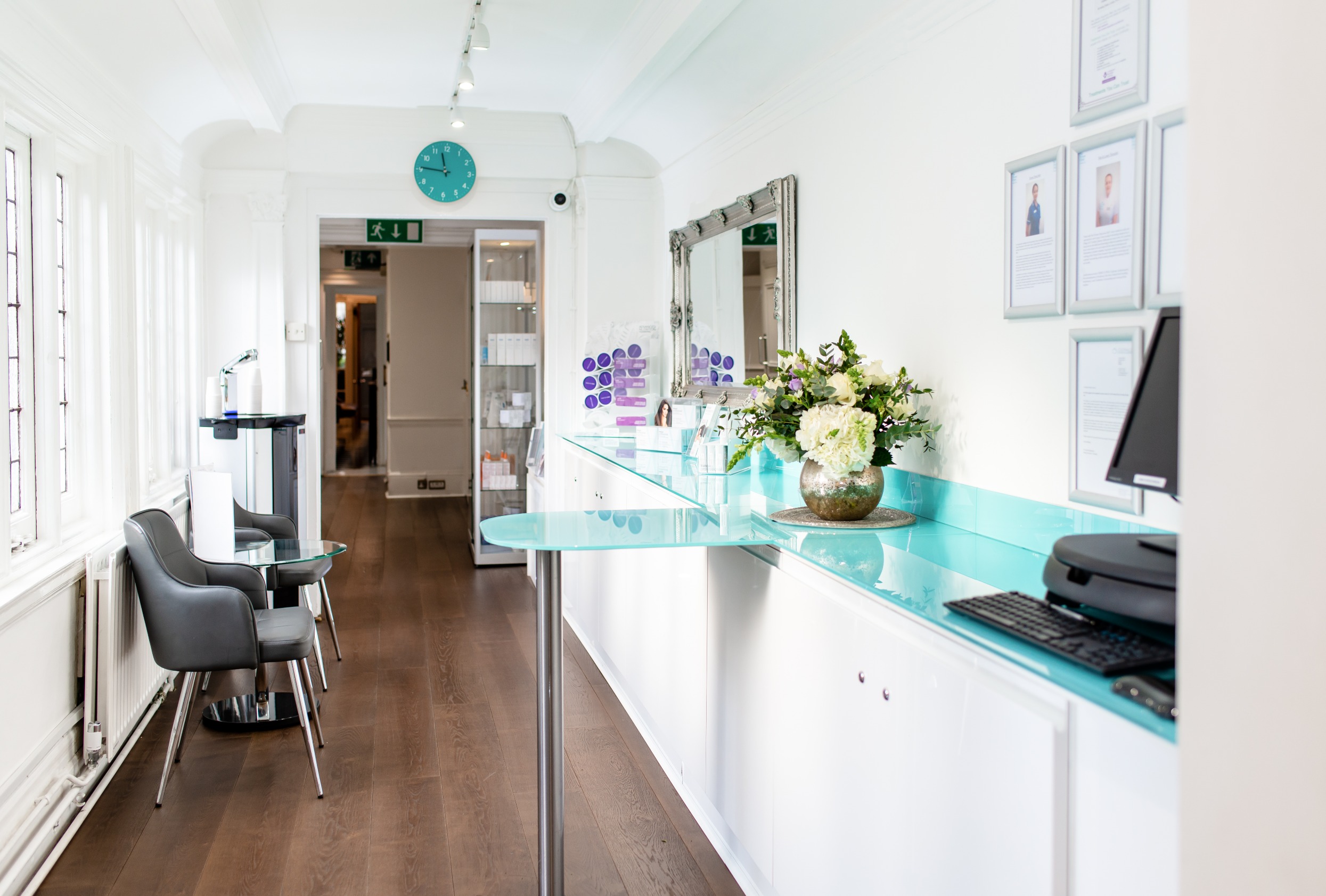 Meet our Medical Experts
The Private Clinic, you will be treated by a registered, experienced practitioner, using the highest quality of approved products. We only offer tried and tested, fully approved medical products produced by worldwide, renowned manufacturers, such as Teoxane, and all of our injectable treatments are carried out by cosmetic doctors or nurse prescribers, who have undergone extensive additional training.