Non-Surgical Nose Reshaping
Improves nose contours with natural looking results, considerably less pain than rhinoplasty with no scarring
Improves nose contours with natural looking results
Instant Results from expert doctors and nurse injectors
Considerably less pain than rhinoplasty with no scarring
As Seen on TV show: 10 years younger in 10 days
Improves nose contours with natural looking results
Instant Results from expert doctors and nurse injectors
Considerably less pain than rhinoplasty with no scarring
As Seen on TV show: 10 years younger in 10 days
Medically reviewed by
Lorcan Sheppard BSc MBBS FRCA, Chief Medical Officer and the Medical Advisory Committee
for The Private Clinic.
Last Reviewed July 16th 2020
If you are unhappy with the shape of your nose rather than size and are unsure if rhinoplasty surgery is for you, then non-surgical nose reshaping could be the ideal treatment for you.
The nose is a central feature of the face and any irregularities can make you feel very self-conscious. A non-surgical rhinoplasty is a quick and safe treatment that can help to improve the appearance of imperfections and you will then no longer have to worry about things like your side profile and what angle a photo is being taken from.  It was also featured in Harper's Bazaar's Cosmetic Tweakment trends for 2019. 
If you are already considering a rhinoplasty procedure then a non-surgical nose job treatment is a great way to see what your expected results could look like and aid you in your decision-making process.
Non-Surgical Nose Reshaping is also suitable for anyone who has undergone a rhinoplasty procedure but still have small imperfections that they do not wish to have further on.
A non-surgical nose job is unable to replace a surgical rhinoplasty where the desire is to reduce the size of the nose.
A non-surgical nose reshaping treatment uses dermal filler as an advanced and effective alternative to a surgical rhinoplasty. Dermal filler can be used to subtly enhance the contours of your nose while reshaping it to give more definition. It is also highly effective for treating;
Slight 'bumps' in the bridge of the nose

Crooked line of the nose (particularly in profile view)

Cartilage irregularities at the tip of the nose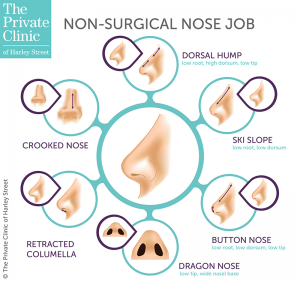 The Private Clinic has been treating patients for over 35 years with thousands of people placing their trust in us each year. We pride ourselves on being able to offer a personalised service. We have a team of friendly nurses and expert surgeons who understand the importance of this decision and will support you throughout your journey with us.
The Procedure

Aftercare
The Procedure
Aftercare
FAQs
Am I suitable for Non-Surgical Nose Shaping?
Non-surgical rhinoplasty is ideal for patients who are wishing to improve the appearance of their nose without having a surgical procedure. A large nose however can't be made smaller but any small imperfections such as bumps on the bridge of the nose can be smoothed out and corrected during this procedure.The best way to find out your suitability for a non-surgical nose job is to visit us for a free consultation with one of our expert nurses, doctors or surgeons. Click here to book.
Can I have a non-surgical rhinoplasty if I have had a surgical rhinoplasty?
It is possible to have a non-surgical rhinoplasty after undergoing a surgical rhinoplasty to correct any remaining imperfections but we do recommend waiting for at least a year after having surgery to consider this treatment option. The reason for waiting is because nose cartilage can take a long time to heal and will continue to heal and change for at least a year and a half after surgery. Ideally you want to have the final result before having a non-surgical rhinoplasty treatment otherwise a change in the healing of your cartilage could then affect the result of the non-surgical treatment.
What filler is best for the nose?
We offer a number of dermal fillers, our expert medical professionals will discuss what dermal filler is best for non surgical nose reshaping at your free consultation prior to surgery.
How much does Non-Surgical Nose Reshaping cost?
Prices start from around £500 at The Private Clinic for non-surgical nose reshaping. The cost of treatment will vary dependent on: The type of dermal filler used.. How much dermal filler is required. How many areas are treated. The best way to get an idea of how much non-surgical nose reshaping treatment with dermal filler is going to cost is to book a consultation with one of our expert aesthetic doctors or nurses who will be able to provide you with an individual treatment plan to help you get the results you wish to achieve. Consultations with our expert doctors or nurses are £50 however this cost can be redeemable against the price of treatment should you wish to book following your consultation. Our prices are competitive and we only use experienced and qualified medical professionals at The Private Clinic to administer our dermal fillers. We believe our patients deserve the utmost safety in our care and we are committed to offering reliable, effective results.
When will I be able to see my results after a non-surgical rhinoplasty?
The results after a non-surgical rhinoplasty is instant but swelling may alter the appearance for a few days afterwards.
Outstanding care, patient satisfaction and results mean everything to The Private Clinic Team
Read about our patients' experiences to see what you can expect from our award-winning procedures.
Why Choose The Private Clinic
The Private Clinic, you will be treated by a registered, experienced practitioner, using the highest quality of approved products. We only offer tried and tested, fully approved medical products produced by worldwide, renowned manufacturers and all of our injectable treatments are carried out by cosmetic doctors or nurse prescribers, who have undergone extensive additional training to qualify in dermal filler nose reshaping. Click here to book a consultation.

AESTHETIC NURSE AND INDEPENDENT NURSE PRESCRIBER
RGN, INP

AESTHEIC DOCTOR
MBBS, MSc, MBCAM
GMC Number: 6136433 (Dr Hanson is GMC registered as Dr Hao YU)