Mr Piero Nastro
Laparoscopic, General and Colorectal Consultant Surgeon
Senior Fellowship Colorectal Surgery – UK
High Surgical Training (General and Colorectal Surgery) – UK
FRCS (Eng)
MRCS (Eng)
Specalist in General Surgery – Italy
MD – Italy
GMC Number: 6037215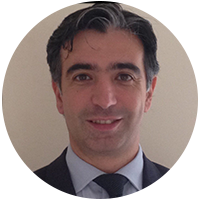 About Mr Piero Nastro
Mr Piero Nastro completed his higher surgical training in General and Colorectal Surgery in London/South East England undertaking a post-training Fellowship in Colorectal Surgery at St Mark's Hospital in London.
With over 20 years of post-graduate training, Mr Nastro has gained extensive experience in most fields of General Surgery but most specifically in his special interest of Laparoscopic, Colorectal Surgery, Advanced Proctology and complex abdominal wall hernias.
An JAG accredited endoscopist, Mr Nastro has a keen interest in innovative techniques for colorectal, minimally invasive surgery, complex hernia surgery and proctology. He currently holds a number of posts in the NHS and private hospitals including Darent Valley NHS Hospital in Dartford, Queen Mary NHS Hospital in London, Blackheath BMI Independent Hospital in London and KIMS Independent Hospital in Kent.
Mr Nastro brings his expert skills to The Private Clinic in London to offer treatment for haemorrhoids including the revolutionary Minimally Invasive Rafaelo® procedure for the safe and effective treatment for internal haemorrhoids using radio frequency technology under local anaesthetic.
Mr Nastro is also the Representative of the Association of Coloproctology of GB&I (South East Chapter), Surgical Area Coordinator of the Italian Medical Society of Great Britain, Surgical College Tutor (Royal College of Surgeons) at Darent Valley Hospital and Undergraduate Surgical Lead (Kings College University) at Darent valley Hospital.
Most recently, Mr Piero Nastro has been part of the "Rafaelo Course" faculty in London and will also be involved in the ORION Trial.
Mr Nastro is also a very experienced Hernia Repair Surgeon treating a wide range of hernia types including inguinal, umbilical and epigastric hernias at our London Hospital.
Mr Nastro can consult for:
Haemorrhoids
Anal skin tags
Anal warts
Anal fissures
Palomide disease
Fistulas
Hernias
Consultations with specialist consultant surgeon, Mr Nastro are available at our London Harley Street clinic.
Professional Memberships
Association of Coloproctology Great Britain & Ireland
The General Medical Council – GMC Number: 6037215
Member of the Royal College of Surgeons of England
Fellow of the Royal College of Surgeons of England
Awards
Awarded Runner-Up Prize for the Gerald Townsley Travelling Scholarship to visit the Department of Laparoscopic and Colorectal Surgery of the Osaka Medical School in Japan for two weeks – 2014
Awarded "1 in 5 Best Poster Session" at the Annual Meeting of the Association of Surgeon of Great Britain & Ireland May 2009 with the poster: Incidence and consequences of post-operative complications following oesophagectomy.
Diploma of specialisation in General Surgery with First Class Honours and Summa Laude – Oct 2005
Awarded Winner's Prize for the "Clinical Audit Event" of the Whipps Cross University Hospital London U.K. with a re-audit: "DVT Prophylaxis in surgical patients: a re-audit after one year of change in practice". – Nov 2004
Candidate for the "Best Abstract Prize" at the Annual Meeting of the Association of Coloproctology of G.B.& Ireland Edinburgh July 2003 with the abstract: "Evaluation of neoadjuvant chemo-radiotherapy for locally advanced rectal cancer". – July 2003
Medical Degree with First Class Honours – July 1999
Treatments performed by Mr Piero Nastro

Haemorrhoid Treatment Advice
Receive advice from an expert Consultant Colorectal Surgeon on which treatment is most suitable for you.

THD HALO Treatment for Haemorrhoids
Minimally invasive haemorrhoid treatment that provides relief of haemorrhoid symptoms.

The Rafaelo Procedure
A revolutionary, safe and reliable non-surgical treatment for haemorrhoids removal with lasting results.

Anal Skin Tags Treatment
Safe and effective treatments for anal skin tag removal.

Haemorrhoidectomy
 A surgical procedure to remove haemorrhoids

Anal Fissure Treatment
Anal fissure treatment with expert colorectal surgeons providing relief from pain and discomfort helping to improve overall quality of life

Hernia Repair
Reliable hernia repair with a high success rate
Research led by Mr Piero Nastro
Mr Piero Nastro has 24 full papers published on peer-reviewed journals some of them on high impact factor journals such as the British Journal of Surgery, Archieve of Surgery and Technique in Coloproctology.
Mr Nastro has also published over 70 abstracts on the abstract book of several international and national meetings (mainly colorectal meetings) such as the Association of Coloproctology of GB&I (ACPGBI), the European Society of Coloproctology (ESCP), The Association of Surgeons of GB&I (ASGBI) and The Italian Society of Colorectal Surgery (SICCR).
Mr Piero Nastro is also Surgical College Tutor and Undergraduate Lead for surgery at NHS Hospitals.