Fat Transfer is a natural solution to restore subtle volume and shape.
Bring Back 5-10 Years on Treated Areas

Renowned Plastic Surgeons based in the UK
Most comprehensive 3 year breast surgery cover
Medically reviewed by
Lorcan Sheppard BSc MBBS FRCA, Chief Medical Officer and the Medical Advisory Committee
for The Private Clinic.
Last Reviewed July 16th 2020
Fat is taken from your body fat via VASER Liposuction or Micro Lipo and transfered to areas of the body where volume is needed. If you're looking for a natural and subtle volume enhancement, The Private Clinic's Fat Transfer procedures could be the solution for you.
Fat Transfer, also known as Fat Grafting or Fat Injections is a natural, minimally invasive treatment for those seeking to replace age-related lost volume to the hands and face as well as subtly smoothing out wrinkles. Fat is removed, using VASER Liposuction or MicroLipo, from various parts of the body where there is a substantial amount, such as the thighs, abdomen and/or buttocks. The fat is then centrifuged, or purified, to separate the healthy fat cells from the damaged ones, and injected into the face or hands.
Fat Transfer, as a volume enhancing treatment, has been around for several years, but it is the skills and expertise of the Doctor that allow for long-lasting, youthful results. At our consultations, you can discuss upgrading your procedure to include full VASER Liposuction or Micro Lipo for the ultimate solution in body contouring to suit your needs and your body. Our medical experts have lots of experience in delivering patients the kind of results that have always wanted.
Ageing has its effects on everyone's skin, and unfortunately due to nature's way of tell us that we are advancing in years, skin, all over your body, can lose its volume and become loose and relaxed. Medical and scientific advancements have paved the way for natural alternatives to synthetic fillers and implant procedures – our Doctor's have named this alternative the 'Organic Facelift'.
Advantages of Fat Grafting and Fat Transfers
More economical than synthetic fillers in the long-term.
Not only does the Fat Graft result in increased subtle volume and 'plumpness', but also improved skin texture and quality due to the stem cells contained in the fat.
The results can bring back 5-10 years on the treated areas.
Natural-looking results
Minimal downtime – return home the same day and just a couple of days downtime for many of the procedures
Only local anaesthetic is necessary
Can be performed in combination with any of our full VASER Liposuction or Micro Lipo treatments
As women and men seek out the latest in cosmetic treatments, more and more patients are choosing Fat Transfer procedures as their treatment of choice over temporary dermal fillers.
Our advice on what to consider when deciding to have a fat transfer procedure:
1. When choosing a clinic, you should always do your research, and only go to an established, reputable clinic.
The Private Clinic has been in the cosmetic surgery industry for over 35 years. We are here to answer all of your questions and give you peace of mind.
2. When choosing a surgeon, make sure you know who you'll be seeing. Their expertise, qualifications and patient satisfaction rate are important factors to take into consideration.
At The Private Clinic, we only source the most experienced and specialised surgeons. Find out more about our plastic surgeons here.
3. Price should never be the deciding factor when choosing where to have your treatment. Safety should be your number one priority and feeling confident that they will look after you – not only before, but also after your procedure
4. When it sounds too good to be true, it often is. Always find out what your clinic's reputation is.
Our excellent reputation for patient safety and satisfaction, honest advice and outstanding care means your journey with The Private Clinic will be an exciting experience to a newfound shape.
Outstanding care, patient satisfaction and results mean everything to The Private Clinic Team
Read about our patients' experiences to see what you can expect from our award-winning procedures.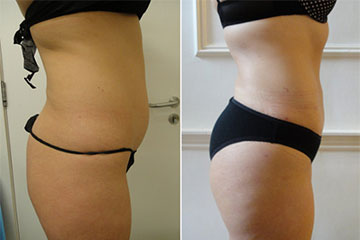 Fat Transfer to the Buttocks "It's changed my life in so many ways, i'm like a different person. It just keeps getting better and i only wish i'd done it sooner"  Watch a video of Kasia's procedure > For as long as she can remember, Kasia was unhappy with her...
Why Choose The Private Clinic
We have a dedicated Plastic Surgeon and medical team who will be with you throughout your journey.
At The Private Clinic breast augmentation is performed by some of the UK's top consultant plastic surgeons who have decades of experience.

VASER LIPOSUCTION SURGEON
BSc Honours – South Africa, 1991, MBBCh – South Africa, 1994, MRCS – Edinburgh, 2005, DO-HNS – 2005, Postgraduate in Business Administration
GMC Number: 4773959