Microsclerotherapy Vein Treatment
Microsclerotherapy is a leading technique to treat spider veins or thread veins across the legs and body.
Microsclerotherapy is a leading technique to treat spider veins or thread veins across the legs and body. These veins affect over 30% of people during their lifetimes and are more common in men than women. It's one of the most popular and effective ways to eliminate surface thread veins and involves injecting a specialised diluted liquid into thread veins to shrink and destroy them over time. Patients can have the treatment on a walk-in, walk-out basis and can usually leave the treatment clinic the very same day.
What is Microsclerotherapy?
Microsclerotherapy destroys small thread veins or spider veins. These unsightly veins are tiny prominent veins of less than 1-2mm in diameter. They typically branch out in a spider-web-like pattern just below the surface of the skin. Medically known as "telangiectasia," these spider veins are minute blood vessels that live in the skin's dermis. Thread veins occur when these superficial blood vessels become enlarged or dilated, resulting in their red, blue or purple appearance. Microsclerotherapy uses a tiny needle to inject these veins with diluted amounts of sclerosant, a specialised liquid that destroys them. This is the same chemical used in traditional foam sclerotherapy vein treatments, but in a more diluted form.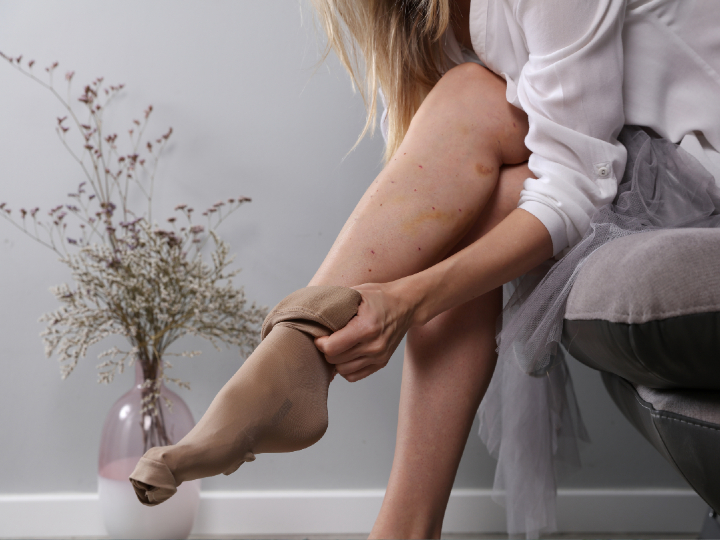 What veins can Microsclerotherapy treat?
Microsclerotherapy treats surface thread veins across the legs and body. For patients who have thread veins on the face, we recommend alternative treatments like laser and IPL therapy. We also offer specific facial thread vein removal and eye thread vein removal treatments. Body areas above a patient's heart are much better suited to heat-based treatments like EVLA, IPL or laser. However, when it comes to areas of thread veins below the heart, Microsclerotherapy is the most preferable option.
Benefits of Microsclerotherapy
Microsclerotherapy is a safe, effective and minimally invasive procedure with a great success rate. On average, 80% of patients are happy with their microsclerotherapy results after 2-3 sessions spaced 6 weeks apart. As a leading thread veins treatment, it has a range of key benefits:
Walk-in, walk-out procedure
Carried out as a day-case 'outpatients' operation
Uses local rather than a general anaesthetic
Minimal inflammation and discomfort
Fast healing and recovery time
Quick treatment taking 20 – 40 minutes
Patients can return to normal activities the very same day
Optimal results after 2-3 treatment sessions, with 6 weeks in between each session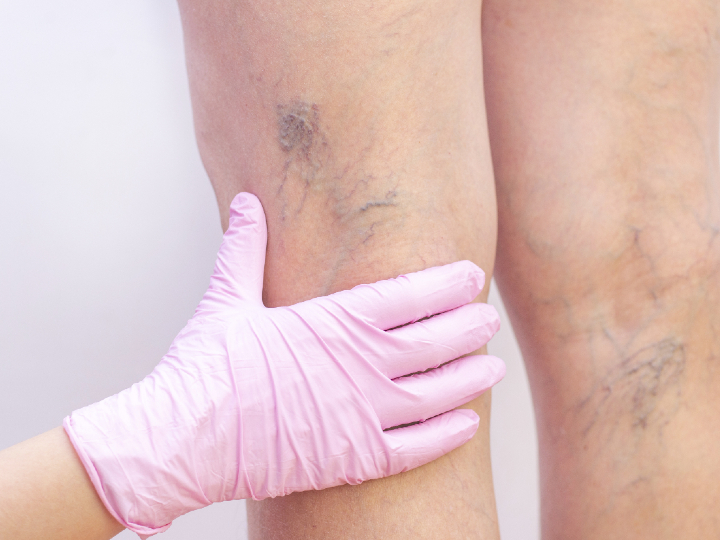 How many Microsclerotherapy sessions will I need?
Due to the nature of thread veins, it is often difficult to achieve the complete disappearance of each and every thread with just one microsclerotherapy treatment. This is why we advise patients to expect optimal treatment results after having a few sessions. After 2 or 3 treatment sessions, most patients will notice a 70 – 80% visible reduction. The best visible results tend to show from 2 to 3 months after your final treatment. Your consultant vascular surgeon will advise how many sessions you will need after assessing your unique case.
How does Microsclerotherapy work?
A typical microsclerotherapy treatment involves a consultation with a qualified consultant vascular surgeon followed by the treatment itself.
The Consultation
The consultation is a crucial part of the microsclerotherapy procedure. During this appointment, an experienced vascular surgeon will assess the state of your thread veins using our advanced duplex ultrasound scan. This 3D scanner gives our surgeons a live visual analysis of the inner structure of your veins. It allows them to see how the blood is flowing through your damaged veins and the areas they need to treat to fix the problem. It is important for the vascular surgeon to conduct this so they can firstly understand if there is an underlying cause for the appearance of your thread veins.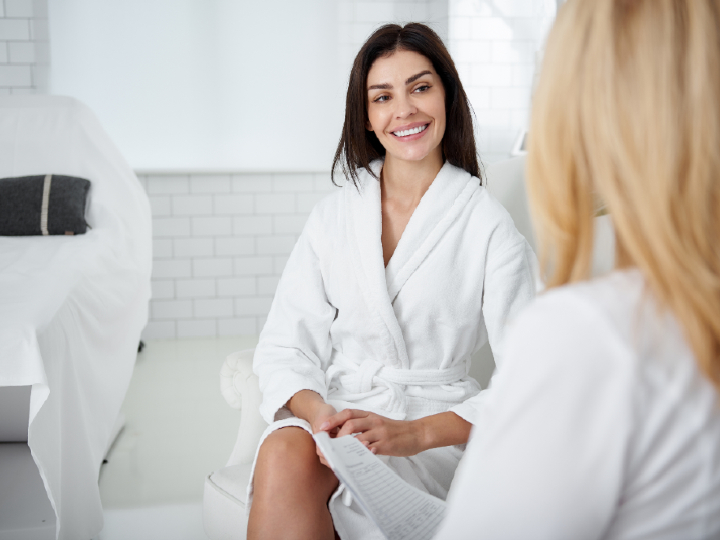 Independent research has shown that approximately 9 out of 10 people (89%) who have thread veins treated on their legs may be having the wrong treatment conducted if they haven't had a duplex ultrasound scan. This is why this scan is so important. By using it, we are able to identify whether additional deeper varicose veins are feeding the inflamed thread veins. In such cases, we can recommend additional treatments to repair deeper varicose veins as well, like foam sclerotherapy and EVLA.
This maximises patient results, because if we do not fix any underlying causes, then thread veins are likely to return.
The consultant will also explain the treatment in detail during the consultation. This enables you to fully understand the details of the procedure in addition to its expected results.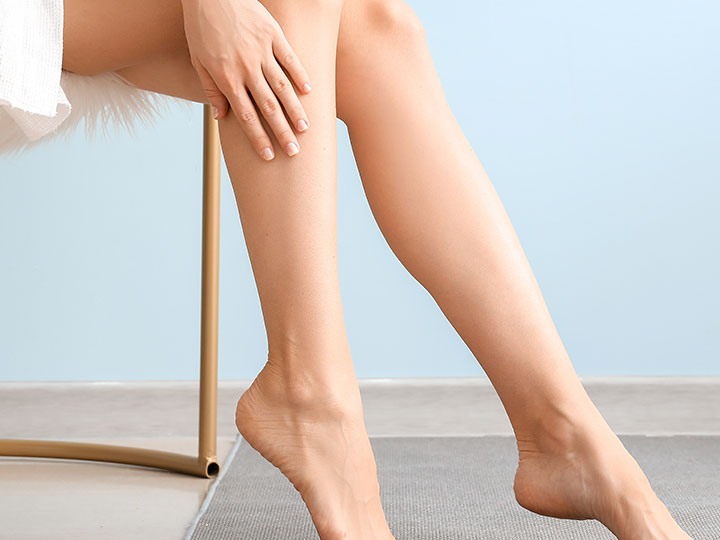 The Microsclerotherapy Procedure
Once the consultation has taken place, we treat the identified thread veins with chemical "sclerosant" injections. This involves injecting tiny amounts of an irritating chemical substance into the superficial thread veins that sit just below the skin's surface. A very fine needle is used to do this, and we use a specialised sclerosant that contains a small quantity of local anaesthetic to minimise pain and discomfort.
The sclerosant mixture is designed to irritate the inner vein walls so that they become inflamed and sticky. This process causes the vein walls to stick together and close up, which blocks the vein channel to prevent any more blood pooling and collecting within it. By flushing out blood from the affected vein channel and preventing fresh blood from entering the channel, the thread vein will visually disappear in an instant.
Microsclerotherapy Results
While it can be challenging to achieve 100% visible removal of thread veins, we take a holistic approach at The Private Clinic to visibly reduce the symptoms while treating the underlying potential causes. This gives our patients the best chances of success, with the vast majority of our patients seeing excellent visual results between 2 to 3 months after their final thread vein treatment.
Microsclerotherapy Aftercare
In-Clinic Aftercare
Your clinician will immediately apply pressure to the treated veins to prevent blood from flowing back into them. Compression bandages and tape will also be applied to safely secure the treated veins and keep the blood out. Compression stockings will also aid the healing process.
At-Home Aftercare
Compression stockings and bandages should be worn continuously for a minimum of 21 days and nights. This is to encourage adequate healing and recovery. During this crucial phase, your body will turn the dying vein into scar tissue, at which point, blood will no longer enter back into it. By wearing compression stockings, this restorative process can take place without interruption.
If a patient removes the protective stockings before this required time, blood may flow back into treated veins, causing blood clots and undesirable brown stains. This skin discolouration may fade over time, but it can sometimes be permanent. This is why we strongly advise our patients to follow this aftercare guidance strictly.
Microsclerotherapy Side Effects
As with all medical procedures, there is a risk of side effects and potential complications. In addition to potential skin discolouration, the treated area may feel sore and itchy for a few days after treatment. However, patients can use over-the-counter medications to minimise these side effects should they occur. It is also completely normal for bruising to happen at the treatment injection site. If your treatment area is large and the surgeon needs to inject multiple thread veins in one treatment session, then the bruising may be extensive and may take several weeks to completely resolve.
In some instances, treated thread veins may also appear worse or darker after the sclerosant injection, but this often fades over time, leaving patients with clearer and visibly improved skin once the healing process matures. Most of the patients we see have minimal side effects and enjoy radically improved results after 2 or 3 treatment sessions.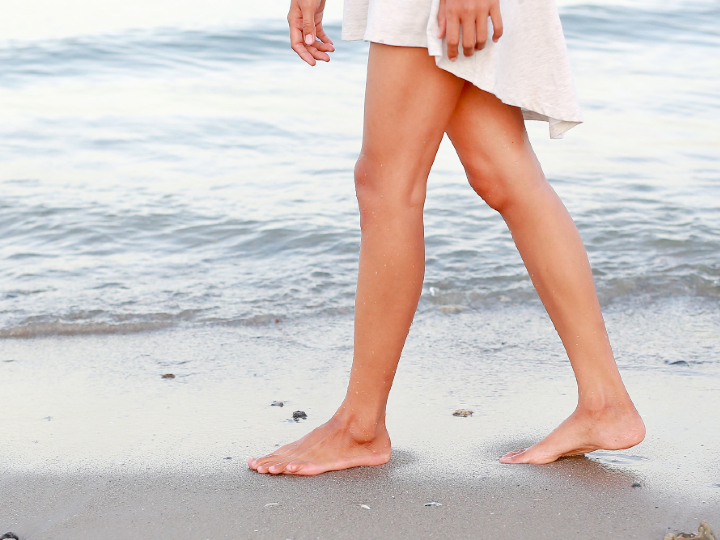 Microsclerotherapy at The Private Clinic
As one of the UK's leading thread vein treatment providers, we have an outstanding reputation for high-quality standards and excellent patient results. At The Private Clinic, we carry out over 7,000 varicose vein removal treatments each year, including microsclerotherapy procedures. Our consultant vascular surgeons are some of the most experienced and knowledgeable professionals in the business, having pioneered the UK's leading treatments for over 40 years. So when you have a microsclerotherapy treatment performed by us, you will be in the best of hands. Our patients have also verified this in our 5-Star Trustpilot ratings, while giving us a 96% patient satisfaction score.
To find out more about our Microsclerotherapy treatments, or any of our additional varicose vein treatment procedures, complete our online varicose vein enquiry form and we will get in touch. Alternatively, you can call us directly on 0333 920 2471. We have state-of-the-art medical facilities that are easily accessible across the country, with clinic locations in London Harley Street, Birmingham, Buckinghamshire, Leeds, Manchester and Northampton.