Is it best to wait to have a Breast Reduction?
BREAST REDUCTION
Home » Is it best to wait to have a Breast Reduction?
We are continually receiving a growing number of enquiries from younger woman for breast reduction surgery. A common question is if there is a right time to have a breast reduction and if there is any possibility of the breasts growing back again?
Can breasts regrow after breast reductions?
Although rare, yes, it is a possibility under certain circumstances that breast tissue may and can grow back after surgery. This is more common among younger woman if they have the surgery whilst their breasts are still growing and if they have a large amount of glandular tissue.
After having breast reduction surgery it is very rare but possible for breast tissue to grow again, this is often due to pregnancy, menopause, contraceptive pills and weight gain. It is rare and will vary between women but it can happen.
Is there a good time to have a breast reduction?
Now that we have discussed that it is possible that your breasts can change size and shape after your surgery then the next question you may have is when to book your surgery to give you the best chance of avoiding this.
Many of our patients choose to have breast reduction based on improving their quality of life rather than cosmetic reasons, so the idea of waiting can be off-putting, but in order to get the best outcome, it is well worth putting off surgery until a few things are in place.
The first thing we suggest for any type of breast surgery, but for breast reductions, in particular, is to wait until your breasts have stopped growing naturally. This usually happens around the age of 22 years old.
We are also really keen for our patients to be at a stable weight, if you are currently working out to lose excess weight then it is best to wait until you are at your ideal weight before having surgery.
Pregnancy is the biggest cause for breast growth so if you know you want children or more children then it is often best to wait until you have completed your family. Another reason for waiting until after pregnancy is that there may be a chance that you won't be able to breastfeed after having a breast reduction procedure so if this is something that concerns you then we would always recommend waiting.
Waiting may not be an option if your breasts are causing you a great deal of discomfort or pain. Although it is important to be well aware, the overall risk of your breasts returning to their original size is very low but it is still important to balance the risk against the potential benefits of this surgery.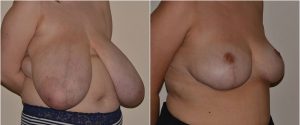 The Private Clinic
Here at The Private Clinic, we have over 30 years of medical cosmetic experience and expertise. We do the groundwork for all our patients and offer you only the most reputable and specialised Consultant Plastic and Reconstructive Surgeons in the UK.
We have some of the UK's leading Consultant Surgeons as part of our surgical breast reduction team including:
To find out more please call 0333 920 2471 or use our online breast reduction contact form to request a consultation with one of our expert breast surgeons.