Liposuction on Chin & Jowls
Chin and Jowls (Double Chin)
Target Zone: Excess fat, undefined jaw line and 'double chin'
Solution: If you are after a result that does not show bruising and with no need to wear a compression garment for 3 weeks then Coolscultping is for you
Double Chin Liposuction Before and After

Micro Lipo to the neck by Mr Roberto Uccellini. *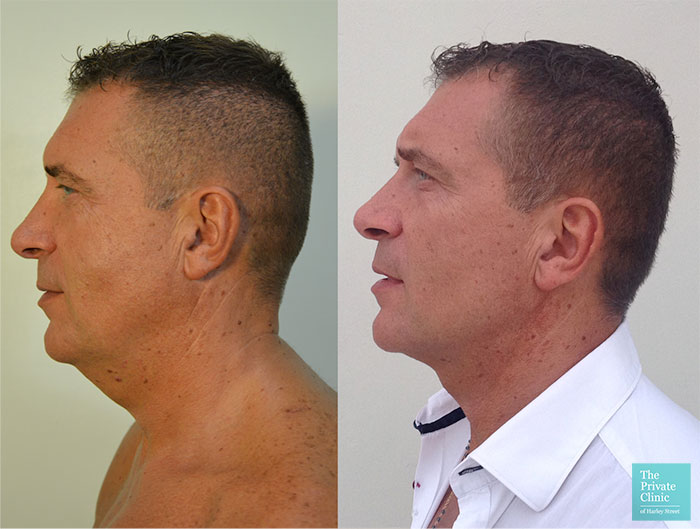 Micro Lipo to the neck by Mr Roberto Uccellini. *
Double Chin CoolSculpting Before and After


How is Chin Liposuction Procedure Performed?
Lipo is an advanced walk-in walk-out fat removal and body contouring procedure that is usually performed under local anaesthetic with sedation.
The procedure involves injecting diluted local anaesthesia into the fat causing the targeted areas to become swollen and firm. The swelling helps to separate the fat cells from the surrounding tissue. The fat is then removed from the body using microcannulas with a diameter less than 3 millimetres.
CoolSculpting at The Private Clinic
CoolSculpting is a non-surgical answer to reshaping and contouring your chin and neck. Many of our patients are now favouring this method over liposuction. CoolSculpting or Fat Freezing treatment is non-invasive and takes as little as 35 minutes. It involves no incisions or scaring and no bandages or compression garments meaning it can be a discreet treatment which also allows you to return to your every day activities instantly.
During the treatment a gel pad will be applied to the area and an applicator will be positioned on your chin. The applicator will pull the targeted area into the suction cup and controlled cooling will then be applied. The treatment should not be painful, but you may experience a slight discomfort initially before the area will then become numb. Treatment time is usually around 35 minutes and once the applicator is removed your practitioner will perform a massage on the area to help break up the frozen tissue which may be uncomfortable, but it is very beneficial to achieving the best results.
The results from CoolSculpting to the chin can start to show after 4 weeks. The gradual results mean that no one needs to know that you have had treatment which is the beauty of CoolSculpting.
Benefits of CoolSculpting include
FDA Approved Treatment for Fat Loss
Treatment developed by Harvard Scientists
Over 7 million CoolSculpting treatments performed worldwide
Minimal discomfort with no anaesthesia required
No surgery, no needles and little to no downtime
Clinically proven method of fat loss
Targets specific fatty areas of concern
Noticeable results within 4-12 weeks
Treated fat cells are permanently destroyed
Natural looking results
Free Consultations
CoolSculpting vs Liposuction/Vaser Lipo for Chin Fat Reduction
| CoolSculpting for the chin | Lipo for the chin |
| --- | --- |
| No anaesthetic or sedation required | Sedation and local aneasthetic |
| | Invasive procedure that involves small incisions with minimal scarring |
| | Swelling, bruising and redness |
| No bandages or compression garment | Compression garment to be worn for 3 weeks |
| Return to work and exercise the same day | Time off work may be required and no exercise for at least 6 weeks |