Large breasts and how to treat them
BREAST REDUCTION
Home » Large breasts and how to treat them
Breasts come in a wide range of different shapes and sizes but for some women, their breasts may be large and heavy which can cause a great deal of discomfort and unwanted attention.
For many, large breasts have developed during puberty and have increased as they age. Macromastia is the medical definition for the condition of having abnormally large breasts and is also clinically known as breast hypertrophy.
What causes large breasts?
The exact cause of breast hypertrophy (gigantomastia) or large breasts is not yet understood. However it said to be down to the excessive development of glandular tissue during puberty and an increased sensitivity to the female hormones of prolactin or estrogen.
Are large breasts a health concern?
Large breasts can cause a number of health issues which includes:
Back, neck and/or shoulder pain
Poor posture
Skin rashes
Shoulder grooves
Numbness
Difficulty exercising
The excessive weight of the breasts can cause numerous issues with pain in the back, shoulders, and neck which as a result can cause poor posture. Physiotherapy can help with this but if it is affecting you with day-to-day life then surgical reduction of the breast may be the best option.
Larger breast can cause skin folds and rubbing which is a perfect place for rashes to form. These skin rashes can become sore and, in some cases, get infected if not treated.
Shoulder grooves are very common on larger breasted women. Even if you have been fitted with the correct size bra, the bra may struggle to support the breasts which causes the straps to dig in and cause deep indentations on the shoulders which may disappear once the bra has been taken off initially, but over time these indentations can become permanent.
It is common for women with large breasts to be wearing bra's that do not properly fit them. This can actually cause your breasts to become numb because the bra will be causing compression of the small nerve fibres in the breast tissue. Poor posture and large breast pulling the torso can also cause numbness in the hands and fingers as nerve pathways become compressed.
The difficulty to exercise is one of the most common complaints of patients with large breasts. Large breasts can cause shortness of breath when partaking in exercise and the weight of the breasts can also make movement difficult and constrict the natural movement of the diaphragm.
How to treat large breasts?
The best way to resolve the health concerns of large breasts is to have a breast reduction. Mammoplasty surgery will remove excess fat, glandular tissue, and skin from the breast. The procedure also involves reshaping the breast and repositioning the nipples to give you smaller and uplifted breasts that are more in proportion to your body.  There a few different breast reduction surgery techniques and the most appropriate one for you will be decided by your surgeon at your consultation.
Breast reduction surgery is performed under general anaesthetic and takes around 2-3 hours to perform. You may be required to stay overnight following surgery, but this will be discussed during your consultation. It is advised that you take 2 weeks off work and that all strenuous activities or exercise are avoided for at least 6 weeks.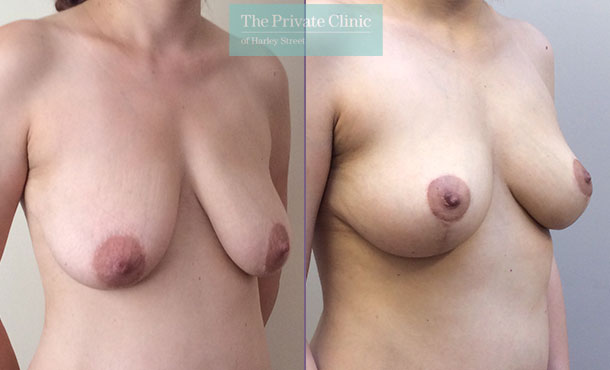 Non-surgical options for breast reduction?
There are no real treatments to reduce breast size that are not surgical. There are a few best practices that you could follow to help relieve pain and discomfort felt by having large breasts.
Exercise
We know that certain types of exercise is difficult for women with larger chests but finding an exercise that is comfortable and that you enjoy is a good way of managing breast related back pain. We suggest trying Yoga or Pilates where gentle stretching is common and will help to both release any tension or stiffness as well as strengthen your body.
Lose weight
It is very common for women with large chests to be told to lose weight and we know this can be a real challenge especially as high impact exercise is often off limits. Being at a healthy weight however will help to make your breasts lighter. If weight is a concern, we recommend speaking to your GP or a nutritionist to come up with a meal plan to help you live a healthier lifestyle.
Check your bra size
Wearing the wrong bra size can offer no support for your breasts which leads to discomfort. We advise that you get professionally measured from the shop that you choose to purchase bras from as bra sizes can be different. Also ask for help on choosing the best bra to support the weight of large breasts.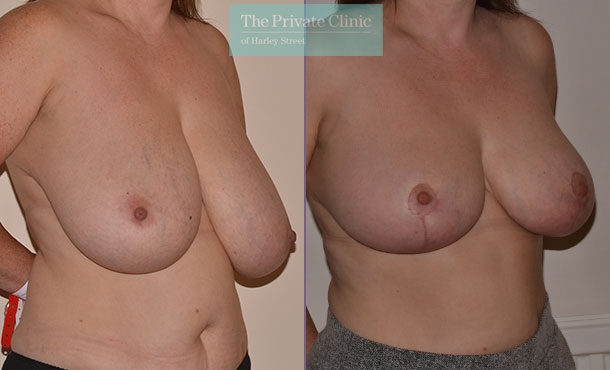 Breast Reduction Surgery at The Private Clinic
We offer top UK consultant plastic surgeons for breast reduction, who have accumulated decades of experience
More than 35 years of medical cosmetic expertise and experience
24-hour patient helpline to ensure you are always in the best of hands.
Three years cover for all surgical, hospital and nursing care, in case of any medical issue giving you peace of mind.
Comprehensive Breast Reduction Patient Guide.
Outstanding hospital facilities.
5 Star Trustpilot Rating
96% of patients would recommend us to friends and family
As many post-operative care and appointments with your surgeon and nursing team as required.
See our selection of breast reduction before and after photos.
Read our extensive breast reduction FAQs.
Breast Reduction Surgeons
If you would like to book a breast reduction consultation with one of The Private Clinic's specialised breast surgeons, please get in touch on 0333 920 2471 or request a consultation through  our website.
Our expert surgeons are available for consultations in our clinics in London Harley Street, Birmingham, Manchester, Leeds, Northampton and Bucks (virtual consultation).