Thinking about breast reduction?
BREAST REDUCTION
Home » Thinking about breast reduction?
Breast reduction surgeries or reduction mammoplasty remain one of the most popular cosmetic procedures among women.
Many women with large breast suffer from physical pains ranging from back, neck or breast due to the weight of their breasts.
In addition to health-related issues, having larger breast can also affect day to day actives for many; "Simple activities" such as the purchasing of a new bra or exercising can often become a real struggle. In this post, we will be discussing the main reasons for having a breast reduction and the different breast reduction procedures available.
Why you might consider a Breast Reduction?
A breast reduction is a surgical procedure which aims to reduce the size of the breasts and often reshape them too.
Many women consider breast reductions as they do not feel confident with their breasts.
On the one hand, some women when considering a breast reduction look for a better shape, a smaller size more proportionate to their body or to get rid of their sagginess. On the other hand, others opt to get a breast reduction to reduce the pain related to enlarged breast or because their breast are becoming an impediment to do certain activities.
When is best to get a breast reduction?
When it comes to breast reduction, there are many questions raised as to when it is best to get this procedure done. Even though this procedure is typically associated with older women, there is an increasing amount of younger patients who are interested in the procedure as a means of achieving their desired breasts.
When it comes to the younger cohort, it is recommended that patients are over the age of 18. This is usually the best time when their breasts have stopped developing. For women who have been recently pregnant and their breast have become larger, it is advised to wait a period of between six to twelve months before undergoing a breast reduction. At The Private Clinic, we advise waiting six to twelve months because the breasts reduce in size during this period of time.
What are the procedures available?
 There are a few different ways in which a breast reduction can be performed depending on your desired results and breast size. Some patients have a breast uplift or mastopexy, whilst getting the breast reduction achieving a more contoured look due to the repositioning of the nipples and overall reshaping.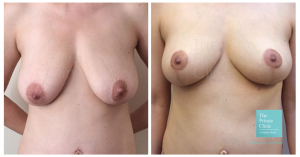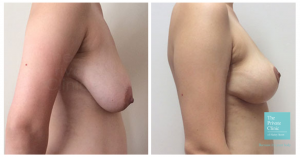 The different breast reduction techniques available are:
Anchor type or inverted T reduction – This technique results in a scar with the shape of an anchor as it goes vertically down the breast, around the areola and across the natural crease of the breast. This technique is ideal for patients whose main concern is sagginess because this technique enables maximum tissue removal and great re-shaping.
Vertical pattern breast reduction – This type of breast reduction procedure involves a lower chance for complications of the wound. The scar left from this type of reduction is circular. The scar starts around the areola and continues down the breast in a vertical direction. This procedure is recommended for patients with moderate breast sagginess.
Circumareolar reduction – This breast reduction procedure is only suitable for patients who require a reduced amount of tissue to be removed. The scar resulting from this technique is a circle around the areola.
After the breast reduction surgery is finalized the nipples are re-positioned and the areola can be reduced in order to match the new breast size.
"I don't have any body hangs ups now, I feel very confident again and can wear whatever I like."
-Emily, breast reduction patient at The Private Clinic.
 Why choosing The Private Clinic for breast reduction?
The Private Clinic counts with highly reputable and skilled plastic surgeons with years of experience.
The Plastic surgeons for breast augmentation at The Private Clinic are:
You can learn more about breast reduction on The Private Clinic website where you will be also able to find before and after images of our patients and a selection of answers to the most frequently asked questions.
To book a consultation with one of our plastic surgeons at any of our clinics please call us on 0333 920 2471 or book through our website.