FUE Hair Transplant Pricing
HAIR LOSS & HAIR TRANSPLANTS
Home » FUE Hair Transplant Pricing
We understand that the price of any cosmetic or aesthetic treatment plays a substantial role in the consideration process for anyone wanting a hair transplant.
While you should always pay attention to the pricing structures offered to you for a hair transplant, you need to always keep that factor secondary to the quality of care and the results offered by a clinic or surgeon. This extends to their reputation, credentials and experience of both.
We are asked daily about pricing information regarding our various procedures and while we're more than happy to give you an average price a patient pays, more accurate quotes can only be offered by the surgeon during a consultation after assessing your case and needs.
How much does a FUE Hair Transplant cost?
FUE Hair Transplant procedures at The Private Clinic cost on average; £2.50 per transplanted hair. For patients with a reasonable amount of hair loss, the procedure could cost on average £6,000-8,000. For more extensive procedures, the costs can increase considerably. If you would like an Unshaven (U-FUE) hair transplant, the cost increases further. Many procedures end up costing between £6,000-9,000. More extensive hair restoration procedures may be split into two procedures with a significant gap in between them.
The overall cost of a hair transplant procedure will be calculated by the time taken, amount of hairs transplanted and the difficulty of the procedure. Prices will also often reflect the quality of the procedure and the experience your surgeon may have and often what may appear to be a great deal may not end up being one if you are left with bad results and significant scarring. Here at The Private Clinic we unfortunately often see a lot of patients who require hair transplants to repair poor hair transplant results.
Expert Hair Transplant Surgeons at The Private Clinic
Once one of our hair transplant doctors, Dhave deemed you suitable for an FUE Hair Transplant you will then be informed as to how many grafts or hairs you'll require to have transplanted. This will be based on the results that you are after and it is then that an accurate price for your procedure will be given.
Hair Transplant Before and after photo results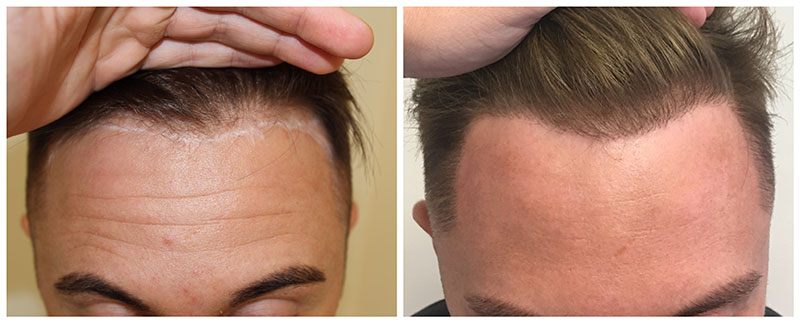 See more FUE Hair Transplant before and after photos here.
FUE Hair Transplant at The Private Clinic
We endeavour to ensure that you will receive the most natural results. Our approach consists on delivering the most density as possible in the balding area, whilst also preserving the donor area. Our procedures are normally carried out during one full-day session and the treatment is performed under a local anaesthetic. Local anaesthetic eliminates the risks and downtime meaning that you can leave the clinic immediately after your treatment.
The Private Clinic prides itself on ensuring you have the best quality and most comprehensive care:
24 hour patient helpline to ensure you are always in the best of hands.
As many post-operative care and appointments with your Hair Transplant surgeon and nursing team as required.
Highly experienced Hair Transplant Surgeons who have many years of experience.
Comprehensive patient information, every step of the way.
Outstanding hospital facilities.
Our excellent reputation for patient safety and satisfaction, honest advice and outstanding care means your journey with The Private Clinic will be an exciting experience to a newfound head of hair.
We are able to offer finance solutions with manageable payments to suit a variety of budgets.
Watch videos of past patients click here
Extensive Hair Transplant FAQs click here
We have Hair Transplant clinics in London Harley Street, Leeds, Manchester, Bristol, Birmingham and Northampton.
For more information regarding the FUE Hair Transplants we offer or to book a consultation, please call 0333 920 2471 or use our hair transplant online contact form.