How much does a breast lift cost UK?
BREAST UPLIFT SURGERY
Home » How much does a breast lift cost UK?
The cost of a breast lift procedure is always going to be deciding factor when choosing whether to go ahead with surgery or not.
A breast lift, also known as a mastopexy is a cosmetic surgery procedure that aims to lift or reshape breasts that are sitting lower on the chest to a higher and more uplifted position.
It is a common procedure for patients who are not happy with sagging or drooping breasts which often are result of pregnancy, breastfeeding, weight loss or just ageing.
Why do different clinics charge different prices for a breast uplift?
When you start visiting different clinics and surgeons for consultations, you may notice that there is not one set cost for breast uplift procedures and there can be lots of variation.
The cost of a breast uplift procedure is usually based on:
Surgeon Credentials and Experience
Location of clinic
Quality level pre- and post-operative care
At The Private Clinic we pride ourselves on our reputation and experience in breast lift procedures and that we are able to offer some of the UK's best breast surgeons to perform your surgery. Our aim is to always put safety, expertise, and patient satisfaction at the core of what we do and the prices we charge will reflect that.
How much is a breast lift cost at The Private Clinic?
The cost of a Breast Uplift starts from £4,990 (unilateral) to approximately £7,340 (bilateral)
All of our surgery prices are quoted on a case-by-case basis and you will be provided with a more accurate quote following your consultation.
A consultation for a breast lift procedure with our expert breast surgeons is £100.
We also offer consultations with our highly experienced Patient Coordinators which require a £25 refundable deposit to secure your place.
What is included in the cost of your breast lift procedure?
The cost of your breast lift procedure will include:
Surgery with a leading specialist breast surgeon.
A medical pre-operative assessment with our experienced nursing team to ensure you are fit for surgery.
State of the art hospital facilities.
Possible overnight stay.
Surgical bra.
All post-operative care appointments with your expert breast surgeon and/or nursing team.
Access to a 24-hour help line.
An assigned Patient Co-ordinator who will be your personal point of contact throughout your journey with The Private Clinic.
Do you offer Breast Implant Removal Finance?
The Private Clinic are able to offer finance solutions for breast uplift patients with manageable payments to suit a variety of budgets. Our patient co-ordinators are experienced in guiding you in this process and will be able to answer any questions.
Find out more about our finance plans here.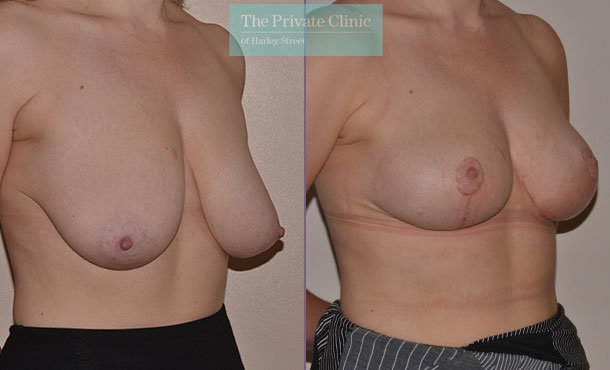 What are my breast uplift options?
If you are looking to achieve a more uplifted appearance to your breasts, then a breast uplift procedure is your best option. Depending on the severity of your breast ptosis or droop, there are a variety of different techniques that your surgeon may choose to use.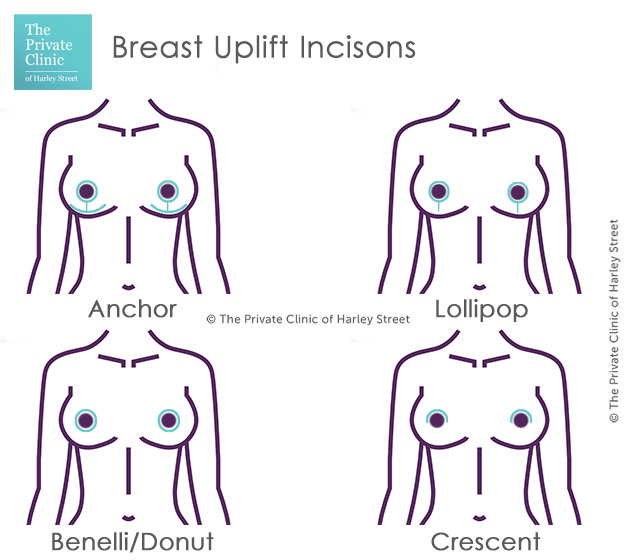 Crescent breast lift – If you have very mild sagging, your surgeon may suggest this option. The incision will sit within the top outer edge of the areola.
Benelli breast lift – Also known as peri-areola or the donut breast lift. This is another good option for mild sagging. A subtle lift to the breast can be achieved and the circular incision will sit around the outside of the whole areola.
Vertical breast lift – Also referred to as the lollipop lift due to the shape of the scar. The incision will run around the circumference of the areola and then down to the breast crease. This incision allows for more reshaping of the breast and so is better for women with moderate breast droop.
Anchor breast lift – This technique is best for women with severe sagging or breast droop / ptosis it may also be called the inverted T lift. The incision runs around the circumference of the areola, vertically down the breast to the breast crease and then along the inframammary fold.
Your surgeon may also suggest a combination surgery such as a breast lift with breast implants or a breast reduction if they feel this would help you better achieve the result you are after.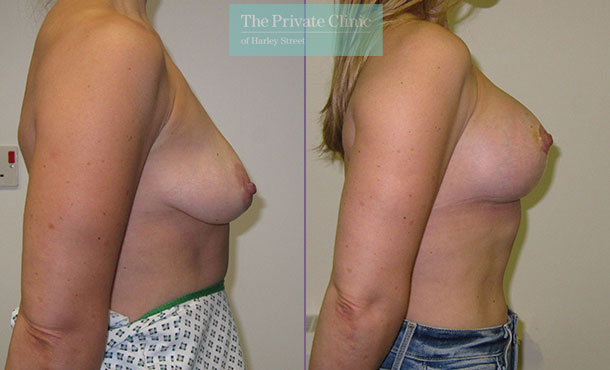 Who performs breast uplift surgery?
At The Private Clinic breast lift surgery is performed by some of the UK's top consultant plastic surgeons who have decades of experience.
Mr Maisam Fazel  MA(Cantab) MB BChir MSEd FRCS GMC Number: 4767420
Mr Adrian Richards, MBBS, MSc, FRCS (Plast.) GMC Number: 3286812
Mr Navid Jallali BSc MB ChB (Hons) MD FRCS (Plast) GMC Number: 4404969
Mr Dario Rochira BS, MD GMC Number: 6130664
Mr Davood Fallahdar FRCS (Plast) Fellow of the Royal College of Surgeons (Plastic) GMC Number: 4686602
Mr Philip Lim BSc (Hons), MB ChB, AFRCS (Ed), MRCS (Eng), FRCS (Plast) GMC Number: 4219068
Mr Olubowale, MB ChB, MSc (Sheffield), FRCSI, FRCSI (Gen Surg) GMC Number 6044974
Mr Mobinulla Syed MBBS, MSc, PhD, FRCS (Plast) GMC Number: 6035480
Mr Adel Fattah, FRCS (Plast.) GMC Number: 4764599
Mr Kenneth Kok MBChB MRCS MSc (Hons) FRCS (plast) GMC Number: 4701147
Mr Khurram Khan, MBBS, Bsc, MRCS (Eng), FRCS(Plast), GMC Number: 6102778
Our breast surgery clinics are located in London Harley Street, Birmingham, Manchester, Leeds and Northampton.
To find out more about breast uplift procedures please call 0333 920 2471 or use our breast augmentation online contact form to request a call back.