Saggy boobs and how to treat them
BREAST UPLIFT SURGERY
Home » Saggy boobs and how to treat them
Sagging breasts or boobs are actually very common and is medically known as breast ptosis. Just like the rest of our body parts, our breasts are subject to change as time goes on and everyone's boobs will be different.
The severity of breast sagging is measured by the position of the nipple in relation to the inframammary fold of the breast.
Not ptosis – If your nipple sits above the line, then your breast is not medically considered to be sagging.
First degree ptosis – This is when the nipple is in-line with the breast fold.
Second degree ptosis – This is when the nipple is sitting beneath the breast fold.
Third degree ptosis – This is when the nipple is beneath the fold and the nipple is pointing downwards.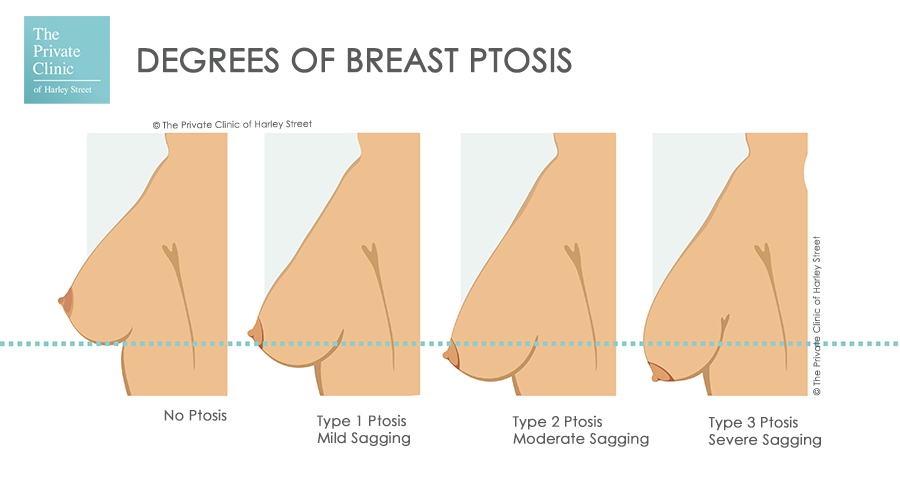 What causes sagging breasts?
There are lots of factors that can cause breast sagging which includes:
Ageing & Reduction in skin laxity breast tissue
Hormonal changes
Pregnancy
Weight gain or loss
Menopause
How can I treat sagging breasts?
In the majority of cases, breast sagging can only be treated with cosmetic surgery.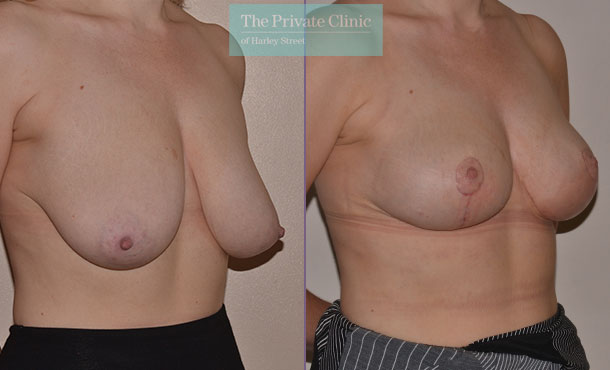 Breast Uplift Surgery for sagging breasts
This is known as a mastopexy or breast lift surgery. The surgical procedure removes excess skin from the breast to tighten the breast and the nipple is often moved to a higher position too. In some cases a breast implant may also be required to help the patient achieve the additional volume and fullness to the breast that they desire.
Recovery time after breast lift surgery
Breast uplift surgery is performed under general anaesthetic and typically takes around 2 hours to perform. It is common for patients to stay in hospital overnight after breast lift surgery but this will be confirmed by your surgeon after your consultation. The recovery time for a breast lift procedure is around 6 weeks where you will need to avoid strenuous activities, travel and exercise. It is best advised that you book 2 weeks off work to recover and that you wear a post-surgery support bra at all times (aside from washing) for 6 weeks.
Scarring after breast lift surgery
The scarring after breast lift surgery can look very red in the initial weeks after surgery but over time they will begin to change to a more purple colour before gradually fading. Your surgeon will provide you with scar care advice at your 6-week follow-up appointment.
Non-surgical options for breast lift treatment?
There are not really any non-surgical options for breast lift treatment and any treatments advertised should be approached with caution and you should be realistic about what results you are going to achieve.
In terms of appearance of the breasts under clothes then a professional bra fitting is a great place to start. A bra will not be able to permanently change the appearance of your breasts, but they can give your breasts the best support and lift. Having a professional bra fitting is the best way to find the best bra to suit you and your breasts and can make you feel better when it comes to choosing clothes and wearing a supportive bra can also help make performing exercise and sporting activities a lot easier too.
Can exercise help to lift breasts?
Upper body workouts are unlikely to increase or decrease breast tissue or reduce sagging skin but what they can do is help to strengthen the muscles underneath the breasts which can result in your breasts sitting slightly higher on the chest.

How to prevent sagging breasts?
Unfortunately there is no magic secret that can prevent breasts from sagging, but you can slow down the natural process of ageing skin with lifestyle choices including:
Avoiding Smoking – Tobacco causes collagen in the skin to break down which is a cause of sagging skin.
Reducing sun exposure – Skin damage from the sun can cause early ageing so using sun protection on the entire chest area including neck and decollate will help to protect the whole area.
Healthy eating – Eating a balanced diet with lots of antioxidants will help keep your skin in good condition.
Staying hydrated – Drinking plenty of water each day will keep your skin hydrated and in good condition.
Consistent weight – When we gain or loose weight, the skin can stretch, and excessive stretching can cause it to loose it's flexibility and will start sagging.

Breast lift surgery at The Private Clinic
At The Private Clinic, we pride ourselves on ensuring that you have the best cover and quality which includes:
24-hour patient helpline to ensure you are always in the best of hands.
Three years cover for all surgical, hospital and nursing care, in case of any medical issue giving you peace of mind.
Comprehensive Breast Uplift Patient Guide.
Highly experienced Cosmetic Breast Surgeons who have decades of experience.
Outstanding hospital facilities.
As many post-operative care and appointments with your surgeon and nursing team as required.
Read our extensive breast uplift FAQs here.
We believe that our experience and medical expertise will make your surgical journey a reassuring one.
We have a team of breast surgery specialists working for us at The Private Clinic which includes;
To find out more about breast uplift procedures or to book a consultation call 0333 920 2471 or book your breast lift consultation online.