Tummy Tuck's are a phenomenal procedure which can transform the look of your stomach. Excess, sagging skin and fat is removed to leave a firmer and flatter abdomen (stomach) and tighten and repair muscles if required. And when performed by a highly skilled and experienced surgeon, you can achieve truly outstanding results.
Tummy Tuck Before and After Photos UK
Take a look at the tummy tuck (abdominoplasty) before and after photo results that have been achieved by some of our expert Tummy Tuck Surgeons:



Mini Tummy Tuck Before and After Pictures UK
As well as the standard tummy tuck, a highly reputable clinic should offer a spectrum of tummy tuck procedures, including the mini, extended and Brazilian Tummy Tuck. This means that you can be advised the best procedure for your particular needs. And each tummy tuck treatment should be tailored to you for best results.
To provide more detail on the Mini Tummy Tuck, the popular procedure is suited to patients with minimal excess skin between the stomach button and pubic area, rather than the whole stomach area (as is the case with the standard tummy tuck).
Please see some examples of the mini tummy tuck procedure below:



Tummy Tuck Reviews / Testimonials
As well as seeing before and after photos, patient reviews and testimonials can be highly useful to inform what you can expect with a tummy tuck procedure. See below the stories of our Tummy Tuck patients, Barbara, Marie and Stella and see our tummy tuck website for more patient stories and reviews:
Meet Barbara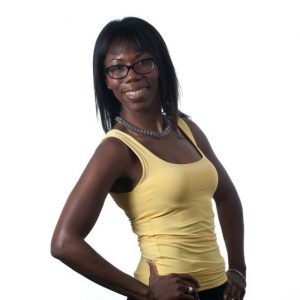 "The initial feeling is unreal"
"I am now more comfortable of my own skin."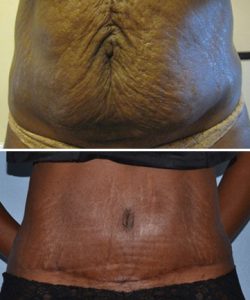 Our tummy tuck patient, Barbara, had sagging abdominal skin, a C-section scar and substantial diastasis (separation of the abdominal muscles) after pregnancy, leaving her with an unwanted abdominal bulge that she was unhappy with.
Tired with carrying the excess skin, she decided to choose abdominoplasty to remove the skin as well as repair the muscles. Thrilled with the results, Barbara now feels so much more confident in her body, and that she no longer needs to hide her abdomen.
Read more about Barbara's tummy tuck testimonial on our website.
Meet Marie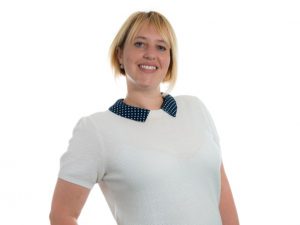 "I am thoroughly enjoying my new flat-tummied life."
With losing significant weight, Marie's stomach had lost elasticity, and she was left with excess skin on her stomach. After deliberation, Marie eventually decided to choose a tummy tuck with big motivators being the ability to freely choose clothes she wanted and being able to ditch her support pants. Post-surgery, Marie is thrilled with her results. She is overwhelmed by how clothes are now fitting her, and excited to be able to now exercise 'without being held back' by her stomach.
Read more about Marie's tummy tuck journey on our website.
Meet Stella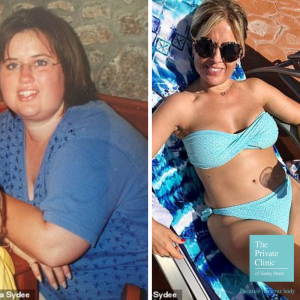 "The procedure was absolutely nowhere near as scary or painful than I imagined it would be; the surgery is so advanced, I had no drain fitted and certainly no complications."
After loosing a significant amount of weight, Stella was still feeling unhappy with the appearance of her body. Loose skin was left around her stomach which is a very common problem for those who lose a dramatic amount of weight. Stella decided to have a tummy tuck to allow her to finally feel happy with what she had been able to achieve and finally wore a bikini for the first time in her life.
Read more about Stella's tummy tuck journey on our website.
The Private Clinic for Tummy Tuck

With abdominoplasty at The Private Clinic, we offer a wide selection of tummy tuck types including brazilian abdominoplasty and mini tummy tucks so you can be advised the best option for you, and we tailor results to each patient. We are proud to offer treatment by consultant plastic surgeons who are highly experienced in each of our tummy tuck procedure options.
Tummy Tuck Surgeons
As well as being committed to outstanding results, our tummy tuck surgeons and respective teams are dedicated to patient support and aftercare, in order to provide you the most comfortable journey possible. Our patient aftercare and support includes unlimited an aftercare plan (requiring you to regularly visit your closest clinic to make sure you are healing well), a detailed patient guide and a 24 hour emergency phone line you can call.
Our tummy tuck surgeon consultations and procedures are available in UK wide clinic locations so you can choose a clinic that suits you. These include The Private Clinic in London, Northampton, Manchester, Birmingham and Leeds.
If you would like to find out more or arrange a tummy tuck consultation with one of our surgeons or a patient advisor please call 0333 920 2471 or you can use our tummy tuck online contact form to request a call back.