Botox near me
BOTOX
Botox otherwise known as Botulinum toxin is an FDA approved medicine that achieves great results when it comes to tackling fine lines and wrinkles.
Wrinkles are unfortunately unavoidable and just part of ageing. The repeated contraction of the facial muscles combined with environmental impacts such as sun exposure and pollution causes lines and wrinkles to form in a more permanent way.
Botox injections work to block the nerve impulse that causes the muscles to contract which stops the wrinkles from forming on the face; revealing a much smoother appearance of the skin.
Botox consultations at The Private Clinic are available at our clinics in London Harley Street, Birmingham, Buckinghamshire, Leeds, Manchester and Northampton.
Botox treatment areas
There are several areas that can be treated with Botox each targeting different concerns.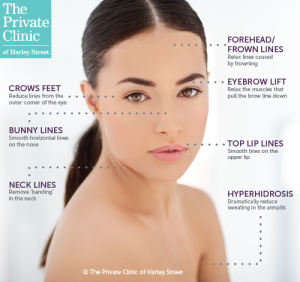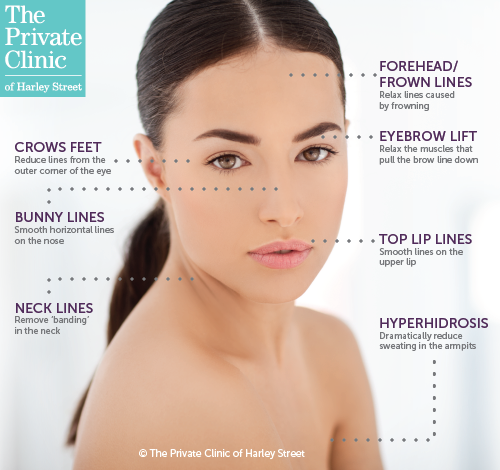 Forehead; Forehead and frown lines can be relaxed with botox creating a smoother and fresh appearance.
Eyebrows; Botox can help create an eyebrow lift effect by relaxing the muscles that pull the brow line down.
Between the Eyebrows; Lines in this area are known as the glabella lines or the 11's. Botox in this area can help relax these lines giving a smoother appearance.
Corner of the eyes; Fine lines can appear around the corner of the eyes which are also known as crow's feet, botox injections can help to relax these lines giving a more refreshed appearance.
Nose: Botox can be injected into the upper portion of the nose to smooth horizontal lines also known as 'bunny lines'
Cheek; When botox is injected into the cheek, it can help to reduce the symptoms of bruxism to prevent teeth grinding as well as making the face more oval in appearance.
Upper Lip; Botox treatment can reduce the lines which appear on the upper lip and can also be injected to relax the top lip reducing the appearance of a gummy smile.
Around the mouth; Injection into the marionette lines can help to turn the corner of the upwards to improve the appearance of prejowl.
Chin; Botox is used on the chin to help remove chin lines and improve the appearance of a dimpled chin.
Neck; To reduce the appearance of neck rings in the neck injecting botox into the 'Platysmal Bands' can tighten the neck and decrease banding.
Armpits; Hyperhidrosis treatment uses botox to reduce severe sweating in the armpits which can also be performed on the hands. The treatment works by blocking the transmission of the nerve impulses to the sweat glands which as a result decreases the amount you sweat/perspire.

Botox injections are still unregulated in the UK but they should only be performed by a highly qualified nurse or doctor. When botox injections are wrongly performed it can result in a number of negative side effects such as a frozen forehead and a complete lack of facial expressions which is always something that should be avoided.
At The Private Clinic we only work with registered, experienced doctors and nurses who have undergone extensive additional training to qualify in prescribing and performing wrinkle injections treatment. They are not only highly experienced to lessen the risk of anything going wrong, but should something go wrong – they are more than qualified to assist in fixing the problem which means you are in the safest hands.
Where to get botox?
Botox London Harley Street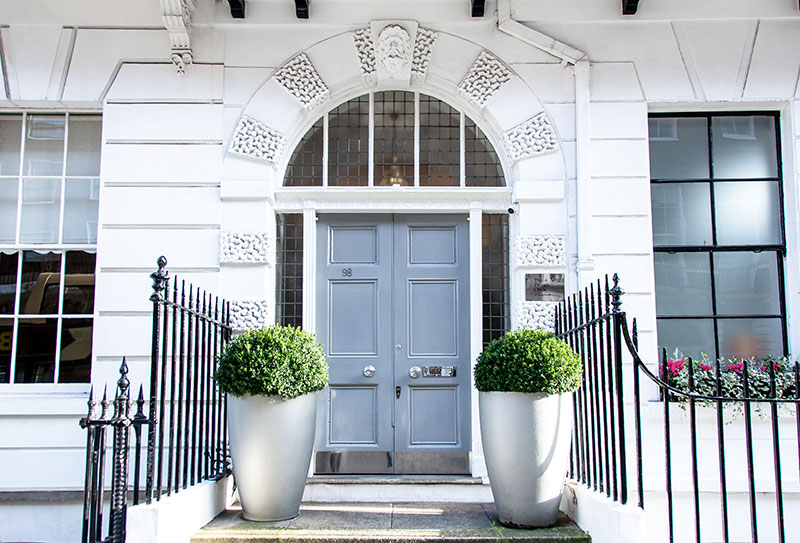 Our Harley Street clinic is our flagship located in central London. We offer highly specialized doctors and nurses who perform botox injections to all areas on a regular basis.
Best Botox London 2021, The Private Clinic London is in a central location close to Hyde Park, Belgravia, Kensington, South Kensington, Bayswater, Fulham, Holland Park, Green Park, Notting Hill. Chelsea, Soho, Knightsbridge,  Battersea, West End, Clapham,  Marylebone, Regents Park, St Johns Wood, Victoria,  Primrose Hill, Earls Court, Mayfair, and Fitzrovia.
Botox Birmingham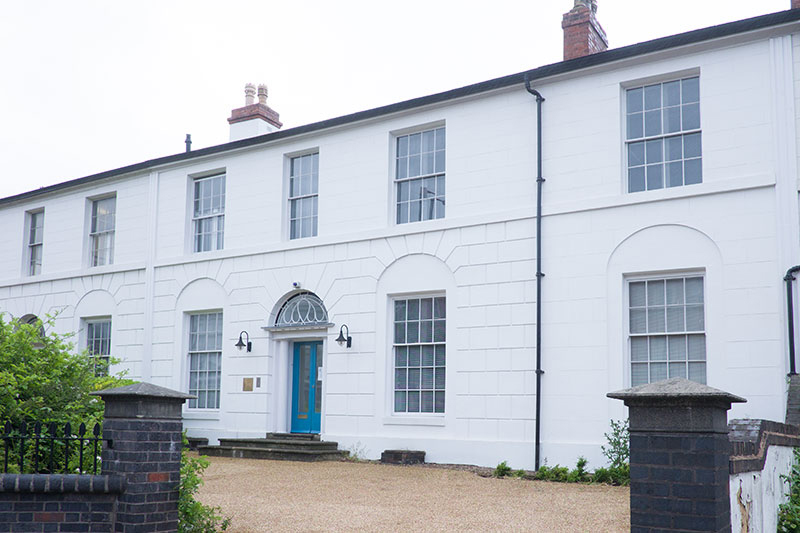 The Private Clinic in Birmingham is located in England's West Midlands region on the outskirts of Birmingham city centre. We have a team of expert aesthetic doctors and nurses providing a range of aesthetic treatments including botox injections.
Our Birmingham Clinic is in close proximity of Shrewsbury, Coldfield, Lichfield, Sutton, Solihull, Kidderminster, Leamington Spa, Stratford, Hampton in Arden, Edgbaston, and Harborne.
Botox Leeds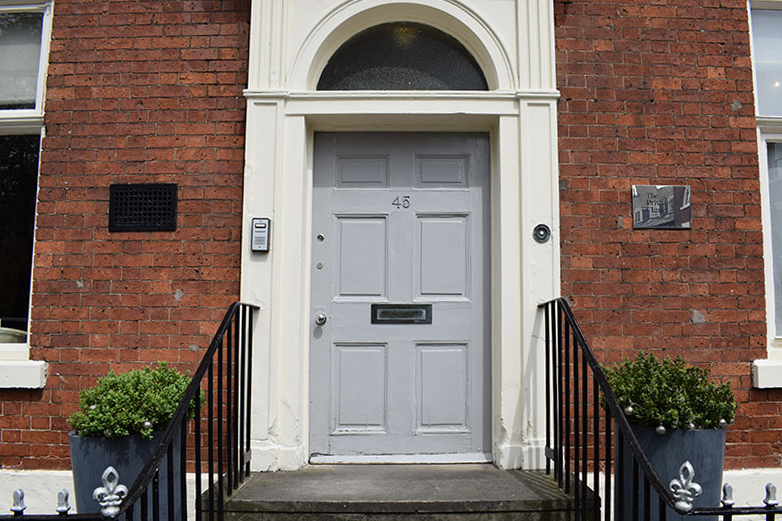 The Private Clinic of Leeds is located in the northern English county of Yorkshire. You will find the clinic on Park Square North which is close to central Leeds. We have an experienced aesthetic nurse practitioner and prescriber offering a wide range of treatments including botox injections.
Our clinic in Leeds is in close proximity to Leeds city centre, Methley, Farsley, Yeadon, Pudsey, Roundhay, Chapel Allerton, Calderdale, Otley Wetherby, Scarcroft, Pudsey, Methley, Oulton, Stanningley, Kirklees and Harrogate.
Botox Manchester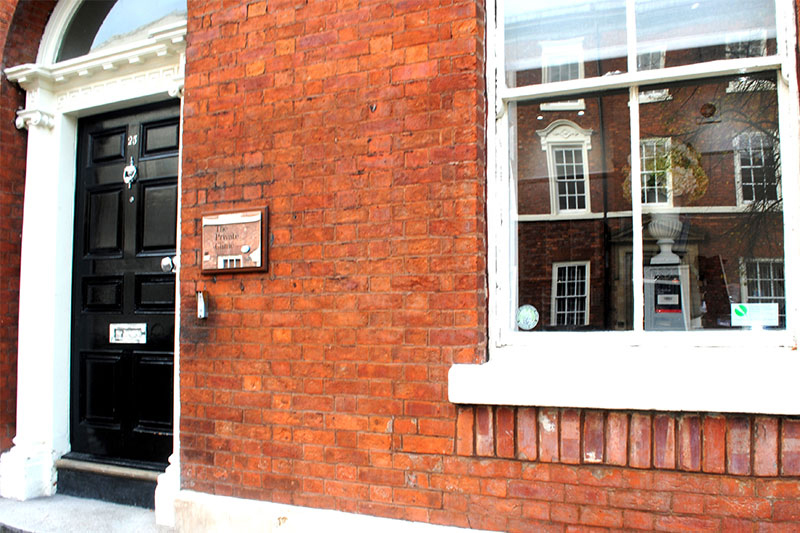 Our clinic in Manchester is located in the northwest of England near the Spinningfields district close to the city centre of Manchester. Our expert Aesthetic nurse practitioner and independent nurse prescriber is highly experienced in delivering the best results following botox treatment.
Our Manchester Clinic is close to Prestbury, Hale/Hale Barns, Leigh Nantwich, Bowdon, Tarporley, Alderley Edge, and Macclesfield. Wilmslow, Knutsford, Cheadle, Worsley, Deansgate, and Altrincham.
Botox Northampton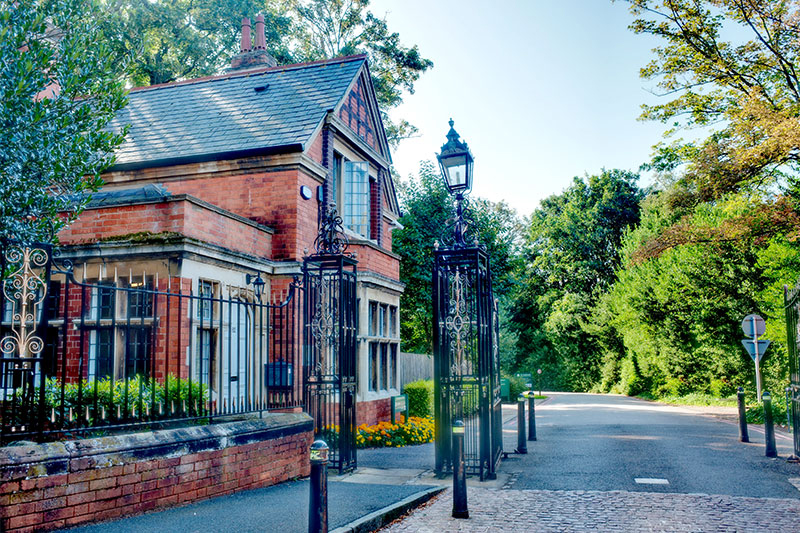 Located in England's East Midlands region on the grounds of St Andrews Hospital is our Northampton Clinic. We have a team of knowledgeable aesthetic doctors and nurses performing a range of specialised aesthetic treatments including botox injections to help reduce the appearance of wrinkles.
The Private Clinic of Northampton is a short distance away from Yardley Hastings, Great Barrington, Colling tree Park, Boughton, Great Houghton, Grange Park, Little Houghton, East Hunsbury, West Hunsbury, Sandy Lane, Chapel Brampton, Grendon, Abington, Maidwell, Harrington, Wootton, Kelmarsh, Althorpe, Ashton, Quinton, Stanwick, Harlestone, Abington Vale, Weston, Golf Lane, Kislingbury, Upper Harlestone, Guilsborough, Roade, Wellingborough and Raunds.
Botox Injections at The Private Clinic
We are the UK's leading non-invasive and minimally invasive cosmetic group of clinics. Our doctors and nurses lead the way in perfecting the most natural looking results and we don't believe anyone need experience the infamous 'frozen' face associated with botox injections. We're proud to share that our referral rate and repeat visits are at an all-time industry high – after all, word of mouth travels a long way.
All of our Clinics are registered with the Care Quality Commission.
We have been treating patients for injectables for many years and have carried out tens of thousands of treatments.
We have no hidden costs, after your consultation you will be given a full quote for your recommended treatments.
We afford all our patients the right care well before, during and long after every procedure.
You will only be treated by highly experienced doctors, surgeons or nurses.
Our nurses, doctors and surgeons all very experienced and are registered with the GMC(General Medical Council), NMC (Nursing and Midwifery Council), or GDC (General Dental Council).
We are contactable 24/7, 365 days a year for patients.
We are competitively priced for the expertise and professionalism we provide every patient
We have an aftercare promise where you will be offered an injectable review a few weeks after your initial treatment where we can discuss the results and offer top ups if needed.
We only use high end products purchased from reliable sources.
Find out more about The Private Clinic here.
To arrange a medical consultation to find out more about botox treatment at any of our clinics you can call us on 0333 920 2471 or use our botox treatment online contact form to request a call back.