Botox can do incredible things. The wondrous anti-ageing treatment both tackles unwanted wrinkles and lines, and prevents new ones from forming, by relaxing our facial muscles. Its rejuvenation powers have led the treatment to become the most popular aesthetic treatment worldwide. But while the treatment can go very right, it can also go wrong. To ensure you have great results and optimum safety for your botox treatment, we have some advice on the best places to get botox & best botox brand(s).  We also touch on some more important frequently asked botox information.
Best Places to Get Botox on Face
Ultimately the best place for your anti-wrinkle injections is a clinic offering only registered and experienced practitioners, who have undergone training to qualify in both prescribing and carrying out wrinkle injections, to ensure upper most safety standards and best results, and avoid medical complications. At The Private Clinic, for example, we provide only highly trained and experienced nurse prescribers or cosmetic doctors. Also ensure to choose a clinic registered with the CQC (Care Quality Commission): a public organisation which regulates and inspects England's health and social care services.
The best clinics can also be assessed by checking patient satisfaction ratings. Check ratings and reviews from consumers, on sources such as Trustpilot and Google Reviews. Additionally, assess the clinic yourself and ask to see any of their botox before and after photos.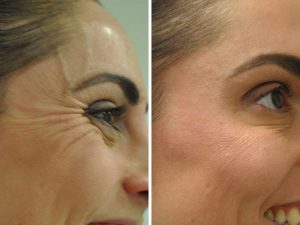 Last but not least, we will also always recommend you choose a clinic focused on natural-looking results, to avoid at all costs the infamous 'frozen' look. With The Private Clinic, we ensure an entirely natural-looking result. Other than smoothed-out lines and wrinkles, it won't look like you have had treatment at all… But how can you ensure this? Patient photos, reviews and the clinics website will all provide a good indication of the clinics approach. Also remember that a good clinic will also always provide honest recommendations in your consultation. It may be that you are not yet suitable for botox, or you do not require as many areas for treatment as you thought.
Best Botox Brand
Although we may call the procedure Botox, Botox® is actually the name of a brand offering the treatment, rather than the name of the treatment itself, which is Botulimum Toxin. Botox® was the first brand of Botulimum Toxin, to be licensed for cosmetic use, in order to treat lines and wrinkles. And there are now several brands of anti-wrinkle injections available.
At The Private Clinic, we recommend only tried and tested, fully approved medical brands for the anti-wrinkle injections, developed by renowned manufacturers worldwide. And in our clinics we choose to offer the original and most widely-known and tested brand, Botox®, by international manufacturer, Allergan.
Botox Prices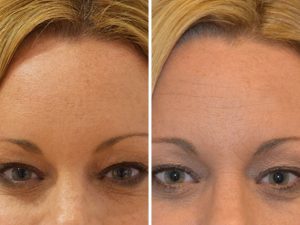 Prices for wrinkle relaxing injections are highly competitive and we believe you should prioritise quality when making your final choice of clinic – looking at the factors we have suggested above. At The Private Clinic, our pricing is highly competitive, while we use practitioners with years of experience, and products of the highest quality. Our wrinkle injections start at £195 for 1 area, and you can find out more about our prices on our website.
Baby Botox London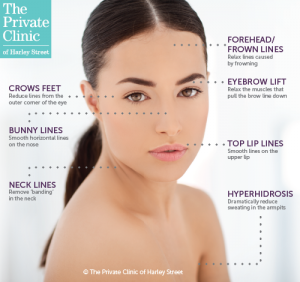 Baby Botox represents a popular new Botox trend, involving tiny doses of the treatment, applied to the typical areas. The treatment offers subtler results and allows greater movement and facial expression, whilst still smoothing and softening lines and preventing further lines and wrinkles forming. Also, with the treatment, results will wear off more quickly than with standard Botox, lasting for approximately two months.
Why choose The Private Clinic for your botox treatment?
Renowned skin experts highly qualified to prescribe and undertake botox injections, with extensive experience
Free consultations before treatment with our skin specialists, who will provide only honest and clear advice and information, and develop a customised treatment plan for you
Natural-looking results tailored to your profile
Highest standard of care, service and aftercare
5 Start Trustpilot Rating and 93% of patients would recommend us to friends and family
We are registered with the CQC (Care Quality Commission)
"I recently attended clinic for some facial Botox. I have some fine lines around my eye area and much deeper frown lines between my eyebrows. The initial consultation with Lesley was very thorough, the procedure was explained clearly to me and I had opportunity to ask any questions I had. The actual treatment was painless and the nurse made me feel completely at ease with her friendly and reassuring manner. After care was also explained thoroughly to me. The whole experience from start to finish was professional yet welcoming. I would have no reservations about recommending the clinic and I am absolutely delighted with the results achieved!' Karen, Client with The Private Clinic
"A nervous new client I was immediately put at ease by the friendly reception staff. I have been a client of Marie at the Harley Street Clinic for almost two years. They listen, they care & they give you great advice. Absolutely delighted with my skin treatments! IPL & Botox. Brighter more even tone skin, and no wrinkles!" Mrs S Gardner, Client with The Private Clinic
If you would like to book a botox consultation with one of The Private Clinic's highly trained skin experts, please call us on 0333 920 2471 or use our online contact form
Aesthetic Doctors
Aesthetic Nurses
Botox Clinics Near Me: We offer several nationwide locations for your botox consultation and treatment, so you can choose a clinic convenient to you. Our nationwide locations include The Private Clinic in: Harley Street London, Birmingham, Leeds, Manchester, and Northampton