What is Pearl Fusion? This Promising Laser Skin Resurfacing Treatment Explained
LASER SKIN TREATMENTS
Home » What is Pearl Fusion? This Promising Laser Skin Resurfacing Treatment Explained
Pearl Fusion is a combination of the Pearl Resurfacing Laser Skin treatment and the Pearl Fractional Laser Skin treatment for skin issues like wrinkles, age spots, sun damage and uneven skin tone. For superior single treatment results, Pearl Fusion removes damaged skin, offering full epidermal renewal – leaving your skin plumper, fuller and smoother.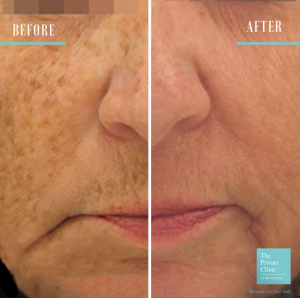 What is Pearl Laser Resurfacing?
Pearl Laser Resurfacing (also known simply as Pearl) is a laser skin treatment for wrinkles, lines, uneven skin tone and sun damage. It utilises modern technology and techniques to yield superior results, compared to other laser skin treatments, with less downtime involved as well. You will notice a full epidermal renewal, helping to improve the pigment texture and pore size as well as lines and wrinkles. It only takes 20 minutes to treat the face, only 3-4 days healing time and you will typically only need one session to achieve the desired results. There is little discomfort associated with the treatment as an anaesthetic cream can be applied beforehand to numb the area.
What is Pearl Fractional Laser Resurfacing?
The Pearl Fractional treatment is a fractional ablative treatment for deeper wrinkles and sun damage, using the latest laser technology for a deeper treatment. The treatment helps to rejuvenate, plump and firm the skin for a more youthful and invigorating look. It goes deeper into the dermis. "Fractional" means to split (fractionate) the laser light up into thousands of tiny columns of heat. It is a targeted and effective treatment taking between 20-40 minutes. Only one session is required and it has the added bonus of minimal downtime, allowing you to return to your social life within a week. There is mild discomfort associated with the treatment. Most patients put is at 4 on a scale of 1 to 10.
Why choose Pearl Fusion?
Combining the laser skin resurfacing treatments ensures patients achieve ultimate results and helps to minimise downtime if you were to have the two treatments separately. The fast laser resurfacing recovery time allows you to quickly resume your daily life. You can save yourself the time (and downtime involved) by choosing the Pearl Fusion treatment to help you halt the excesses of the ageing process. In combination, you will first have the Pearl Laser Resurfacing followed by the Pearl Fractional Laser Resurfacing.
To find out more about our Pearl Laser Skin Resurfacing treatments please call 0333 920 2471 or use our online contact form.