Excessive sweating had bothered Scott for a number of years, with an active lifestyle and demanding working life, it was unavoidable.  At the age of 32, he decided that it was time to explore treatment to rid him of the daily problem that was impacting his life.
Scott always had to plan his wardrobe around colours that could disguise his underarm sweating.  He often felt embarrassed by the issue and frustrated at anti-perspirant deodorants that just didn't alleviate the problem.
"Working in a mostly male environment it's something that the boys often make fun of"
After researching treatment options, Scott visited our Glasgow clinic to find out more about our treatment for excessive sweating.
Known as Hyperhidrosis, this condition is very common and very treatable.  Around 3% of the UK population suffer from excessive sweating and often avoid doing things they would otherwise love to do because they are too embarrassed about their sweating.  A simple solution comes in the form of small injections of Botulinum Toxin, also known as Botox, which stops the glands from producing sweat.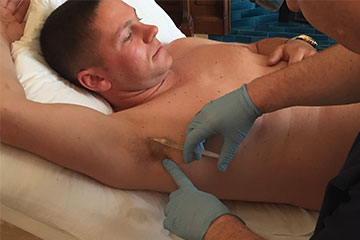 Dr Simon Connelly performed the injections on Scott, which only took around 30 minutes and was relatively pain free.
"I can't believe how quick and easy it was! It's virtually pain free and Dr Connolly talked me through it as he was doing the treatment, which put me more at ease."
Only four days after the treatment Scott started to feel the effects.  He was able to wear a grey top for the first time in a number of years and found inner confidence in not worrying about wet stains coming from his under arms.
"I will definitely continue to have this treatment. I am delighted with the results and I'm looking forward to my first holiday in a long time where I can buy whatever colour of shirt or t-shirt without trying to hide how much I am sweating!"
*All of our patient stories are based on the personal experiences of our patients and represent individual body shapes and results. Please bear in mind that results may vary from person to person. All testimonies are provided voluntarily by our patients and clients. Their comments have not been altered in any way, and their experiences are their own.