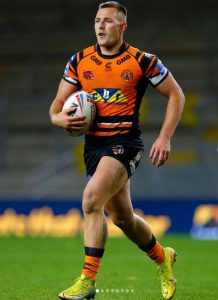 Greg Eden is an English professional rugby league for the Castleford Tigers. He came to visit us at our clinic in Leeds to discuss his concerns with his hairline. Greg had been considering a hair transplant for the past 6 months after noticing receding patches to his hair line.
"I noticed my hair at the front had started to disappear a little bit. I am 30 years old now, so it is probably getting to that time where you start losing it. I just thought I would be one step ahead and just catch it before it goes."
Greg has his first consultation with Dr Raja over zoom which allowed him to find out more about the FUE Hair Transplant procedure and what to expect before attending a consultation in-person at our clinic in Leeds. It was during this consultation that our expert hair transplant surgeon Dr Furqan Raja was able to discuss what could be achieved and worked with Greg to map out a new natural hairline to ensure he achieved the most natural results.
Greg Eden returned to the Leeds clinic a few weeks following his consultation to have his FUE Hair Transplant treatment. The treatment involves taking donor hair from the back of the head and transplanting it back into the recipient area which was the hairline in this case.
Greg was initially worried about feeling pain during the procedure but was pleasantly surprised, as many of our patients are, that aside from the first anaesthetic injection – the rest of the procedure was pain free and he was able to sit back and relax whilst Dr Raja got to work creating his new hairline.
In the majority of hair transplant cases, Dr Raja will see his patients again at 3 months, 6 months, and 12 months. We can't wait to see Greg Eden in clinic again to hear how he has been getting on and see his results.
"From the first consultation, all the way through to the procedure everyone has been so helpful."
Greg Eden's Hair Transplant Procedure Day
Contact us to find out more about Hair Transplant procedures and book a consultation.
Dr Furqan Raja consults and treats from our clinics in Leeds, Manchester and London Harley Street