When Deborah attended one of her regular beauty appointments and they started to use tape to hold up her upper eye area, she knew that she needed to do something about it.
After researching all of the possible options to help improve the appearance of her eyes, Deborah decided to visit The Private Clinic to find out more about the blepharoplasty procedure.
"I went to various surgeons and clinics around London but I found myself feeling most comfortable with The Private Clinic."
Meeting with Mr Davood Fallahdar, Deborah was able to discuss the areas that she wished to improve and Mr Fallahdar worked with Deborah to come up with a treatment plan to help her achieve her desired outcome.
"Everyone at the Harley Street clinic were very friendly and professional and I didn't feel like I needed to make a decision there on the day. I was able to go home and think about it before returning for a second consultation where I then decided to go ahead with surgery."
Deborah booked in for upper eyelid surgery which took place at our London Fitzroy Hospital. She arrived feeling comfortable and calm and was met by Mr Fallahdar again who went through what was going to happen.
Deborah decided to have her procedure under local anaesthetic; she did not feel any pain and felt comfortable with Mr Fallahdar explaining what was happening at each stage of the procedure.
It was importantly to Deborah that the downtime was quick as working in a busy role she could not afford to take too much time off work.
"After my surgery I felt fine, I even went back to work quickly to do a few emails before returning home on the train. The next day I was a little bit swollen but my recovery time was very good"
Deborah is really happy with the results of her procedure with people commenting that she looks well and fresh faced.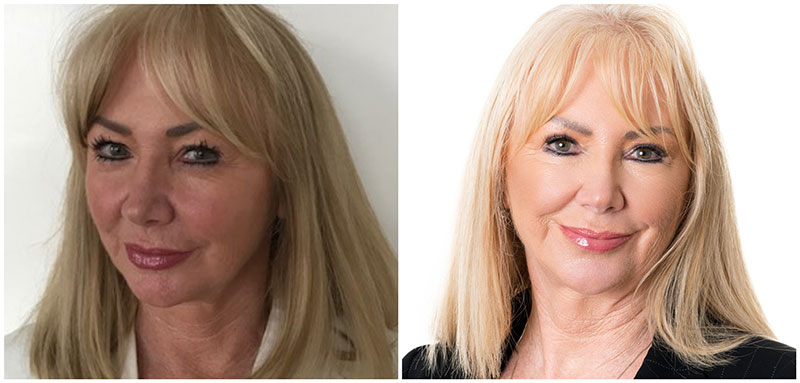 "The Private Clinic took really good care of me and I have been very pleased with the results, I would certainly recommend them"
* All of our patient stories are based on the personal experiences of our patients and represent individual body shapes and results. Please bear in mind that results may vary from person to person. All testimonies are provided voluntarily by our patients and clients. Their comments have not been altered in any way, and their experiences are their own.