Are you considering eyelid surgery? Blepharoplasty or eyelid surgery is a popular procedure to remove the excess skin and fat around the eye area.
This procedure is indicated for patients who suffer from hooded eyes, under eye bags or drooping eyelids. In this blog post, we will be covering the most asked about facts around eyelid surgery.
1. Eyelid surgery ranks at the top of the most performed plastic surgeries.
Eyelid surgery or blepharoplasty ranks 4th most performed plastic surgery with over 209,000 procedures per year and are seeing an increase year after year, according to the ASPS National Clearinghouse of Plastic Surgery Procedural Statistics.
The eyelid surgery is also becoming popular among male as well as female patients.
2. Reasons why you might need an eyelid surgery or blepharoplasty.
There are different reasons to perform an eyelid surgery as this procedure is able to target different concerns. Eyelid surgery can help with:
Correction of hooded eyelids.
Correction of drooping eyelids.
Reduce age-associated eye puffiness.
Lifting the skin surrounding eyes.
Tighten lower eyelids.
3. There are different types of eyelid surgery.
There are different procedures for eyelid surgery to treat different areas of concern:
Upper Blepharoplasty: This a short procedure taking only 30 minutes, performed under local anesthetic and requiring minimal downtime which targets the top eyelid. This procedure is performed to remove hooded or drooping eyelids.
Lower Blepharoplasty: This procedure involves a higher degree of complexity compared to the upper blepharoplasty yet remaining relatively quick taking approximately 1-2 hours and performed under general anesthetic. This procedure is targeted to treat the area under the eye giving it a lifted and rejuvenated appearance.
Upper and Lower/ Combined Blepharoplasty: For patients who are concerned about both their upper eyelid and lower blepharoplasty or eye bags, this treatment is recommended as it's able to provide a rejuvenated and restored look.
The best treatment for each patient will always be discussed with your surgeon, who will recommend the best procedure depending on each individual case.
4. The eyelid surgery can be performed in conjunction with other procedures.
Often patients opt to undergo other procedures in combination with the eyelid surgery or blepharoplasty. The most common procedures in which patients combine eyelid surgery are brow lifts, facelifts or fat transfer procedure.  Sometimes patients also opt for dermal fillers after their eyelid procedure to improve and retain the results of the procedure, particularly to target the tear trough area.
5. The best age to undergo an eyelid surgery.
When it comes to eyelid surgery or blepharoplasty, there is no set age to undergo the procedure (always 18 and above). Even though this procedure is often associated with older patients, many 20 and 30-year-old patients undergo eyelid surgery due to sagging eyelids, which can sometimes be due to genetics. The most popular age generally is starting around 40.
6. The results from an eyelid or blepharoplasty procedure can last forever.
The results from an eyelid surgery or blepharoplasty can last forever. Patients who underwent the eyelid surgery early on in their lifetime as they continue to age they might experience further eyelid drop, however, this can be fixed with other procedures such as brow lifts, facelifts or injectable treatments to rejuvenate the area.
7. The recovery and healing process from an eyelid surgery is quite short.
The recovery process from an eyelid surgery is relatively quick as you can expect to return to work and daily activities within a week after the procedure. The stitches will be removed 4-5 days after the surgery and you will be able to wear makeup after a week from the procedure. For any pain that may occur after the procedure painkillers will be able to help and mitigate the pain. It usually takes a few months for the eyelids to completely settle after the procedure.
8. The scars cannot be seen.
The scars left from a blepharoplasty are almost impossible to identify as they are performed in the natural folds of the eye, so the scaring is minimal.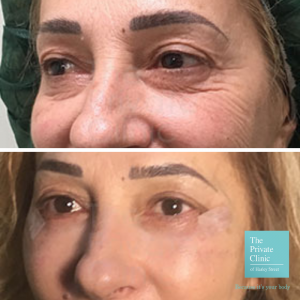 9. The results are seen within a few months.
The results after an eyelid surgery can be seen instantly, however, the final results after the swelling is gone will be around 2-3 months post-operation.
10. Non-Surgical Alternative to Blepharoplasty
Patients who are looking to improve the appearance of their eyes, but are wanting to avoid surgery may be suitable for the Handy plasma non-surgical eyelift at our London Harley Street clinic. The treatment is an ideal option for patients with mild to moderate loose skin but if you have more significant drooping you may still require blepharoplasty treatment instead to get the best results. The best thing is to come in for a consultation to discuss the options.
The Handy Plasma non-surgical eyelift treatment is a powerful and effective alternative to surgical procedures such as blepharoplasty that is able to remove the excess eyelid skin and tighten up wrinkles located around the eyes whilst being entirely non-invasive with no need for incisions, scalpels or stitches.
A Plexr® Plasma Pen device applicator is used to ionise the gas particles in the air between the device tip and your skin emitting a small electric arc. This creates a substance known as plasma which makes the target tissue – your skin will go from being solid to a gas state, essentially vaporizing excess skin around the eyes. After the treatment, you will have, what's known as a carbon crust on the areas that have been treated. This carbon crust will appear as a series of round dots which can take up to 10 days to fully heal. Any swelling following treatment usually subsides after 1-3 days.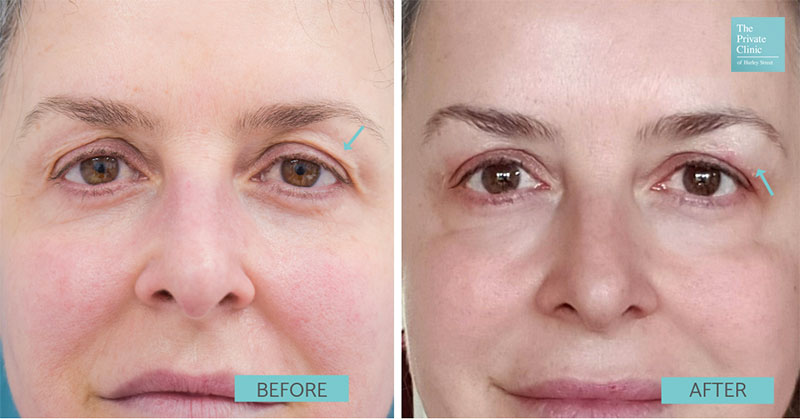 Choosing The Private Clinic.
At The Private Clinic, we have highly qualified plastic surgeons experts in blepharoplasty procedures, being recognized for the meticulous work obtaining great results.
To learn more about blepharoplasty treatments, see before and after images of our patients and read useful FAQ's please visit our website.
If you would like to arrange a consultation, please call us on 0333 920 2471 or you can request a blepharoplasty consultation via our website.