Dermal Fillers
How to treat lines & wrinkles, restore lost volume and contour my face?
Medically reviewed by Lorcan Sheppard BSc MBBS FRCA, Chief Medical Officer and the Medical Advisory Committee for The Private Clinic. Last Reviewed July 16th 2020.
Dermal Fillers are a popular non-invasive treatment that can
restore volume to hollowed areas
contour your face and chin
tackle fine lines and wrinkles
add definition to your face
Our specialist '8 Point Lift' treatment commonly known as a liquid facelift or non surgical facelift can even replicate the effects of a Facelift without the downtime.
What areas can dermal fillers treat?
Under the eyes (Tear Trough) for hallow and dark circles
Cheeks (create a fuller cheek or a high cheek bone look)
Lips (Vermillion border and lip augmentation)
Lip Lines (Smoker's Lines) plumper and fuller lips
Nose to mouth lines (Naso-labial folds)
Mouth to Chin lines (Marionette lines)
Chin (defined chin with fillers) / jaw line definition
Nose (Non-Surgical Rhinoplasty / non surgical nose job)
Hands
8 point lift (creates a non surgical facelift by lifting the face in the areas which sag)
Skin specialists near me;
Dermal fillers are offered at our skin clinics in Harley Street London, Birmingham, Bristol, Manchester, Leeds, Northampton and Buckinghamshire
Dermal filler face map: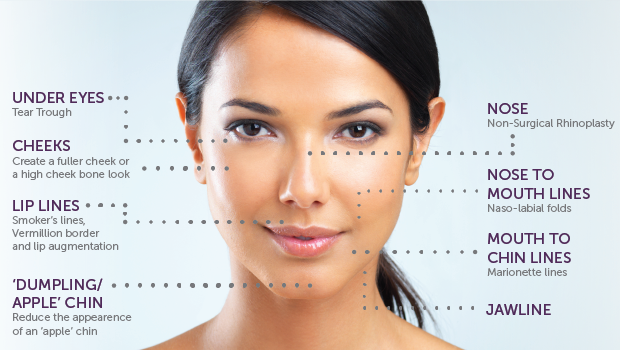 Dermal filler advice
The Private clinic top tips for dermal fillers
Spend time researching the clinic. Do they have Trust Pilot 5 star?
Look for safety and expertise of your dermal filler doctor
Make sure only the best dermal filler products are used: the type of dermal filler is important
Go slow, you can always have a top up filler later on
Take time to discuss what you want. A good skin clinic spends time discussing what you really want to achieve
Dermal filler expert and best dermal filler brand
At The Private Clinic all of our injectable treatments are carried out by expert cosmetic doctor, nurse or surgeon prescribers, who have undergone extensive additional training to qualify in prescribing and performing Dermal Filler injections.
We use the highest quality brand of temporary fillers such as Juvederm® from reputable manufacturers such as Allergan the world leader in dermal fillers and maker of wrinkle relaxing injection. In 2020 Juvéderm® is the world's leading brand for hyaluronic acid facial fillers. We offer each specific dermal filler range for all areas of the face and include Juvaderm Voluma, Vollure, Volbella and Ultra XC.
To speak to our medical experts about dermal fillers click here.
Find out more about the safety of Dermal Fillers.
The Treatment
The Dermal Fillers Treatment
Prior to any filler treatment, we always invite our clients in for a consultation with one of our qualified specialists to ensure we find the best treatment to achieve results suitable for you. Dermal Fillers, made from Hyaluronic Acid, are the most popular volume enhancing treatments and are often used to reduce facial lines and to restore plumpness and volume to the lips and cheeks, defining the shape of your face. Producing safe, long-lasting and natural looking results, dermal fillers are a safe and effective cosmetic treatment when administered by a qualified practitioner.
There are many dermal fillers on the market that are substandard in terms of ingredients and quality. The Private Clinic uses only the highest quality brand of temporary fillers, including Galderma and Allergan which are renowned for their superior standards. And we only allow qualified and certified doctors and nurses to inject fillers.
Lip Augmentation Fillers
For those who are unhappy with the shape or size of their lips, temporary Dermal Fillers can provide an effective volume enhancing solution that keeps them feeling soft and natural. A common complaint by many of our patients is that they dislike how thin their lips look. Instead of lining the lips and creating a distorted result, we enhance your lips' natural pattern to give them an overall pleasing and full appearance.
Tear Trough Fillers
By injecting Dermal Fillers into the tear trough – which extends from your eye to divide your cheek from your lower eyelid – the area can be made to look less hollow while subtly easing dark circles under the eyes. Tear Trough procedures treatments are very specialised and require an experienced hand to perform them, especially since the treatment may not be suitable for everyone. The area under the eyes is assessed before treatment and your nurse or doctor will advise you on whether this is an effective treatment for your case. Those who are eligible will benefit from a fuller and brighter expression that will leave your face looking fresh and rejuvenated.
The treatment is extremely quick and results are instant – with many patients opting to put make-up on immediately afterwards and head straight back to work. Because of the skill of our practitioners, we are also able to offer the 8 Point Lift – a popular non-surgical Facelift treatment carried out with Dermal Fillers – at selected clinics.
Cheek Fillers (achieve a fuller cheek bone, higher cheek done look or to lift the sagging face)
Dermal Fillers can be injected along the contour of the cheek bone to help achieve a more defined appearance to the cheek bone. Volume is often lost from the cheeks due to ageing or weight loss and can cause sagging, restoring these areas are a great way to rejuvenate your face.
Nose to Mouth Lines (Nasolabial folds)
As we talk, smile, smoke or kiss it can cause the muscles around our mouth to crease and over a long period of time these lines may become more prominent and permanent. The ageing process also causes our production of natural collagen, hyaluronic acid and elastin to reduce causing lines and wrinkles to appear. Dermal Filler can be used to plump up and fill out the lines and folds that have been created in the Nasolabial folds as well as the mouth folds, marionette lines and drooping mouth corners to achieve a more rejuvenated and fresher face look.
Non Surgical Rhinoplasty
We also offer a Non-Surgical Rhinoplasty treatment which is achieved with the use of fillers. Click here to find out more.
Dermal Fillers Results
Lines and wrinkles are smoothed out and the skin appears plumper and younger. Areas lacking in volume and shape now have more definition, with a fuller appearance.
Downtime
None. You can go back to work immediately after your treatment and you can apply make-up over the treated area.
Our Regulator
Our service has been rigorously assessed by the Care Quality Commission (CQC) with whom all our clinics are registered. CQC Reg No: 1-3487232249
FAQs
What are Dermal Fillers?
Dermal Fillers are made from Hyaluronic Acid which is found naturally in the body. Hyaluronic Acid absorbs moisture which creates a plumping effect which is why it is great for restoring areas that have lost volume. Different types of filler will have different levels of thickness which have all been designed to use in different areas of the face. At The Private Clinic we use a range of fillers and following a consultation with your doctor, nurse or surgeon they will be able determine the most suitable one to achieve the best possible results
What is hyaluronic acid?
Hyaluronic acid, also known as also known as Hyaluronan, Hyaluronate or HA is a natural substance that is found in our body. Its main job is to attract and hold large quantities of moisture and is able to hold up to 1000 times its own weight in water which helps to hydrate the skin. It also acts as an antioxidant and removes unstable free radicals from the skin. Hyaluronic acid is also great at maintaining skin elasticity, cushioning the joints and nerve tissues and its antibacterial and anti-inflammatory functions are able to maintain the fluid in the tissues of the eye.
50 percent of hyaluronic acid is found in your skin and it is able to plump out the skin reducing the appearance of fine lines and wrinkles. As we age the production of hyaluronic acid in our body slows down which as a result can affect the appearance and texture of our skin.
Hyaluronic acid can be injected into the dermis of the skin to fill and plump areas of the face which is known as dermal filler treatment. Click here to book a dermal filler consultation to find out more.
What areas can dermal fillers treat?
Dermal fillers can be used in a variety of areas including;
Under the eyes / Tear Trough
Cheeks due to loss of volume/ High Cheek Bone Definition
Lips / Thin Lips / Lip Augmentation
Lip Lines / Smokers Lines / Vermillion Border
Chin
Nose / Non-Surgical Rhinoplasty
Nose to mouth lines / Naso-Labial Folds
Mouth to chin lines / Marionette Lines
Jawline definition
Hands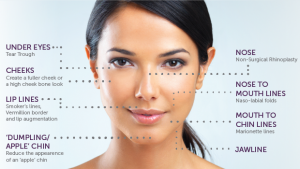 Click here to book a free appointment to discuss Dermal filler treatment with one of our specialised doctors, nurses or surgeons.
What is the difference between Wrinkle Injections and Dermal Filler injections?
Although both classed as injectable treatments there is a big difference between Wrinkle Injections and Dermal Fillers.
Wrinkle injections work to relax the muscle that causes the wrinkles to appear whereas Dermal Fillers fill the treated area with Hyaluronic Acid which adds volume and reduces the appearance of lines, wrinkles and sunken areas of the face.
Both treatments can be highly effective in reducing the appearance of lines and wrinkles and we suggest that you visit us for a consultation where our specialist doctors, nurses or surgeons will be able to help you decide which treatment is best for you.
Click here to make a consultation at a clinic local to you.
What happens at a dermal filler consultation?
A consultation is the best place to start when considering any type of treatment. A dermal filler consultation at The Private Clinic is a thorough discussion with one of our doctors, nurses or surgeons who will take the time to analyse your skin, go through your medical history and discuss your desired results. After your consultation you should feel confident and well informed about your treatment.
To make a dermal filler consultation at a clinic near you click here.
What does the treatment involve?
Small amounts of dermal filler are injected directly into the skin using an ultrafine needle. The gel helps to plump up the skin, thereby smoothing out lines and wrinkles. If the lips or facial contours are being treated, the filler adds volume, restores shape and gives a fuller appearance. Our policy is 'less is more' so we will always aim to give you a natural, subtle look.
Who will perform my dermal filler treatment?
Although Dermal Filler treatments are currently unregulated in the UK meaning that any aesthetic practitioner can perform them, here at The Private Clinic you will only ever be treated by a fully trained and experienced registered nurse, doctor or surgeon.
Click here to meet one of our highly experienced nurses, doctors or surgeons to find out more about dermal fillers.
What are the best dermal fillers for the face?
The majority of dermal fillers are all suited to be used in the face. The best one for you will depend on what area of the face you are looking to treat. Dermal Fillers come in a variety of formulations, some with larger gel particles than others which will determine the amount of volume or lift that can be achieved.
At The Private Clinic we use the Juvederm® brand of fillers including Juvederm® Volbella, Juvederm® Voluma and Juvederm® Smile.
At your consultation we can discuss the range of dermal fillers that are available and talk through which one will be the best to use.
Do the injections hurt?
Most dermal fillers include an added anaesthetic, which makes the treatment virtually painless. Topical anaesthetic can also be applied prior to treatment to make it more comfortable.
Can I take painkillers before / after dermal filler treatment?
We recommend that you avoid taking any anti-inflammatory painkillers such as ibuprofen or aspirin before having dermal fillers. These medications can increase your risk of bruising, swelling and bleeding. If you are in discomfort after the procedure, you can take paracetamol but you must again avoid anti-inflammatory painkillers for 2 days after treatment.
How long does the treatment take?
The length of the treatment will depend on the areas being filled, but generally the procedure takes about 30 minutes.
How soon will I see the results?
Dermal fillers work instantly so you'll see the results straight away although you may notice some initial swelling and bruising which will usually subside within a week.
Will I look different?
Dermal fillers will cause a change to your face but you should not appear unrecognisable after treatment. Our doctors, nurses and surgeons at The Private Clinic have been trained to base your treatment around the natural contours of your face.
How long will the results last?
The results of dermal filler can last between 4 and 13 months depending on the type of filler used and the area treated. The effects of filler will fade gradually over time and your doctor, nurse or surgeon will be able to give you an idea of when to visit again for additional treatment to help maintain your results. If you decide not to continue with dermal filler injections then the gel will naturally be absorbed by your body.
Are there any side effects?
There will be some redness, tenderness and swelling around the treated area immediately after the injection. You might also feel an itching sensation. All side effects should subside after a couple of hours.
Do I need downtime after Dermal Filler injections?
There is no downtime after dermal filler treatment. You may experience some redness, bruising, swelling or tenderness after the treatment so it is best not to have the treatment before an event, party or occasion but these effects will all clear up within a fortnight.
Can I drink alcohol before or after having dermal filler injections?
We recommend that you ideally avoid alcohol 24 hours prior to having dermal filler treatment as this will reduce your risk of bruising, swelling or bleeding. After treatment you should not drink alcohol for at least 24 hours as this will then reduce the risk of inflammation.
Is Dermal Filler safe?
Dermal Filler is made up from Hyaluronic Acid which is found naturally in the body meaning that the likelihood of your body having a reaction to the filler is extremely rare. Dermal Fillers are only unsafe when performed by unqualified practitioners. We are proud members of 'Treatments You Can Trust' which is a Government-backed quality register. Safety is always our number one priority here at The Private Clinic. Your treatment will only be carried out by a highly qualified doctor, nurse of surgeon in a safe medical environment.
What are dermal filler side effects?
All cosmetic and aesthetic procedures come with some risks. Common side effects associated with dermal filler include redness, swelling and bruising at the treatment site. Significant side effects from dermal filler are extremely uncommon but can include; contour irregularities, infection, necrosis and blindness.
Can Dermal Filler be removed?
We will spend a lot of time before your procedure to discuss your expectations. If you are still not happy with the results of your dermal filler treatment, trained doctors, nurses and surgeons can administer a solution known as hyaluronidase which can counteract the effects of hyaluronic acid-based fillers dissolving them almost instantly.
Kylie Jenner has announced that she is removing her dermal fillers from her lips. This is a process that can be done if you do not like the lip filler look. However in most cases the dermal filler will last 4 – 13 months, we do not advise on permanent lip fillers. At The Private Clinic we believe a more conservative initial first time approach of starting with a smaller amount of lip filler is best. If you would prefer a more fuller lip our medical experts can always add additional dermal lip filler to create a fuller pout.
Can I have dermal fillers whilst pregnant?
Although the safety of fillers in pregnancy has not been established through rigorous scientific testing at The Private Clinic we do not perform any injectable treatments on patients who are pregnant or breast feeding.
How much does Dermal Fillers cost?
The cost of dermal filler treatment will vary from patient to patient as it will depend on:
The type of dermal filler
How much dermal filler is required (i.e. 0.5ml, 1ml or greater)
How many areas you wish to be treated (e.g. lips, cheeks, jaw line)
The best way to get an idea of how much dermal filler treatment is going to cost is to book a consultation with one of our expert aesthetic doctors or nurses who will be able to provide you with an individual treatment plan to help you get the results you wish to achieve.
Consultations with our expert doctors or nurses are £50 however this cost can be redeemable against the price of treatment should you wish to book following your consultation.
Dermal Filler prices start from £275 at The Private Clinic.
To find out more, or to book a consultation please contact us using our online dermal filler contact form.
Our prices are competitive and we only use experienced and qualified medical professionals at The Private Clinic to administer our dermal fillers. We believe our patients deserve the utmost safety in our care and we are committed to offering reliable, effective results.
Our Regulator
Our service has been rigorously assessed by the Care Quality Commission (CQC) with whom all our clinics are registered. CQC Reg No: 1-3487232249
What are different types of dermal fillers?
There are several types of dermal fillers and a range of different formulations in the collection which you can find out more about here.
What should I do before having Dermal Fillers?
There are a few things that you can do to help ensure that your skin is ready for your dermal filler treatment. This includes not drinking alcohol for 2-3 days prior to your appointment, this helps to lessen your risk of bleeding and bruising. It is also advised that you avoid consuming garlic, fish oils, ibuprofen and aspirin for 1 week prior to your appointment as these can all thin your blood making bruising more likely.
It is also good if you have had plenty of rest the night before treatment so you arrive to your appointment feeling calm and relaxed.
Bruising and swelling post dermal filler treatments are always going to be a risk and where you can take steps to avoid these, you should always be aware that it could still occur if you are prone to bruising.
How to choose a dermal filler clinic?
(1) We recommend patients to ensure they go to a reputable clinic. The Private Clinic is one of the longest standing companies in the cosmetic sector, due to our outstanding reputation and our market-leading safety standards.
(2) Secondly ask who will be performing the treatment and how much experience they have. We believe that only healthcare professionals should be allowed to inject meaning only doctors or nurses.
(3) Thirdly ask what type of fillers they will be using, whether permanent or temporary, so that you are able to make an informed choice. In our opinion temporary fillers are safer and results more stable.
(4) Finally should they use a brand you don't recognise, ask more information on the company producing them. We have always been using only reputable suppliers, such as Galderma and Allergan for Juvéderm®, and only products with high safety standards, which are long established.
Is there a dermal filler clinic near me?
The Private Clinic has clinics nationwide so we are sure to have a clinic located near to you.
Our clinics are in;
To find out more about booking a consultation at a clinic near you, contact us here.

All images, videos and testimonials are based on the personal experiences of our patients and represent individual body shapes and results. Please bear in mind that results may vary from person to person. All testimonies are provided voluntarily by our patients and clients. Their comments have not been altered in any way, and their experiences are their own.
We are one of the UK's leading cosmetic groups, with some of the most experienced doctors and nurses working with us. Since 1983 our ambition has been to perfect the most natural looking results and to help you look and feel your very best.
Our most important consideration is YOU – your safety and your results.
The Private Clinic, you will be treated by a registered, experienced practitioner, using the highest quality of approved products. We only offer tried and tested, fully approved medical products produced by worldwide, renowned manufacturers, such as Allergan, and all of our injectable treatments are carried out by cosmetic doctors or nurse prescribers, who have undergone extensive additional training to qualify in prescribing wrinkle injections.

Reviews on TrustPilot
Comments from patients
Quite possibly the best clinic in Glasgow. Staff are experienced, helpful & most importantly professional. I was made to feel at ease from the moment I booked my first lip filler consultation. Dr Connolly is fantastic at what he does. He listened to all my concerns, gave me the best advice and also gave me the lips I have always wanted. I was given great aftercare advice & followed it every step of the way. 2 years later & i am still attending The Private Clinic. I have recommended to everyone I know & for anyone thinking of booking a consultation, I would say do it, you won't regret it. Thank you to everyone at The Private clinic!

Stacey
I have been coming to The Private Clinic for a few years now and have wrinkle injections and dermal fillers. I have to say, the results are always amazing. It is a really friendly environment and Mel Recchia who does my treatments, always puts me at ease. None of my friends and family are aware I have been coming here for years – the results are that good! Well worth the money.

Helen
My mother and I went to The Private Clinic in Northampton for wrinkle injections and lip fillers. We both booked a joint appointment with Dr Richard Brighton Knight. Firstly, I was amazed how much cheaper the cost of the treatment was, but more importantly, how thorough the consultation was with Richard and how pain free and quick the treatments were for both Mum and I. It took 30mins for us both! Dr Richard has over 9 years experience and he is a fantastic with a huge sense of humour and he is so down to earth which makes you feel so relaxed. Both Mum and and I hugely recommend visiting The Private Clinic for a very personal service. Plus, we were greeted at reception by the lovely Caroline that could not do enough for us and was an absolute pleasure. We will continue to return on a regular basis.

Karen
All staff at the Bristol clinic were extremely welcoming & friendly, I felt instantly at ease. My lip filler treatment was explained to me really well both before, during & after. Lesley talked me through every step of the way. I am so pleased with my results, the outcome is exactly as I was hoping for.

Jade
I have had lip fillers a few times here in Harley Street. The doctors know that i'm nervous every time, and does they do their best to reassure me. They listen to what I want and always make sure i'm fully happy with the results before I leave. The ladies on the reception are really lovely also, always smiley and make you feel very welcome! Would highly recommend The Private Clinic.

Hayley
FAQs
News
Available in these clinics