Dermal Fillers
The Problem
As skin ages, it loses elasticity and becomes less supple resulting in lips losing their fullness, lines appearing particularly around the mouth and nose area, and cheeks looking sunken and hollow. Others find themselves unhappy with the general volume in certain areas of the face, but don't necessarily like the idea of a surgical procedure.
Dermal Fillers are popular non-invasive treatments that make it possible to restore volume to hollowed areas, to contour your face and to tackle fine lines and wrinkles. Dermal Fillers can add definition to your face and are particularly effective in creating more prominent cheeks, fuller lips and a fresher smoother appearance. Our specialist '8 Point Lift' treatment commonly known as a liquid facelift or non surgical facelift can even replicate the effects of a Facelift without the downtime.
Dermal Filers Areas treated:
Under the eyes (Tear Trough)
Cheeks (create a fuller cheek or a high cheek bone look)
Lips (Vermillion border and lip augmentation)
Lip Lines (Smoker's Lines) plumper and fuller lips
Nose to mouth lines (Naso-labial folds)
Mouth to Chin lines (Marionette lines)
Chin (defined chin with fillers)
Nose (Non-Surgical Rhinoplasty / non surgical nose job)
Hands
8 point lift (creates a non surgical facelift by lifting the face in the areas which sag)
Dermal fillers are offered at The Private Clinic in Harley Street London, Birmingham, Bristol, Manchester, Leeds, Glasgow, Northampton , Buckinghamshire and Chelmsford Essex.
What Face areas can dermal fillers treat: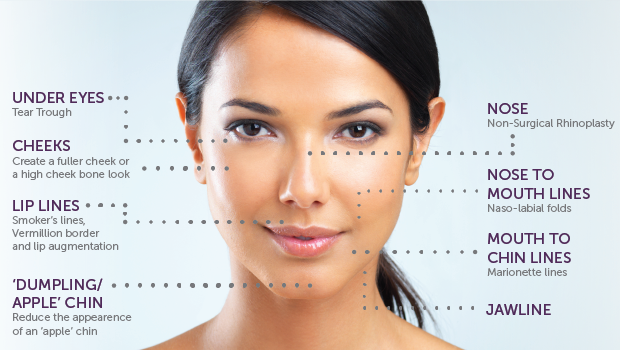 If you're considering using Dermal Fillers to regain fullness or volume in the cheeks, lips, or around your face, your most important consideration should always be safety, the expertise of your practitioner and the products being used. All of which will be discussed fully in your consultation, our priority is YOU.
At The Private Clinic all of our injectable treatments are carried out by cosmetic doctor, nurse or surgeon prescribers, who have undergone extensive additional training to qualify in prescribing and performing Dermal Filler injections.
We are proud to be working closely with the Independent Health Advisory Service (IHAS), and to have all of our clinics registered with Treatments You Can Trust.
The Problem
As skin ages, it loses elasticity and becomes less supple resulting in lips losing their fullness, lines appearing particularly around the mouth and nose area, and cheeks looking sunken and hollow. Others find themselves unhappy with the general volume in certain areas of the face, but don't necessarily like the idea of a surgical procedure.
The Dermal Fillers Treatment
Prior to any filler treatment, we always invite our clients in for a free consultation with one of our qualified specialists to ensure we find the best treatment to achieve results suitable for you. Dermal Fillers, made from Hyaluronic Acid, are the most popular volume enhancing treatments and are often used to reduce facial lines and to restore plumpness and volume to the lips and cheeks, defining the shape of your face. Producing safe, long-lasting and natural looking results, dermal fillers are a safe and effective cosmetic treatment when administered by a qualified practitioner.
There are many dermal fillers on the market that are substandard in terms of ingredients and quality. The Private Clinic uses only the highest quality brand of temporary fillers, including Galderma and Allergan which are renowned for their superior standards. And we only allow qualified and certified doctors and nurses to inject fillers.
Lip Augmentation Fillers
For those who are unhappy with the shape or size of their lips, temporary Dermal Fillers can provide an effective volume enhancing solution that keeps them feeling soft and natural. A common complaint by many of our patients is that they dislike how thin their lips look. Instead of lining the lips and creating a distorted result, we enhance your lips' natural pattern to give them an overall pleasing and full appearance.
Tear Trough Fillers
By injecting Dermal Fillers into the tear trough – which extends from your eye to divide your cheek from your lower eyelid – the area can be made to look less hollow while subtly easing dark circles under the eyes. Tear Trough procedures treatments are very specialised and require an experienced hand to perform them, especially since the treatment may not be suitable for everyone. The area under the eyes is assessed before treatment and your nurse or doctor will advise you on whether this is an effective treatment for your case. Those who are eligible will benefit from a fuller and brighter expression that will leave your face looking fresh and rejuvenated.
The treatment is extremely quick and results are instant – with many patients opting to put make-up on immediately afterwards and head straight back to work. Because of the skill of our practitioners, we are also able to offer the 8 Point Lift – a popular non-surgical Facelift treatment carried out with Dermal Fillers – at selected clinics.
Cheek Fillers (achieve a fuller cheek bone, higher cheek done look or to lift the sagging face)
Dermal Fillers can be injected along the contour of the cheek bone to help achieve a more defined appearance to the cheek bone. Volume is often lost from the cheeks due to ageing or weight loss and can cause sagging, restoring these areas are a great way to rejuvenate your face.
Nose to Mouth Lines (Nasolabial folds)
As we talk, smile, smoke or kiss it can cause the muscles around our mouth to crease and over a long period of time these lines may become more prominent and permanent. The ageing process also causes our production of natural collagen, hyaluronic acid and elastin to reduce causing lines and wrinkles to appear. Dermal Filler can be used to plump up and fill out the lines and folds that have been created in the Nasolabial folds as well as the mouth folds, marionette lines and drooping mouth corners to achieve a more rejuvenated and fresher face look.
Non Surgical Rhinoplasty
We also offer a Non-Surgical Rhinoplasty treatment which is achieved with the use of fillers. Click here to find out more.
Dermal Fillers Results
Lines and wrinkles are smoothed out and the skin appears plumper and younger. Areas lacking in volume and shape now have more definition, with a fuller appearance.
Downtime
None. You can go back to work immediately after your treatment and you can apply make-up over the treated area.
Reviews on TrustPilot
Comments from patients
I have been coming to The Private Clinic in Princes Risborough for a few years now to have wrinkle injections and Dermal Fillers. I have to say, the results are always amazing. It is a really friendly environment and Mel, who does my treatments, always puts me at ease. None of my friends and family are aware that I have been coming here for years – the results are that good! Well worth the money.

Helen, Bucks
I have lost count of the number of people who have said I look well and happy since I have been coming to The Private Clinic in Princes Risborough for my treatments. From the reception staff who always put me at ease, my doctor Fiona Durban and the subtle, natural looking results of my treatments, I am very happy to put myself in their hands.

Anna, Bucks
At The Private Clinic in Princes Risborough I have now had many subtle skin improvements such as anti-wrinkle injections, dermal filler, silhouette soft and Profhilo with Mel Recchia and Fiona Durban.

Now I'm getting on a bit and the idea is to slow up the aging process on my face. I'm very impressed with the fact that these professionals keep my treatment age appropriate and subtle and natural. I find everyone at the Risborough clinic professional, friendly and pleasant including the lovely ladies on reception.

Judie, Bucks
Couldn't rate Dr Simon Connolly any higher! I visited him at The Private Clinic in Glasgow and would now not see any other doctor for my treatment! He listened to me and done exactly what I wanted. I was really clear that as a mature woman I did not want to look younger, but simply refreshed, and that was what I got! The clinic has a lovely, calm environment and the team have looked after me at every step! Thank you!

Bridget, Glasgow
Thank you so much Lesley you are absolutely amazing. I had dermal filler treatment at The Private Clinic in Bristol and despite feeling very nervous, Lesley made me feel very comfortable and I now love my lips! Lesley was great at explaining in every detail how the treatments work.

Thank you again Lesley I am looking forward to visiting the Bristol clinic again for a top up in few months' time!

MY, Bristol

All images, videos and testimonials are based on the personal experiences of our patients and represent individual body shapes and results. Please bear in mind that results may vary from person to person. All testimonies are provided voluntarily by our patients and clients. Their comments have not been altered in any way, and their experiences are their own.
FAQs
What are Dermal Fillers?
What is hyaluronic acid?
What areas can dermal fillers treat?
What is the difference between Wrinkle Injections and Dermal Filler injections?
What happens at a dermal filler consultation?
What does the treatment involve?
Who will perform my dermal filler treatment?
What are the best dermal fillers for the face?
Do the injections hurt?
Can I take painkillers before / after dermal filler treatment?
How long does the treatment take?
How soon will I see the results?
Will I look different?
How long will the results last?
Are there any side effects?
Do I need downtime after Dermal Filler injections?
Can I drink alcohol before or after having dermal filler injections?
Is Dermal Filler safe?
What are dermal filler side effects?
Can Dermal Filler be removed?
Can I have dermal fillers whilst pregnant?
What are different types of dermal fillers?
What should I do before having Dermal Fillers?
How to choose a dermal filler clinic?
We are one of the UK's leading cosmetic groups, with some of the most experienced doctors and nurses working with us. Since 1983 our ambition has been to perfect the most natural looking results and to help you look and feel your very best.
Our most important consideration is YOU – your safety and your results.
The Private Clinic, you will be treated by a registered, experienced practitioner, using the highest quality of approved products. We only offer tried and tested, fully approved medical products produced by worldwide, renowned manufacturers, such as Allergan, and all of our injectable treatments are carried out by cosmetic doctors or nurse prescribers, who have undergone extensive additional training to qualify in prescribing wrinkle injections.

The Cost depends on the type of dermal filler you'd like, how much dermal filler is required (i.e. 0.5ml, 1ml or greater) and how many areas you wish to be treated (e.g. lips, cheeks, jaw line). You can also save money when you buy a course of dermal fillers. Please call, email or send an online enquiry for more information.
Our prices are competitive and we only use experienced and qualified medical professionals at The Private Clinic to administer our dermal fillers. We believe our patients deserve the utmost safety in our care and we are committed to offering reliable, effective results.
Prices start from around £250 at The Private Clinic for Dermal Fillers.
Available in these clinics