What are "Daddy Do-Overs"?
COSMETIC SURGERY
Home » What are "Daddy Do-Overs"?
Mommy makeovers are a popular procedure among women typically after pregnancy as they want to get their bodies back to how they looked before pregnancy. Mommy makeovers typically involve a combination of procedures such as liposuction, breast lift and tummy tuck. Now, there has been a rise in men who want to undergo different procedures to get away from their "dad bods". This new male cosmetic trend is popularly known as "daddy do-over" for liposuction treatments the most popular treatment areas include chest, abdomen and flanks.
Nonetheless, liposuction is not the only cosmetic produce rising in popularity among men; according to The American Society of Plastic Surgeons more than 1 million men have had cosmetic surgery in 2018, this is a 29% increase since 2000.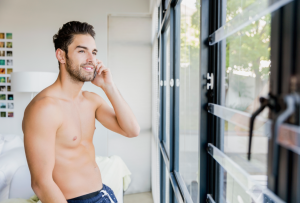 The most popular Cosmetic Surgery procedures for men include:
Rhinoplasty (Nose Job) to correct the nasal bridge, adjust the tip of the nose or to refine the base of the nose.
At The Private Clinic, we offer different types of rhinoplasty procedure to suit the different patient needs.
Standard Rhinoplasty: this procedure focus on achieving a full nose correction (bridge, nose tip and alar base).
Septo-Rhinoplasty: This procedure consists of combining a standard rhinoplasty and the correction of a deviated septum.
Rhino-Tip: This procedure aims to correct the tip of the nose and nostrils.
Preservation Rhinoplasty: An innovative type of rhinoplasty less invasive than traditional rhinoplasty procedure that consists of preserving the structure of the nose providing natural-looking results with minimal downtime.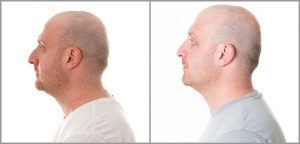 Blepharoplasty or eyelid surgery is also a popular procedure among men to rejuvenate their appearance. Blepharoplasty is a relatively quick procedure that targets the upper, lower or both eyelid lids and is performed under general anaesthetic.  Lower eyelid surgery ideal for eye bag removal and can also reduce puffiness smoothing and tightening the skin around the under-eye area.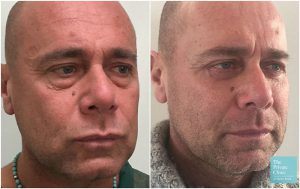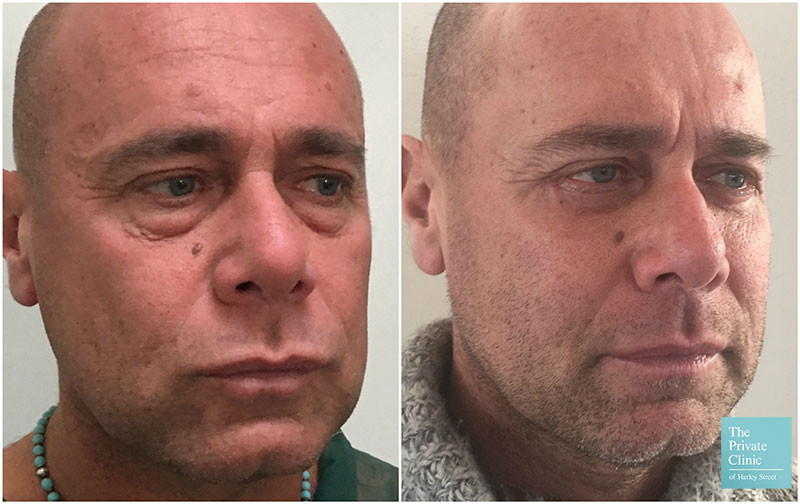 Male chest reduction is also one of the most desired procedures for men. Male chest reduction or Gynecomastia is a procedure to reduce excess fat on the male chest. There are different options available to remove the excess fat around this area, including VASER Liposuction, MicroLipo or Surgical Liposuction. Our specialised surgeons will be able to recommend the best procedure for you.
"My man boobs were always a problem and I felt embarrassed in the changing rooms after going to the gym. I had a fit body and good physique but with breasts!I had Vaser Lipo and after reduced bruising and swelling the results look impressive! I would recommend it to anyone!" Alex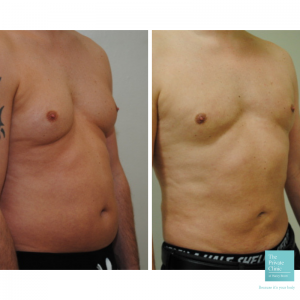 Varicose veins, thread veins and facial veins are also a cause of concern for many men who seek treatment for aesthetic and health reasons. Martin, one of our varicose vein patients underwent VenaSeal treatment to treat his varicose veins at The Private Clinic and now he cannot be happier with his results.
"I couldn't be happier with results and I would absolutely recommend the treatment to anyone who is suffering from the condition.  I was so impressed with Dr Rittoo and his team, they made me feel completely at ease at every stage of the procedure." Martin.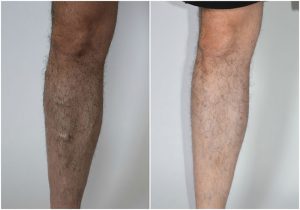 Not only surgical procedures are becoming increasingly popular for men but also non-invasive treatments such as dermal fillers and Botox are seeing a rise in demand among male patients.
Dermal fillers are composed of hyaluronic acid, a substance that is naturally produced by our bodies able to restore the loss of volume in several areas of the face. Tear trough fillers, nose-to-mouth fillers, jawline filler and chin fillers are the most sought-after types of filler for men to smooth and gently rejuvenate and refresh the face.
Botox is a highly demanded treatment to reduce the appearance of fine lines and wrinkles and is ideal to prevent the formation of new ones.
At The Private Clinic, we work with top consultant plastic surgeons, liposuction and body contouring surgeons and aesthetic doctors highly specialised in their fields.
Clinic locations across the UK, Harley Street (London), Bristol, Northampton, Leeds, Manchester, Birmingham  and Buckinghamshire.
To book a consultation with our expert doctors call us on 0333 920 2471 or visit our website to see before and after images of our patients, watch patient video testimonials and read all our extensive treatment FAQ's.