Thread & Spider Veins
The Problem
Similar to varicose veins, spider veins – also called thread veins, broken veins and capillary veins –are small red, blue or purple veins that usually appear near the surface of the skin on the legs, thighs, calves and ankles.
The Private Clinic is a UK centre of excellence for the minimally invasive treatment of veins. Whether you suffer from varicose veins, facial veins, spider veins or thread veins on legs, we provide the highest standard of clinical care and the latest technologies available in the industry. The Private Clinic have carried out over 7,000 procedures in treating Veins.
Thread vein removal treatment is available at our London Harley Street, Birmingham, Bristol, Buckinghamshire, Glasgow, Leeds, Manchester and Northampton clinics.
"I was stoked with the results. I'll be flashing my pins this summer!" *


Penny Carroll, Chief Sub-Editor, Women's Fitness – Cutera Veins Treatment
Varicose veins are the blue or purplish enlarged veins you typically see bulging out of a person's leg, most often on the backs of the calves or on the inside of the legs. If varicose veins are severe, don't ignore treatment, as they can rupture or form ulcers on the skin, which require immediate attention.
Spider Veins (also known as Thread Veins) are similar to varicose veins but they're smaller. They are often red or blue and are closer to the surface of the skin than varicose veins. They usually appear on the thighs and ankles and can pose a health risk.
Facial Veins generally appear on the nose, chin or cheek area and often occur in Rosacea.
At The Private Clinic we have pioneered a state of the art laser treatment for the removal of veins from hands and arms. We were the first clinic to perform this procedure in the UK.
Similar to varicose veins, spider veins – also called thread veins, broken veins and capillary veins –are small red, blue or purple veins that usually appear near the surface of the skin on the thighs, calves and ankles. Although most people seek treatment for cosmetic reasons, research has shown that the majority of people with leg thread veins actually have underlying vein problems. These can either be minor or major varicose veins, very often not visible from the surface, but can be found with a ultrasound scan of the legs. These underlying varicose veins are most likely the cause of any aching, itchiness, a feeling of heaviness in the leg and night cramps. In case of un underlying varicose veins, these will need to be treated, before addressing any residual spider veins.
The Problem
Similar to varicose veins, spider veins – also called thread veins, broken veins and capillary veins –are small red, blue or purple veins that usually appear near the surface of the skin on the legs, thighs, calves and ankles.
The Thread Veins Removal Treatment
There are several treatments available for thread veins depending where they are. We offer Sclerotherapy, as well as Laser treatments, such as our Cutera CoolGlide. Your practitioner or therapist will advise you on the most suitable treatment for your thread or spider veins, taking into consideration their location.
Sclerotherapy
Sclerotherapy is an effective treatment that reduces the visibility of thread veins found on the legs. During treatment the affected veins or capillaries will be injected with a sclerosing agent which causes the vein walls to become sticky and blood is no longer able to pass through. When no blood is passing through, the capillaries will collapse and be absorbed by the body therefore gradually disappearing from view.
Cutera CoolGlide
The CoolGlide laser treatment directs intense light at thread veins which causes the blood within them to coagulate and divert back into veins located deeper below the surface of the skin. The previous thread vein is then gradually absorbed by the body. The Cutera CoolGlide is effective at treating veins all over the body including the face.
Generally we recommend 1-2 treatments but this will depend on the amount, size and colour of the veins being treated.
Spider Vein Removal Treatment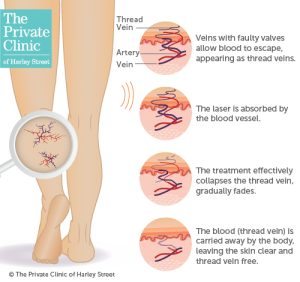 Results
The appearance of small thread veins after Sclerotherapy will be reduced after 3-6 weeks. Larger thread veins may not see results until 3-4 months.
The CoolGlide laser treatment can result in a significant improvement within two to six weeks of treatment but it can take several months to see the final results from treatment.
Downtime
With both treatments you can get back to normal activities right away.
After Sclerotherapy treatment the area treated may appear red and irritated but this will fade quickly. You may also notice bruising on the veins that have been treated; these will fade after a few weeks. You will be required to wear compression stockings and you must keep the treated area out of the sun for 6 weeks post-treatment.
You must avoid exercise and sun exposure for the first 24 hours after Cutera CoolGlide laser treatment. You may notice some redness and swelling in the area treated but this should only last a few hours. Any bruising after treatment usually starts to fade after 1-2 weeks.
FAQs
Can certain lifestyle factors and your genes make you more susceptible to visible veins (varicose and thread) on certain parts of the body?
What causes thread veins on the face?
Is there anything you can do to prevent thread veins on the face?
What causes thread veins to appear around the ankles?
What do the treatments involve?
Do the treatments hurt?
How long do the treatments take?
How soon will I see the results?
How long will the results last?
Are there any complications associated with the treatments?
Can I have thread vein treatment with tanned skin?

All images, videos and testimonials are based on the personal experiences of our patients and represent individual body shapes and results. Please bear in mind that results may vary from person to person. All testimonies are provided voluntarily by our patients and clients. Their comments have not been altered in any way, and their experiences are their own.
I had removal of under eye veins using the cutera coolglide done by Dr Gupta. Having visible blue veins under my eyes as a 21-year-old girl had a significant impact emotionally and it was something I truly struggled with seeing every day. I tried to conceal them with heavy makeup which added to the upset because I would constantly worry about how it looked, and my self-esteem was at rock bottom.

I booked an appointment with Dr Gupta to discuss the cutera coolglide treatment. He explained everything clearly and was very kind and approachable. Additionally, (not to sound cliche, but) the procedure made such a life-changing difference. The laser ablation did sting a small amount (although my nerves probably didn't help with this), but the cool compress afterwards relieved the stinging sensation. After 2 months the blue veins had disappeared and I am now genuinely happy with the results.

A big thank you to Dr Gupta and the team, I am extremely grateful for your help!

M, Lonodon
I had an appointment with Mel for thread veins at The Private Clinic in Princes Risborough. The sclerotherapy procedure was not painful and I have had no reactions following it. Although I will need more sessions to definitely get rid of the thread veins in my thigh I found Mel to be very good and professional at all times.

Angie, Bucks
"I'm so pleased with the results and it is really life changing for me!" *

Nicole Hopkirk, Former Managing Editor, MSN Health
" All I can say is what a treatment! I literally walked in with thread veins on my legs, felt a bit of a sting during treatment, walked out slightly red, and woke up the next day with no veins. Although I could slightly feel the burn, the results were immediate. I have thread veins on my thighs and I could literally see them being zapped away. Thank you Nikola and The Private Clinic team!" *

D.G., London
"I was stoked with the results. I'll be flashing my pins this summer!"- veins cutera treatment. *

Penny Carroll, Chief Sub
CoolGlide Veins treatments cost around £400 for a 30 minute session. However price will vary if a longer or shorter session is needed.
Sclerotherapy prices start from £250.
If you are having a consultation with a vascular surgeon this will cost £150 but this include a free ultrasound scan of your legs (usually priced between £350 and £450 at most clinics and private hospitals).
The Treatment
FAQs
Cost
Available in these clinics