Under Eye Bags Removal
Under Eye Bags Removal is a simple, and one of the most common, forms of Lower Blepahroplasty that reduces the amount of excess fat and skin tissue. Performing hundreds of procedures each year, we aim to give all our patients the results best suited to them individually. We offer some of the UK's most reputable and sought after Consultant Plastic and Reconstructive Surgeons.
Eye Bag Removal treatment consultations are available in our London Harley Street, Birmingham, Bristol, Leeds, Northampton, Milton Keynes and Manchester clinics.
The Problem
Eyes are usually the initial focal point for any person's face, and any imbalances may draw attention. Puffed eye bags can be the result of ageing or genetics. They are caused by fatty deposits that accumulate under your eyes.
These bags can become more pronounced as your skin ages and your collagen levels become lower. Many patients feel that they give the impression of being constantly tired, or ageing a bit more rapidly than they'd like.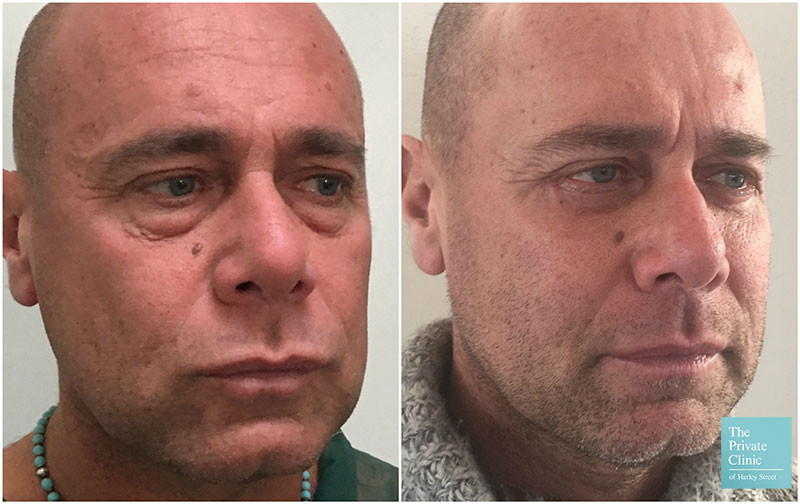 Lower Blepharoplasty with a small fat transfer to the cheeks by Mr Roberto Uccellini.
The Procedure
When addressing excess skin or fatty tissue during Lower or Combined Blepharoplasty, an incision is made below the lower eyelash line or inside the lower lid, making any scarring barely visible following surgery.
The procedure can take between 40 minutes and two hours, depending on the complexity of the case. Any excess fat that causes puffiness is removed, while any unwanted loose skin can also be addressed.
The Results
Our surgeons pay extreme attention to detail and make sure that their incisions follow your face's natural lines and creases to avoid scarring and in order to achieve aesthetically pleasing results. In this case, your eye bags will be reduced so that you look refreshed, rejuvenated and more youthful.
Downtime
Subject to your specific case, your surgeon will advise you on whether the procedure will be done under local or general anaesthetic.
Either way, we advise that a friend or family member chaperone you home following the procedure.
To ease your recovery and to prevent scarring, we use very fine sutures that will be taken out after 4-5 days. You can usually expect a recovery time of 1-2 weeks, during which we recommend you take time off work.
Blepharoplasty has one of the quickest recovery times of any plastic surgery procedure, so that after two weeks any swelling should be very subtle, with full results being visible after 2-3 months.
Medical Team
We are proud to have some of the country's most reputable Consultant Plastic & Reconstructive Surgeons whose names resonate with trust and expertise. These include:
Click here to go back to our main Eyelid Surgery(Blepharoplasty) page.
When it comes to researching cosmetic surgery procedures there are a lot of words and abbreviations that may seem confusing. We have created a glossary of the most popular Plastic Surgery words which you can view here.